To open a PDF in Windows computer is easy, and usually, the File opens without any hassle. However, sometimes you might encounter a random error which could prevent a PDF File from opening on Windows. This is rather strange but not uncommon. Many users who have experienced such an issue say that a PDF File won't open on Windows. Thus we are on a constant lookout for software and tools to open a PDF on Windows. In this article we shall learn about one such software which enables users to instantly preview, read and edit PDF Files on a Windows PC. Let us read on to know more.
Part 1. The Easiest Way to Open a PDF on Windows
PDFelement for Windows - The Best PDF Viewer
PDFelement Pro is the best and most easiest way to open a PDF File on Windows. It enables users to import PDF Files from their computer or scan them and then converts it into editable format using its OCR technology. What's more is that PDFelement Pro for Windows is fully compatible with Windows 10 and other variants. Experts and users vouch for its efficiency and rate it better than other built-in PDF Readers for Windows.
This software is not only opens a PDF File quickly, but also offers many other exciting features which may attract you as well. Some of them are listed below:
Key Features of This PDF Viewer:
Viewing, editing and zooming PDF Files is an easy job with PDFelement Pro.
It also offers to its users the convenience of batch processing to save time.
Password protection, secure sharing, watermarking, signing and other features enable users to customize and personalize files.
Creating, merging, splitting and concerting scanned files via OCR is a striking feature that you may not find in other PDF Readers/Editors.
Compressing and cropping PDF pages is also possible with the help of PDFelement Windows.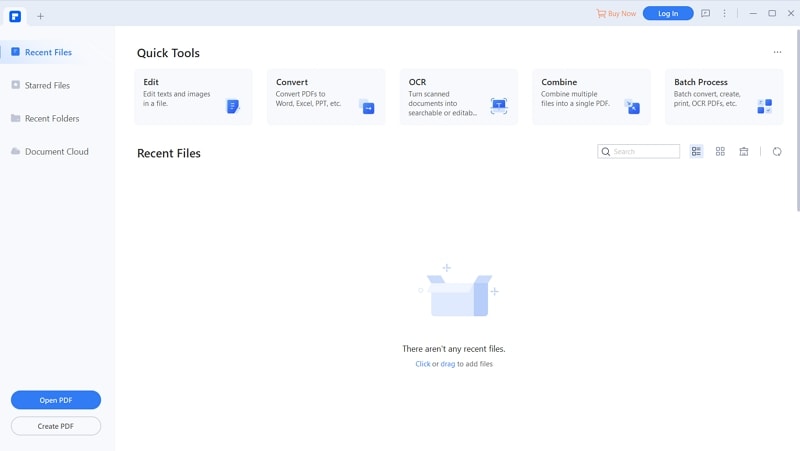 ---
How to open a PDF in Windows
If you have already downloaded and installed PDFelement Professional on your Windows computer, follow the step-by-step guidelines given below to open and view your PDF File.
Step 1. Import PDF Files
Launch the PDFelement Windows and click "Open File" on its main interface to browse your PC and import a PDF file which needs to be opened.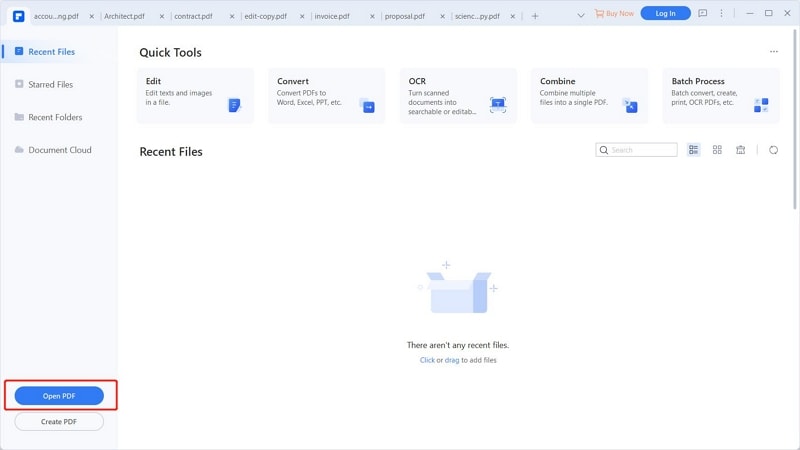 Step 2. View a PDF on Windows
Once your PDF File has been imported successfully, it will be displayed before you on the PDFelement screen for you to view it. You may also visit "View" tab to see various options before you. You will see a "Zoom" option too. Clock on it and increase or decrease the percentage to make it comfortable for the naked eye.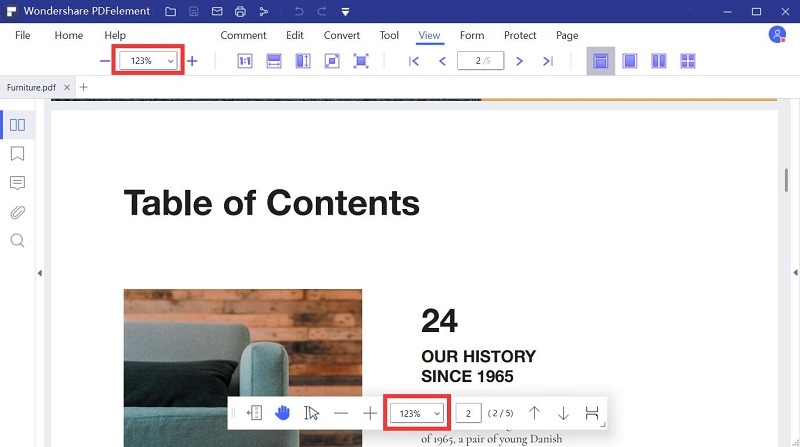 Note: On large screen you can view the entire zoomed in text in one go without having to move the page from left to right.
Step 3. Edit PDF Files with Multiple PDF Editing Tools
Zooming a PDF File with the help of PDFelement Windows is easy and so is editing it. All you need to do is visit "File" >"Edit" to view various editing options. Or you can directly click on the "Edit" button. King these tools you can add text, image, link, watermark, bates numbering, etc to customise, organise and edit your PDF Document.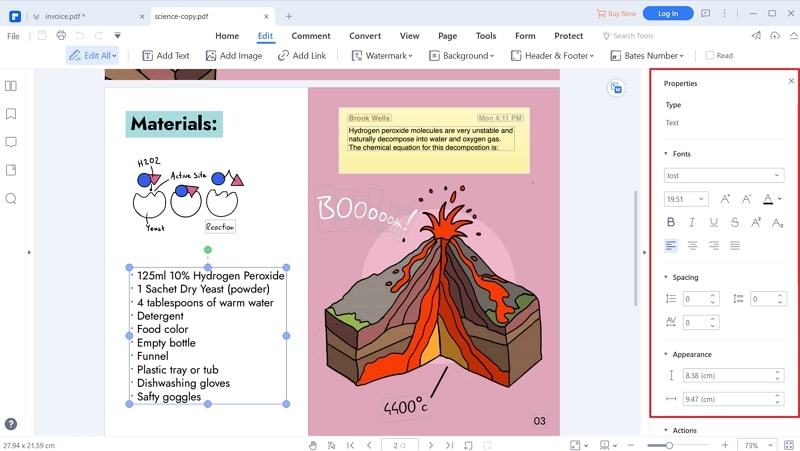 You can click on the "Add Text" button to add texts to your PDF files. In the new opened windows on the right side of the main interface, you can customize the text font, and font size easily as your needs.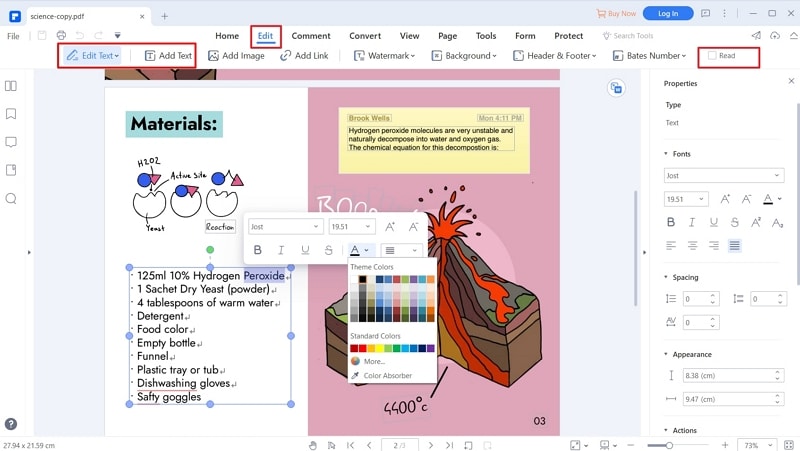 To protect your intellectual and artistic property, you can add Watermark to your PDF files. Go to "Edit" tab and click on "Watermark" button.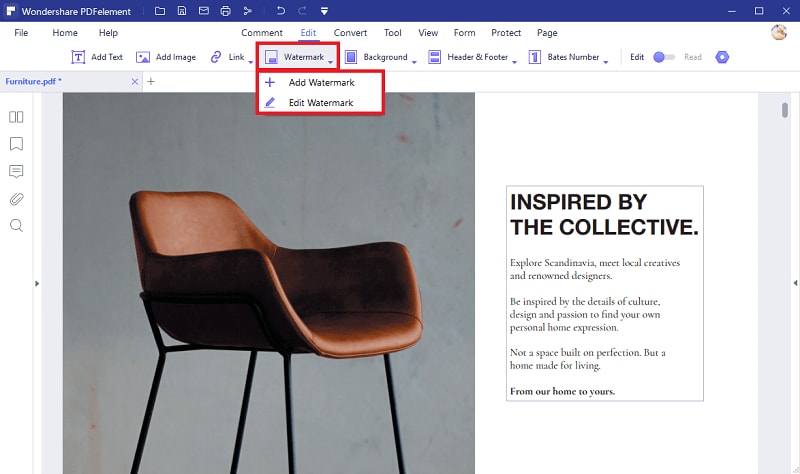 ---
Part 2. A PDF File won't Open in Windows
A PDF won't open in Windows is a common problem faced by many users and usually some error message prevents the File form opening. This problem is mostly prevalent in the Windows 10 variant and causes its users a lot of inconvenience. According to speculation, the reasons listed below are to be blamed for such an error to arise:
The PDF Reader is not updated in a long time.
The PDF Reader is downloaded from an unknown source leading to a corrupt file download.
The PDF File is damaged or contains suspicious content that can arm your computer.
The PDF File is password protected and cannot be opened until and unless users unlock it.
Incompatible PDF File formats are also a reason that prevents Windows from opening it.
These problems might sound familiar and can be fixed easily. Whenever you face PDF won't open in Windows problem, make sure you refer to the tips given below to combat the given error:
If you haven't downloaded the necessary updates for you PDF Reader, do so right away. Checking for updates and timely download is always advisable for your PDF Reader to function normally and to the best of its capabilities.
Uninstalling your PDF Reader temporarily is also a good way to tackle the problem. Once the PDF Reader software has been uninstalled from your PC, restart your computer and download its latest version and try again.
If the problem still persists, ditch the your current PDF Reader and download some other software for the given purpose.
Minor updates in Windows must not ignored because they solve a lot of potential bug problems. Always keep your PC and its software up-to-date to prevent such errors in the future.
Finally, do not try and open PDF File which you receive/download from suspicious sources.
PDFelement Pro is by far the best and most effective PDF Toolkit that takes care of all your PDF needs. We recommend that you download this software and enjoy using all its features. We assure you that this software will never give you a reason to complain and have solutions for all PDF related problems.