Many professionals and students are required to share PDF online. Previously, email was the most convenient way to spread online information such as spreadsheets, photos, and text. Now, PDF documents are some of the most widely shared items online. PDF sharing has become so popular that software programs specifically designed for such purposes have been created for further convenience. In this article, we'll discuss the best tools for sharing or spreading PDFs online.
Part 1. The Best Tool to Share PDF
PDFelement Pro is highly recommended to share PDF with ease. Thanks to the help of this professional PDF editor, you can easily share a PDF file via Email, Dropbox, Evernote and Google Drive. As well, this PDF software can help you to edit and annotate PDF files and can fully meet your editing requirements, such as highlighting PDFs or adding a watermark to PDFs for better protection.
Why choose this PDF editor:
1 click to share PDF files to Google Drive, Dropbox, Evernote and Email.
Edit PDF text, pages, images and other elements with powerful tools.
Convert PDF to Word, PPT, Excel, images and other formats.
Compress PDF to a smaller size, enabling you to upload it over the Internet.
Fill out and create PDF forms easily. Also create PDFs from various file formats.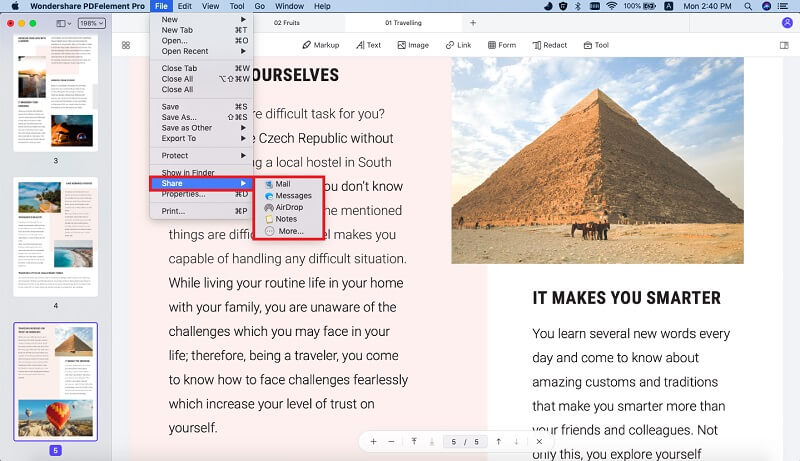 ---
Part 2. How to Share a PDF Document Online
How can I share a PDF online? For those who want to share PDFs online, we've compiled some of the best tools that can be used to share PDFs online for free. Some of these websites may have similar functions including PDF sharing but they differ in various ways.
PDFfiller is a comprehensive online document management platform that can provide the services of an online editor, cloud storage platform, and a signature request manager all in one package. This online sharing website includes a simple interface and inexpensive subscription plans. And PDFfiller also takes security of data seriously.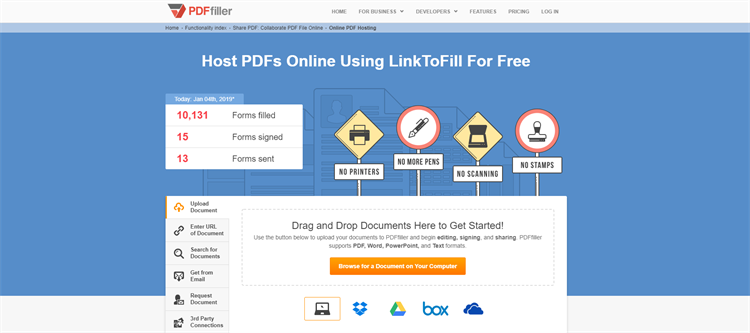 ---
2. Share PDF Files on Isuu.com
Issuu is a very popular PDF sharing website and it can satisfy all basic requirements for those who want to share PDFs online. This is a fine tuned and simple site for anyone who wants to download and share PDF files. With this online PDF sharing app, you can publish your PDF online in just a few clicks. PDF sharing can be more fun using this program since it has a high level of content, including magazine publications, that you can share PDF files to as well.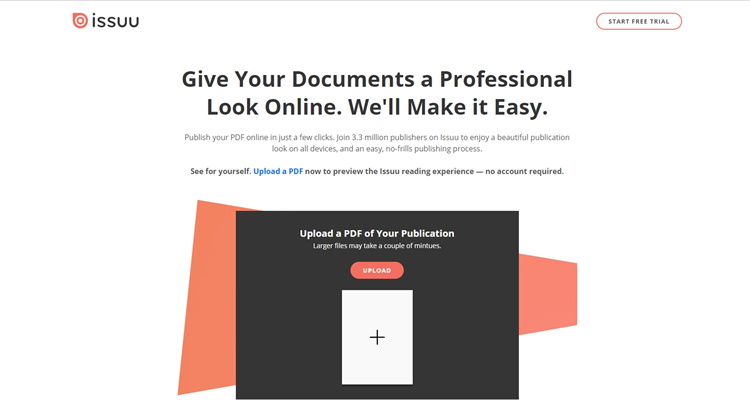 ---
With this online sharing software, you can upload your documents in any format. DocDroid supports PDF, DOCX, DOC, ODT, RTF, XLS, XLSX and more. It is a white label sharing solution for PDFs or any other document type. Get your documents distributed quickly and securely, and in a way that they are optimized for any device in any location. Upload the document you want to share, and the program will create a link that you can share with your friends and colleagues.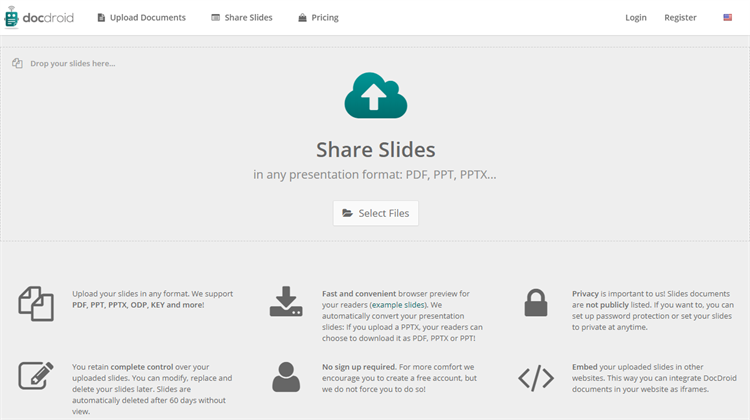 ---
You can share files and folders that you store on Google Drive with anyone. When you share from Google Drive, you can control whether people can edit, comment on, or view the file. It can perform all basic tasks, such as create spreadsheets and word or text documents. The great thing about Google Drive is that it looks so simple but it can greatly integrate with PDF files and allow easy PDF sharing.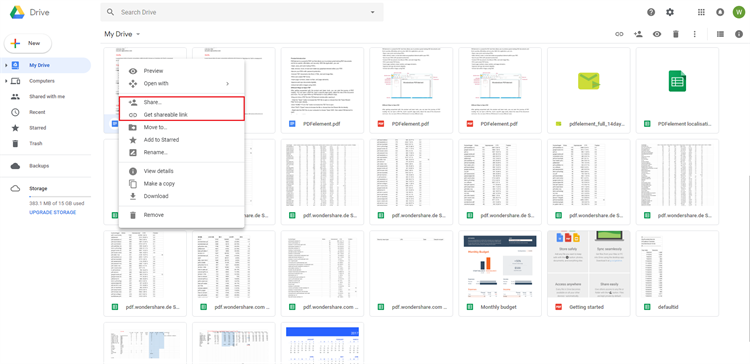 ---
5. Share PDF on Scribd
This website is quite famous when it comes to file sharing. It can allow users to share PDFs online in a very convenient manner. Scribd as an online reader, and is more than just your conventional PDF sharing interface. The website allows users to read PDF files one page at a time. Users can even view files in book format. Sharing PDF files with this program is not only easy, but interesting. Another benefit is that it can be accessed through smart phones and mobile devices.