Law firms need legal accounting software to streamline their billing procedure and keep a tight lid on their cash flow. Working with accounting software specifically designed for law firms is useful for protecting information. Law firms need to keep their information confidential and using software geared specifically for companies in the legal sector is useful. Accounting software for law firms comes in different categories ranging from standalone to cloud-based. However, all software packages have common features like time tracking, invoicing and billing. We discuss five of the best accounting systems for law firms and key features that make them the best.
Top 6 Legal Accounting Software
PDFelement Pro
PCLaw
Bill4Time
AbacusLaw
Xero Accounting Software
PracticePanther
Law firms need accounting software designed to meet the unique needs of the legal industry. We analyze the five best legal accounting software packages available. As the best PDF software for law firms, PDFelement Pro will help you to simplify work processes.
1. PDFelement Pro
Legal firms need accounting software for their specific needs. However, it is important to have editing software, especially if they use PDF documents. If you wish to edit PDF forms, then you need to have special software. PDFelement Pro is highly recommended because it gives you the ability to edit PDF documents like they were Microsoft Office documents. Dozens of businesses in eight different industries use PDFelement Pro to optimize workflow.
Using Skysoft grants many benefits to you:
Keep information accurate.
Fill out forms in PDF format.
High-tech OCR to convert PDF documents.
Protect information using encryption.
Edit text, images, and pages in the document.
The PDF editing software works with businesses in different industries, including legal. PDFelement Pro is perfectly suited for the needs of small and medium-sized businesses in law. PDFelement Pro complements legal accounting software because many software packages send and receive information in the PDF or soft-copy form. PDFelement Pro is perfect for editing documents stored in PDF form. PDFelement Pro offers the option to encrypt and watermark documents. If you have documents containing sensitive information, you can use PDFelement Pro to maintain confidentiality.
Pros:
Accessible and easy-to-use interface.
Multiple deployment options and licensing options.
Single investment license.
Robust feature guide.
Cons:
PDFelement Pro offers a free trial for anyone who is interested in using the software. Take advantage of the free trial to see if the software is suitable for your business. There is a robust user guide covering every feature available on PDFelement Pro. The feature guide will reduce your learning curve by a significant margin, and help you make the most of PDFelement Pro.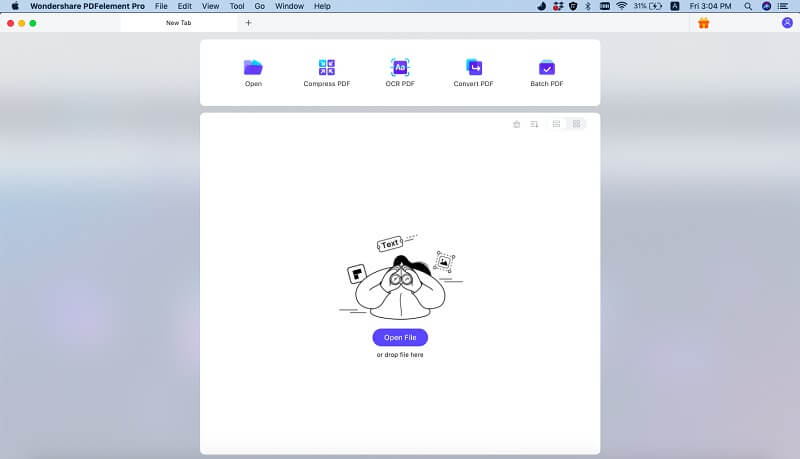 ---
2. PCLaw
PCLaw is an accounting software package best suited to small and medium-sized law firms. PCLaw helps small law firms run at peak efficiency by streamlining finance operations and facilitating better management practices. PCLaw has a cloud platform, allowing you to run your law firm remotely.
Key Features:
Manage documents, calendars, accounting, and attorney billing with one software.
Time and manage vendor payments.
Integrated billing and accounting system.
Submit LEDES or email bills using the software.
Pros:
PCLaw is scalable, add more features to the software as the law firm expands.
Short learning curve due to intuitive interface design.
Extensive training material.
An annual maintenance plan.
Cons:
Customer support can be better.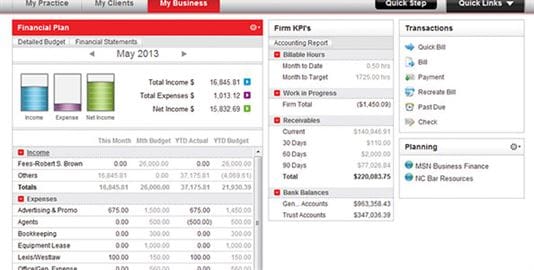 ---
3. Bill4Time
Another legal accounting software geared towards small law firms, Bill4Time automates timekeeping and billing. Bill4Time includes many features beneficial for legal firms. These features include conflict of interest checking, and Amercian Bar Association task codes. If you want to test Bill4Time, then consider the free trial that lasts 30 days.
Key Features:
Conduct payments online.
Manage, track and store documents.
256-Bit Encryption to protect information.
Access software with a mobile device.
Efficient time tracking system.
Pros:
Certain features meet the unique needs of lawyers.
High-grade encryption to protect information.
Check for conflict of interest.
Endorsed by several legal professional associations.
Cons:
Takes time to learn the invoicing system.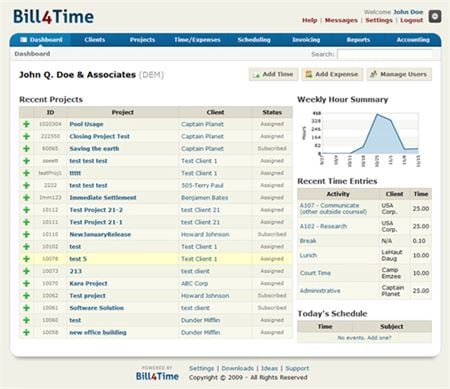 ---
4. AbacusLaw
AbacusLaw is a versatile accounting software package for any legal specialty. The legal accounting software is perfectly suited for solo practitioners of any specialty. AbacusLaw is flexible and matches the unique needs of any legal specialty. The software integrates with several legal apps like Sage and SalesForce. However, this versatility means a longer learning curve compared to other out-of-the-box legal accounting software packages. Despite, a slightly longer learning curve, AbacusLaw has more than 1.5 million users around the world.
Key Features:
Invoicing
Payroll processing
Legal calendaring
Time tracking
Billing
Pros:
User-friendly interface.
Can customize the software to meet your specific needs.
Cloud feature for remote use.
Has features lawyers need.
Cons:
Customer service can be better.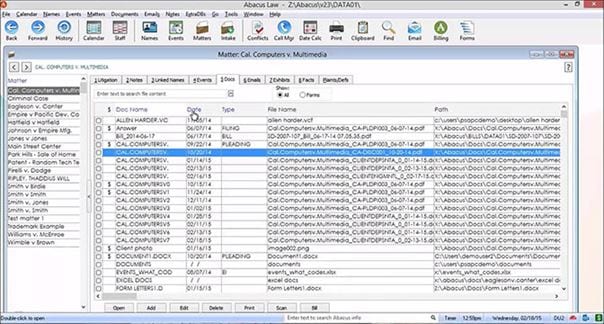 ---
5. Xero Accounting Software
Xero was first established in 2006 to fulfill the accounting operations of small and medium-sized businesses. Xero Accounting Software for legal firms is geared specifically towards the needs of law firms. Xero optimizes many accounting operations crucial for a law firm, for example, time-tracking. The software works with both desktop PC's and mobile devices because it is a web-based application.
Key Features:
Protect legal information.
Mobile app to manage law firm remotely.
Performance dashboard.
Track updates from the bank.
Monitor payroll information.
Pros:
Intuitive and user-friendly.
Compatible with third-party apps.
Rights management is easy.
Complicated operations are simplified.
Cons:
There is no offline version of the software.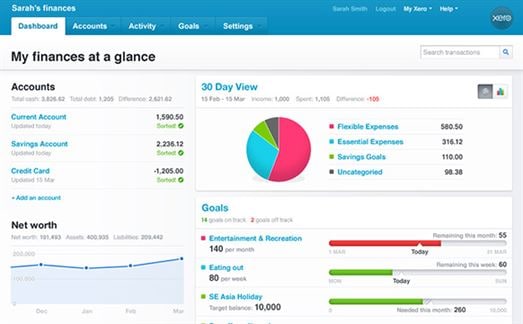 ---
6. PracticePanther
PracticePanther is an accounting management solution for legal companies. The software is a versatile package that covers different areas of law. PracticePanther is suitable for work in criminal law, bankruptcy law, divorce, and litigation. The system is compatible with both Mac and PC systems. PraticePanther even offers mobile apps for Android and iOS systems so you can manage your law firm remotely.
Key Features:
Document management
Contact management
Time tracking
Billing
Invoicing
Case management
Accounting
Pros:
Learning material to support newcomers.
Accessible and flexible system.
Can create contacts.
Document automation is amazing.
Cons:
Calendar and task reminder feature can be more robust.