Accounting is a major part of any small business. Whether you sell physical good, services or you're a freelancer, you need a way to keep track of the money coming in and the money being spent. While accounting is not as simple as that, there are online accounting software that can help you keep track of your money and the health of your business.
In this guide, we take a look at 10 of the best accounting software for small businesses. These services are exclusively available online which means there is no software to download. You can try to use PDFelement Pro.
Part 1. Top 10 Best Online Accounting Software
#1. Xero
Xero is online accounting software that enables small businesses keep track of purchases and sales as well as with bank reconciliation. It also offers a great way to manage invoices and keep track of cash in the busy. In this way, it can be helpful to a small business that is looking to pay their bills on time.
Pros:
Starting at $9, Xero is quite affordable.
It comes with a customizable dashboard that allows users to see how the business is doing in a single glance.
Cons:
There is no dedicated project management or time tracking feature.
Lacks chat or phone support.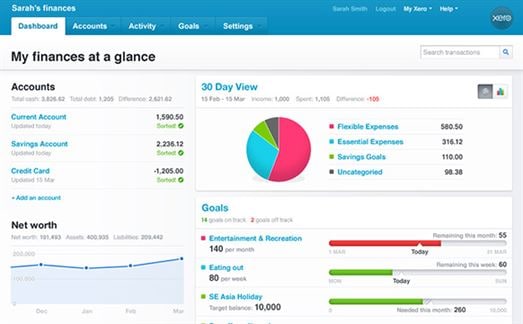 ---
#2. Zoho Books
Zoho Books is an online accounting system that provides a wealth of financial tools that will be very valuable to the small business owner. It comes with a lot of features including project management and time tracking and even inventory management.
Pros:
It has an excellent, easy to use user-interface.
Detailed transaction forms that even come with custom fields.
Supports multiple payment gateways.
Comes with a very well-designed mobile version.
Cons:
There is no integrated payroll feature.
Reporting is not customizable enough.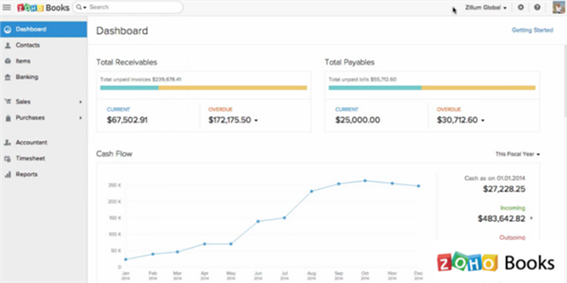 ---
#3. Intuit QuickBooks Online
One of the most recognizable online accounting software, Intuit QuickBooks Online allows the user to track income and expenses, create and send invoices and even connect their bank account for easier management. The software offers different features for different businesses. For instance, a freelancer will have a different version of Intuit from a store owner.
Pros:
It has an excellent user interface that makes navigation quite easy.
Transaction forms and records are flexible and customizable.
It offers report templates that are also highly customizable.
Cons:
It lacks dedicated project-tracking.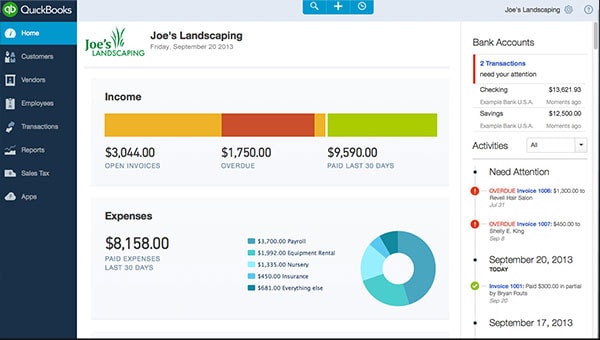 ---
#4. GoDaddy Bookkeeping
Great invoicing features and the fact that it integrates with Amazon, eBay and Etsy make GoDaddy Bookkeeping one of the most useful online accounting software for small businesses. It is primarily ideal for freelancers and contractors since it has great features to help calculate quarterly earnings. Pros:
With the lowest tier costing just $3.99, GoDaddy is as inexpensive as it gets.
The invoicing tools and simple and easy to use.
Helps users calculate quarterly taxes.
Cons:
It lacks project tracking capabilities.
It also lacks multi-currency support.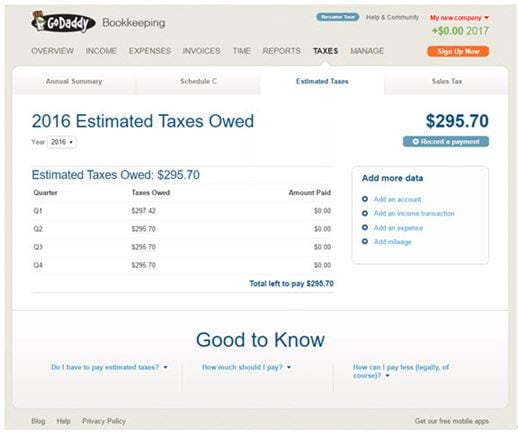 ---
#5. Kashoo
Kashoo is a well-developed an online business accounting software for small business that comes with lots of tools to help a business remain operational. Some of the most recognizable ones is the fact that the service has its own payment processor and great invoice templates designed to make invoicing easier and faster.
Pros:
A simple user interface makes it easy to navigate.
It comes with a well-developed project tracking feature.
It integrates with SurePayroll.
Cons:
Doesn't have time-tracking features.
Doesn't use a dashboard.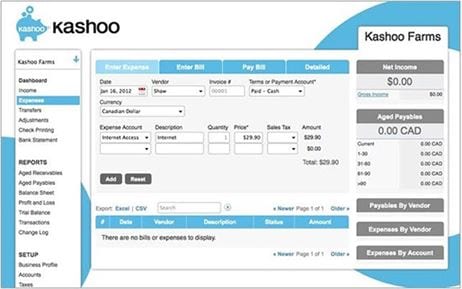 ---
#6. Wave
Wave is an accounting platform that offers free services, only charging users for payment, payroll and premium support. It is primarily ideal for freelancers, contractors and sole proprietors and has an invoicing platform that is one of the fastest in the industry.
Pros:
It is free to use although payments and payroll can incur monthly costs.
The features are ideal for very small businesses.
Its user interface is clean and easy to navigate.
Cons:
It lacks project tracking and time tracking features.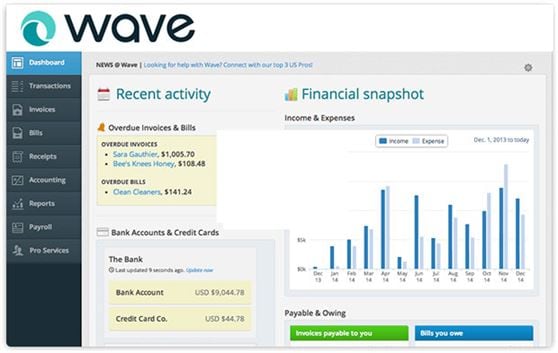 ---
#7. OneUp
OneUp as cloud-based accounting software is designed to be perfect on mobile devices although recent changes are making it ideal for web-based activity. It offers excellent transaction tracking, inventory management as well as product pricing features. It also comes with a basic CRM platform and smart transaction categorization.
Pros:
Very good inventory and pricing tools.
It also has great mobile apps.
Cons:
It lacks add-ons like payroll.
Has only one payment gateway.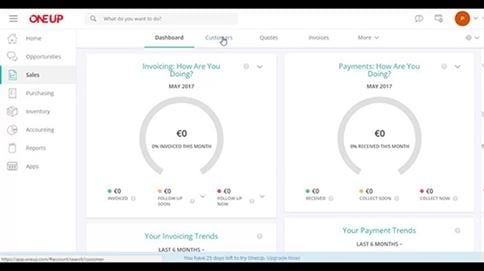 ---
#8. KashFlow
KashFlow is online accounting software that makes it easy for users to gain access to a full view of their finances. The easily customizable dashboard makes this very easy, showing the user how their business is doing at a glance. It also comes with reports that are easy to understand and easy to customize. It also has VAT returns and payroll features with packages that are tailored to meet different business needs.
Pros:
The starter package is only priced at just $5.
A simple user interface makes it easy to use and even easier to understand.
Has VAT and payroll features.
Cons:
It lacks project management and time management features.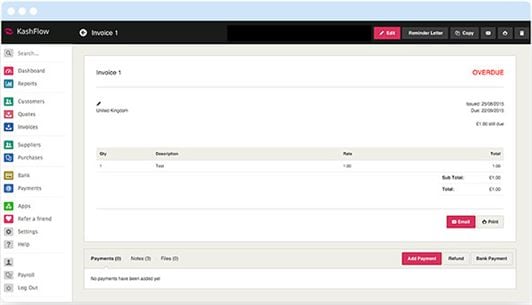 ---
#9. FreshBooks Cloud Accounting
FreshBooks Cloud Accounting FreshBooks has been an industry-leader since 2012. All functions are designed to sync seamlessly with mobile apps, a feature that makes it one of the best platforms around. It is also easy to use, has multiple payment processing and time tracking features.
Time tracking features are simple to use.
It has excellent mobile apps with the capability to take pictures of receipts.
The user-interface is simple, clean and easy to navigate.
Cons:
Lacks the features to calculate and pay quarterly taxes.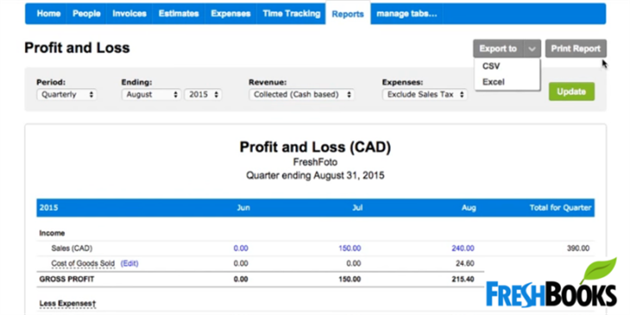 ---
#10. SlickPie
SlickPie is a free online accounting software for small businesses. Users can create and send invoices, track payments and expenses, get bank feeds and more all on the easily customizable dashboard. It is primarily designed for freelancers and sole proprietorships.
Pros:
It is free to use.
Has a customizable dashboard and great reporting.
Cons:
Lacks time and project management features.
Doesn't calculate quarterly taxes.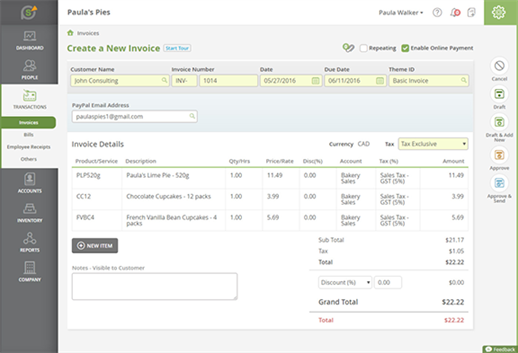 ---
Part 2. The Best PDF Software for Accounting
One of the most important aspects of accounting is record keeping. There are sales reports and invoices to be filled out, not to mention purchase orders and other types of business documents. If you entire operation is online and you primarily make use of one of the above online accounting programs, then most of these records will be in PDF format.
It is therefore necessary to have a PDF program that is designed to make editing and filling these forms as easy as possible to ensure you spend as little time as possible on records. This program is PDFelement Pro. The following are just some of the features you'll find useful.
The main features of PDFelement Pro:
With this program, you can easily edit all aspects of a PDF document including the images and text.
The form-filing feature that allows users to fill both interactive and non-interactive fields will be very useful for business records.
You can also make use of the password protection feature to protect sensitive documents and only share them with the relevant individuals.
Easy sharing enables you to quickly and very easily send the documents to your clients in a timely and professional manner.
It is very easy to use and available for all versions of the Windows and Mac operating systems.