Imagine someone sent you a document that they want you to sign and then sent it back. Many people in such a situation will download the document, print it, then sign it and scan it before sending it. What if I told you there is an easier way of doing things. Today there are quite a number of tools you can use to add signature to PDF online. This means that you don't need to print the documents for you to sign them. To learn more keep reading this article.
Top 5 Tool to Help You Add Signature to PDF Online
1) SignX
SignX is one of the best tools you can use to add signature to PDF online. When you use this tool to digitally sign a document online you can rest assured that your signature is legally binding just like you would have done if you had signed it physically with a pen. This is because SignX makes sure that when you insert signature in PDF online you meet the most important compliance requirement in most countries across the world. The tool is easy to use and quite fast. It is also quite safe even for your sensitive document as all measures to protect your privacy have been put in place. Most importantly the tool works 100% online making sure you don't need to download the program to your device.
Pros:
It is faster making your process about 90% faster than you would do if you had to sign a paper document
It is quite effective as it makes signing document easy especially if you are traveling as you can access it from almost anywhere
It is easy to use as signing a document just take three easy steps
Allows for easy sending multiple copies of the signed document
It uses the highest level of SSL encryption to ensure that your important documents are kept secure and safe
Cons: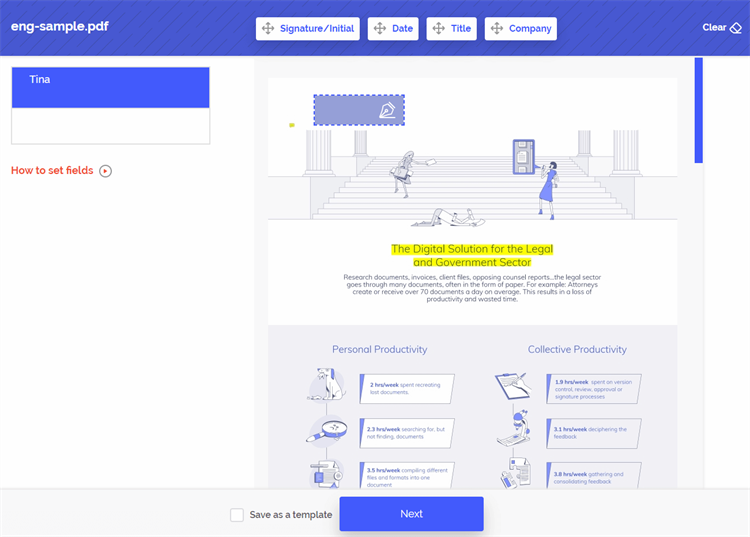 ---
2) DigiSigner
This is another great online tool that you can use to digitally sign PDF online. This is a free software designed to make it easy for you to digitally sign PDF online. All you have to do is drag and drop your document on its user interface and then enter your electronic signature and download your document. This removes hustle out of signing documents you want to send over the internet. It is secure, reliable, and delivers a great result. It is an online tool that makes work easily without having to download additional software on your computer.
Pros:
It is secure as it uses a high-level SSL encryption to guaranty user's privacy of their documents
It supports a wide range of document formats including PDFs, word documents, Images and excel files
Allows for three different ways of signing your document
Cons:
It does not allow for customization of where to sign
Handling of documents signed is cumbersome as you have to download them from the email not directly on the tool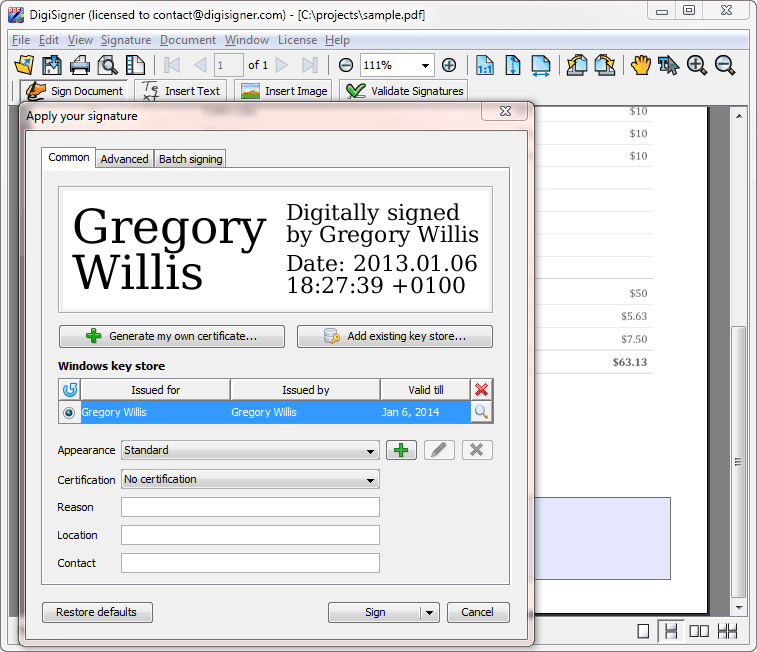 ---
3) DocuSign
DocuSign is another great signature solution that you can trust. This online tool makes it easy to work remotely as you can easily sign important invoices, letters, and contracts all online by following a few easy steps. It comes with mobile apps for all major platforms to make sure that you can do all your business remotely even you have no access to a computer. It is easy to use and is available in multiple languages which is a huge plus when working with non-English speakers.
Pros:
Designed for easy working across different platforms including mobile devices
Meets all the stringent security standards across the world including EU and the US standards
It is available across the world
It is easy to use
Has great technical support
It is faster and quite reliable
Cons:
It's quite costly
A few users have reported experiencing bug problems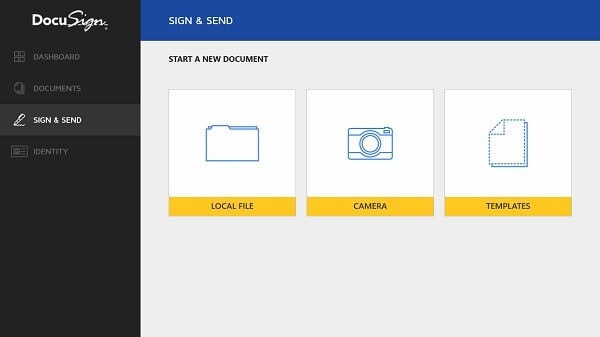 ---
4) Smallpdf
The Smallpdf is an important all-in-one PDF tool. It not only allows you esign your PDF documents but also allows you to carry out a lot your other PDF tasks such as creating PDF files from different file formats, editing PDF files, annotating PDF files, and digitally signing PDF files among other things. This tool is quite easy to use as all you have to do is upload your documents, add your esigns, and then download the signed documents. It's quite secure as it uses high-level encryptions. It is also quite reliable.
Pros:
Allows you to use two easy ways to create your digital signatures which give you flexibility in how you sign different documents
Its fast allowing to create a digital signature in a under a minute
It is quite safe and secure as it uses a high level of SSL encryption
All process is done online
Has many other functions for working on PDF
Cons:
The free version has too many limitations on how you can use it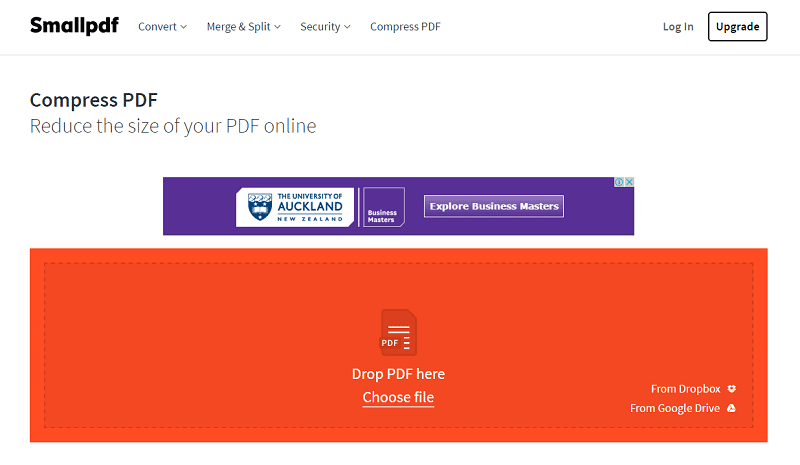 ---
5) HelloSign
HelloSign is another awesome tool you can use to digitally sign your documents online. It is quite easy as it only takes three easy steps, upload, sign, and download, to get your files signed. It is secure as it is built to meet all the set security guidelines in all major world economies. All the documents you sign using this tool are legally binding as the tool meets all the requirements for the esigning of documents.
Pros:
Has an intuitive user interface which makes easy to use
Easy to get multiple signatures per documents
It's quite fast and reliable
It's safe and secure
Cons:
Doesn't come with many other functionalities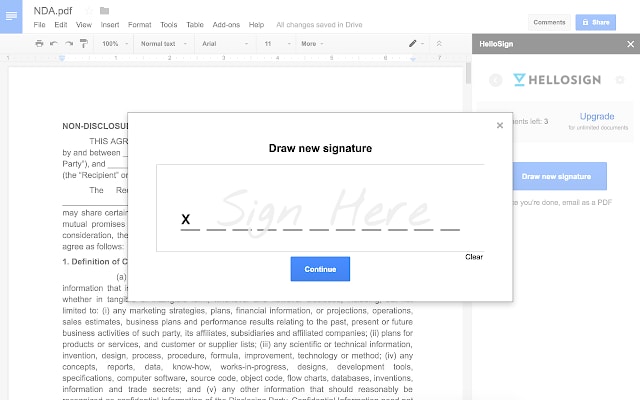 ---
The Best Tool to Add Signature on PDF on Desktop – PDFelement pro
Although online tools for signing PDF files online makes works easy they have a few concerns and issues such as security of your document. If this is an issue to you, then consider using PDFelement Pro. This is the best option when it comes to signing your PDFs digitally. In addition, it comes with many other features that make it a one-stop tool for handling all your PDF needs. To use this tool follow these steps:
Step 1: Open your PDF
Make sure you have the PDFelement tool downloaded and installed on your computer. Launch the program and then click 'Open PDF' to find and open the file you want to sign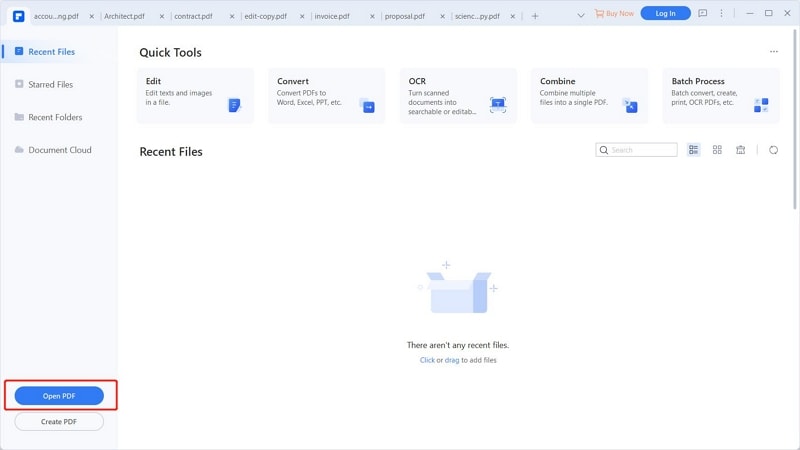 Step 2: Sign your Document
Hit the 'Protect' button and then select 'Sign Document' and then a pop windows will tell you how to sign a document. Now click 'OK' to create your digital signature.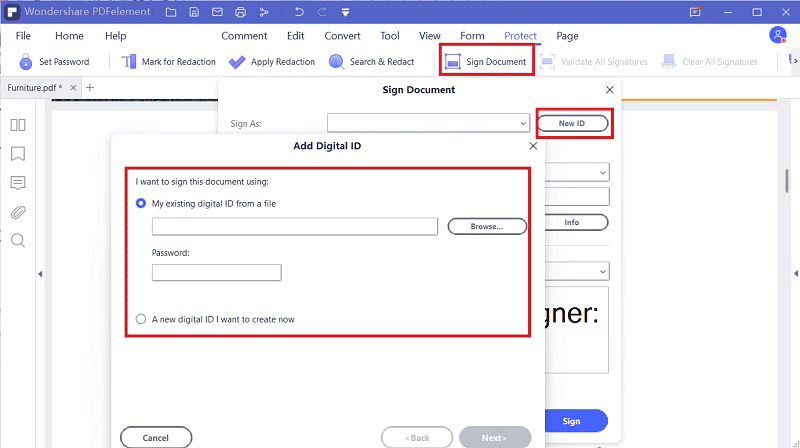 Step 3: Sign your Digital sign
If you already have a digital sign ID, you can click 'SIGN' to sign your PDF file. If you don't have a digital sign ID you can click 'New ID' to help you create a digital signature. Then click 'Save' to save the document.