It's a lot easier to manage a PDF file in image format. It's more malleable in terms of how you're able to use it, you can open PDF as image on other programs like Word or Excel. Not only that, but if you can find PDFelement Pro allows you to convert the PDF into a crisp image, you'll be able to use OCR on it later to once again make it editable.
Part 1. The Easiest Way to Open PDF as Image
Try out the PDFelement Pro. The PDF editor has a free trial available that allows you to convert pages of a PDF file into images and make it easy for you to open PDF as an image with other programs. It's quick, it's easy and the quality of the images is superb. You can even convert the PDF pages into separate images or a long singular image.
How to Open PDF as Image with PDFelement Pro
Step 1. Start PDFelement Pro
To install the program, visit their website. If you'd like, you can scroll down and have a little peek at the variety of options they have available. However, if you'd like to get on with opening a PDF as an image immediately, then follow through with the installation process and wait for it to launch PDFelement Pro for you.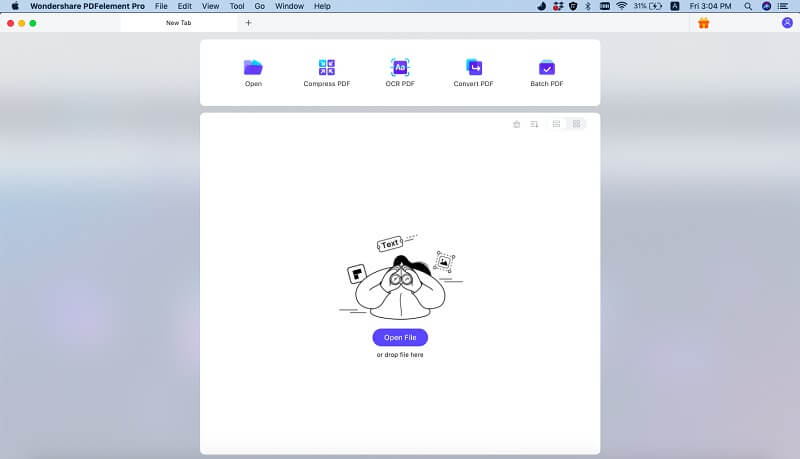 Step 2. Import selected PDF to the program
Make sure you know where the PDF you'd like to convert is because it's time to import it into PDFelement Pro next. With the program launched, quickly find the "Open" button. The windows popup will ask you to locate the PDF file you want to work on. Highlight it and click "Open" when you are done.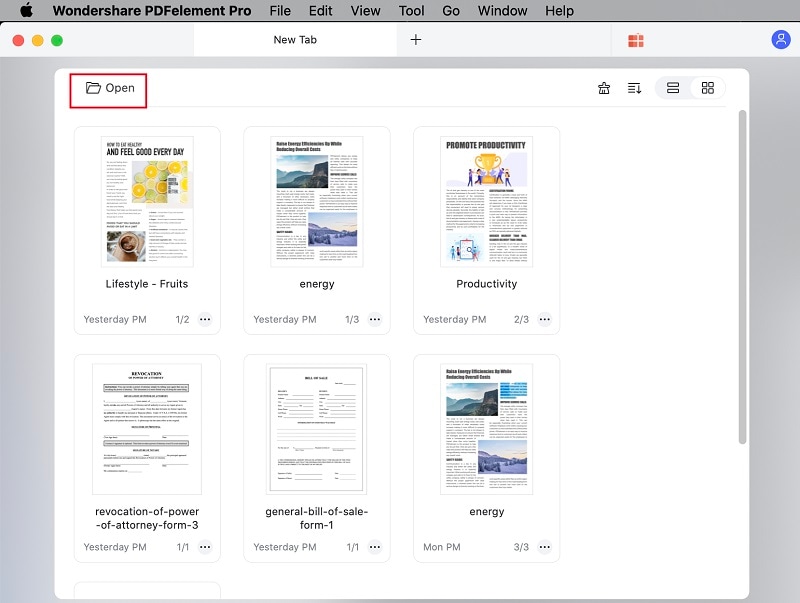 Step 3. Add PDF files to the PDF Converter
Now that the file has been imported into PDFelement Pro, it's time to begin the conversion process. Go to the "Tool" button and select "PDF Converter" on the drop-down menu. You might have noticed that you are now faced with a different screen. This will lead you to the conversion menu so that you can choose the output format of your PDF file.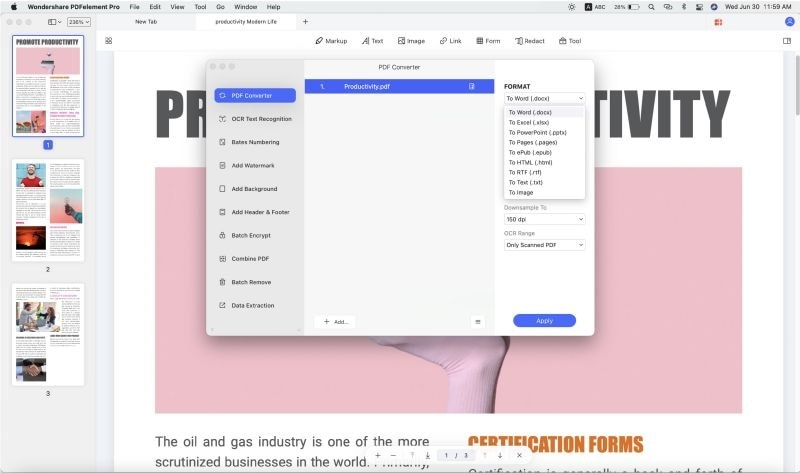 Step 4. Convert a PDF to an image
In this case, the conversion we'll be going with is Image. So click the "To Image" button. There are a couple of image formats available for you to choose from, just pick the one that applies to your needs, highlight it and press the "Apply" button. All that's left for this series of steps is to save the images in the desired folder so that you can find them easily and use them on other projects later.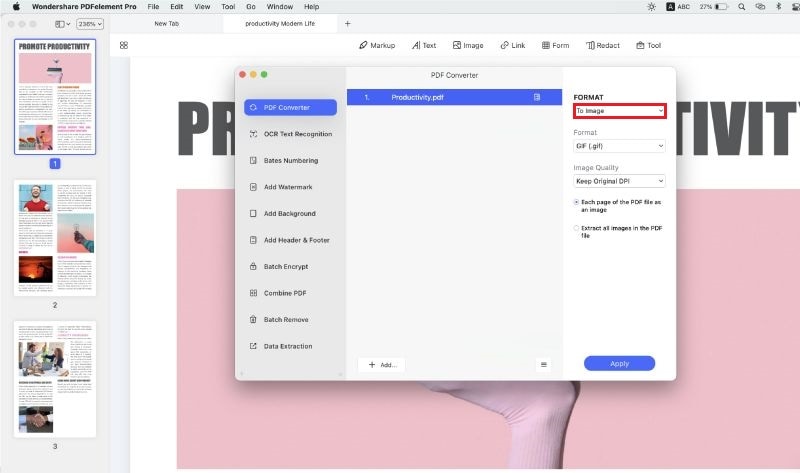 After you've converted a PDF file to an image, you can open the PDF file as an image with other programs. Except for opening PDF as an image, you can also use this tool to convert and save PDF files as other file formats, such as Word, PPT. With the help of this tool, you can easily manage your PDF documents with ease. Click here to get the full guide to using PDFelement Pro to organize your PDF editor.
---
Why Choose PDFelement Pro to Save PDF as Image
If you're ever in need of converting a PDF file that you can open and use in another program, then I would highly suggest the PDFelement Pro. If you're still hesitant, you can always try it out for yourself. Go to their website and download the free trial, there is no need to sign up, so there are no commitments. Follow the steps above so you can open your own PDF file as an image. If you want to use these files in another program, such as Microsoft Word, continue reading to learn how to open up these PDF images into your Word Document.
Main features of PDFelement Pro:
Convert PDF files into images.
High-Quality pictures can be opened in another program to use in a different project.
Instant converting of all the pages in the PDF into separate images or one singular image.
The ability to compress the image files to optimize use.
You can also open the PDF file into these programs: Word, Excel, PPT, Pages, EPUB, RTF, HTML, etc.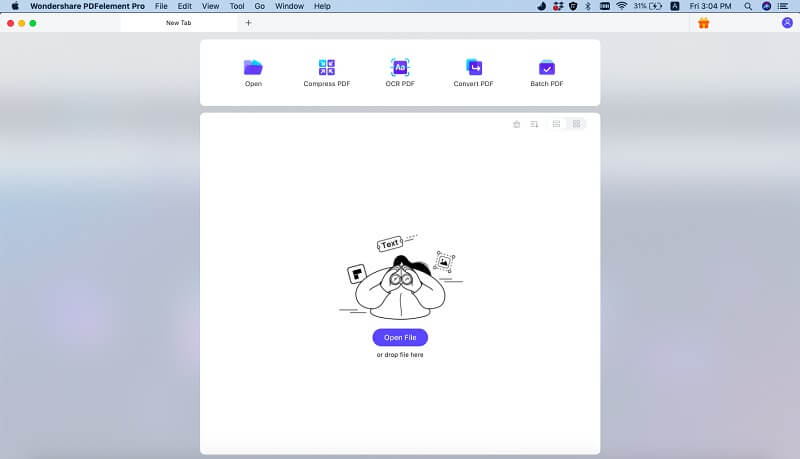 ---
Part 2. Open PDF as Image in Word
Here is a quick and easy way to open up this PDF image into a Word Document, follow the steps provided.
Step 1. Launch Word
Depending on whether you're going to add this PDF image into a work-in-progress project or centering a project around it, just make sure you have your Word document launched.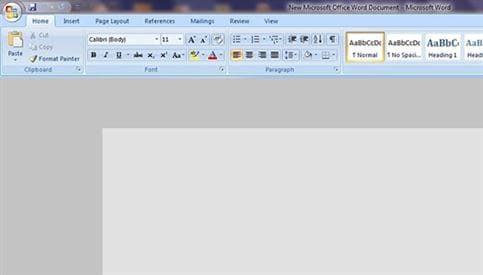 Step 2. Import PDF Image into Program
Click the "Insert" tab > "Pictures," it'll open up a windows pop-up. Here, you can browse your computer for the file that you want to convert. Once complete, click "Insert." Doing this will open the PDF image into your Word document, for you to use in whatever way you want!