The Google Docs is a very handy tool to store the documents online from where these can be accessed with ease and satisfaction. Another important advantage of Google Docs is that the data is never lost. Almost every file type can easily be uploaded using this program including PDF. Google Docs also provide an interface, which can be used to open PDF in Google Docs with ease and satisfaction. The PDF management with Google Docs is very easy and therefore it is highly recommended and reliable.
Part 1. How to Open PDF in Google Docs
The steps that are associated to this are very easy to understand. It means that they are easy to follow and implement. The Gmail or any other Google related product users can easily use the PDF related features of Google Docs to get the best results.
Step 1. Open Google Drive
Access the Google Drive and login with your account. Click the new button on the top left corner and choose 'File upload'.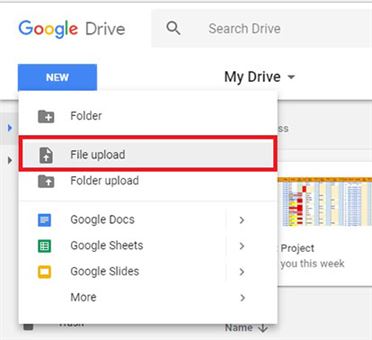 Step 2. Upload Files
From the window that pops up choose the PDF file that is to be uploaded to the drive and click open. Once the file has been uploaded search it in the drive. Right-click the file and then go to 'Open with' > 'Google Docs'.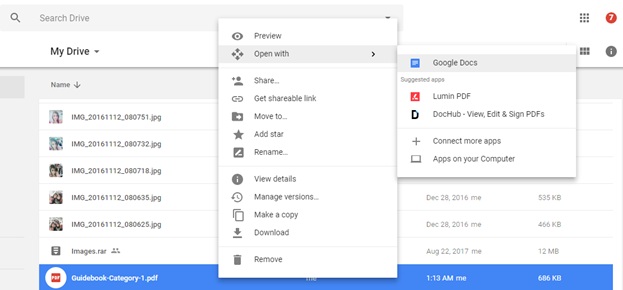 Step 3. Open PDF File in Google Docs
Then you can open the PDF in Google Docs and this completes the process in full.

---
Part 2. Common Issues on Opening, Viewing and Editing PDF in Google Docs
The most common issues, which are related to this phenomenon, are as follows:
1. The images of PDF does not load when the file is open through Google Docs
Not loading PDF images is a by default phenomenon which is associated to Google Docs. There is only one solution and that is to change the program used for PDF viewing.
2. The words of PDF files opened in Google Docs cannot be edited at all
It is again a by default phenomenon or a limitation of Google Docs. Changing program to another or copying and pasting PDF file to new Google Docs and then editing it will solve the issue.
3. The Google Docs keep loading when the option of PDF file opening from Google drive is chosen
There are many reasons to that. Unstable internet connection and broken PDF file link are usual causes of this. Uploading the PDF file to drive once again and then repeating the process will solve the issue.
4. Google Docs show distorted PDF files once it is opened
This is issue related to browser or system resolution. Troubleshooting both will get the work done with ease.
5. The pages of PDF cannot be added and deleted when it is open through Google Docs
It is one of the quandaries of Google Docs that it lacks the advance editing functions. A change of program helps in this regard.
---
Part 3. Open PDF with Google Docs Alternative
PDFelement Pro can be regarded as the best alternative to Google Docs. This program has most advanced features of manipulating PDF which Google Docs do not possess. The OCR PDF, PDF creation, securing the file and even editing of PDF has never been as easy as it is with this program and hence it is highly regarded to get the work done with ease. The steps to open PDF in Google Docs alternative are mentioned as under:
Step 1. Import PDF to the Program
Download and install the program. The PDF file can be dragged and dropped to import it to the program. The 'Open File' button can also be pressed to import the files.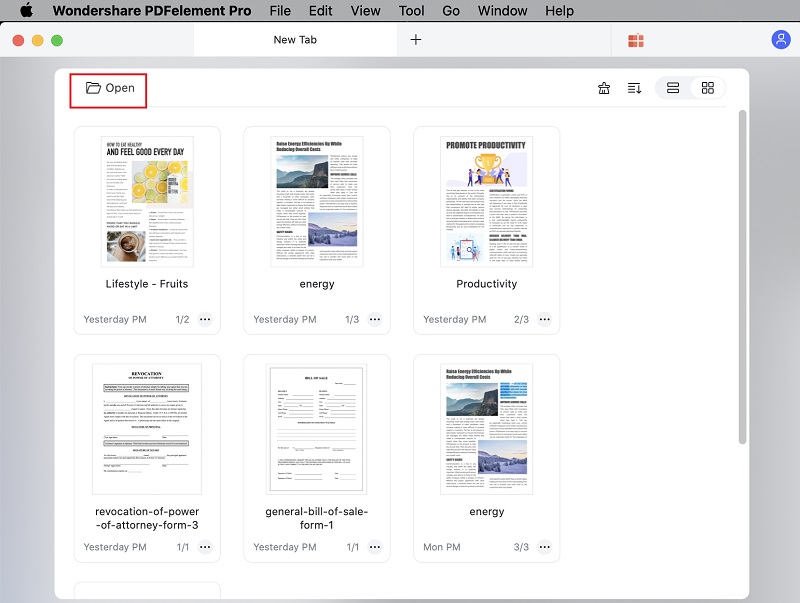 Step 2. View PDF
After you've imported the PDF to the program, you can click on 'View' > 'Zoom' on the top of menu, and view the PDF files as your needs. Otherwise, you can go to the right side of the window, choose 'Actual Size', 'Fit Width', 'Fit Height', 'Fit Page', 'Zoom In' or 'Zoom Out' icon to view your PDF pages.
Step 3. Edit PDF Files
With the help of this Google Docs Alternative, you can also edit PDF files easily. To do so, you can click on the 'Text' button. And then choose the corresponding PDF editing tool to edit your PDF files easily.
Edit PDF Texts: Open your PDF documents in 'Edit' tab and then move the cursor to select the text content you wanted. Then you can change the font size and color on the right side toolbar.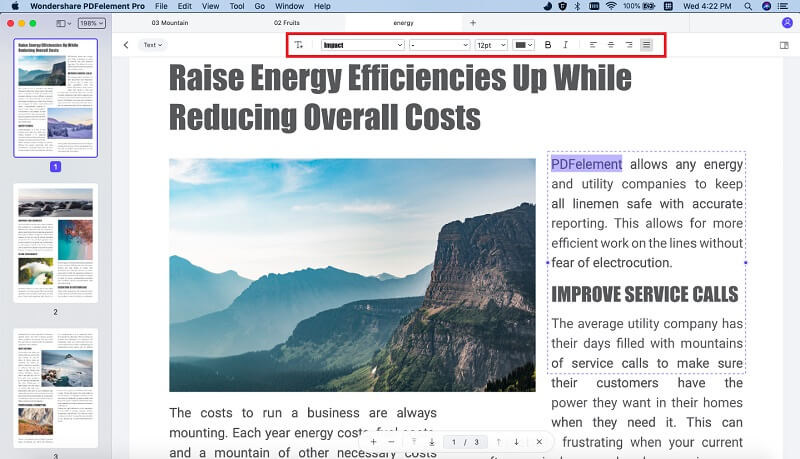 Edit PDF images: Click on the images in the PDF file, you can rotate, flip, extract or replace the images in the PDF on the image editing toolbar with ease.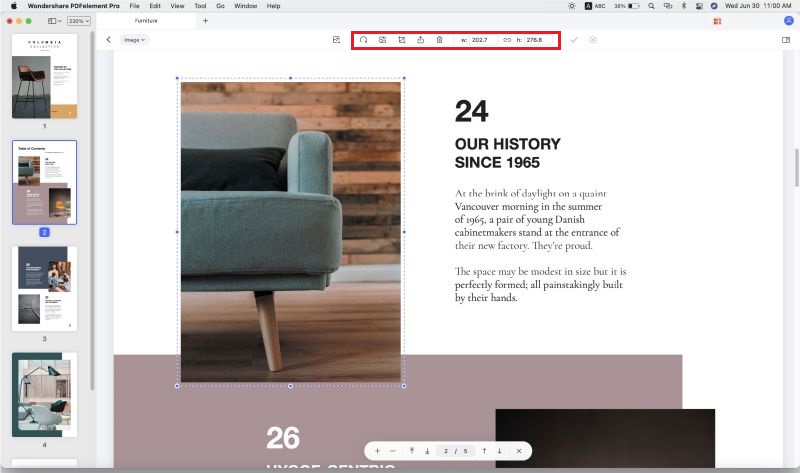 ---
Part 4. More Tips about Working with PDF in Google Docs
Google Docs are great and become even handy when it is connected to PDF files. There are many tips which can be applied to get the work done with ease. Some of the tips are as follows:
1. The PDF file can easily be downloaded and saved to Google Drive where it can be viewed using Google Docs. Click the printer on the bottom right corner, click change button, access the Google Cloud print section where you can also see save to Google Drive.
2. Open the PDF file with Google Docs and it is converted to Google Docs format. Save it once again for easy OCR PDF.
3. If the format conversion is required then it is easy. Open Word file in Google Docs and click 'File' > 'Download As' > 'PDF' and then the word format will be downloaded as PDF. There is no need of any convertor once this process has been followed.
4. The keyboard shortcuts can also be used to perform different functions on PDF files that have been exported to Google Docs from Google Drive. For instance the 'CTRL + SHIFT + F' can be used to view exported PDF in full screen.