With PDF files becoming the universal file language, we come across so many data that is transferred through PDFs. However, while PDF files make most things simpler, they also make little things such as using the content from PDF files to other programs such as PowerPoint more complicated. We came across a number of questions on how to view a PDF in PowerPoint of late, and decided to help all such users with this exciting tutorial. This tutorial introduces two unique methods of opening PDF files in PowerPoint, without having to suffer loss of formatting. Now, let's get started. You can also open PDF as a PowerPoint with PDFelement Pro.
Method 1. Open PDF Files in PowerPoint
There are two popular methods of opening a PDF file in PowerPoint. The first method is by far the most common and most used way of opening PDFs in PowerPoint. You simply need access to the PDF in question and the PowerPoint program.
This free-of-cost method simply requires you to open the PDF file directly in PowerPoint. All you need to do is open the Microsoft PowerPoint program, click on the Insert > Object menu and then click on Adobe Acrobat Document. This makes the PDF file a part of the PowerPoint presentation and lets you view and open it using Normal view.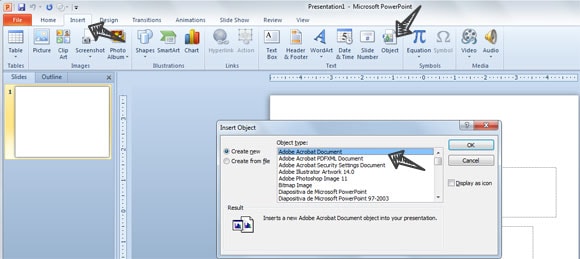 This method of opening your PDF files in PowerPoint is quite simple and hassle-free. It is also the most popular method. However, you might experience some loss of formatting while opening the file in PowerPoint, particularly if you're dealing with more complex data.
---
Method 2. Open PDF as a PowerPoint
The second method involves the use of a specific software to open your PDF file in PowerPoint. While both methods have their own advantages, users requiring heavy use of PDF files would always feel more comfortable with the second method.
PDFelement Pro lets you view and edit your data the way you would while working with word processors. It also offers a range of features such as the option to encrypt PDF files, edit PDF. In addition, you can annotate, as well as markup the PDF documents; you can convert different scanned PDF files to various file formats, and not just this, you can also split or merge PFD files. The annotating options let you highlight strike through or underline the text, make text boxes, create shapes, add sticky notes, make freehand drawings and use cloud tools as well.
If you're interested in using this exciting software in order to open your PDF file on PowerPoint, here's what you need to do.
Step 1. Import Your PDF Files
Once installed, run PDF Editor and then click the "Open" button to add the target PDF document. All imported PDF files are automatically shown in the software. Now you can edit your PDF if necessary.
Go to the "Home" tab and then choose the desired output format from the list of options that appear. In order to open the file in PowerPoint, you need to select "to PowerPoint".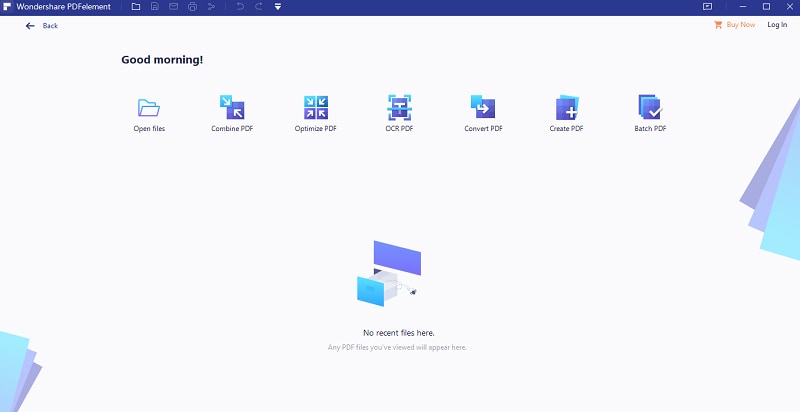 Step 2. Convert PDF to PPT
After you've clicked on to PowerPoint, a conversion window will pop up. Here you can customize page range and set the output folder. When everything is done, click "Convert" to start the conversion process. After the conversion is complete, you can open your converted files as PPT.
If you're a Mac user, look for the PDFelement Pro for Mac instead. This exciting software really makes working with PDFs extremely simple for all Mac users by offering them access to highly powerful viewing and editing tools. Using the software makes it possible to add things like images, watermarks, links and text into your PDF files without having to lose out on the original formatting. Moreover, the software also makes converting PDF files into other file formats extremely simple, thereby saving you valuable time and energy. Some top features of PDFelement Pro for Mac include the option to fill out PDF forms, markup and annotation tools, the ability to control documents and PDF pages and the option to combine different PDF documents or split an existing PDF.
---
PDFelement Pro - The Best Way to View a PDF in PowerPoint
PDFelement Pro is an exciting software for anyone working with larger and more complicated PDF files, or for those who need to deal with PDFs on a day-to-day basis. One of the main reasons why the PDFelement Pro has become so popular is that it is an extremely feature-rich software which really makes working with PDFs easy and pleasurable.
Why Choose This PDF viewer:
Multiple PDF editing tools allow you to easily edit PDF text, images, links, etc.
Insert a PDF file content into a PowerPoint presentation with ease.
Convert PDF to images, Word, Excel, PPT, EPUB and more formats.
Create PDF from other formats and create PDF forms easily.
Mark up and annotate PDF files with multiple markup tools.
Advanced OCR feature allows you to edit and convert scanned PDFs with ease.