PDF, one of the most popular file types in the world, is commonly used by people all over the planet because of the level of simplicity that it offers. Almost all types of devices and computers can open PDF files and you can save a PDF version for virtually all file types. What makes PDF so popular is that the placement of images, text and other items on the document is static. This makes the document ideal for viewing and printing. The apple iOS supports PDF files through its iBooks application, but there are all sorts of softwares and applications that can be used to view PDF files. Here are a few simple apps that can help you open PDF on iPad and iPhones. If you want to open PDF on desktop, please try PDFelement Pro.
Top 3 Programs for Opening PDF on iPhone and iPad
Smartphones are not the ideal devices in which to read PDF files, but don't let that stop you from getting work done while on the move. Since PDF has taken over as the official medium of file transfer, most of us need to view and work with PDF files on a day-to-day basis. The following iOS PDF openers should always offer a smart and easy solution while opening PDFs on your iPhone or iPad.
1. Foxit MobilePDF
The Foxit Mobile PDF is the Smartphone version of one of the most popular PDF tools for desktops. It is a dedicated PDF reader that can be used on the iOS as well as Android and handles protected and normal PDFs with complete ease. Other exciting features offered by Foxit Mobile PDF include annotation options that make it possible to strike through text, underline and highlight, the option to add sticky notes and the option to create freehand drawings on the PDF. And finally, the text reflow feature makes reading extremely easy on the smartphone screen.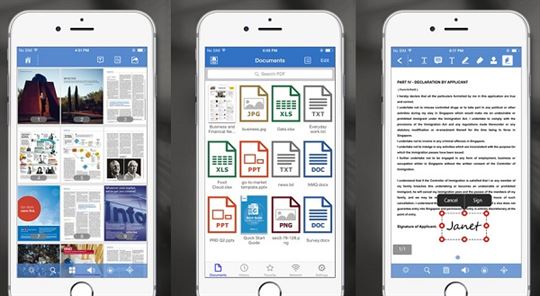 ---
2. Adobe Acrobat Reader
Adobe Reader's desktop software is famous for being bloated, but the mobile version has become extremely popular because of its lightweight style and excellent functionality. The software can be used on the iOS as well as Android and it displays all sorts of PDF documents, including password protected PDF files and PDF forms. Other features include a contextual search feature, text reflow, form filling ability and hyperlink and bookmark support. Users can electronically sign documents and view annotations as well.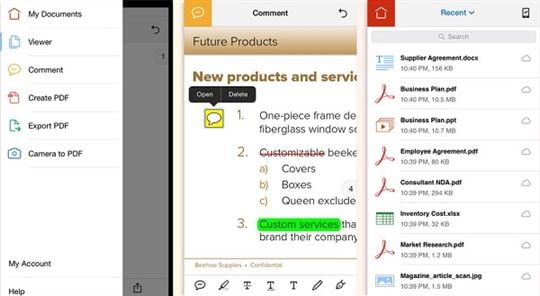 ---
3. PDF Reader Premium
The PDF Reader is another exciting free PDF reader that works on the iOS. It offers a solid functionality and features seamless document scanning and reading features. The PDF Reader also supports outlines and thumbnails and bookmarks. The reader opens password-protected files as well and the page slider and text search option allows you to navigate to exactly where you need to be. There is a text reflow option as well, so that reading becomes extremely comfortable on your iPad or your iPhone. Other features include annotation tools, cloud support and the option to scan PDF files using the device's camera.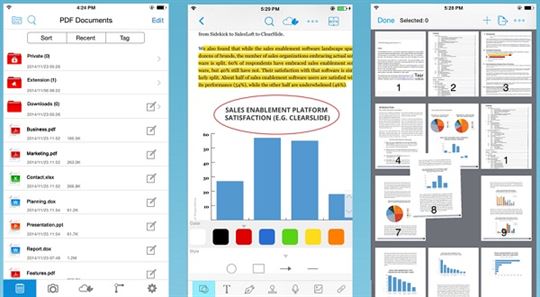 ---
| | Foxit MobilePDF | Adobe Acrobat Reader | PDF Reader Premium |
| --- | --- | --- | --- |
| Cost | Free | Free | Free |
| Annotation Tools | Strike through text, underline, highlight, add sticky notes, make freehand drawings | Sticky notes, drawing tools, markup text and highlight text. | Notes, freehand drawing, drawing tools |
| Cloud Support | Yes | Yes | Yes |
| Scan PDF Documents | No | No | No |
| Text Reflow | Yes | Yes | Yes |
| Usability | Easy to Use | Easy to Use | Easy to Use |
| Supported OS | iOS and Android | iOS and Android | iOS |
---
Recommend The Best Solution to Open PDF on PC - PDFelement Pro
Browsing and working with PDFs has become entirely possible on your smartphones, but the problem of user-friendliness and readability still exists due to the limited screen size. This is why it is essential to work with PDF files on your desktops whenever possible. One of the top solutions to help make viewing, editing and saving PDFs easier is the PDFelement Pro.
Key Features of This PDF Viewer:
This software lets you edit your PDF documents the way you work with Microsoft Word.
It also offers the option to convert PDF files to Word, Excel, Text and HTML.
Other options include controlling pagination, splitting pages, editing and removing specific pages.
Filling out forms and combining different PDF documents with ease.
The fantastic annotate and markup features let you highlight, underline, cross out, add sticky notes, create freehand drawings, make shapes, and enjoy all sorts of other annotation features on the PDF.