Have you been searching for a solution that lets you edit your PDF files online, without having to download them to your desktop? Are you stuck up with the solutions offered by other websites? Do you crave for something that gets the job done without putting you through too much trouble? If yes, then this is just for you. PDFs have become one of the most important file formats in the modern-day world and they are commonly used to exchange documents between people and businesses. The format allows people to read, edit and protect documents, and is particularly popular because of its flexibility. People often choose online PDF viewers because, let's face it, almost everything in today's world happens online. The following are some of the top PDF viewers online that you can make use of to access your PDF documents while on the move.
Part 1. Top 3 Online PDF Openers
The following are the top 3 PDF viewers online that you can choose without having to think twice.
1. PDFescape
PDFescape has been designed by a California based company which specializes in the PDF software industry. The biggest feature of this PDF viewer online is all too evident from its name. The software allows users to escape the typical software environment that typically accompanies PDF files and gives them the ease and flexibility that the online world has to offer. It is considered to be an ideal web-based app for your PDF files and it was also the very first PDF viewer-cum-editor.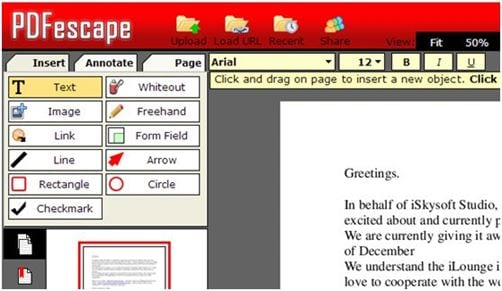 ---
2. Free Online Document Editor
What makes Free Online Document Editor so special is that it is a WYSIWYG online document editor. It can be used as PDF viewer online and you can upload, edit or convert multiple file formats, which makes it an extremely useful online software.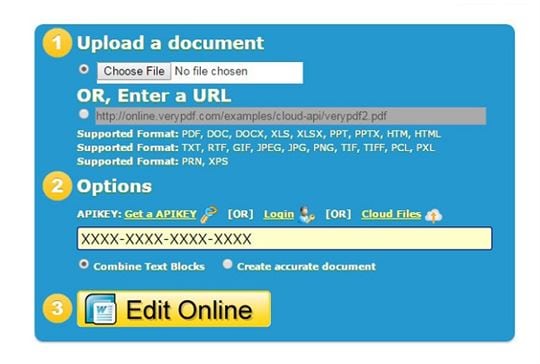 ---
3. PDFfiller
PDFfiller certainly ranks among the top online PDF openers in the world. It was launched in the year 2008 and has been topping the charts ever since. The main feature that this software offers is that it lets you view and edit your PDF files online with a level of simplicity that simply cannot be found anywhere else.
The following comparison between all three online PDF openers helps you determine which online PDF opener to choose for your requirements.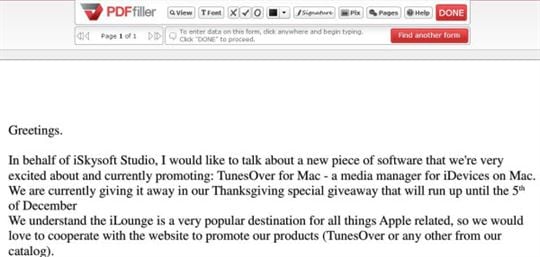 The following comparison between all three PDF viewers online helps you determine which online PDF opener to choose for your requirements.
| | PDFescape | Free Online Document Editor | PDFfiller |
| --- | --- | --- | --- |
| User Friendliness | Great | Good | Great |
| Option to Edit | Yes | Yes | Yes |
| Converting PDF | Yes | Yes | Yes |
| Supported Formats | PDF | PDF, DOCX, DOC, ODT, JPG, HTML, XPS, RTF, OTT, PPT, XLS, XLSX, TXT, PPTX, GIF, PNG, ODP, TIF, PCL, PRN, TIFF | PDF |
| PDF Form Filling | Yes | No | Yes |
---
Part 2. Online PDF Opener vs Desktop PDF Opener
1. Common issues on using PDF viewer online: Online PDF openers were brought about to try and make things simple for users, but they mostly ended up over-complicating things.
One of the biggest issues that users across the globe faced was that the PDF files simply wouldn't open using the online opener, due to certain teething setting issues. This forced people to spend a lot of time and energy in getting the settings right so that the file actually opens with the online software.
Another issue that many PDF users complained about was the loss of formatting. Online PDF viewers may have worked wonders with PDFs that didn't have complex formatting, but they almost always experienced a loss in formatting for files which were heavily dependent of formatting.
Thirdly, as with most other things online, the issue of security has always been paramount when it comes to online PDF viewers. Since PDF has become the universal file format, many individuals, organizations and corporations use it to transfer sensitive or classified information. Since certain online PDF openers require users to upload the PDF files, things can become extremely unsafe. This issue simply doesn't exist when it comes to desktop PDF openers.
Finally, the kind of features that a proper desktop PDF opener can offer cannot be seen in online PDF viewers. Thus, users who need to work with PDF files on a regular basis would find desktop PDF viewers to serve their purposes better.
2. The Best Desktop PDF Viewer: One of the top desktop PDF viewers that you'd want to take a second look at is PDFelement Pro. This software boasts of all sorts of features such as editing PDFs, PDF form filling, annotating PDF files, converting PDF files into word (without loss of formatting), splitting and combining PDF documents and controlling PDF pages. These features make the software indispensable for anyone who needs to work with PDFs on a regular basis.
Why Choose This Desktop PDF Viewer:
Easily edit texts, graphics, images, links, watermarks in PDF easily and open PDF files just in a few steps
Convert PDF to images, Word, Excel, PPT, EPUB and convert multiple PDFs in batch easily.
Create PDF from other formats and create PDF forms easily.
Easily mark up and annotate PDF files with multiple markup tools.
Convert and edit scanned PDF files with advanced OCR feature.