There are plenty of methods to extract data from a PDF file and convert it into an Excel document. There are certainly some that work better than others do, but finding a reliable system becomes relatively complicated with the multitude of tools available on the market nowadays. When choosing such products, you should pay great attention to their features, since many lack usability and responsiveness, making the entire process a time-consuming one. However, the market is also full of reliable systems which offer the necessary tools to accomplish tasks of various difficulties in no time. Below is one of those which can help you to paste from PDF to Excel.
The Best Tool to Paste from PDF to Excel
Those using frequently such systems found out about the existence of the PDFelement Pro , which came as a great relief. The system works wonderfully and comes packed with plenty of handy tools and features that will help those who frequently work with PDF files, and will offer those reliable solutions for all their problems. This PDF editor tool will help you to paste data from PDF to Excel with ease.
How to Copy & Paste from PDF to Excel
Now that we established which software product may be the most appropriate, you must know that getting used to it is relatively simple, the process not involving complicated steps. Available on the vendor's platform, there is also a small guide which many could use if they encounter issues when converting PDF files to Microsoft Excel files, by using the system. However, you must know that this system is able to covert with success PDF files into a wide variety of technological support, including Excel, PPT, HTML and Word. But below we have some crucial steps, resumed.
Step 1. Launch the Program
Simply launch the program with a double click on the desktop icon.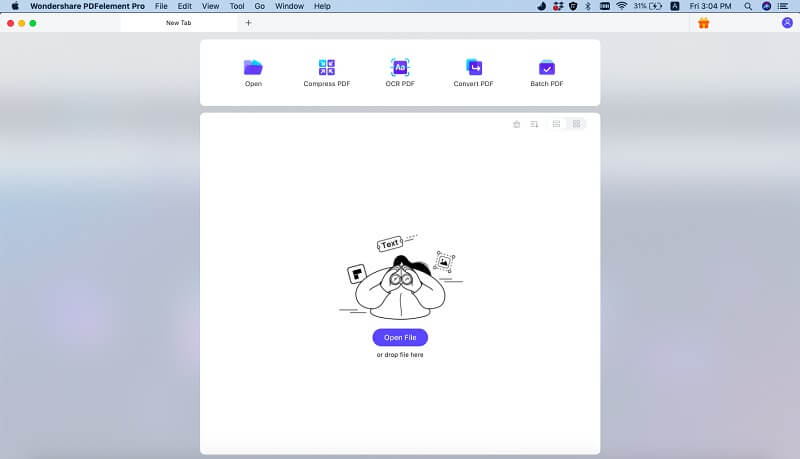 Step 2. Import the Large PDF
Once the program is launched, on its Homepage, there will be available a "Convert PDF" section. Click it and then select the file which you want to convert to Excel, from a local folder on your computer. Then, choose the desired output format, which in your case will be Microsoft Excel, from the upper bar that will appear in the program.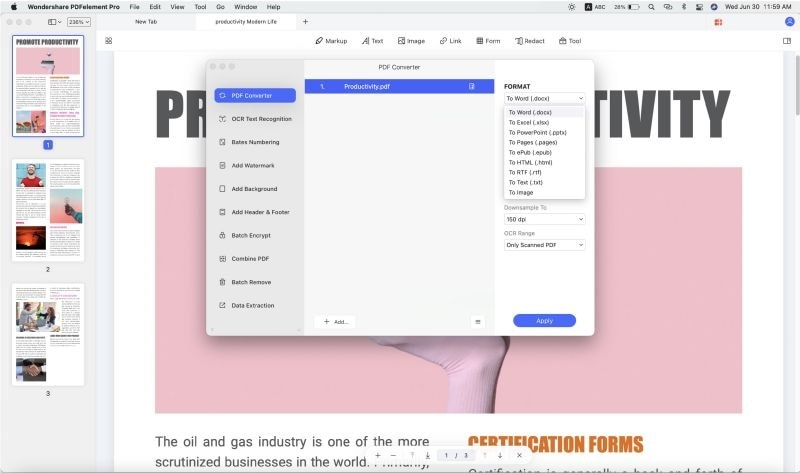 Step 3. Copy PDF data and paste to Excel
Select the page range which interests you for conversion, and after setting up the parameters as you desire, simply click the "Convert button". The system also allows multiple file conversion, which will make the process easier if you must deal with multiple ones at once. Simply click the "Batch Process" button on the Homepage and select the files which interest you. Scanned PDF files can also be converted into whatever format you prefer. Simply turn on the OCR function once the system detects a scanned PDF. After converting your files, simply paste data from into an Excel table, at your preference.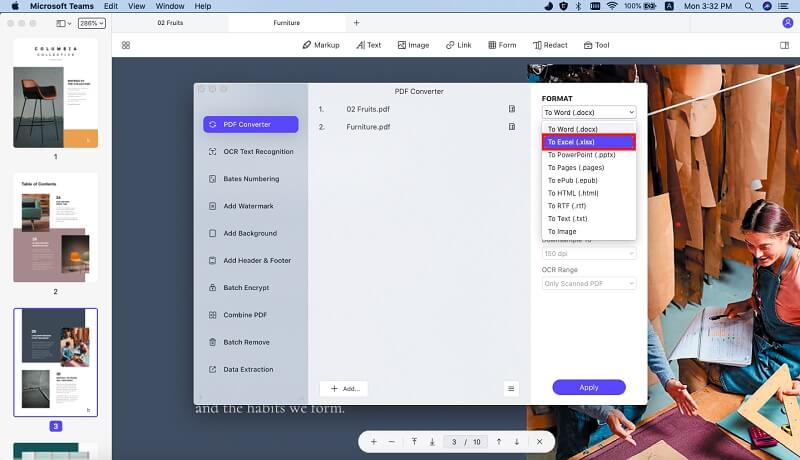 Except paste data from PDF to Excel by converting PDF to Excel, this PDF editor also provides you a way to directly copy and paste data from PDF file to Excel. These are some of the most acclaimed features of the PDFelement for Mac PDF editor. As you can easily notice, the system is packed with plenty of useful tools which will help you optimize your work, as well as easy to use.
Why Choose PDFelement to Paste Data from PDF to Excel
PDFelement Pro comes with a multitude of features useful for PDF conversion purposes. With multiple PDF editing tools, you can also edit texts, images, links and other element in PDF file easily. Advanced OCR feature also allows you to edit and convert scanned PDF files with ease.
Some of PDFelement for Mac features are listed below:
PDF editor and OCR – edit text, image and pages with the tools included in the software.
Convert and create files – convert PDF files to other multiple supports. Combine, split and create new PDF files which are also convertible but also editable.
Integrated PDF forms – whether you need interactive or non-interactive PDF forms, this system has you covered with a multitude of options.
Secure and share PDF files – add or remove passwords on your PDF files, add batch watermarks, redact and share them.