Working with PDF files instead of actual paper documents has proven benefits for both organizations and individuals. Apart from PDFs being much more streamlined, allowing faster access, they are also safer and more intuitive. However, in order to enjoy the full benefits of using PDF files, you need to use PDF document management software, like PDFelement Pro. After all, even in digital format, documents still need to be sorted. Since PDF is one of the most widely employed document formats, there are many great options for PDF management software. However, not all are created equal. While some only offer a few basic features to meet the needs of individual users, others are complex and feature-packed and are recommended for large organizations dealing with a large volume of documents every day.
5 Best PDF Document Management Software
1. PDFelement Pro for Mac
PDFelement Pro is an all-in-one document management software that combines the affordability of software for personal use with the power of enterprise-grade solutions.
The benefits of PDFelement Pro can be summed up in five words: editing, conversion, OCR, and security. This well-rounded software puts the user in control and offers features that anyone can enjoy. The interface is very user-friendly, which is what recommends it for beginners who have never used document management software before. The highlights of this software include:
The Highlights of This PDF Document Management Tool Include:
Batch scan documents to turn them into PDF files and then edit text and images
Add markup and annotations
Convert PDF files to other formats
Create a fillable PDF form and create PDF from other file formats
Organize, secure and share PDF files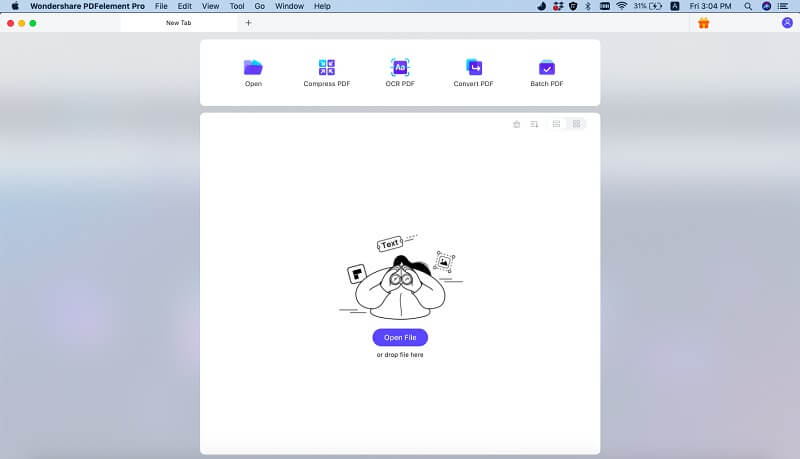 ---
2. M-Files DMS
M-Files DMS is a document management system created specifically for companies and offered a series of features that streamline workflow and reduce redundancy. This software is made for business use and complies with all required standards, including ISO 9000/9001. It has been approved for use in the medical, biotech, and finance industry. Here are some of the notable features of M-Files DMS:
Compatible with all Windows applications
Windows Explorer integration
Offline and remote access
Email notifications
Quick search using metadata
Because M-Files DMS was created to be used by many employees, it has a simple user interface, so it requires no training. In terms of deployment, corporate clients can choose the on-premise version, the cloud one or they can talk to the developer about hybrid deployment.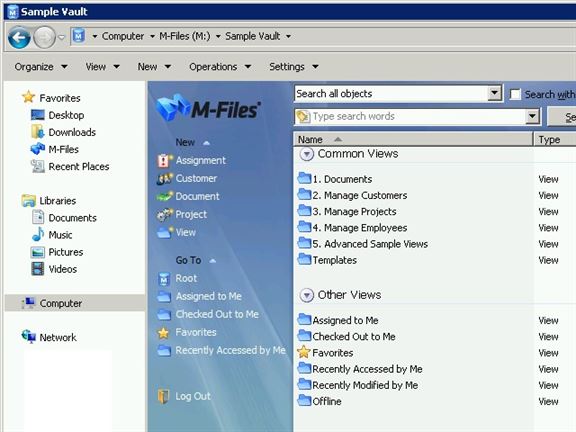 ---
eFileCabinet is a document management software for businesses, which supports entrepreneurs from all fields to go paperless. The software has won several awards and aims to make office document management faster and more secure. Offering the vital user interface that corporate clients have come to expect, eFileCabinet streamlines work with documents, putting at users' disposal a centralized organization system. This document management software has many useful features, including:
Store documents securely in the cloud
Assign permissions to avoid certain documents from being accessed by unauthorized personnel
Create document templates
Document sharing, no matter the file size
Free mobile app included for remote access
The vendor has various pricing models depending on the version the client wishes to install. eFileCabinet can be successfully integrated with other software to streamline processes even more.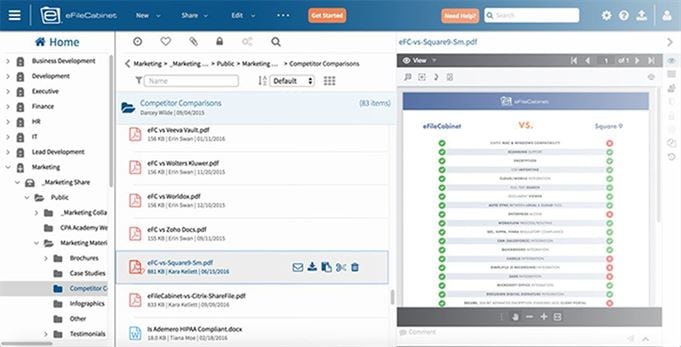 ---
Dokmee is a capture and document management software that can be used for PDF files and other formats (Microsoft Office package, AutoCAD drawings, e-mails, etc.). This software comes in three versions, which can all be tested in advance: Document Management, Image & Data Capture and Page Counter. Designed for companies of all sizes, Dokmee is flexible software that can be installed and used both on desktop and mobile platforms. Dokmee is hosted online, so all-important company documents are backup and secure. At a glance, this document management software stands out through:
Easy document organization
Streamlined file management
Reinforced security options for all documents
Remote document access
Integration with Oracle, SAP, SalesForce and other software
Clients can download the Trial or Desktop versions of the software from the Dokmee website and they can contact the vendor directly for bespoke Professional and Enterprise solutions.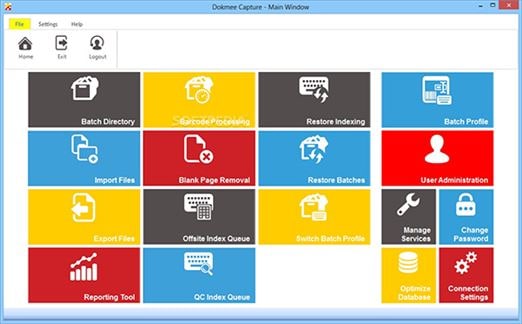 ---
PaperPort Pro is a user-friendly document management tool that offers the complete range of features advanced users need. From scanning papers to creating PDF files and completing forms, PaperPort Pro puts the user in control, whether it's on the desktop or on the go. This software was created mainly for businesses, but its ease of use also recommends it for personal users if they have a high load of documents. Some intuitive features that they can benefit from include:
Modern OCR technology allows the searching of scanned documents
Nuance Cloud Connector connects the software with more than 20 online services
Manage PDF documents
Create PDF forms
Supports over 150 document formats