It is not new to us to encounter problems whenever we try opening a PDF document. Others might be fortunate enough that they can open their PDF files without any problem. However, most often than not, people cannot really open PDF documents without installing a PDF opener. This is why it is a must for you to get the best PDF file opener so you can enjoy reading your PDF books, making business deals and the likes.
While you choose any from the wide variety of programs to open PDF in the market, you should not settle for less. Always find out which one is the best so you can enjoy it to the fullest. Choosing a not-so-good tool will just give you more headaches. This is why we will help you make a choice by listing three of the best PDF files openers available these days.
Part 1. Top 3 Free PDF Openers that You Can Use
You no longer have to go through all the troubles of assessing every single program that open pdf files in the market. We will give you the list of the top 3 tools. It is now up to you to decide which among these three is the best for your needs.
1. PDFelement Pro
PDFelement Pro is known to be among the most loaded PDF openers out there. Its features are definitely among the best ones. There are a lot of advantages of using this PDF document opener. No wonder why it is now starting to be on top of all the PDF openers available today.
It can edit and convert a scanned PDF document. It also allows you to edit your PDF document by converting it to editable formats first. It also lets you to easily merge and split PDF pages. The best thing about this is that it supports OCR feature and creates PDF file in the most efficient and most effective way.
Why Choose This PDF Reader:
Edit texts, graphics, images, links, watermarks in PDF files with professional editing tools.
Convert PDF to Word, Excel, PPT, EPUB and convert multiple PDFs in batch.
Easily open PDF files and view password secured PDF files in a few simple steps.
Create PDF from other formats and create PDF forms easily.
Mark up and annotate PDF files with multiple markup tools.
Edit and convert scanned PDF files with advanced OCR tool.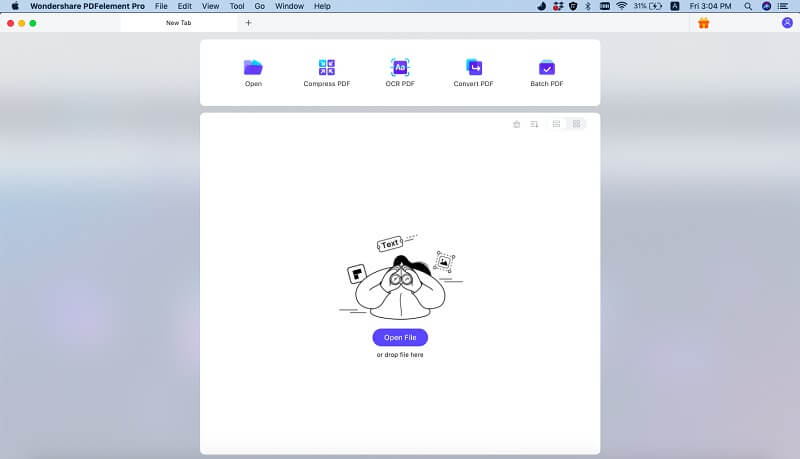 ---
2. Adobe Acrobat Reader
Adobe Acrobat Reader is currently the most popular PDF reader as of the moment. However, just because it is the most popular one does not mean that it is the best one already (though it is actually among the best PDF openers in history). Just how we can use it on our desktop computers, we can also use it on our mobile phones as it support iOS and Android operation system.
This PDF reader is packed with a lot of features. It allows you to take some snapshots of images and texts. Also, it allows you to view a PDF document in Read Mode and have the app read the text of the document out loud. No wonder why it is among the best PDF openers today.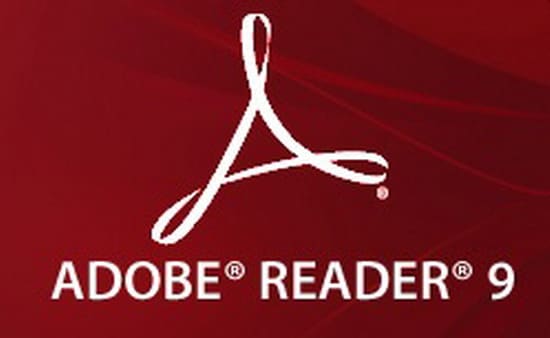 ---
3. SumatraPDF
It is available for free. There is no need for you to spend any amount of money to enjoy this app. This is popular for its user-friendliness and simplicity. It is also open for heavy and loaded customization if you want.
This PDF opener offers a variety of viewing modes, including Book View, Presentation, Single Page and Facing. The Presentation viewing mode is perfect for distraction-free reading.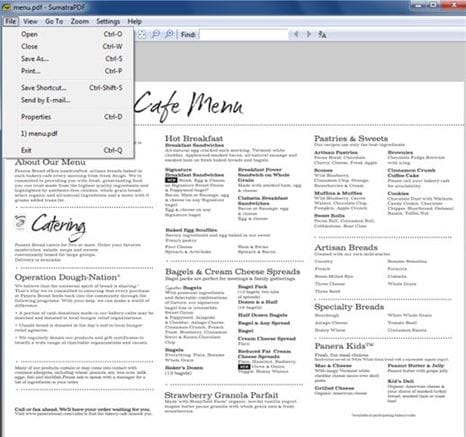 After reading the list above, are you now decided on which program should you install? If you are still confused, then it is best for you to check this comparison chart! It will compare the top 3 openers for PDF listed above and give you an idea on which among the three is a better choice for you. Here is the comparison chart for Adobe Reader, SumatraPDF and PDFelement Pro.
PDF Opener

Supported OS

Other Details

Adobe Reader
Mac, Windows, iOS, Android

Packed with key features
Great for business use
Available for free

Sumatra PDF
Windows

Offers variety of viewing mode
Tons of keyboard shortcuts
Available for free

PDFelement Pro
Mac, Windows

Loaded with useful features
Comes with Mac and Windows versions
Great for reading and business purpose
Supports OCR
Powerful conversion
---
Part 2. How to Use PDFelement Pro Software to Open a PDF File
There are a lot of ways that you can do to surely open PDF documents on your Mac. However, if you really want to use the best program for this purpose, then you should choose none other than the PDFelement Pro . It is considered to be the best among the rest when it comes to opening PDF documents on Mac. Aside from the fact that you can open PDF file, you can also edit your PDF document using this program. If you are interested to know how to open PDFs with PDFelement Pro, then you should follow these steps:
Step 1. Import Your PDF Document
Once you have already done downloading, installing and running the program, it is now ready to be used. To open a PDF file, all you have to do is to click the "Open File" option in order to import your PDF document.
Note: If the PDF file is encrypted, the program will promote you to enter the correct opening password.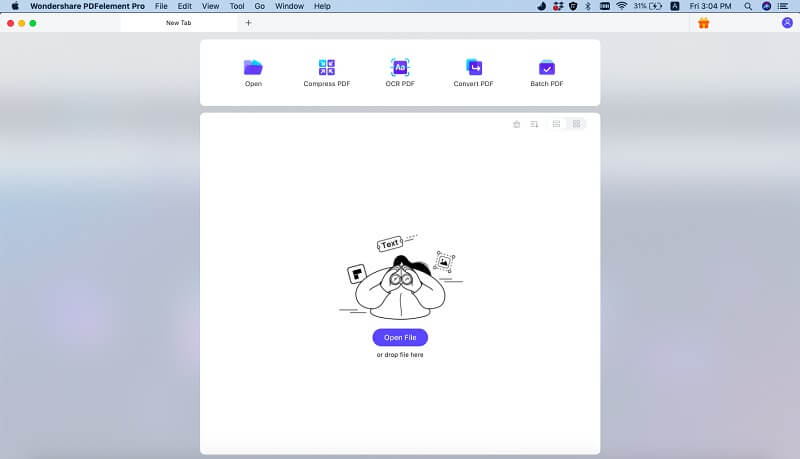 Step 2. Edit Your PDF
If you are interested in editing your PDF document, then you can also do so with this program. With this fabulous program, you can easily edit texts, images and pages in your PDF, split and merge PDF files, annotate PDF for reading better, convert PDF to other popular formats and more.