Keeping track of receipts, bank checks, bills, forms, and other essential documents can be a hassle. However, with the advent of PDF scanner software, it becomes a lot easier to turn your paper documents into digital files that can be easily accessed from any device. Digital format is also best in terms of presenting and protecting your documents. Moreover, saving documents as PDF files take up less space and make it easier to look for specific information.
If you search the internet for PDF document scanner software, you will probably find many to choose from both paid and free. But finding the best amongst all is difficult. Here in this article, we will walk you through the top 5 free PDF scanner app.
Part 1. Top 5 Free PDF Scanner APP
#1 PDFelement Pro
PDFelement Pro is the most advanced and the best PDF scanner app that will make sure that you get the best results. This scanner also offers PDF scanner OCR meaning that the image that has been created as a result of scanning can also be used for the OCR functionality. This PDF scanner free download software is easy to use with multiple settings and intuitive features to help you produce quality PDF files within minutes.
Pros:
Functions range from simple to the most advanced.
Scan the PDF and perform the OCR function to change the image to an editable file.
OCR text recognition and conversion of multilingual documents.
Cons:
Cannot embed video files while creating PDFs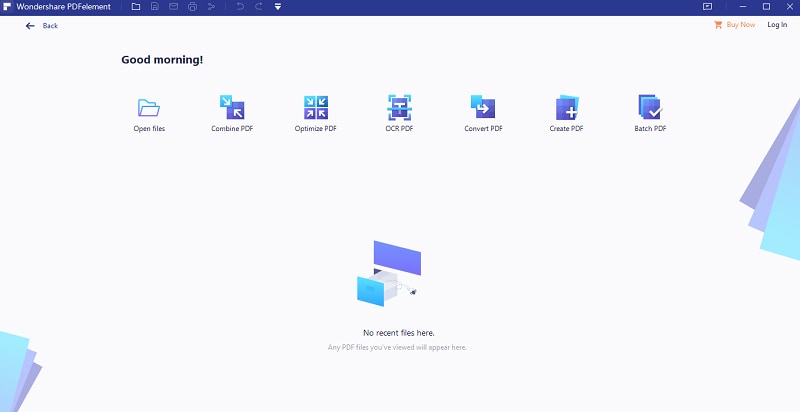 ---
#2 NAPS2
NAPS2 (Not Another PDF Scanner 2) is a free PDF scanner app that lets you set up multiple scanning profiles, each with its name, resolution, document size, scan source, and many more. The images scanned are imported directly into the NAPS2 and then you can save them as images or PDFs. PDF scanner free download today.
Pros:
Supports several image formats like JPG, PNG, and even TIFF.
Toolbar buttons allow controlling the ordering of the pages.
Cons:
PDF support is basic and straightforward.
Not all profile settings work.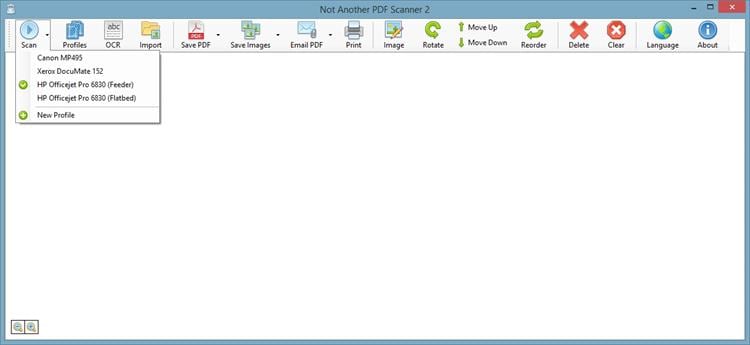 ---
#3 Adobe Acrobat
Adobe Acrobat is another complete PDF solution that offers users with plenty of features and capabilities. This PDF scanner software allows you to convert any paper document into PDFs and modify them quickly. It works well on desktops and devices with Windows operating system.
Pros:
Smooth and user-friendly interface.
Test indexing for quick searches.
Full editing features in the mobile APP.
Cons:
Lacks some high-powered OCR proofreading tools.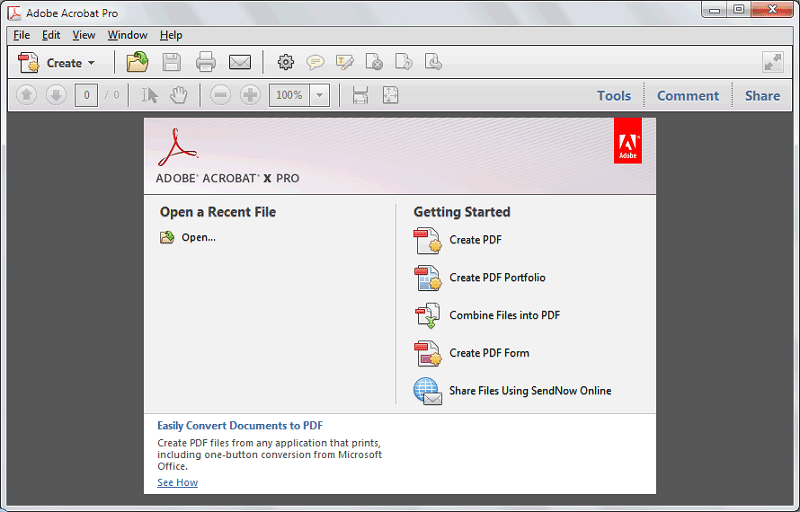 ---
#4 VueScan PDF Scanner
VueScan PDF document scanner comes with fairly extensive customization options and works well. With VueScan, you can keep your scanner working after upgrading platforms even if you can't find the required drivers for the scanner. This PDF scanner software comes in two editions, standard and professional.
Pros:
Delivers higher-quality output.
Supports color calibration.
Compatible with all the scanners.
Cons:
Not user-friendly, with the best settings not always the obvious ones.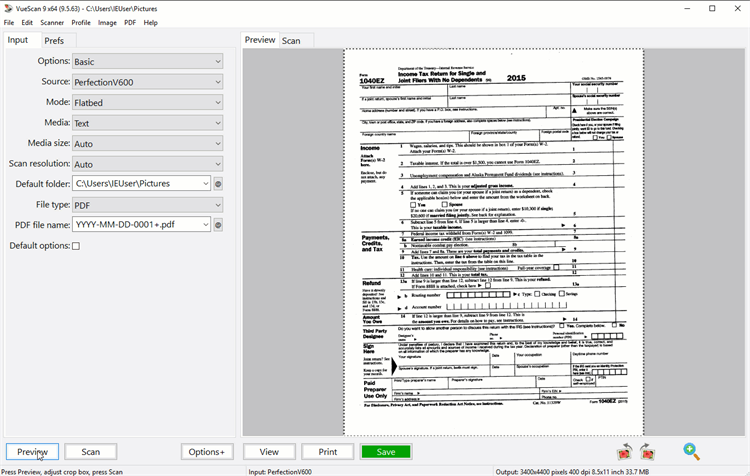 ---
#5 Foxit
Foxit is a comprehensive PDF solution that caters to the needs and requirements of businesses and personal users. This PDF scanner app has an intuitive, user-friendly interface and an extensive set of advanced features. With Foxit, users can convert multiple file formats to PDF and vice versa.
Pros:
Robust set of features and capabilities.
Supports up to 41 languages.
Integration with Google Drive, Dropbox, and OneDrive。
Cons:
Cannot be used for PDFs that contain Flash animations。
Lacks OCR capability。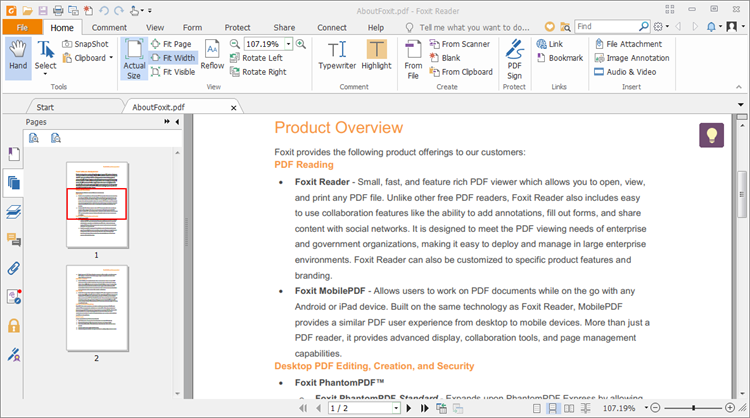 ---
Part 2. How to Scan PDF with PDFelement Pro
Step 1. Download and Launch PDFelement Pro
Download and install PDFelement Pro and launch it on your computer. Select the 'Home' button in the menu bar and then select the icon marked 'From Scanner' to launch the 'Scan to PDF' function.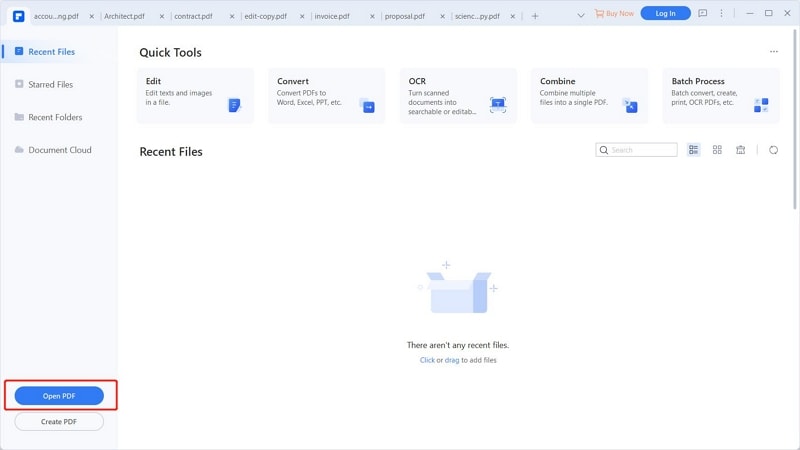 Step 2. Customize Scanning Properties
Click on the 'From Scanner', a popup box appears with various customization options for scanning. First, select your scanner device from the list of scanners and then choose either to continue with the current dialogue box or scan files using the scanner. Then customize how you want to scan the files by selecting the number of 'Pages', 'Color Mode', 'Resolution', and 'Paper Size'. Finally, select 'Make PDF/A-2b compliant' to standardize your file, this will make your file accessible across most platforms. Now to make your file searchable and enable editing, select 'Recognize Text (OCR)'. Once you are done with the customization, click 'Scan' at the bottom of the dialogue box to begin scanning.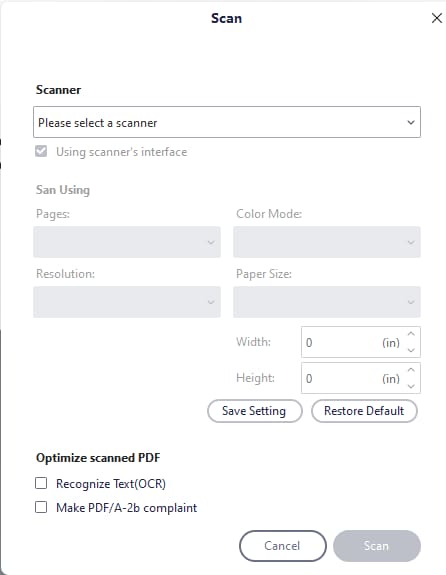 Step 3. Save PDF
Once you are done with the editing, save your work. Click on the 'File' button and then on 'Save As', name your file as you want it to be searched and save it.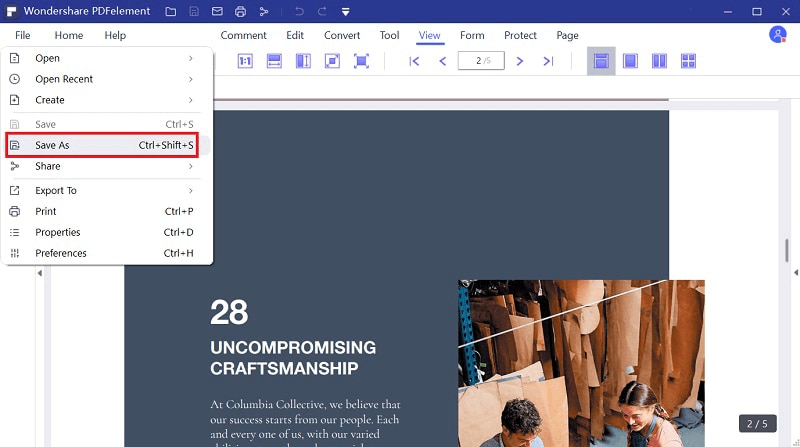 Now you know how to use PDFelement Pro to scan to PDF and save your work. Go ahead and free download this best PDF scanner app on your device and enjoy its advanced features. Not only can you scan documents to PDF but also perform various other functions like quickly and easily edit PDFs, insert and edit comments, add digital signatures, convert any PDF to and from Microsoft, Word, Excel, PowerPoint, or make multiple different types of annotations.