You as a professional designer or planner have encountered PDFs at several points. PDF is the most popular and perfect file format to share data and exchange information. However, if you want to edit illustrations such as machine component drawing, part drawing, and assembly model, it might be stressful to do so in a PDF file. The best alternative is to use PDF to CAD converter for making the most of designs. It takes .dwg format and will make it easier to edit arcs and lines on the drawings easily. With that said, you need to look for PDF to CAD converter free download.
Top 3 PDF to CAD Converter
1. Aidecad PDF to DWG Converter
Aidecad PDF to DWG converter is a special tool designed with a very specific purpose. That is converting PDF documents to CAD, which is the format used by design programs such as AutoCAD. It lets you convert your PDF files to usable and editable DWG files quickly and easily. Aidecad is a high-performance program to convert PDF files into high-quality DWG format and is compatible with any popular CAD systems.
Pros
Convert thousands of PDF files to DWG files in one easy step.
Batch convert all pages in each PDF files.
Extract embedded raster images from PDF files.
AutoCAD and Adobe Acrobat not required.
High-quality, high performance, and simple to use.
Cons
Very expensive license.
128 MB of RAM needed.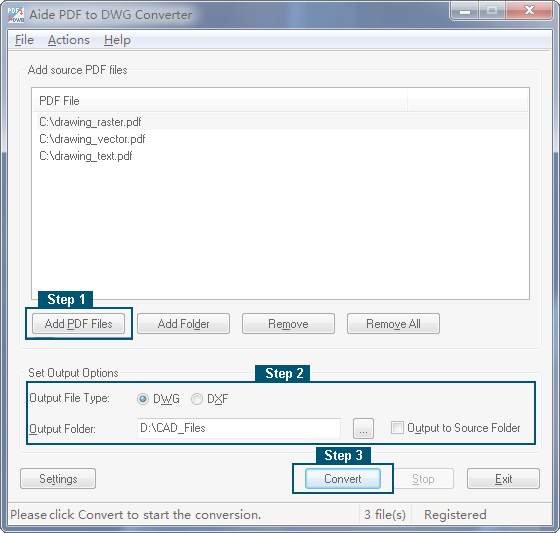 PDF to CAD Converter Free Download >>
---
2. Any PDF to DWG Converter
Anyone who works with AutoCAD software will have to convert PDFs into useable files for editing. That can be a time-consuming process but Any PDF to DWG converter can help. It automates the process and reduces workload. With some powerful features, this software is the best PDF to DWG converter allowing you to easily convert PDF file to AutoCAD format like .dwg and .dxf. With this software, you can specify the page ranges that you want to convert and convert any version of PDF files to both DWG and DXF formats very quickly. PDF to DWG Converter free download today and get started with editing your drawings easily.
Pros
Outputs AutoCAD R13-R2017 DWG/DXF files.
Handles single page and multiple page DWG/DXF files.
Convert the whole PDF document, a range of pages or one page into separate DWG/DXF files.
Generates and optimizes vector entities like lines, polylines, hatches, circles, and arcs.
Cons
Little complex to use.
User interface not that good.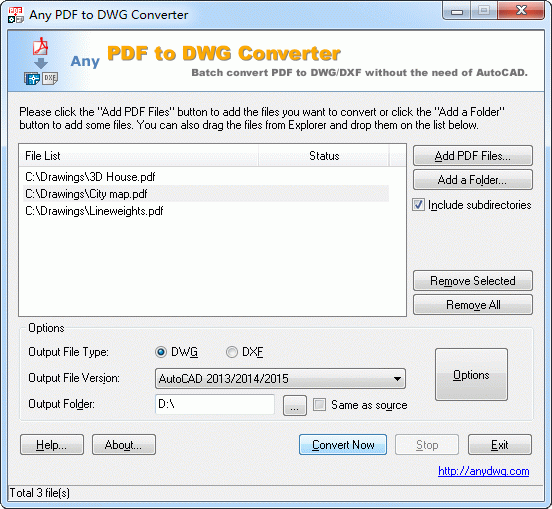 PDF to CAD Converter Free Download >>
---
3. Able2Extract PDF to AutoCAD Converter
Able2Extract converter is an excellent industry-leading PDF to AutoCAD converter. It lets you convert your drawings directly into layers so you can easily access text patterns, hatches, and polylines. It utilizes conversion technologies that enable it to convert PDFs to CAD formats while retaining the integrity of the file or document. Transfer PDF data into DWG and DXF formats and convert complex drawings and locked down vector graphics in just few clicks. This PDF to CAD converter free download help chooses the color palette based on your preferred color settings.
Pros
Convert multiple file layers.
Compatible color palettes.
Custom made CAD conversions.
Convert PDF images without any integrity issue or data loss problem.
Cons
Microsoft office dependency.
No auto-detection of fonts in PDF editing.
LaTeX style formatting output is not great.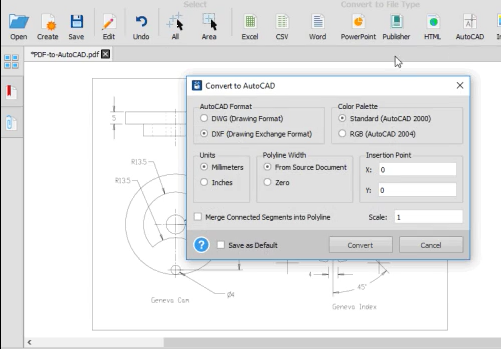 PDF to CAD Converter Free Download >>
---
Recommend PDFelement Pro – the Best PDF Editor
Looking at the above software, they only convert PDF to CAD, but if you want software that converts PDF to other editable formats as well as creates, edits and OCR PDFs, then PDFelement Pro is the best. It is a product of Wondershare that allows easy editing of PDF files. You can easily edit PDFs directly, create PDFs, make PDF forms, and make use of OCR component to convert scanned images into editable documents. PDFelement Pro is designed with usability in mind. Let's take a look at the key features:
Easily edit PDF files with a full-featured word processor. Change font type, size, and style.
Add sticky notes, text boxes, and personalized drawing tools for easy document sharing.
It allows you to take multiple files in different formats and merge them to create one PDF file to easily print to PDF in windows.
Use OCR to edit scanned files to make documents searchable and selectable in more than 20 languages.
Create and convert or scan PDF to wide range of file formats easily without losing fonts and formatting.