Looking to print bookmarks in PDF files? For starters, a bookmark is a link with representative text located in the navigation panel. Every single bookmark in the navigation panel directs to a specific view or page found in the document. Furthermore, an electronic bookmark can be used as a paper bookmark, in that you can use it to mark a place in the document where you want to return to. You can also direct the reader's attention to focus on where you want them to, by modifying view using a bookmark. This article takes you through the best way of printing bookmarks in PDF with PDFelement Pro.
Part 1. How to Print Bookmarks in PDF without any Hassle
To print bookmarks in PDF can be one annoying process if you do not know the best tools to use. We have made the process hassle-free for you by introducing to you PDFelement Pro. This program is designed to enable you to print bookmarks in PDF without a hassle. PDFelement Pro is laden with features such as editing PDF, converting PDF, securing PDF and has OCR for PDF. With PDFelement Pro, you can mark up and annotate PDF, create free-handwriting drawings and much more. Read on to find out how you can print secured bookmarks in PDFs using PDFelement Pro for Windows.
How to Print Bookmarks in PDF
PDFelement Pro is the professional PDF editor which can help you to edit and print PDF document easily. Following steps will show you the detail on how to print bookmarks in PDF.
Step 1. Start PDFelement Pro
Download PDFelement Pro and launch it on your computer. There is a free trial of the program before purchasing the advanced level. The purchased program has advanced features compared to the free one.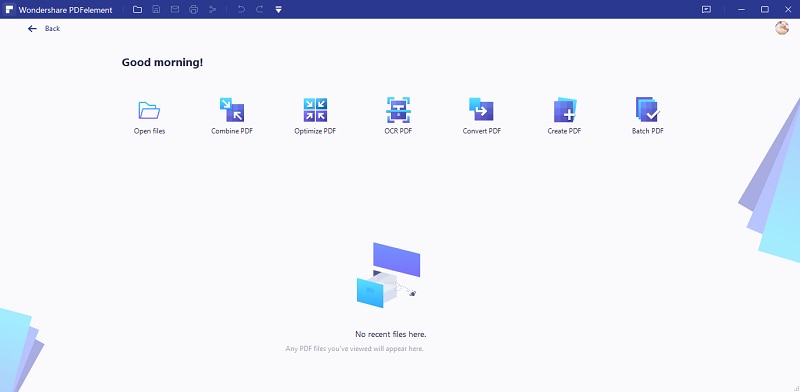 Step 2. Import PDF Files with Bookmarks
Open the PDF document with bookmarks and import. To open a PDF on your PDFelement Pro, click on "Open File" to browse your file.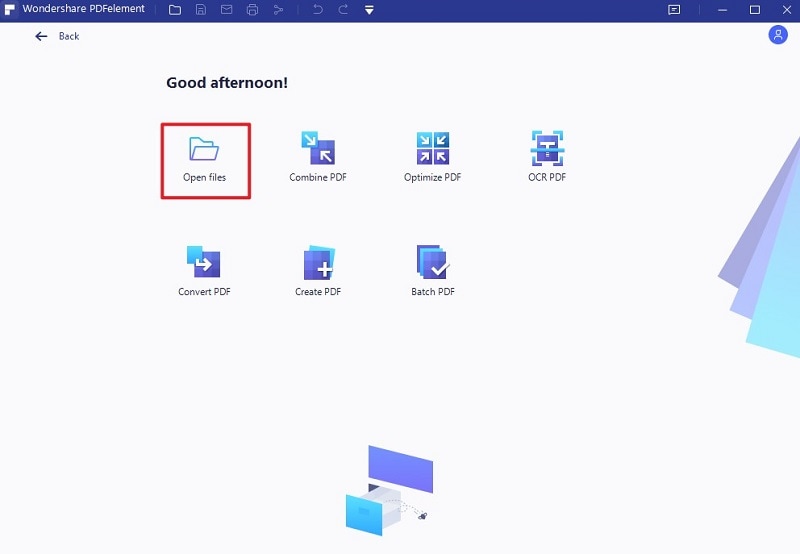 Step 3. Print PDF with Bookmarks
Edit PDF Files: Then select the PDF file for printing. If you need to make any changes to your PDF files such as editing text, images or bookmarks, you can do it before you print the PDF file. To do so, click on the "Edit" button and then you can choose the PDF editing tool to edit PDF file easily.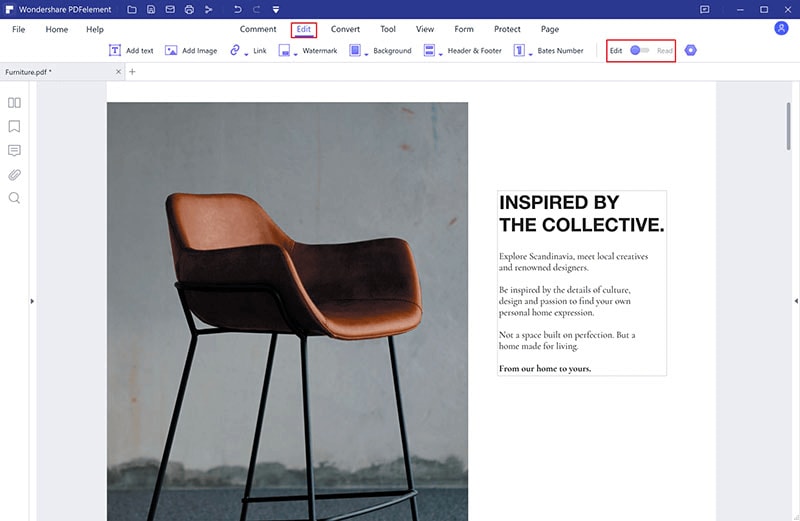 Print PDF File: After successfully editing, click on "File" icon then tap on "Print." Set the printing page as desired then start printing the PDF with bookmarks.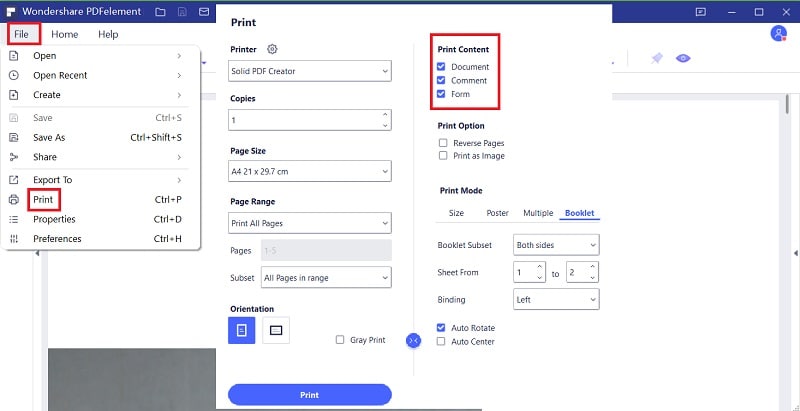 Step 4. Print Word to PDF with Bookmarks
If you want to print Word to PDF with bookmarks, you need to convert Word to PDF at first. After you've created a PDF from the word document, you can then print word to PDF with bookmarks.
Convert Word to PDF: In order to convert Word to PDF file, you can click on the "Create PDF" tab. The pop-up window that follows will enable you to choose the Word document that you intend to convert to PDF.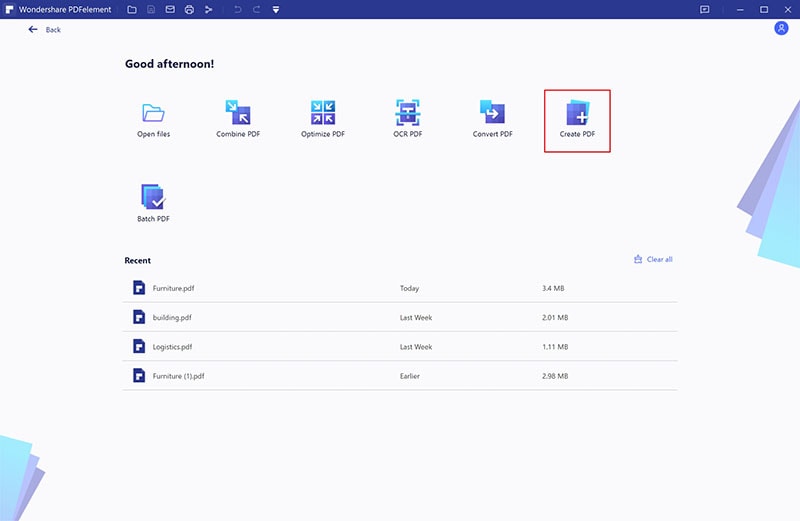 Save as PDF File: Select the desired word file and click on "Open." You can further edit your document before printing if need be. Next, click on the "File" option and choose "Save as" so that you can save the Word file to PDF. The wizard page that follows will ask you the output location. Select the location then tap on "Save as". As simple as that, you will have converted Word file into PDF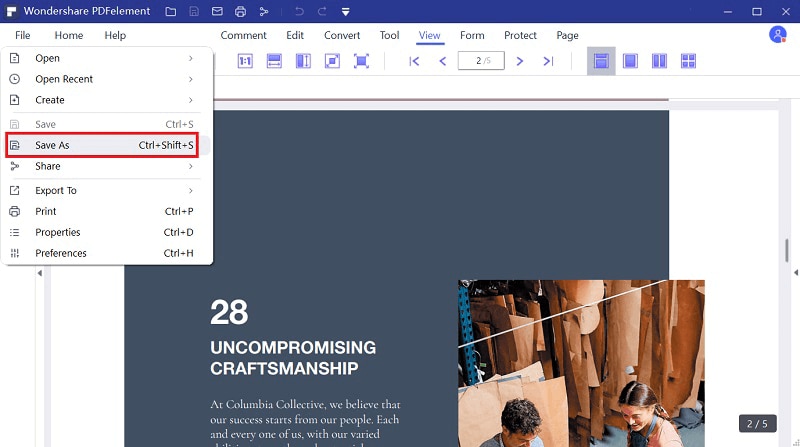 After a successful conversion, go to "File" menu then tap on "Print" icon. You will be redirected to print settings. Set the page as you desire and start printing.
---
Why Choose PDFelement Pro to Print Bookmarks in PDF
More than ever before, PDFelement Pro has made editing, converting, creating, securing and sharing PDF documents easier than ever. The program has simplified handling PDF files in very many ways. The software comes in two types: PDF Editor Standard and PDF Editor Professional. The Standard costs $ 69 while Pro is $129. You can bet on the fact that the purchase price is worth the work PDFelement Pro does. Moreover, the software is compatible with both Windows and Mac, thus avoids restrictions.
PDFelement Pro is incredible at combining and splitting PDF files, creating and filling PDF forms and encrypt PDF with a password and adding watermark to the data. Moreover, you can perform this operation in batch.
Main Features of This PDF Editor
Bates numbering. With this, you can apply labels to PDF.
Redact PDF. This means that you can remove sensitive texts or images from the PDF file.
OCR PDF. You can edit then convert scanned PDF files even in batch.
Batch processing. This means it can convert, data extract and do other operation in multiples or batch.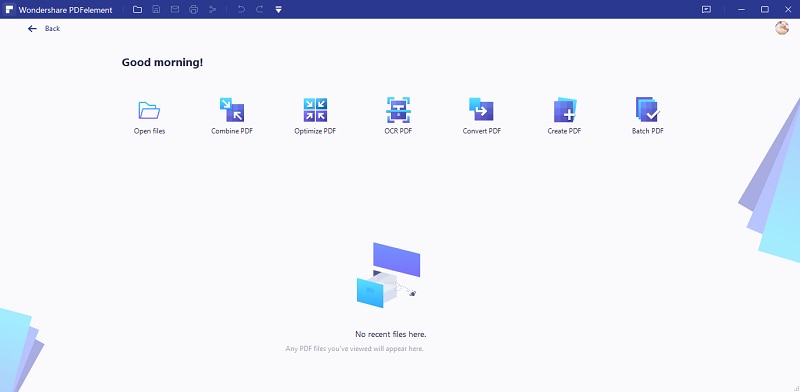 ---
Part 2. Common issues on Printing Bookmarks in PDF
There are specific problems that users have noted when it comes to printing PDF with bookmarks such as:
Setting destination bookmarks at the bottom of the page. In some cases, destination automatically places itself at the top.
Converting MS Word headings into rendered PDF bookmarks, sometimes they point at erroneous page locations in the PDF.
Print preset for each bookmark. In other words, getting specific pages to print for each bookmark might be challenging.
Complexity in setting up large PDF with bookmarks.
Challenges with editing javascript.
Printing a table of bookmarks that correspond to page numbers ofa a document.
Some PDF files contain incomplete or corrupt data.
Availability of damaged images or fonts that cannot be processed during printing.
In conclusion, the issues named should not be a hindrance since PDFelement Pro is working round the clock to look out for upgrades.