Printing PDF files as an image is not difficult to do. There are many ways you can accomplish this, the question is the quality of the image when you've converted it. I'd suggest downloading or installing a PDF editor, so that you'll be able to edit the PDF first before actually converting them. However, if you're looking for a quick and easy conversion that will print the image for you immediately, then you can use Adobe or an Online PDF editor. Either way, here are the steps needed to print PDF as image.
Part 1. Print PDF as Image with PDF Editor
PDFelement Pro is an useful PDF Editor that will help you to print pdf as image format easily. With multiple PDF editing tools, you can also edit text contents in PDF files before printing easily.
Step 1. Launch PDFelement Pro
You will have to install this PDF editor on your computer, but the process is quick and takes only a couple of minutes! It is a free-to-try program with a couple of limitations, but downloading the software is commitment free. You do not need to sign up, just click the "Try it for Free" button, and begin the installation process. This should automatically launch the program for you.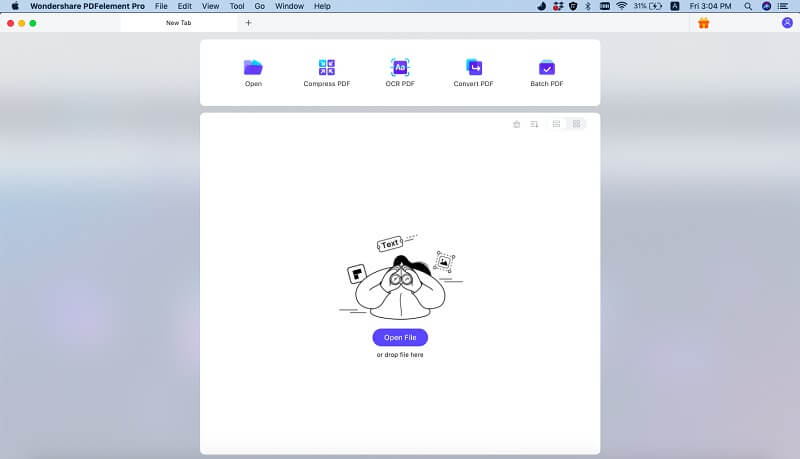 Step 2. Import a PDF file to the program
Import the PDF that you want to print as an image. Click the "Open File…" button to open up the windows box that allows you to locate and highlight the file that you want to open. Click "Open" so that you can begin! Feel free to make a couple of changes before the next step.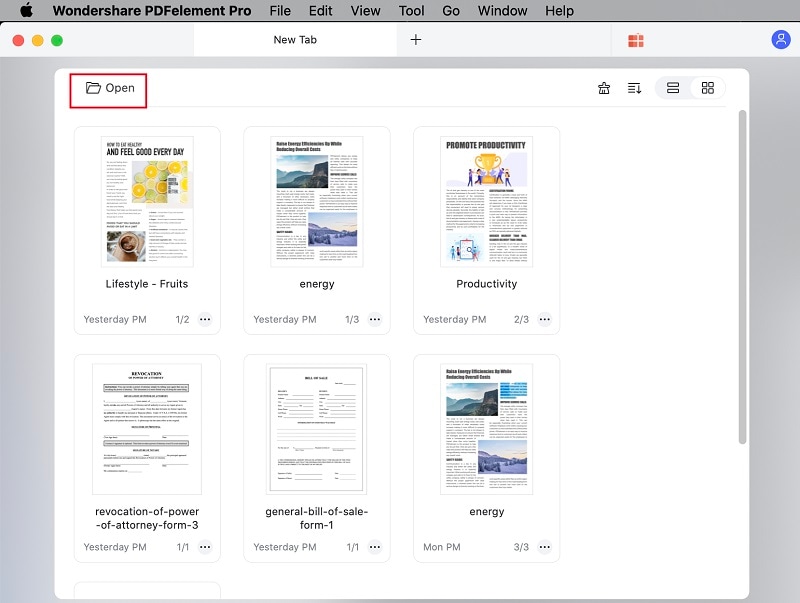 Step 3. Select image format as the output
With the file ready and prepped, it's time to convert! Press the "Convert" tab to be brought into a new screen. In the drop-down menu locate the "To Image" option. That should change the screen one more time, to show you the different formats that are available for conversion.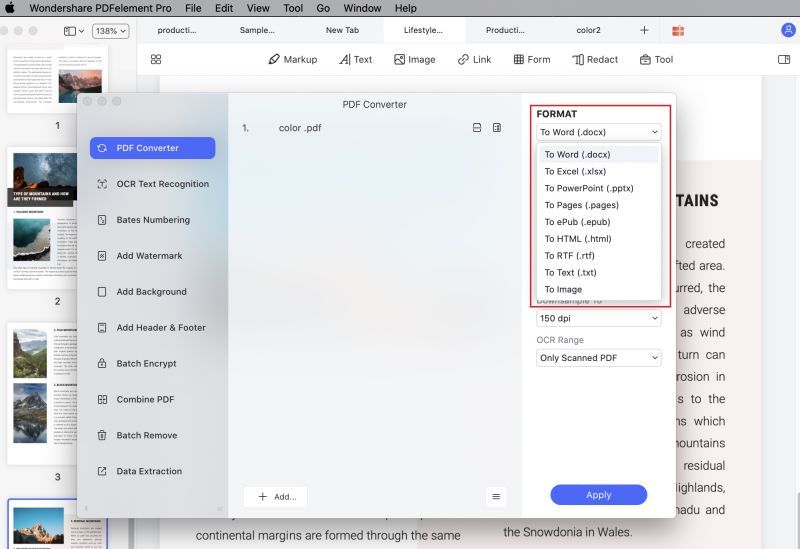 Step 4. Convert PDF to image format
On the converting panel in the right side of the main interface, you can open up the different image formats to choose from. Highlight the one that applies to you and click on the "Convert" button.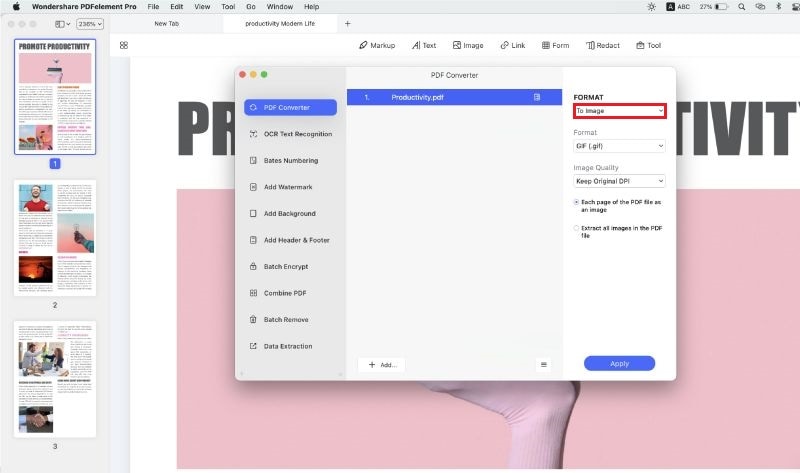 Step 5. Print PDF as image
All you have to do after the PDF to image converting is to save the converted PDF image. After that, feel free to print. You can see for yourself that the high-quality print that it produces. Click on the "File" button on the top left corner and choose the "Print" option to print to PDF as image.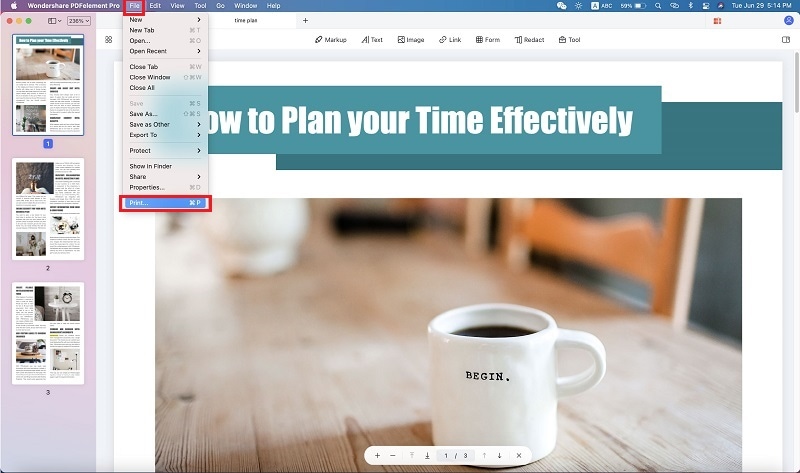 ---
Why Choose PDFelement Pro to Print PDF as Image
The reason that I believe that PDFelement Pro is the best program to try, is based on its ability to print High-Quality images. This is a quality that is difficult to get anywhere else, and you can try the program out for free to see for yourself! The PDF editor provides you an easy way to manage PDF documents easily. You can easily convert and edit PDF files with easy. Advanced OCR feature will enables you to edit and convert scanned PDF files.
Key features of PDFelement Pro:
Printing PDF files to Image files is quick and easy;
The printed images retain crisp text that is completely legible;
There is no need to print images one by one, PDFelement Pro will convert all the pages into images, which you get separate or together;
If you find that the file is too big, compress the image to optimize it's use;
You can also print the PDF file into other formats, such as, Word, Excel, PPT, Pages, EPUB, RTF, HTML, etc.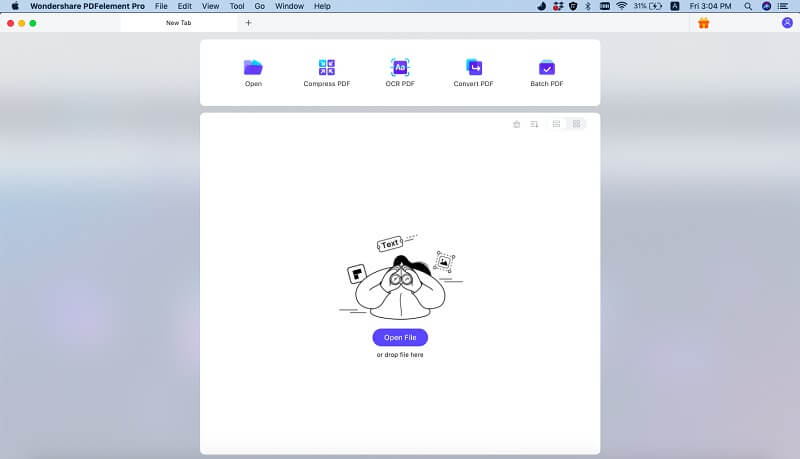 ---
Part 2. Print PDF as Image in Adobe
With the help of Adobe, you can also print PDF as an image. The process by using Adobe is easy to master, following the steps below to start the process of printing PDF as image in Adobe easily.
Step 1. Launch Adobe Acrobat Reader
The installation process is quick and easy, just press the orange "Install Now" button and it will prompt you to save the installer into your computer. Allow the .exe file to run. It will install the program for you. Once done click "Finish" and you're good to go. The program will now run.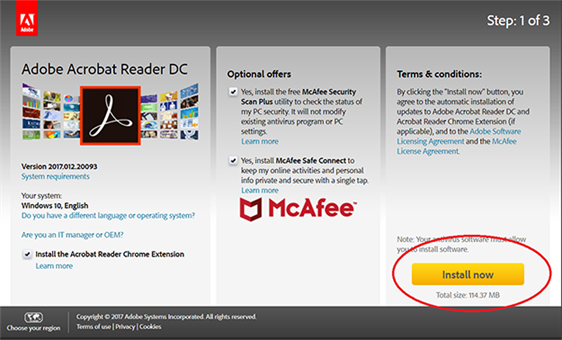 Step 2. Import PDF into Program
Open your PDF file through Adobe Acrobat and click the "File" tab > "Print…" This will cause a popup to appear on your screen. Locate the "Advanced" button to get to the next step.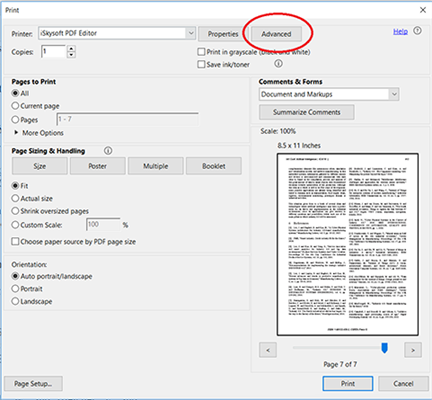 Step 3. Select Print as Image
Clicking the 'Advanced' button will cause another popup to appear on your screen, this time you need to click the "Print as Image" button. With this, you are done! Just click "OK" and "Print."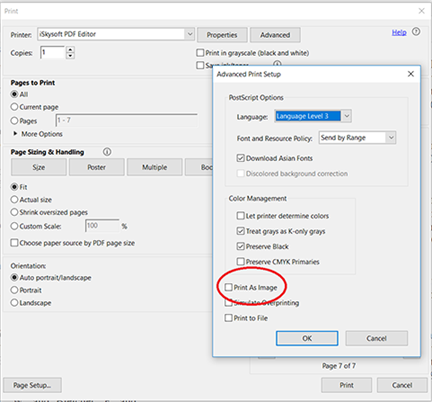 ---
Part 3. Print PDF as Image Online
There are also many online PDF tools that allow you to print PDF as an image online for free. The steps below will show you how to print PDF to image using the online PDF converter: docs.zone
Step 1. Go to the docs.zone website
There are a list of options that they have available. One is the ability to print PDFs as an Image file. Click the "PDF to Images" tab, to be able to upload a PDF and have it quickly converted to an Image file.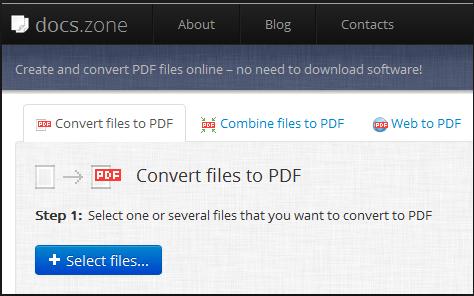 Step 2. Select Files
Click the blue "Select Files..." button and a popup will appear prompting you to open the PDF file you'd like to print as an Image.

Step 3. Start the Printing
Another popup will appear, showing the PDF you had selected. Click "Start" and wait for the process to complete!
Note: There are limitations, the website requires you to sign up in order to convert all the pages.

Step 3. Download the Converted Image
Last but not least, when the program completes printing your PDF as an image, you are not able to download the files yourself! Just click the "Download" button and you're done. It will come as a .zip file if there are multiple pages, which you can extract later on.
Note: This downloadable file will disappear after 6 hours, promising security. However, that also means you should download it as soon as you can.