Although the value and success of a project cannot be measured solely by the volume of documents produced, documentation does play an essential role. Project managers have nowadays the possibility to simplify their work by resorting to a software tool. A construction project document management software solution can automate document reviews and approvals, folder creation, monitor activities through reports, track project status over time and several other things that overall can reduce risk, improve collaboration and save time. When selecting the right tool of this kind, businesses have the chance to adhere to their company's best practices through system capabilities specialized for their profile. Although there are various software products that can be useful in this department, these are 5 that have made it to the top of the list:
Top 5 Project Document Management Software
1. PDFelement Pro for Mac
The PDFelement Pro is an excellent PDF editor that has proven to be of extreme use in terms of project document management. Making the conversion and creation of PDF files an easy task, providing effective PDF file edit and sharing possibilities, as well as allowing an easy customization of PDF forms, this software tool can simplify engineering document management, allowing users to handle project creation in a faster, easier and more effective manner. The affordability and power of this tool make it a good choice for organizations. These are the most relevant features that make this particular software product a reliable PDF editor option for project managers:
Main Features:
Editing PDF pages, texts and images easily
Conversion of PDF to HTML, Excel, Word and others
Creating PDF files from templates, text files, webpages, images, existing PDF
Redacting PDF documents
Converting and editing scanned PDF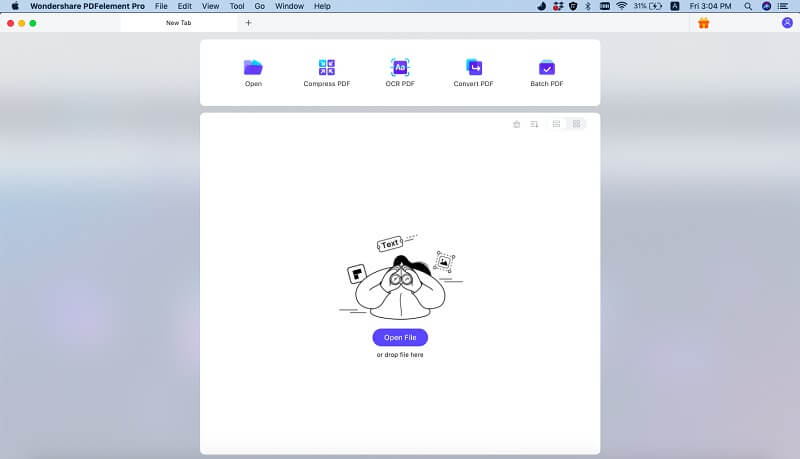 ---
When it comes to the management of engineering and construction project documents, this software tool is known for offering excellent support. The system's capabilities have been designed to support the automation of project folder creation, the monetization of activity, document reviews and several other tasks relevant to the completion of a project. In Document Locator, users have the possibility to capture and log information in RFQ's, RFI processes, and submittals, as well as change orders, leading to customizable workflows. By providing greater accountability and control, as well as efficient approval and reviews processes, the system increases productivity across the engineering organization and the following features are the ones that make document management for projects a simplified task:
Facilitates consistent document organization with autofolder technology
Off-site access to information through a secure web tool
All project files can be stored in a single unified system, including documents, emails, images, drawings
Folders and files can appear as shared network drives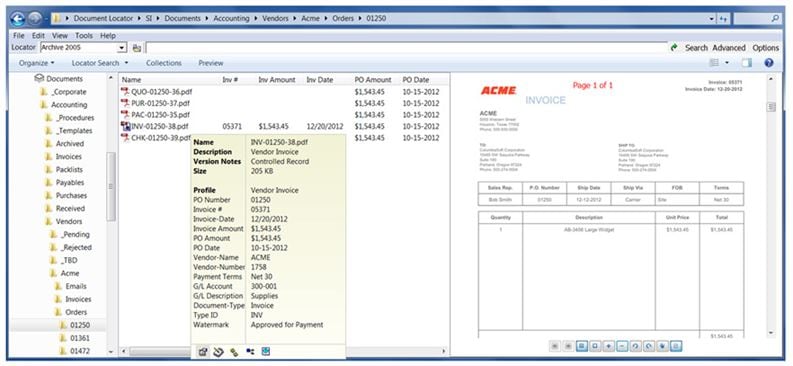 ---
Zoho Projects is another app that facilitates project management, increasing effectiveness and lowering project completion time. The system allows constant access to the latest versions of project documents, giving the team of an organization the chance to work together. The online tools offered by this app can improve productivity and ensure the success of any project. What seem complex task can be now organized into manageable units with the support provided by Zoho Projects software. Numerous businesses who desire to make their document management responsibilities easier to control, have chosen to resort to this system, which comes with these several useful features:
Universal access to all project documents, spreadsheets and presentation – feature that permits a team work improvement
Refined project control with recurring tasks, subtasks and dependencies
Built-in integration that generates invoices from timesheets automatically
Keeping track of project document management tasks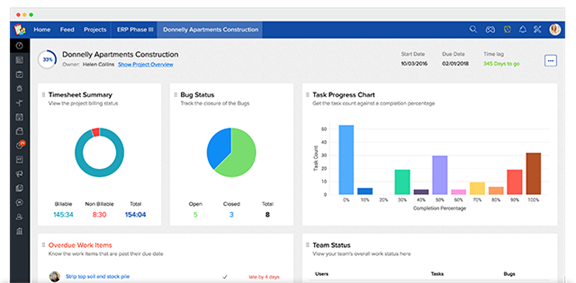 ---
This system allows organization to maximize the profitability of their projects by offering them document management support. With this app, workflow can be managed from quote through to invoice, while permitting the tracking of costs and time. Project budgeting will be improved, and gaining critical insights will be achievable. What makes this software solution so beneficial to integrate, besides the numerous effective features incorporated, is the financial transparency involved. When it comes to document management, here are the things WorkFlowMax can actually do for project managers:
Documents can be pushed into tools like Box, Drive and Dropbox
Putting all data in one place → managers can see many standard reports at once
Track timelines, assign jobs, receive project notifications
Can be accessed at anytime, anywhere
Bulk and paperless invoicing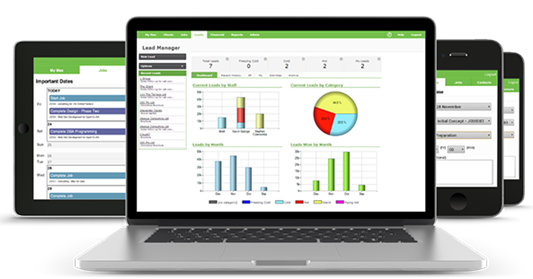 ---
This project document management software solution helps build a collaborative environment across an enterprise with real time accessibility first of all, and unlimited seat licenses for every team member of the project. The designers of the app have followed the motto that when documents go digital, nothing will ever get lost, so no inconveniences can affect the further completion or success of a project. Functioning as a virtual filling cabinet, this tool offers robust and sophisticated document management.
Unlimited storage space
Check-in & check-out functionality
Archive all data
Protect project documents