There are many PDF files that contain small words or images that make it very hard to view. Therefore many readers have asked how to zoom in on a PDF. The task can be easy as long as you have the right tools. This article will teach you how to zoom PDF on Mac and Windows step by step with PDFelement Pro.
Part 1. How to Zoom a PDF on Mac and Windows
1. How to Zoom a PDF on Mac
With PDFelement Pro is a professionally designed PDF editor for Mac.
It is a powerful as well as an affordable PDF Editor that is easily accessible for downloading through their official website pdf.iskysoft.com. The main advantages of using this PDFelement Pro are that it edits PDF, converts PDF, OCR PDF, zoom PDF, so you can well go with any kind of PDF editing-related task with it in a secured manner.
Step 1. Open Your PDF Files
Open your PDF editing program and then import the PDF file that you want to view. Simply click the "Open" button and the PDF editing program will open automatically.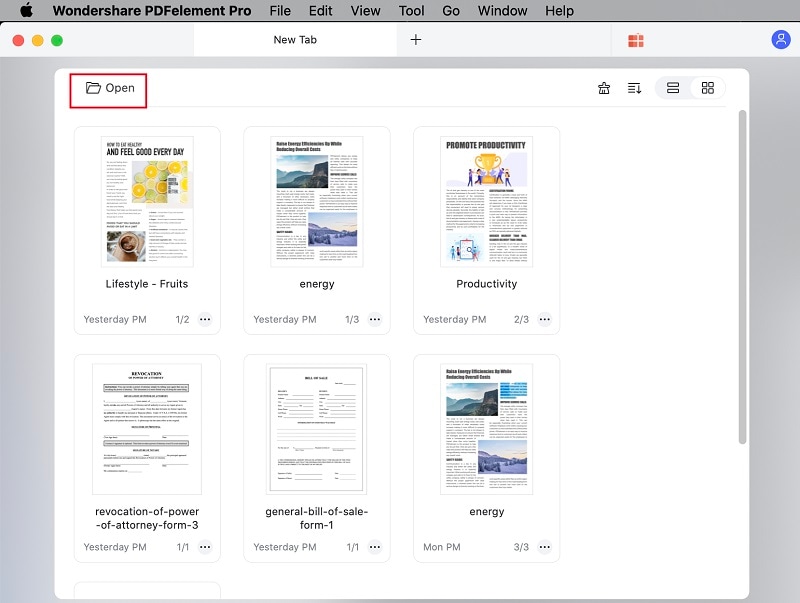 Step 2. Start to Zoom PDF on Mac
Once you have your file opened, you may then begin to zoom in on your PDF file. You can easily find the "Zoom" button on the toolbar. Under this toolbar, you can change the size of your PDF files according to your needs and begin to view them.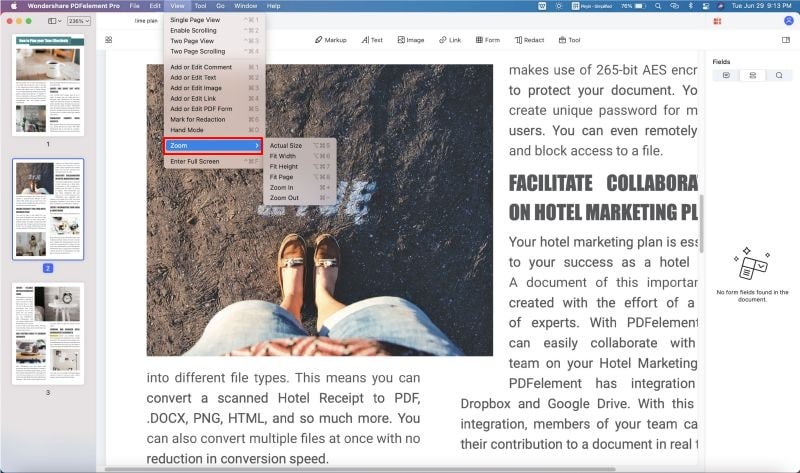 Tips:
Page Display: Your first choice is a page display that gives you the options of picking single, continuous, facing (like a book) or facing continuous. Sometimes just changing the page will make the PDF on Mac much more readable.
Zoom Option: After you have decided on the page layout you want, the next option is the zoom option. The four choices are fit to the width of the screen, fit to height, fit page to the window, and the zoom option. The zoom option will enable you to choose from 10% to 600% in size. Depending on the zoom percentage, you may need to scroll across and down the page to find the item you are searching for. On a widescreen monitor, up to 200% will allow viewing of the entire page without scrolling left or right.
A Note to Remember: the entire document will increase by the percentage you choose so you do not need to change settings often. In addition, the zoom function does not change the document properties and will revert back to normal as soon as you close the window.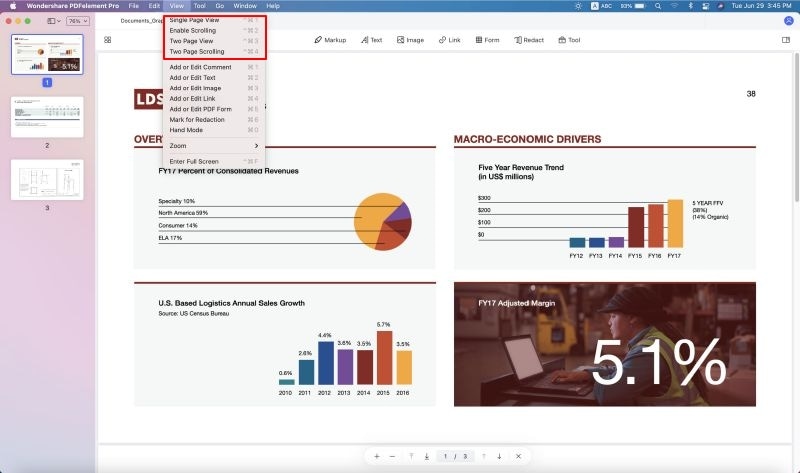 ---
2. How to Zoom PDF on Windows (Windows 10 Compatible)
Many people have been asking how to zoom PDF on Windows and the simple answer is that they can do so easily with the right tool. As of today, you will get a recommendation for a software tool with advanced features. This is the PDFelement Pro for Windows and you can use it to zoom easily without trouble.
Step 1. Open up the Targeted PDF Files
Start by opening the PDF Editor tool and then the PDF that you would like to view. Click the Open button to browse for the local folder.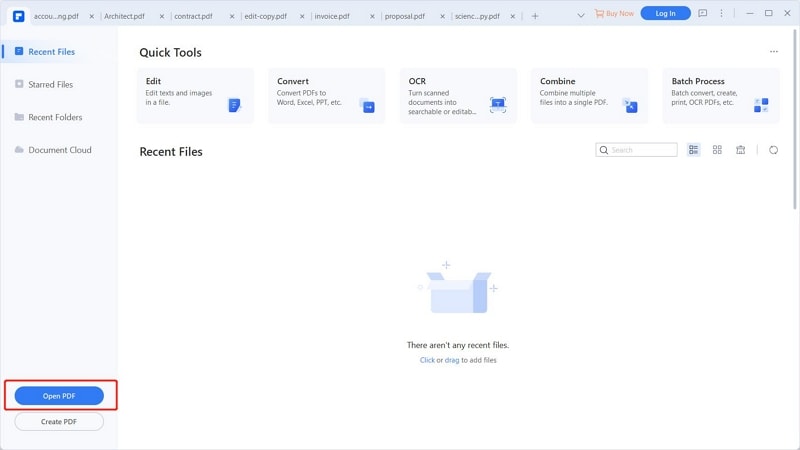 Step 2. Begin PDF Page Zoom
After the PDF file opens, you can start to zoom. Click on the "View" tab to get started. You should see multiple buttons on the tab, so feel free to choose the ones that you need for viewing. The page display option will allow you to choose single, facing, continuous or facing continuous for easy viewing. A simple task such as changing the PDF page can make the file more readable.
Once you decide on the layout that you want for the page, you can move on to "Zoom" to choose the viewing percentage. You might have to scroll down and across the PDF page, based on the zoom percentage you choose, to locate the desired item.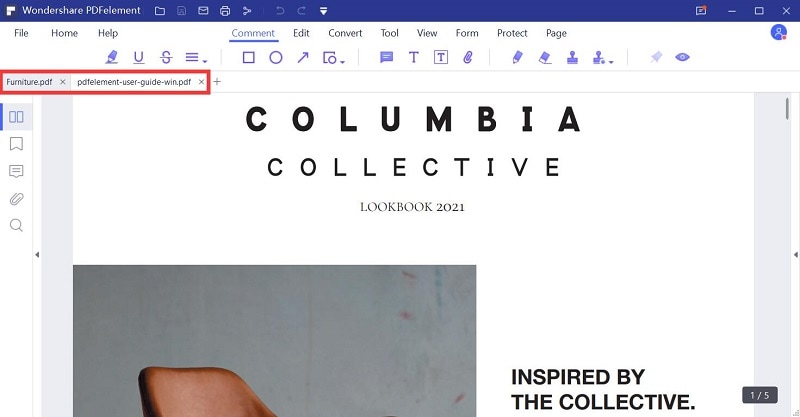 Things to Remember:
Note that a wide-screen monitor can allow you to apply the required settings to view an entire page and you don't have to scroll to the right or left side. It's also worth mentioning that you can increase the entire document with the chosen percentage without having to change the settings on a regular basis. Besides that, the zoom function will not modify the document properties, so it can go back to the normal position once the window closes.
---
Why Choose PDFelement Pro to Zoom PDF
With PDFelement Pro for Mac, you can easily zoom in on a PDF file on Mac without any trouble. Even if you are not interested in using this function at this time, it is still a good idea to learn. With the Zoom option available, you are able to enlarge or reduce the PDF page sizes whenever you want. This tool has powerful PDF editing and converting features, enabling you to easily make changes on your PDF files and convert them to other document formats you prefer.
Why Choose This PDF Tool:
Easily edit PDF texts, links and zoom PDF files as your needs.
Batch converts multiple PDF files into other popular file formats.
Add watermarks, passwords to protect your PDFs with ease.
The Advanced OCR function allows you to edit and convert scanned PDFs.
Create PDF from other formats and create PDF forms easily.
Combine multiple files into PDF and split PDF into several files.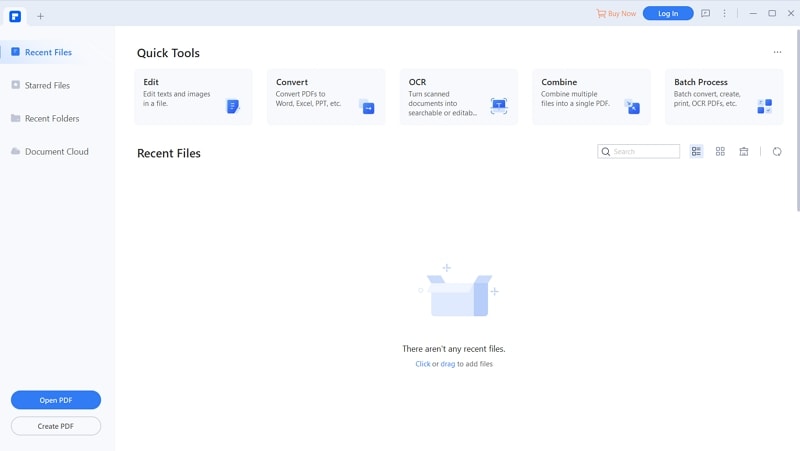 ---
Part 2. PDF Zoom and Save Online
PDFdu provides you with the advantages of quick and easy to zoom PDF online and save the new document. It also enables zoom and re-zoom PDF out the pages. Apart from these, here are some of the features that you will enjoy, like 100% bug-free or clean, free customer support, and annual product updates. Let's see a step by step guide on how to zoom PDF and save online using PDFdu.com:
Step 1. First, click on the "Browse" option and choose the appropriate PDF file.
Step 2. Click on "PDF zoom." Then choose "zoom." Click save and download online.
Step 3. Now you can open this PDF file on your computer.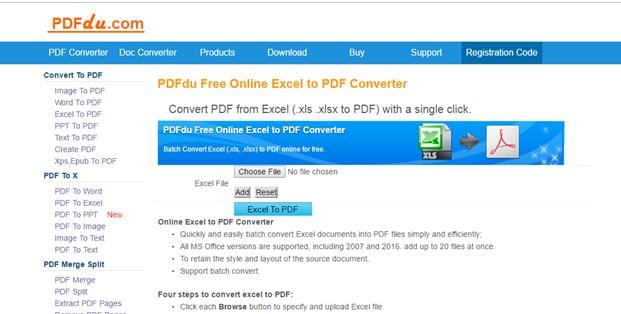 ---
Part 3. How to Zoom PDF in Adobe
Adobe is one of the most popular and common applications used in computers and laptops. Since it has a good score in the market, many people still love to use this application for their PDF editor. You have the choice to zoom in/out the PDF as per your requirement using Adobe PDF default zoom. Here is a step by step guide on PDF reader zoom using Adobe Acrobat:
Step 1. Click on "Edit" and then "Preferences" in the Adobe Reader. Then click on "Page display." Now you will get the option "Default Layout and zoom" underneath it.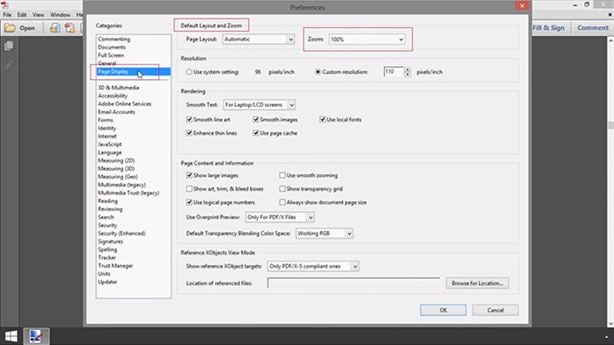 Step 2. Now personalize the "Zoom" drop-down option and you are ready to go. Another method that can be used in Adobe is in the "Preferences" option; you can select "Always use Zoom Setting."
Step 3. Now this option will display the PDF file in zoomed view whenever you open it.
---
Part 4. Comparison of 3 Ways to Zoom PDF
Items

PDFelement Pro

Adobe Acrobat

Online PDF tools

Operating system
This tool supports both Windows and Mac users.
This tool supports only Windows.
This online tool supports all kinds of operating systems.
Key features
You can edit, convert, annotate, create, sign, OCR, redact, compress, combine, share, print and add the batch process. It is a zoomer PDF.
You can combine, create, share PDF, PDF forms, secure, print, edit, convert, annotate, and sign using this tool. No batch process, redact, compress are available.
This online tool has only specific features where you can cross-check in tools visually.
Price
The price ranges corresponding to the operating system.

Windows - $89.95
Mac - $ 99.95

This tool comes with a yearly package $155.88.
This tool is free to use but to access advance facilities purchase is required. Price ranges from $7 to $39.