Word processors have come a long way since the inception of the idea. In the past, word processors were dedicated devices in contrast to the modern-day computer programs/applications (Word document editors such as Microsoft Word) we use on our general-purpose computers.
We've made a shortlist of the top 10 best word document editors on the various platforms there are. Also, short details of the functions/features they support.
Part 1. 10 Best Word Document Editors
Many word document editors have made names for themselves, probably due to the outstanding features they provide and support. Below are the 10 best word document editors available both online and offline.
#1. Microsoft Word
Microsoft Word is nearly synonymous to "word processing"! It is indeed a great word document editor for PCs and Mobile devices. With a pretty interface, MS Word is packed with many useful functions and tools that meets the daily needs and demands of users. The main features of MS Word span across its apps in an identical manner irrespective of the device/OS.
Apart from being available natively on major operating systems, Microsoft Office can always be accessed from the web on any device with a working browser and internet connection. (Microsoft Office Web Apps.)
Features of Microsoft Word:
Leave suggestions, comments in word documents and create citations with ease
Access Office from the web (Microsoft Office Web Apps)
Efficient spell check and corrections
Easy insertion of watermarks
Append headers and footers to documents
Efficient spell check and corrections
Platforms: Window, macOS, Android, iOS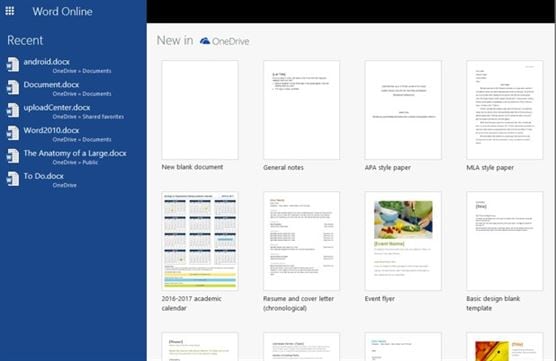 ---
#2. Apache OpenOffice
The Apache Foundation is known for providing free/open-source production-grade software and tools. OpenOffice is one of the numerous software and tools it provides. OpenOffice is entirely free for domestic or commercial purposes. A handful of other top word document editors are built on OpenOffice, e.g. NeoOffice, LibreOffice, etc.
Features of Apache OpenOffice:
Narrow font family similar to Arial Narrow font family
Secure document protection
Up to 1 million rows when working with Spreadsheet
Custom Properties Handling
Embed/Insert drawing objects into charts
Platforms: Windows, Linux and OS X.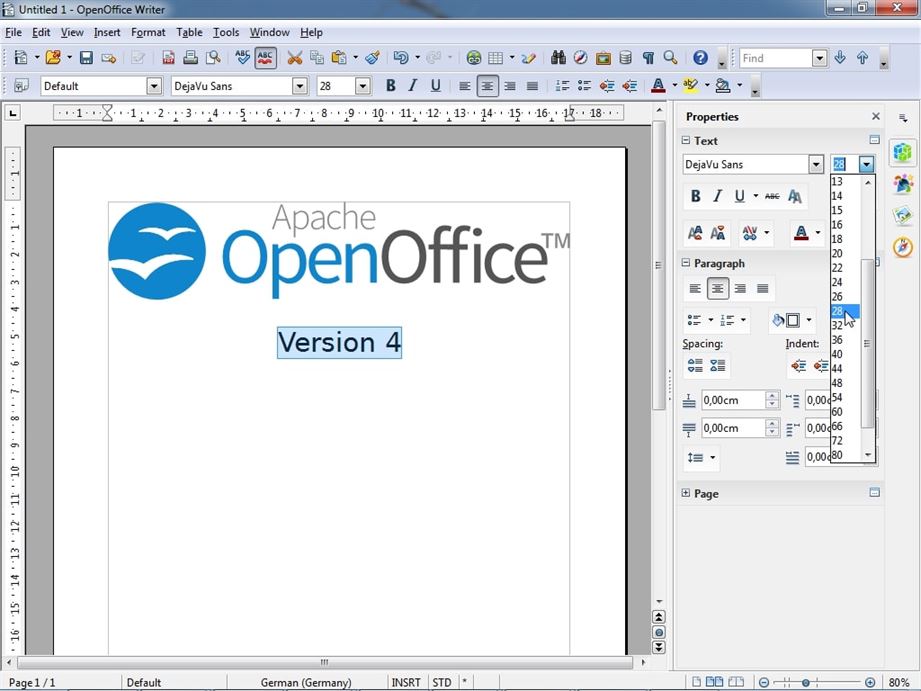 ---
#3. NeoOffice
While NeoOffice is based on OpenOffice and LibreOffice, there are a handful of unique features build into NeoOffice that you won't find on either LibreOffice or OpenOffice. These unique features include Dark mode, native file locking & floating window, and also support for mac services among other features.
With improved compatibility for Microsoft, especially for DOCX and PPTX, LibreOffice has gotten even better over the last few years.
Features of NeoOffice:
Create word documents
Edit and save word documents
Make PowerPoint documents
Native dark mode
Open at Launch menu to open Calc, draw, database, impress, etc.
NeoOffice is available on: macOS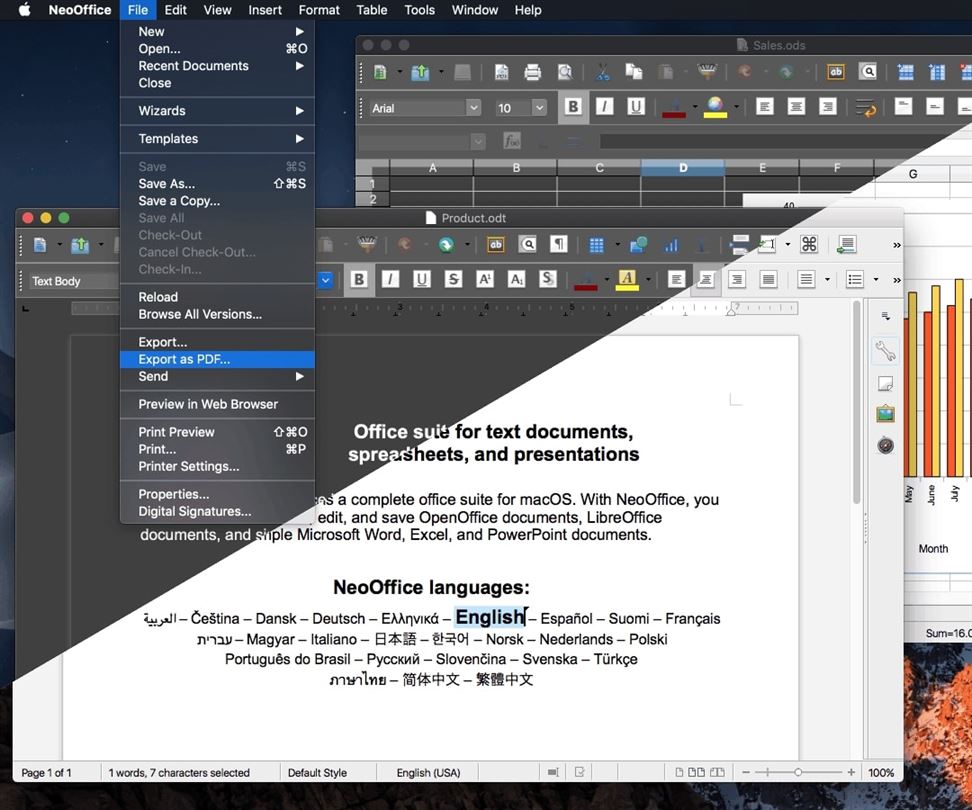 ---
#4. LibreOffice
LibreOffice is the successor of OpenOffice. It is another great open-source (free) office/word tool utilized by many. Dozens of separate application have taken advantage of the open-source nature of LibreOffice to build their own office apps on it.
Features of LibreOffice:
Collaborative work online
Advanced word processor
Ability to export whole sheet (export files in Calc to PDF with on a sheet as a single page in the PDF)
Document signing
A variety of icon themes to choose from for further personalization
LibreOffice spans across various Operating Systems, even OSes without official support for LibreOffice are unofficially supported.
Platforms:
Official: Linux, Windows, macOS, Android and iOS;
Unofficial: FreeBSD, OpenBSD, NetBSD, Haiku, and Solaris.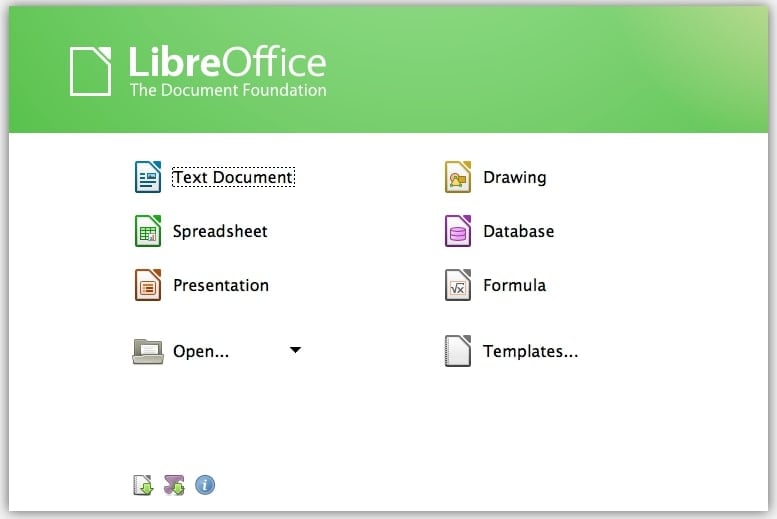 ---
#5. WPS Office
With over a billion downloads, WPS Office has been around for quite a while now. WPS Office is a professional word document editor utilized by many writers. With a seamless compatibility Microsoft word docs, you could comfortably edit files created with MS Office 365 For PDF, Excel, Note, Form, PowerPoint, and of course, Word.
Main features of WPS Office:
Password protection and collaboration
100% Presentation, Document, Spreadsheet, and PDF integration
Pre-built layouts, animation, and transition effects for PowerPoint
Support for cloud storage systems
Recovery and repair of corrupt files.
Platforms: Windows, Linux, macOS, Android, iOS.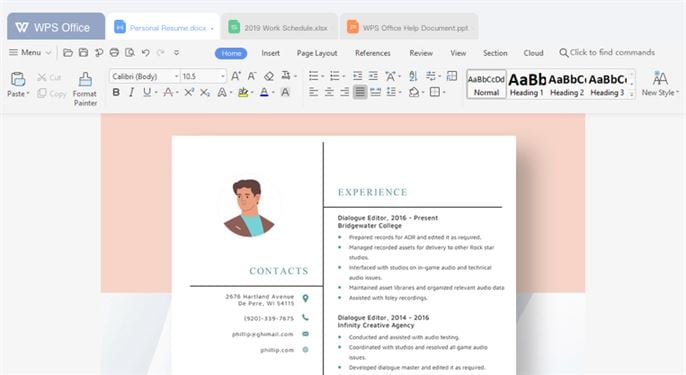 ---
#6. PandaDoc
PandaDoc (software as a service) is used for document automation. PandaDoc is capable of building smart documents with auto-fill fields.
Features of PandaDoc:
Electronic signing
Document management
Document builder
CPQ functionality
Document tracker
Platforms: Web-based, Android, iOS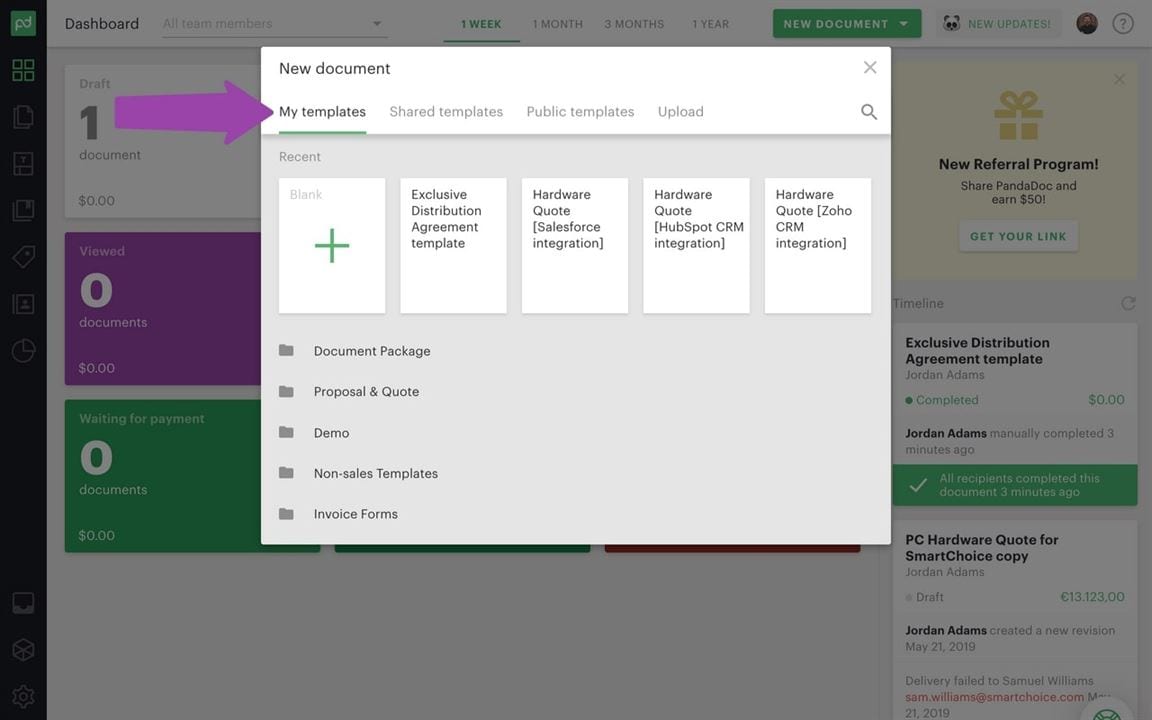 ---
#7. Bean
Bean is a macOS-based software for word processing. Previous versions of Bean before version 3 were open-source, that changed with the launch of version 3.
Features of Bean:
Live word count
Auto page and page layout mode
Provision of in-depth document statistics
Autosaving mode
Easily change view
Platforms: macOS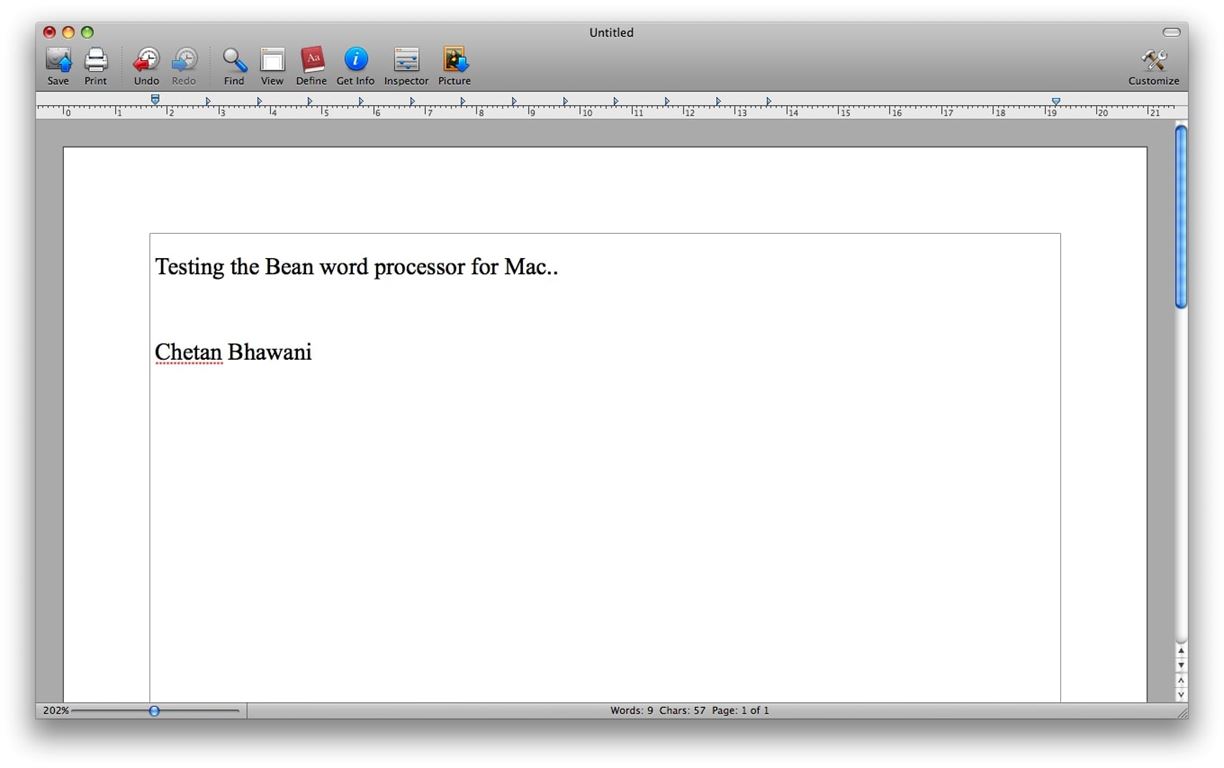 ---
#8. Apple Pages
Pages, developed by Apple, Inc. Is another powerful word processor that comes pre-installed on most Apple devices. Apple Pages has a great web integration that enables a large team—irrespective of the devices they use, to work together.
Features of Apple Pages:
Real-time collaboration
Beautiful pre-built document templates to start with
Integration with iCloud
Dark mode
Supports math equations (LaTeX, MathML)
Platforms: macOS, Web-based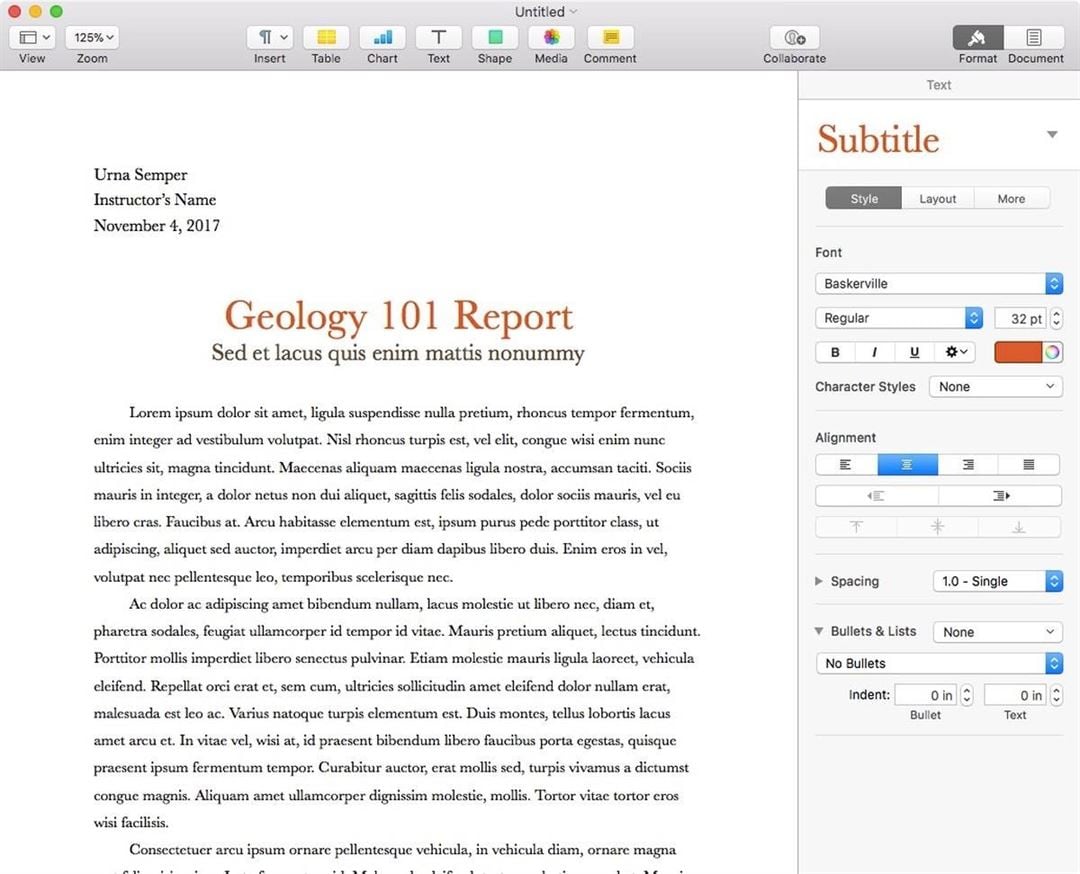 ---
#9. ZohoOffice
ZohoOffice is a pretty document processor that advocates full-featured document editing online. As seen on their official website: "Why download software to create documents when you can easily work on them online?".
Features of ZohoOffice:
Document version control
Collaborative work
Presentation, Writer and Spreadsheet
Publish directly on WordPress
Compactible with Excel
Platforms: Web-based, Android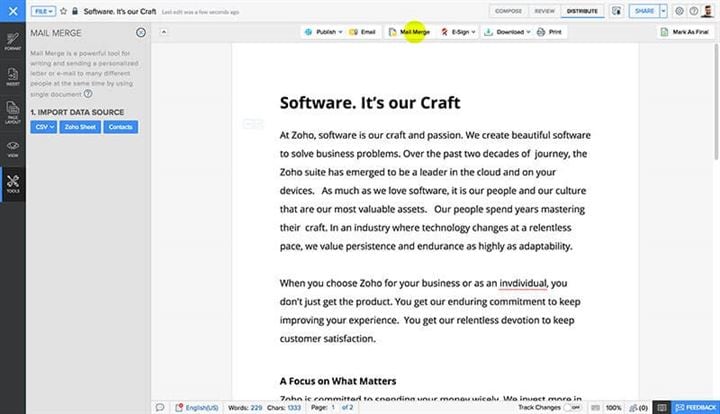 ---
#10. Google Docs
Last but not least is Google Docs. Google Docs is one among the massive chain of web-based software made available by Google to its users. With seamless integration with Google Drive, Google Docs comes in handy whenever and wherever you need it, irrespective of the platform or device you're using at that moment.
Features of Google Docs:
Auto table of content in the sidebar for efficient navigation
Open and edit word files
Efficient file sync with the cloud
Works offline
Tag people in comments
Platforms: Web-based, Android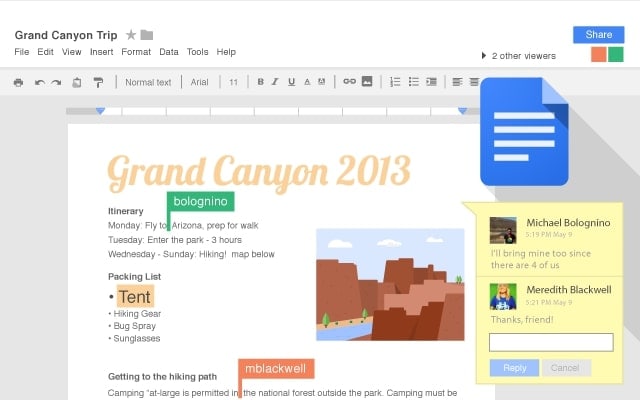 ---
Bonus: The Best PDF Editor - PDFelement Pro
Soft documents have become very popular nowadays; we use them for our daily activities. Apart from the DOCs, DOCXs, PPTs, etc. PDFs are also a popular document type/format.
Building a PDF editor could be very tricky, owing to the fact that the majority of PDF files aren't intended to be edited. However, PDFelement Pro has stood out, and at the top among PDF tools! PDFelement transforms a PDF file and leaves it at your mercy at the same time, giving you unlimited control over the PDF file in question. As a great, powerful, full-featured pdf editor, PDFelement is capable of editing pdf layouts, comments, tables, etc. without a hitch.
PDFelement is arguably the most efficient and easiest way to create, modify, convert/sign PDF documents on your Windows or Mac.
Features of PDFelement Pro:
PDF Form creation and distribution
Supports text boxes, text call-outs, shapes or freehand drawing in documents
Convert PDF to office doc while maintaining the layout and mark-up 100%
Mark-up/Annotate PDF documents
Mark-up/Annotate PDF documents
Easy file sharing across various services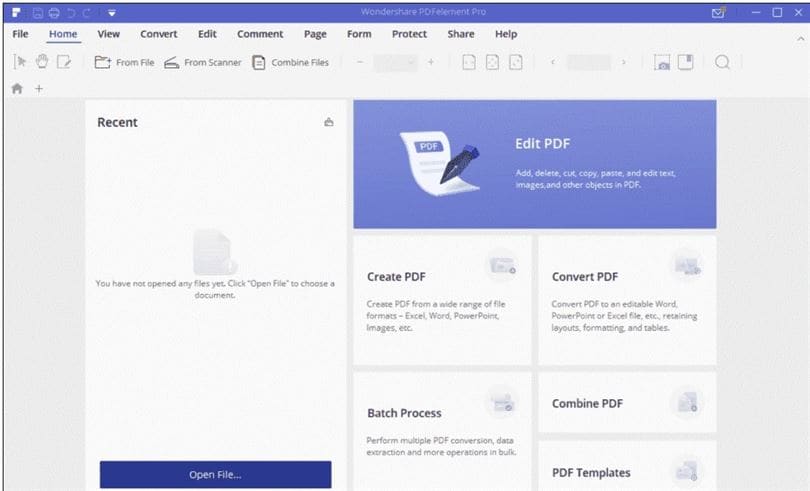 ---
Conclusion
Much has been said about the top 10 word document editors available. This article contains a variety of categories; from native OS editors to web-based editors both online and offline.
Apart from word documents, PDF formats are another important file formats we use on a daily basis. While some of the above-listed applications may perform basic PDF manipulations, an app like PDFelement Pro is a full-fledged software for everything PDF editing!