"We need to build a web application, which requires us to convert PDF to HTML. What is the best PDF to HTML converter?"
Most of web developers or web designers have the necessary for converting PDF to HTML. While most online PDF to HTML conversion tools cannot do this well and might change the layout of your documents. If you also face difficulties with such a need, here is the right place for you. In this article, we will share tips for PDF to HTML conversion easily and safely with PDFelement Pro.
Part 1. The Easiest Way to Convert PDF to HTML on Mac (macOS 10.15 Catalina Compatible)
Since PDFelement Pro is the one that you are looking for, go ahead and install it if you are using Mac operating system. Then launch it on your computer and follow these simple procedures.
Steps for converting PDF to HTML
Step 1. Import the PDF File to be Converted
When you open the program the first thing you need to do is to click on the "Open File" button to choose the PDF file to be converted from your local computer. Then the PDF will appear on the program, you are able to make any necessary editing on your PDF document with various editing features offered by this PDF to HTML converter.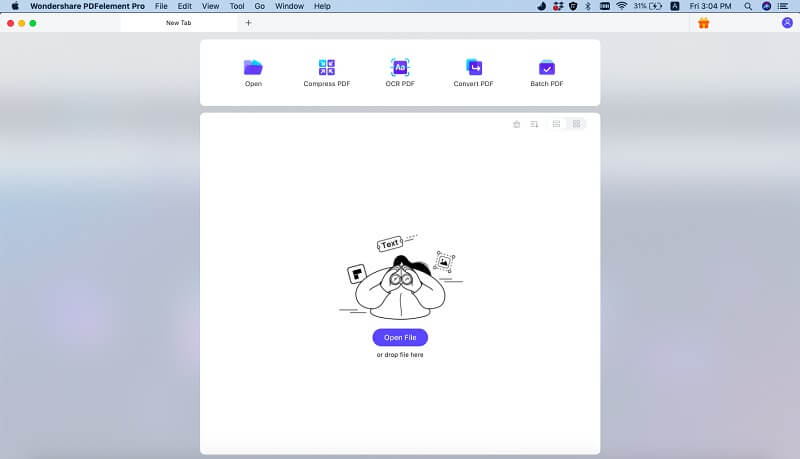 Step 2. Select an output Format
Now, go to the top toolbar and click on the "Tool" button and choose "PDF Converter" to activate the conversion window. Choose "To HTML" as the output format.
Besides, you can also choose the pages you want to convert. If you want to choose all of the document's pages, click on "All Pages" and proceed to click on the "Apply" button. Identify a location that you will save the newly converted file and click on "Save."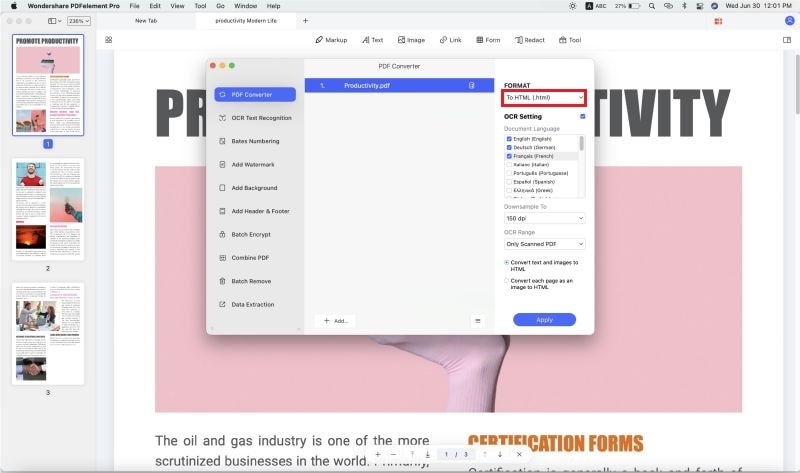 If you are a Windows user, PDFelement Pro for Windows will provide you an easy way to convert PDF to HTML on Windows. With the help of this PDF editor, you can easily convert PDF to other file formats and edit PDF files easily.
---
Why choose PDFelement Pro for Mac to Convert PDF to HTML File
The best software that will convert your PDF to HTML accurately and safely is PDFelement Pro. It is compatible with macOS 10.15 Catalina, macOS 10.14 Mojave, macOS 10.13 High Sierra, and earlier. In addition to HTML, it will also help you convert PDF to other formats such as Word, image, Text, Excel, EPUB and PowerPoint.
This application comes with Optical Character Recognition (OCR) technology to easily do any kind of formatting to your native and scanned PDF files. It also allows you to edit the PDF files, create new files, merge files, split them and a number of editing options that other software's lack. Moreover, it is on the edge since it allows you to edit scanned PDF files.
Key Features:
Convert PDF to CSV, Word, Excel, PPT, EPUB, image and more formats.
Batch convert PDF files to other popular file formats.
Convert scanned PDF documents with ease.
Easily edit PDF texts, graphics, images, links, watermarks, etc.
Create PDF from other formats and create PDF forms easily.
---
Part 2. Top 10 Best PDF to HTML Converter for Mac
This is a list of the top 10 best PDF to HTML converters for Mac that will help you to convert PDF to HTML online for free. The list is in no particular order when it comes to features and capabilities.
#1. Soda PDF
Soda PDF is a free PDF to HTML converter that you can use to convert PDF to HTML online for free. It has some powerful editing features, including editing and conversion. You can specify the final quality of the HTML page that you get. The interface is intuitive and works with both desktop and mobile devices. It has tools such as stamps and sticky notes.
Pros:
You only pay for the modules you need.
Great tutorials, support services, and an online user manual.
Cons:
Some features have to be purchased separately.
The price may be too high for individuals and small businesses.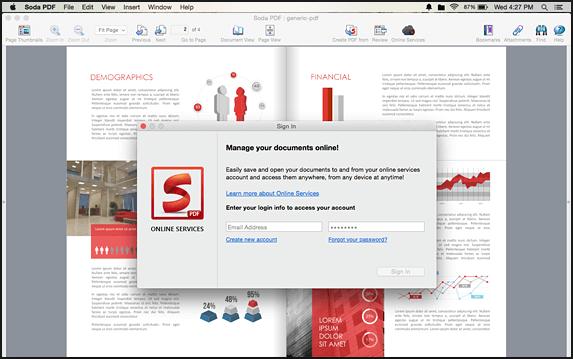 ---
#2. Master PDF Editor
Master PDF Editor is an online PDF to HTML converter that is easy to use. It allows you to create, edit and view PDF files. Add bookmarks, attachments, and other advanced features with ease since the tool is easy to use – actually, this is one of the best features according to most users.
Pros:
It does not use system resources and is therefore very fast.
It converts and maintains the formatting of the files loaded.
The price is favorable.
Cons:
You cannot drag and drop files into the program.
It does not have very advanced editing features.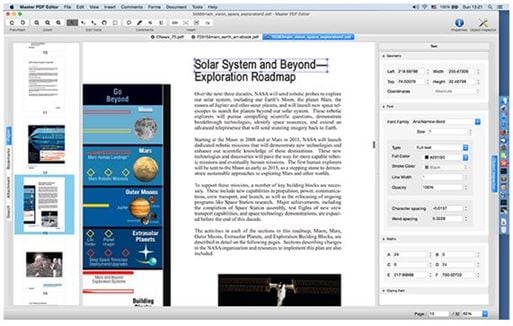 ---
#3. Boxoft Free PDF to HTML converter
Boxoft Free PDF to HTML converter is a free standalone PDF to HTML converter that allows for batch conversion of PDF files. You can easily add files to the tool and then convert them to a HTML file with ease. The converted HTML files will retain their format, whether it is tables, text or images. This saves you from having to do any more coding once the conversion is complete.
Pros:
Easy to use, thanks to the simple user interface.
It's quite fast in converting files.
Cons:
It is rather basic and does not offer customization options.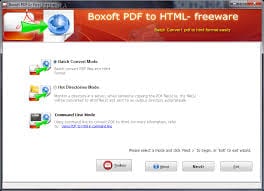 ---
#4. PDFPen
PDFPen is a great and functional PDF to HTML converter for Mac. It has a cluttered user interface, but after understanding it, the tool is effective and will help you convert PDF to HTML for Mac. It has advanced features which will require that you have a good understanding of working with PDF documents. It is comparable to Acrobat Pro and costs much less.
Pros:
It is quite functional and accurate when it comes to conversion.
It has a low price for such advanced features.
Cons:
It has a complicated user interface.
Some of the editing features are cumbersome to use.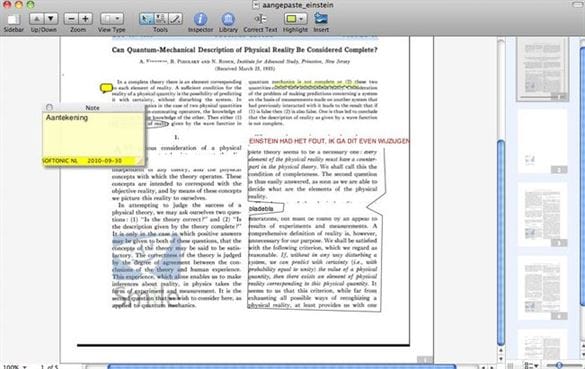 ---
#5. iStonsoft PDF to HTML converter for Mac
iStonsoft PDF to HTML converter for Mac is a standalone PDF to HTML converter for MAC and does not need you to have any Adobe products for it to work. It maintains the formatting of the PDF page so you get the exact copy as HTML. It is easy to use and works very fast. The program also handles batch conversion within a matter of seconds and does not use up system resources.
Pros:
It is easy to use and fast.
It maintains the formatting of the original PDF file.
Cons:
The conversion options are basic.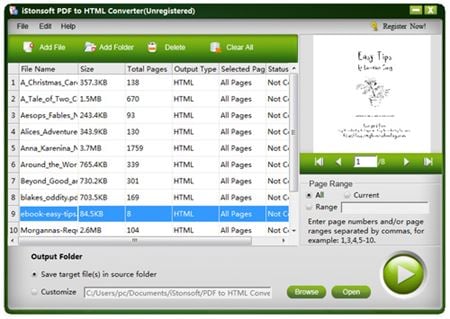 ---
#6. deskUNPDF for Mac
deskUNPDF is a PDF editing and conversion tool that was designed for Mac OS X El Capitan and above. It has a host of advanced editing features that make it accurate and effective. You can edit, read and convert PDF to HTML for free with speed and accuracy, though at times you may get unexpected results after conversion.
Pros:
Advanced editing and conversion features.
It is very fast and light on system resources.
Cons:
It is not for all Mac OS versions.
Gives unexpected formatting results after conversion.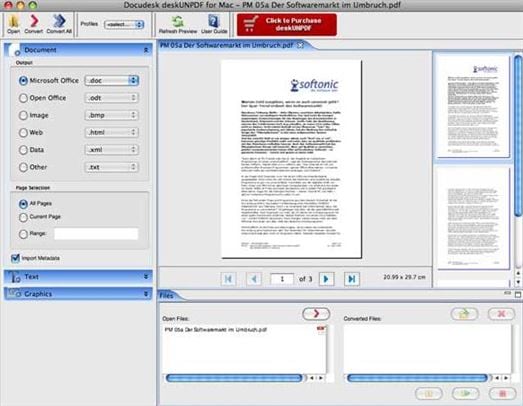 ---
#7. Aiseesoft PDF converter for Mac
Aiseesoft PDF converter is a professional tool for converting PDF files into any format, including HTML. The speed of conversion is very high and it is accurate. It is both flexible and functional allowing you to do several edits on the PDF file before you convert it.
Pros:
It is fast and accurate when converting PDF files.
It has a user-friendly interface.
It supports OCR technology for turning scanned PDF files into text.
Cons:
The editing functions are rather basic.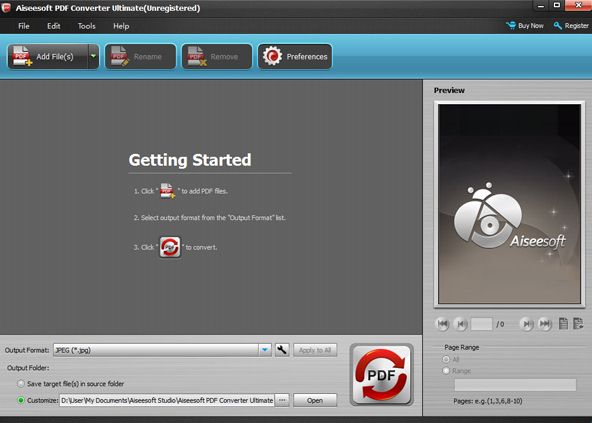 ---
#8. Hewbo PDF to HTML converter
Hewbo PDF to HTML converter is specifically created for the conversion of PDF to HTML on Mac computers. It has three different conversion modes, which allow you to meet your conversion specifications. You can convert the PDF to original quality, text and images. It is simple to use and quite practical.
Pros:
It is a simple tool and easy to use.
Three conversion modes to meet your specific needs.
Cons:
The simplicity of the tool might not be good for advanced conversions tasks.
It simply floats on the screen and this may be confusing to some people.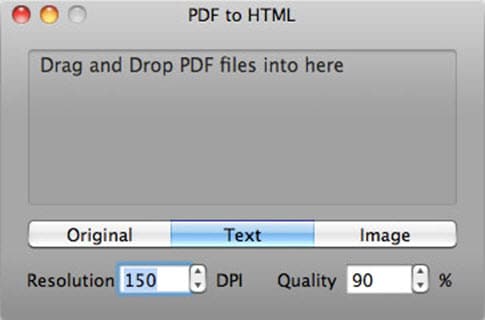 ---
#9. Amacsoft PDF to HTML for Mac
Amacsoft is another simple but powerful tool for PDF to HTML conversion. The pages that you convert can be protected and are fully searchable. There is no limitation to the number of pages that you can convert. It supports the conversion of PDF pages in batches. When working in batch conversion mode, you get to review the pages so you do not convert pages that you do not need.
Pros:
It is efficient and fast.
It is accurate.
Allows for the preview of the files.
Cons:
The support system is not efficient especially for people using the free version.
It is susceptible to bugs.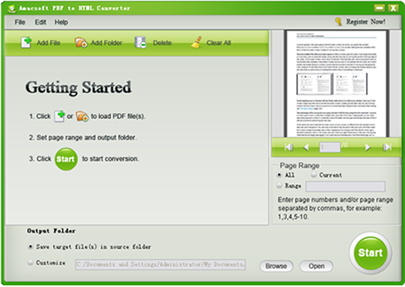 ---
#10. PDFMate
PDFMate is a powerful PDF to HTML editor for Mac. It can convert PDF files into other formats with amazing accuracy and quality. It also allows you to convert PDF to flash just in case you use flash content on your website. It has a great user interface and you can specify the pages that you want to be converted.
Pros:
Versatile with several conversion modes.
It allows for the selection of pages for conversion.
Cons:
It can be heavy on system resources.
The support system can be slow.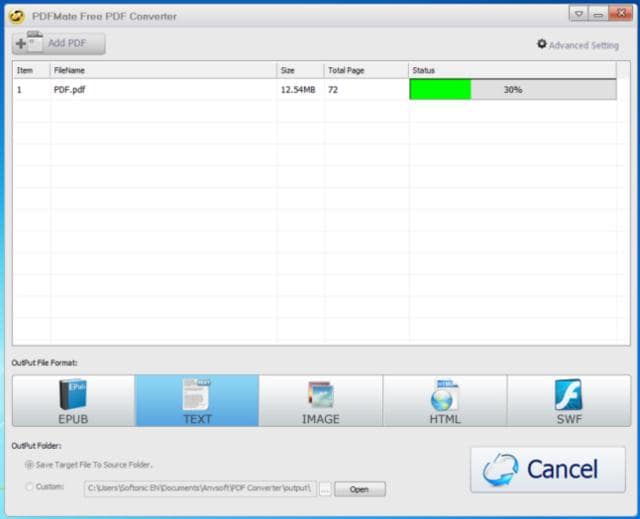 ---
Part 3. Tips about HTML (HTML 5) and Common Issues on Converting PDF to HTML
Due to the nature of HTML and it's being a programming language, a flawless converter cannot exist and certain issues will arise from time to time. Depending on the quality of the converter the problems can be either irrelevant, or they can make the output HTML differ entirely from the original file. The most common types of problems one can face when converting PDF to HTML include:
• Why to Convert PDF to HTML
In this article, we come across various tools to convert your PDF pages to HTML web pages. But the question arises, what the required reasons to convert PDF to HTML? Well some of them are as follows.
If you want to convert your offline written information to online mode via HTML pages, then conversion is required.
Sharing PDF files to networking sites (Such as Facebook or Twitter) is troublesome.
The navigation process is quite easy with the web page in comparison to PDF pages.
Linking to a particular page is difficult in PDF pages.
• Formatting issues
These occur the most frequently, especially when the quality of the converter is low. This problem usually arises due to wrong options being inserted and leads to certain parts of the output file being misplaced or moved. Simply changing some of the formatting options can help solve the problem, depending on the severity of the said issue.
• Missing content or missing values.
This usually depends on the compatibility of the converter with the PDF file you are attempting to convert. It may be missing some features which are required to convert certain aspects of the file properly. Changing some of the formatting settings or changing the converter you are currently using to a one with features that allow it to preserve more of the original files may be required.
Other unexpected problems can arise as well so it can be said that there is no definitive solution to any problem concerning PDF to HTML conversion. Changing your conversion settings can usually be the solution, although depending on the problem, seeking help online may help find the solution more quickly.