In this article, we give you a straightforward guide on presenting a PDF like a slideshow.
There are many scenarios where you are obliged to present your PDF in a slideshow. Often, the organization and flow of your slides can make or break your presentation. If you present an important PDF file to a high-profile team, you definitely won't entertain slideshow mishaps. However, a proper PDF slideshow app can take your presentation from a zero to a hero. In this article, we give you a detailed guide on how to present a PDF like a slideshow using the right tool.
How to Present a PDF like a Slideshow
PDFelement Pro is undoubtedly the best all-in-one PDF software on the market. This program is equipped with an array of top-notch features that simplifies how we interact with PDF files. These features range from basic to advance and are thus suitable for all types and sizes of PDF tasks. The ease of use, intuitive interface, batch conversion, speed, and compatibility with devices make it a good choice for PDF users. With this program, you can convert, annotate, print, create, organize, edit, compress, share, and perform OCR like never before.
Method 1. View PDF like a Slideshow
We use PDFelement to present our PDF as a slideshow in this method. Here, you can play your PDF from the start page or the current page.
How to present a PDF like a slideshow using PDFelement
Step 1
Open PDF File
With the PDFelement installed on your computer, proceed to run it. Hit the " Open " icon once the main interface is displayed. Hit the "Open" icon to access the file explorer window. Locate the PDF file you want to view as a slideshow, select it, and hit "Open" to upload it to the PDFelement window.
Step 2
View PDF like a Slide Show
Once the PDFelement successfully loads, navigate to the toolbar and hit the "View" tab. From the drop-down list displayed, hover your cursor over the "Slideshow" option. You should see three options displayed on its right. These options include "Play from Start," "Play from Current," and "Settings." Select the respective options if you want to play from the current page or the start page or if you want to customize how your slideshow should play.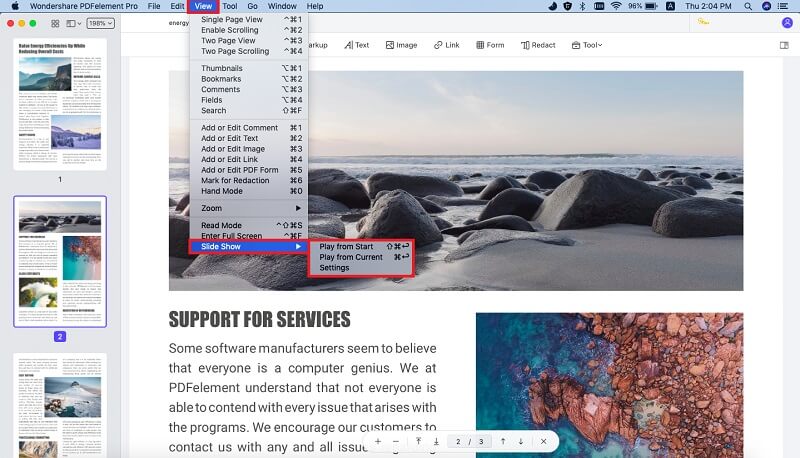 Step 3
Present PDF like a Slideshow
Your slideshow should now be ready for presentation. Click the present page, and you will automatically be taken to the next page. If you want to choose the previous page, next page, or end the show, simply right-click the current page and select the desired option. To exit the slideshow, press the "Esc" button on your keyboard.
---
Method 2. Convert PDF to Slideshow
In this method, you first convert your PDF into a PPT then present it on your computer as a PPT slideshow file.
Step 1
Open PDF File
To start with, launch PDFelement on your computer. Click the "Open" icon and follow the on-screen instructions to upload your PDF file to the program.
Step 2
Convert PDF to PPT
Once the target PDF file is uploaded, click the "PDF converter" tab on the left pane. On the right, click the "Format" drop-down arrow and choose "PPT" as your output format. When satisfied with your selections, click the "Apply" button to convert your PDF to a PPT file. When the conversion is complete, hit the "Save" button to save the changes you have made to your document.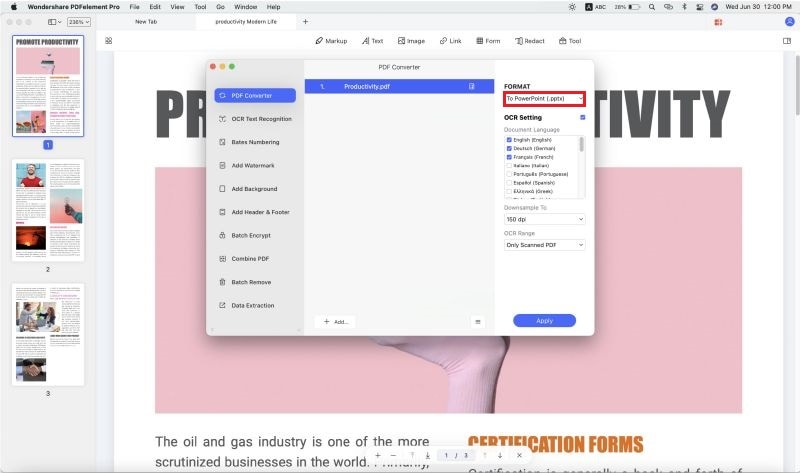 Step 3
Present Converted PDF to slideshow
Now navigate to the destination folder and open your new PPT file with PowerPoint. Move between slides to present your new PPT file.