RTF (Rich Text Format) is known for its small size. This could a big advantage since downloading it from the recipients' end will also be easier given its light size. As long as there are no sounds or images included the converted file can be downloaded easily. Now, you can already convert PDF files to RTF, which is a more flexible file format. Ready to give it a try? There are two methods to convert PDF to RTF file and we've written down the steps on how you can use both. Just make sure that you follow them accurately.
Part 1. The Easiest Way to Convert PDF to RTF on Mac (macOS 10.15 Catalina Included)
PDFelement (or PDFelement for Mac) is the best PDF to RTF converter which will help you to convert PDF to RTF on Mac with ease. This PDF converter also provides you an easy way to batch convert PDF to RTF and other file formats. With the advanced OCR feature, you can easily edit and convert scanned PDF files easily.
Steps on How to Convert PDF to RTF on Mac
As soon as you have the software for your Mac, you can go ahead with the following steps:
Step 1. Import PDF to the Editor
Run the PDF to RTF converter and import the desired PDF file on it. You can do this by simply clicking the "Open File" button. Then you can make full use of the editing feature to make a better PDF.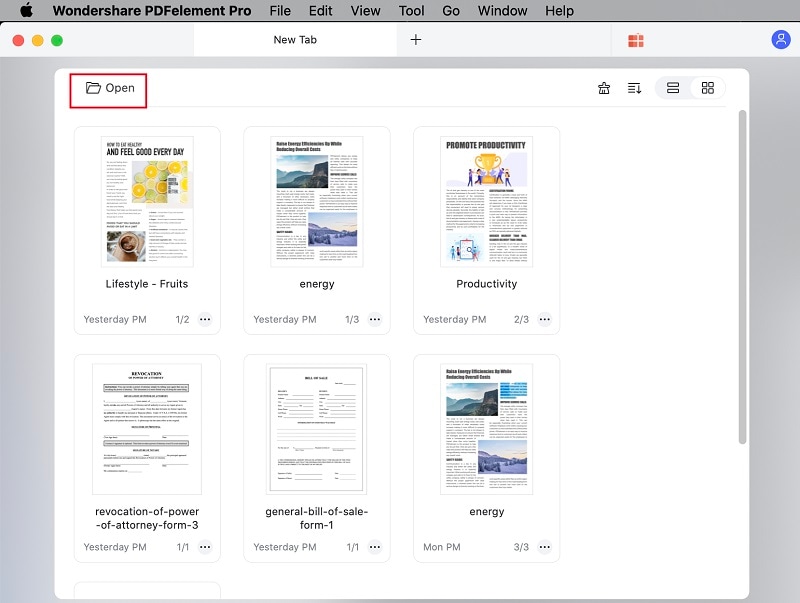 Step 2. Convert a PDF to a RTF
Now go to the top toolbar and hit the "Convert" button. And then in the pop-up window, set "To RTF" as the output format. If you only plan to convert specific pages and not the entire document, you can go to the "Page Range" menu and specify the page number of those pages. If on the other hand, you have some scanned PDF files that you want to convert, go to the top of the panel and turn on the OCR feature. Finally, click the "Convert" button to start the process.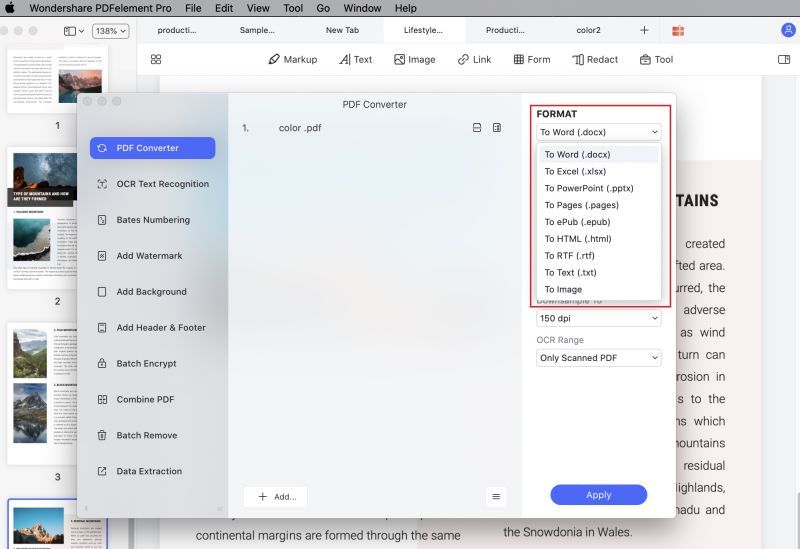 ---
Why Choose This PDF to RTF converter - PDFelement
If you go online, you should see a lot of different PDF to RTF converter softwares or programs that offer free PDF to RTF conversion. But a lot of this free stuff is not necessarily the best pick given the risk of acquiring viruses. PDFelement (or PDFelement for Mac) is an excellent pick. With its powerful conversion feature, you can easily convert PDF to RTF, Word, Excel, PowerPoint, and a number of image file formats. Aside from it retains the hundred percent original format of your document. It also gives you access to format-specific options, making it a flexible choice for those who would like to do some editing before converting it.
Key features:
Easily convert PDF to Word, Excel, PPT, EPUB, and more formats.
Batch convert multiple PDF files into other popular file formats.
Edit PDF texts, pages, images, links, watermarks, etc.
Advanced OCR function allows you to edit and convert scanned PDFs.
Create PDF from other formats and create PDF forms easily.
Combine multiple files into PDF and split PDF into several files.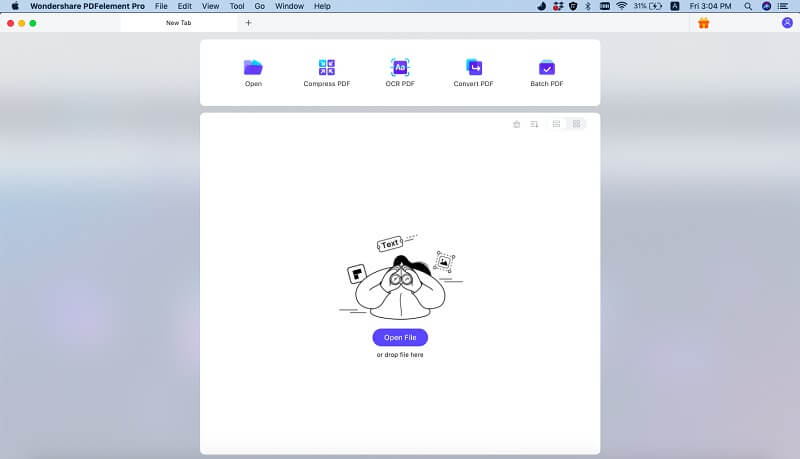 ---
Part 2. How to Convert PDF to Rich Text Format on Windows
Good thing about going for PDF to RTF converter is its wide applicability. Not only those who are using Mac can do it easily. Even if you are using Windows, you can avail yourself of the easy way conversion process. All you have to do is to install PDFelement (or PDFelement for Mac). Using this will guarantee that your files are converted safely without the risk of acquiring viruses. It will also make sure that converts existing PDF files to other file types with utmost quality and less distortion and without data loss.
Once you have the software on your PC, you can start doing the following:
Step 1. Import and Edit
Run the PDFelement for Windows program. Then you need to click the "Open Files" button to import your PDF to the program from the local computer. This program is not only a PDF converter, but also a PDF editor. You can conveniently edit and manage your PDF files with its powerful features.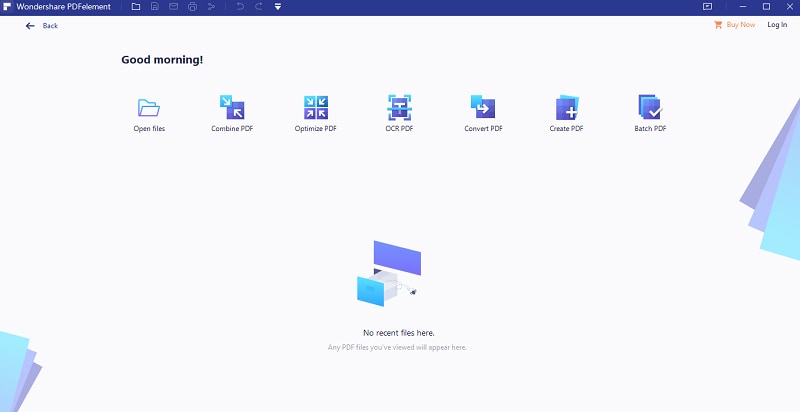 Step 2. Converting a PDF to Rich Text
Go to "Convert" and select the "To Other > Convert to RTF" option from the toolbar. As soon as a dialogue box appears, you can import more files that you want to convert, specify the destination in your PC where you want to have the converted file saved. If you just want to convert select pages, you can go to "Page Range" to give the specific pages. After that, click "Convert" to begin the conversion.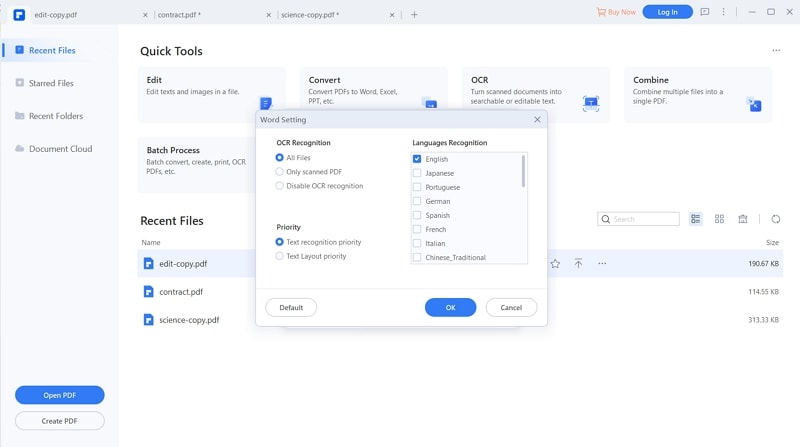 As we have mentioned earlier, there are a lot of free softwares out there. Some of them have significant number of subscribers, leading us to believe that they are the best options in the market. Even if you are just planning to have a one time conversion, it's still very important that you are mindful of the tools that you use.
Otherwise, the existing files that you have on your computer may be placed in jeopardy. If you are after safety, then the program that you should choose is something that has to provide you the avenue to encrypt passwords on your file in case it's really that classified. PDFelement offers this service. Moreover, you can provide markup and annotations as you please. There's no need to fret about technical concerns about opening PDF files. With the right tool, you can have your message relayed accurately to different people.
---
Part 3. How to Convert PDF to RTF online
PDFconvertonline is one of the easiest ways to convert PDF to RTF online for free. Online PDF conversion is also widely used because it is completely free to use and provides a great and easy way to convert PDFs to other formats. This online PDF to RTF converter is not just a converter but also offers a lot of other features designed to help you edit and manage PDF documents in so many ways. To use this online tool to convert PDF to RTF format online for free, the following simple steps will help you.
Step 1. Go to the official website to access this online PDF converter.
Step 2. Here, upload the PDF document you want to convert by clicking on "Choose File" to upload the PDF document you want to convert.
Step 3. With the document selected, click on "Convert" to begin the process.

Step 4. In the next window, you should see the results of the conversion. If the conversion was successful, click on the link provided to download the resultant RTF file.
---
Part 4. Tips about PDF to RTF Conversion
RTF, also known as Rich Text Format is a document format that was introduced in 1987 by Microsoft. In most cases, the RTF format is useful for the exchanging of documents across platforms. That's because you can read an RTF document in any word processor. It, therefore, comes in handy when you don't have Microsoft Word on one computer but have it on another running a different OS. For example, if you have an RTF document on your PC, you can transfer it to the Mac and still read it on Microsoft Word for Mac.
There are however several issues that you'll find when converting PDF to RTF, they include the following:
Although RTF can support charts and images, it is likely that the images and charts on your PDF document will not appear on the RTF after conversion. This can happen when you use an inferior program to convert the file. Using a reliable, efficient tool should fi this problem.
Once you have converted the PDF to RTF, you may want to easily save the document to another format. The easiest way to do that on any platform is to change the formatting selection when caving the file. For example, you can choose to change the format to Microsoft Word by selecting the DOC format under "Save As".
It is also not uncommon to find that the RTF document you get after conversion loses its formatting. Again, this can happen if you use a less than a reliable tool to convert the PDF. Investing in a good PDF converter can eliminate this problem. You could also simply edit the document in RTF format to get your formatting back.
Whatever the tool you use to convert PDF to RTF, Rich Text Format can be a very useful format to have. It gives you the ability to easily edit a document on any operating system and read them on another. It means you can transfer documents across platforms much easier.