If you want to retain your files format when you share them with other people or when you print them with commercial methods, its best to convert them into PDF files. Though Microsoft Word is the most popular used commercial word processor, there are many times you want to convert Word to PDF format for distribution or printing purposes. The greatest advantage of PDF files is the fact that, it can be used in different systems, including Linux, Windows and Mac and also, has a small file size, looks the same on most computers. Here we will show you 4 easy ways on how to convert Word to PDF on Mac (10.15 Catalina included).
PDFelement Pro - The Best Way to Transfer Word to PDF
With the help of PDFelement Pro you can easily convert Word documents to PDF files. This smart PDF tool allows you to create PDF from other file formats easily. You can also use this tool to convert PDF to Word, PPT, Excel and other file formats. The quality is maintained, and you can add as many pages you want.
Key Features of PDFelement Pro:
No limitations on file size and number. You can use it to create PDF from a lot of Microsoft Office documents or large files.
It is very easy to use. To convert Microsoft Office documents to PDF, you simply need to drag and drop them to the program's interface and then convert them.
This program allows you to create PDF documents in a high quality format without changing the format of the original file.
Offers a very simple and spontaneous interface that allows you to create professional looking PDF files very easily.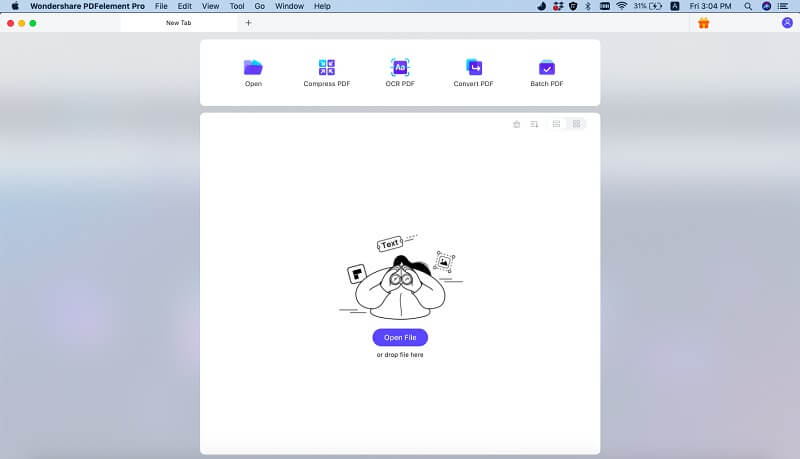 ---
Method 1. The Easiest Way to Convert Word to PDF on Mac
Say goodbye to tedious Word processing with the world's fastest and most recommended PDF converter – PDF Creator Pro. It is certainly the best PDF converter application ever. If you do not have word on your phone you can still convert Microsoft Word files into a PDF format with the PDF Creator for Mac. PDF Creator enables you to convert your Word files accurately to PDF fast and easy.
Steps to Transfer Word to PDF on Mac with Hyperlinks and Original Layout
Step 1. Launch the Program
Download the PDF Creator for Mac. After you successfully download this application, you will need to, launch the program by dragging the file to the "Applications" folder for installation. This only takes a few seconds. Next, launch the program by double-clicking on the program icon.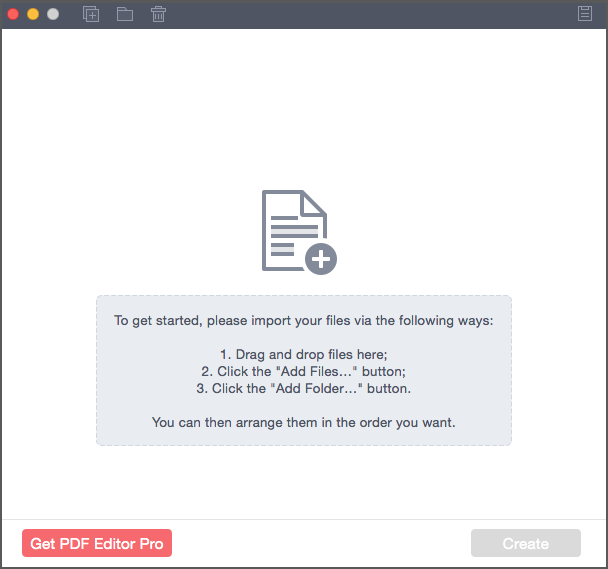 Step 2. Import Word Files
There are 3 ways you can do this.
The first is by dragging and dropping the files directly to the program's main interface.
Second, you can also upload the files directly by clicking on the "Add files" to the program.
Third is by clicking on "Add Folder" drop-down box located on the top right of the interface. When you click on it, you will be automatically directed to the files on your computer where you can choose the folder or file you want to convert. It will then be directly uploaded to the program, then click on the "Open" drop box.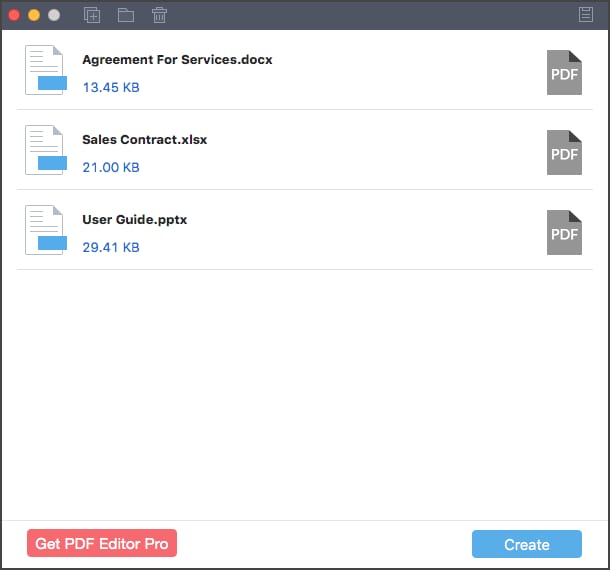 Step 3. Start Word to PDF on Mac Conversion
On the program's interface click on the "Create" button located in the bottom right corner. Then, you will need to create a destination output folder where the PDF file will be saved then click "Save" to start the conversion process. It's as easy as that.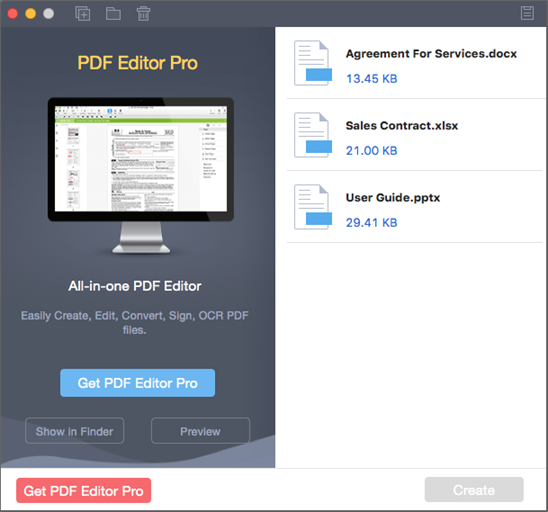 ---
Method 2. Convert Word to PDF Using Word for Mac
Step 1: Launch Microsoft Word and open the document you would like to convert to a PDF.
Step 2: Click on the file -> Print or Press Command + P.
Step 3: Click the PDF file format box on the menu on the bottom left of the window layout and select "Save as PDF" option from the drop-down menu.
(Newer versions of Microsoft Word (2010 or 2013) have this option if it's not applicable to your version try any of the other methods listed below.)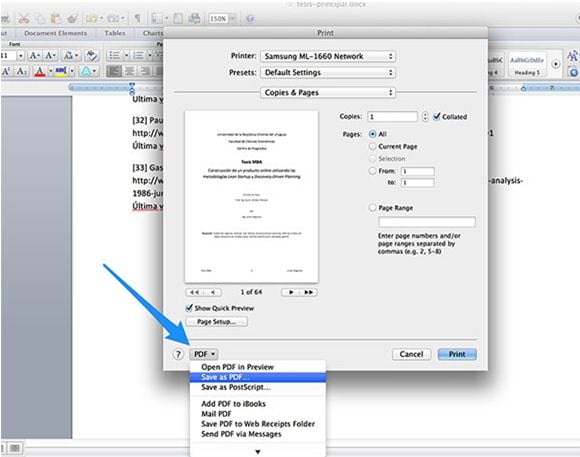 ---
Method 3. Convert Word to PDF Mac Online for Free
Step 1: Visit https://www.freepdfconvert.com/.
Step 2: Upload the Word files you want to convert to PDF.
Step 3: Enter the email you would like to receive the converted PDF file through.
Step 4: Set the output format, here you simply select PDF.
Step 5: Click the "Convert" button to start converting your Word document to PDF on Mac.
Converting your Word files to PDF online with www.FREEPDFCONVERT.com is as easy as that, the best part is it's absolutely free, fast and efficient.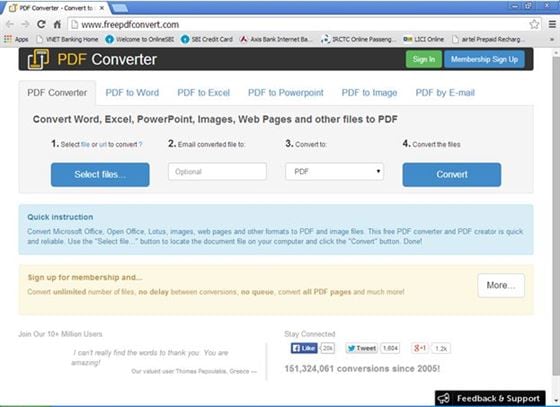 ---
Method 4. Convert Word to PDF with Adobe Acrobat for Mac
Spend more time on authentic work and less time on busy work whether you are on the go or in the office, you can format your Word documents to PDF files, easy and fast in an elegant way with Adobe Acrobat on Mac.
Step 1: Download Adobe Acrobat and Install the program on your Mac. As you install, include the option to install the Adobe PDF printer. Next, open your document in word and go to File Choose Page Setup.
Step 2: Choose Acrobat PDF from the drop-down menu which is right next to" Format for" or you can choose "Create Adobe PDF" from the printer pop up menu then click on File "Print".
Step 3: After the Word to PDF conversion is complete, you should be able to open your PDF document yourself or on Acrobat automatically. Pretty easy and fast right? I sure think so.