There may be a time that you want to add comments to PDF file that you are handing out, but you do not want to change the original file. To add comments to your PDF file or markup you PDF documents in Mac OS X, you will need to download a PDF editor to begin making annotations to the PDF file. This is similar to adding comments to a newspaper or book in the columns that you are reading.
Method 1. Using PDFelement Pro to Add Comments to PDF files
By using PDFelement Pro, you can add comments to your PDF file, you can also use the same tool to edit all the files and the same tool is now available for the Mac users as well. Not just this, by using the same tool, you can add sticky notes, add comments, and even highlight your PDF files also. You can add text boxes to contain your notes, draw freehand with the pencil tool, and add links to the end of your document to direct readers to your notes.
Step 1. Launch the PDFelement Pro program on your Mac
After you have downloaded the PDFelement Pro, instill it to your Mac computer, and then launch it by double clicking the application.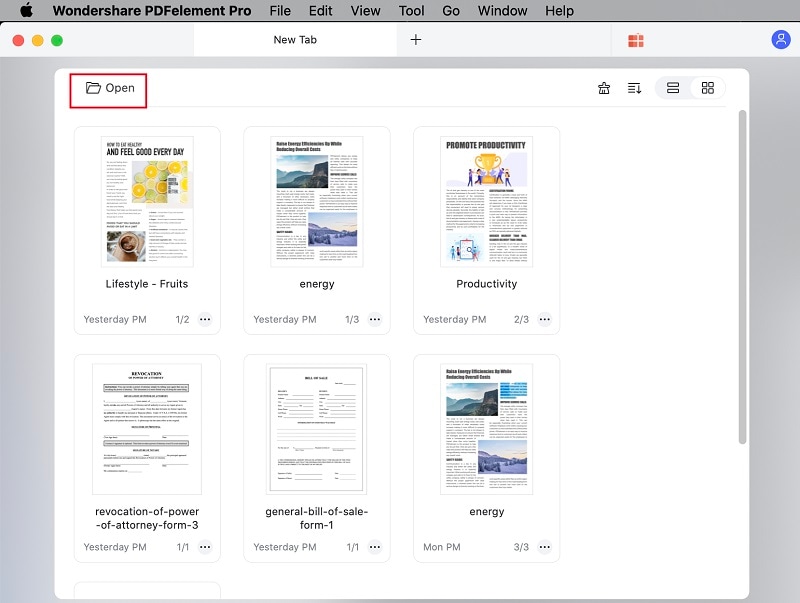 Step 2. Start commenting in PDF on Mac
Open the "Comment" tab at the top in the tool bar. Then you can click on the tap "More" and choose "Text Comment" or "Sticky Note".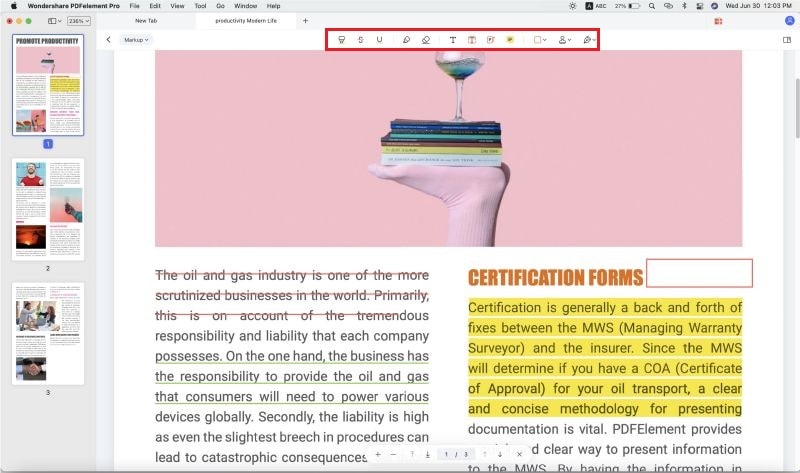 From there you will place where you want to add notes in text, freehand style, or even adding a comment balloon. The comment balloon is a nice tool that shows a small highlighted balloon over the text that you left a comment on and when the mouse pointer is hovered over it, the comment will appear without needing to change the PDF file on Mac. Here you can learn more detailed information about adding annotations to PDF on Mac.
Step 3. Highlight PDF
There are a number of PDF markup tools that are available in the "Comment" tap. You can also choose to highlight, underline, or strike through your PDF files. Just by one click on the "Highlight" button, you can easily highlight the texts in your PDF according your needs.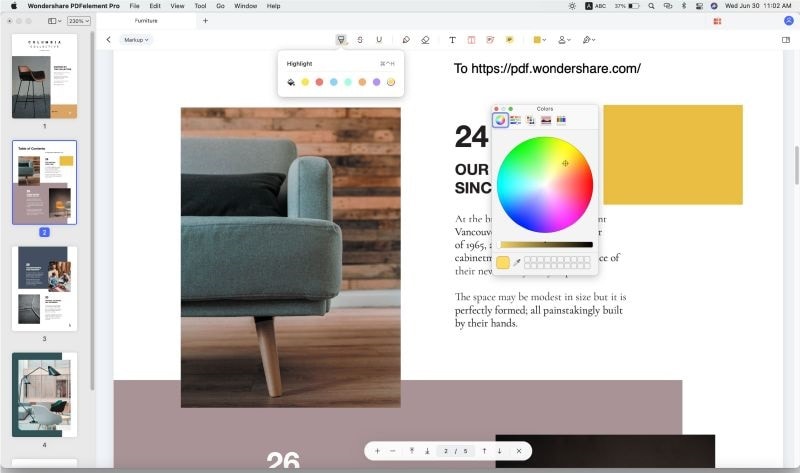 Step 4. Add Freehand Shapes to PDF
Freehand shapes can be a great way to direct the reader to the area that you have marked up without cluttering your paper. By clicking on "Pencil" under "Comment" tap, you can easily add freehand drawing as you need.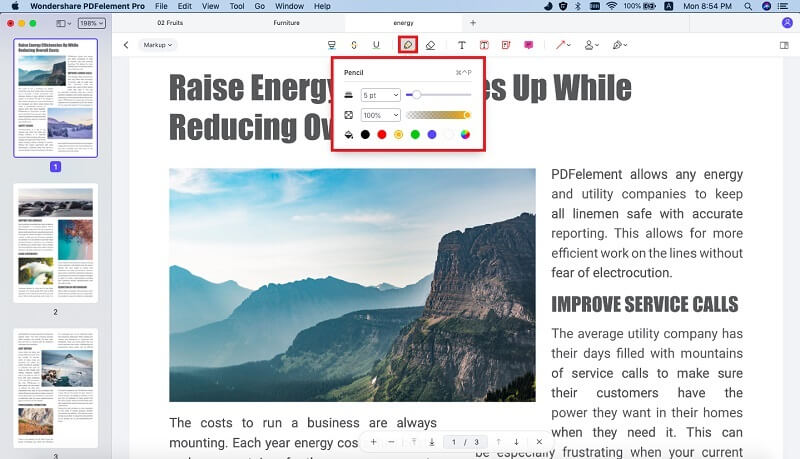 Step 5. Add Inline or Margin Comments
To add inline or margin comments to a PDF, you can open the "Comment" tab and click on the "Text Box" button. By doing this, you can easily add inline comments to your PDF files.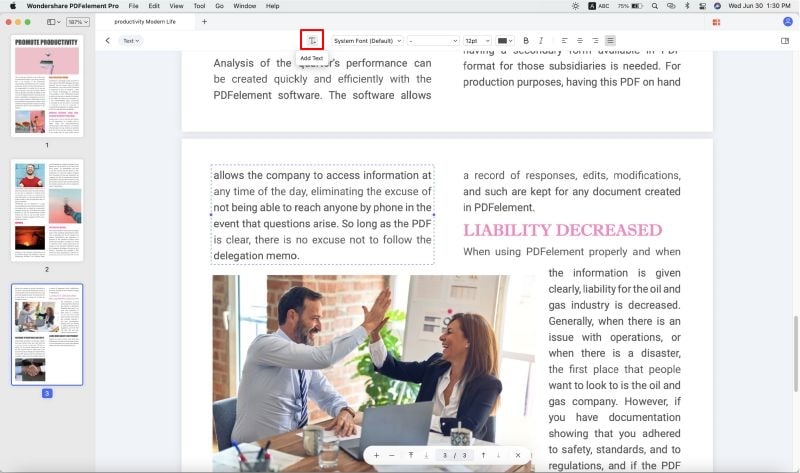 Notes: By adding comments in this manner, you still retain the original PDF file in Mac, and are able to leave comments in the file for others to see. This is a great way to keep track of your notes if you are giving a presentation and do not want to be shuffling for cue cards or shifting through a pile of papers. After you have added your comments, do not forget to save your work and close out your PDF file. You have now added comments to your PDF file in Mac without changing the file and allowing easy communication between others that share the file.
---
PDFelement Pro for Mac - The Best Way to Add Comment to PDF
With the help of PDFelement Pro, you can not only add comments to PDF, but also edit and convert PDF documents with ease. This professional PDFelement Pro provides you multiple PDF editing tools to edit PDF texts, images, links and pages. You can also use advanced OCR tool to edit scanned PDF file just in a few simple steps.
Why Choose This PDFelement Pro
Mark up and annotate PDF files with multiple markup tools.
Easily add and delete texts, images, links, watermarks, graphics, and more in a PDF.
Convert PDF to Word with the original layout to make full use of your PDF contents.
Create PDF from existing PDF, Webpages, images, and text files as easy as a breeze.
Combine and split PDF documents and control PDF pages easily.
---
Method 2. Using Preview to Add Comments to a PDF
The built n PDF preview in Mac can also be used to add comments to PDF files. The process associated to this addition has been mentioned as under.
Step 1. Reveal the markup toolbar
First of all markup toolbar is to be opened once the PDF is opened using the default Mac preview. It is toolbox icon which serves the purpose:

Step 2. Click Note icon
Click the note so that the box is added to the document. It always appear in the middle and has unlimited space for text addition: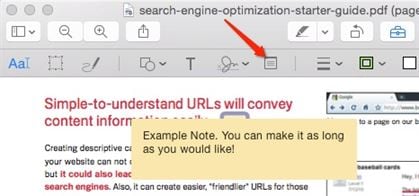 Step 3. Editing the notes
The note can be double clicked to edit the content. The highlights and notes can be enabled from the toolbar to ensure that this option is enabled: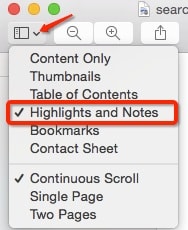 Step 4. Printing the annotations
The Mac preview ensures that both margin and inline notes are added as per choice. It can also print the notes in same position: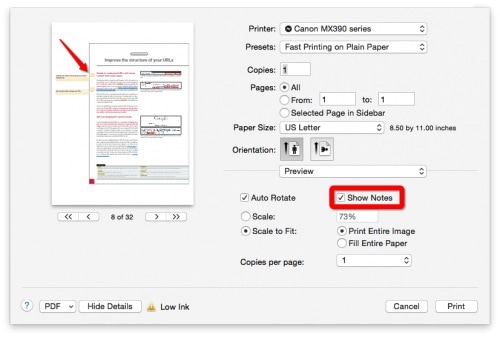 ---
Method 3. Use Adobe Reader to Add Comment to PDF
It is also a simple process to make sure that comments are added to the PDF file. The process which is associated to this program is mentioned as under.
Step 1. Press the sticky note icon
Once the PDF has been opened using acrobat reader click the note icon. The screenshot below explains the process.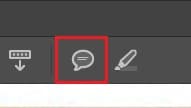 Step 2. Adding content to notes
The note icon can be dragged anywhere on the document. In this way margin and inline comments can be added as necessary. The note which appears looks something like following. Unlimited text can be entered and the position of the note can also be adjusted as per requirements: