"I want to send PDF documents through email but find that the size is too large. Is there any way for me to compress the PDF file size?" Yes there is! Here are 10 tips to help you compress PDF on Mac for email or other sharing purposes. In fact, there any many ways to reduce a PDF file size, such as remove unwanted objects, shrink images, convert or compress a PDF. No matter which method you choose, you can learn how to compress PDF without losing quality with PDFelement Pro by reading the content below.
Part 1: How to Compress PDF on Mac (10.15 Catalina included)
One of the best PDF compressor tools for Mac on the market is PDFelement Pro. This program can help you to reduce PDF file size without losing quality. You won't need to remove objects, images, or other elements of your PDF to reduce the file size in order to share through Email. This PDF compressor provides you with multiple compression options, so you can customize your PDF compression settings. Other features include:
Highlight Features of PDFelement Pro:
Edit PDF text, images, links, and annotations with built-in editing tools.
Create or convert PDF to or from other formats like Word, Excel, Webpages, etc.
Combine multiple PDF files and split a large PDF file into several files.
Fill out PDF forms and create fillable PDF forms from form templates.
Secure PDF documents with a password and decrypt protected PDFs easily.
Perform OCR to edit and convert scanned PDFs without any fuss.
---
Step 1. Open the PDF file with this PDF compressor
Launch this PDF Compressor for Mac. Click the 'Open File' button to add your file. Alternatively, you can also drag and drop the PDF you want to compress into the program window. The file will automatically open within the program.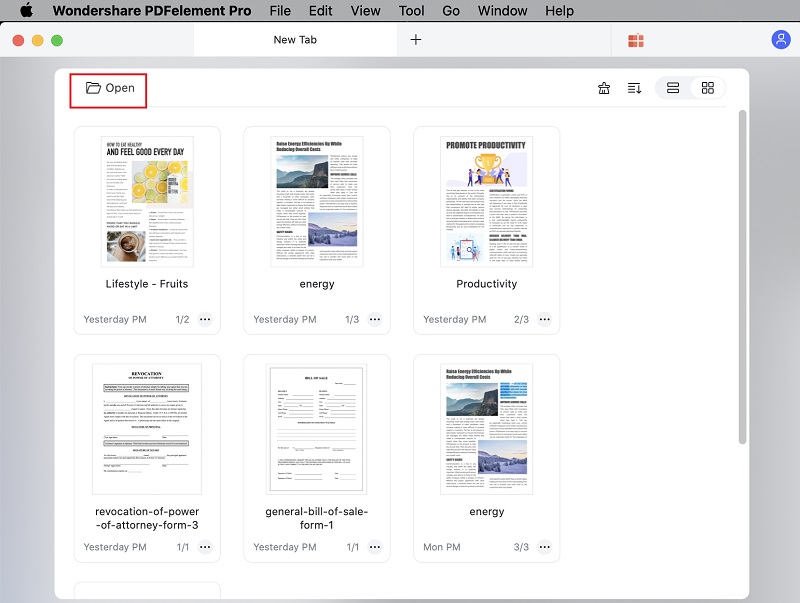 Step 2. Start compressing PDF on Mac
Now go to the 'File' menu and click on the 'Optimized PDF' option.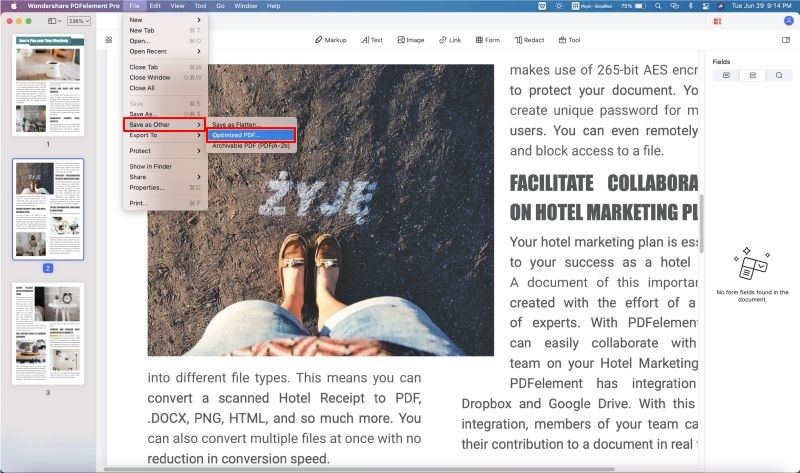 The Optimization pop-up window will appear. From here, you can choose suitable compression settings and preview the result after compression. Finally, click 'Save' to confirm the change. And if you want to learn more PDF solutions, you can visit this page.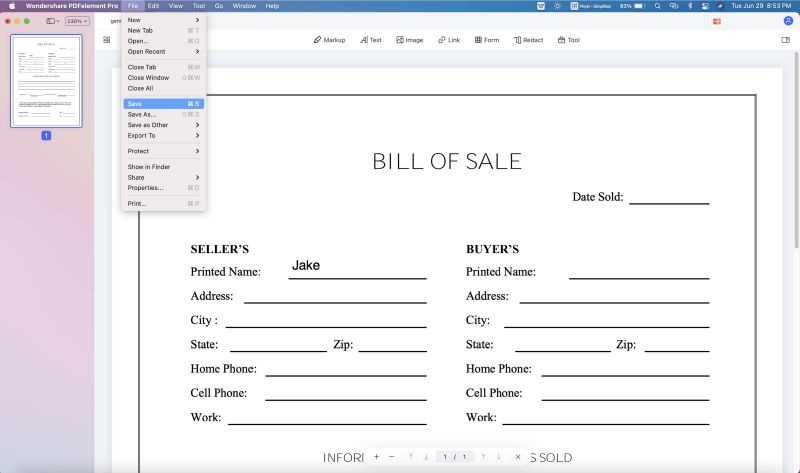 ---
Part 2: How to Compress a PDF File on Mac with Preview
Preview not only allows you to open and view images and PDF files, but also lets you compress PDF files. Below are the steps to do so.
Step 1: Launch Preview on your Mac.
Step 2: Go to the "File" menu and click the "Open" option. Then then select the PDF file you want to compress. Click "Open" and the file will be opened in Preview.
Step 3: Now navigate to the "File" menu again and choose "Save As". In the "Quartz Filter" section, choose the "Reduce File Size" option. You can specify a file name and destination for the compressed PDF.
Step 4: Click "Save" to start compressing your PDF file.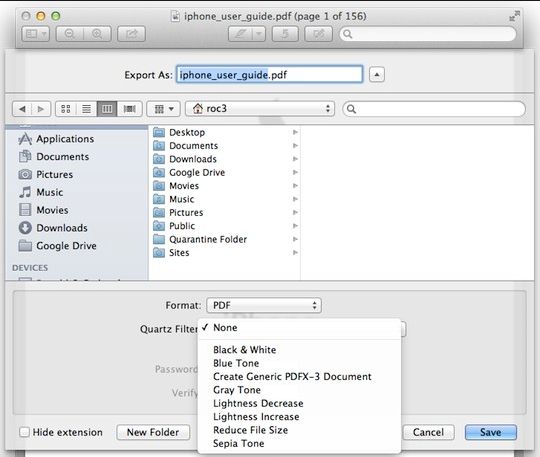 ---
Part 3: 2 Ways to Compress PDF Using Adobe Acrobat
Adobe Acrobat provides you with two ways to compress PDF files. You can decrease the size of your PDF using the "Save As" function or reduce PDF file size using the built-in PDF Optimizer. Just follow the steps below:
Method 1: Compress PDF Using Adobe Acrobat "Save As"
Step 1: Launch Adobe Acrobat and click the "Open" option to import the PDF file you want.
Step 2: Click "Save As Other…" > "Reduce Size PDF…". And you will open the settings window.
Step 3: Under the Acrobat Version Compatibility tab select newer version, which will reduce the PDF to a smaller size.
Step 4: You can click "Apply to Multiple" to apply the settings to multiple files if needed.
Step 5: Click "OK" to complete.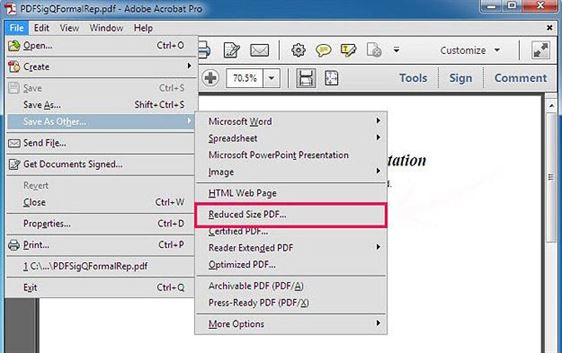 Method 2: Compress PDF Using Adobe Acrobat PDF Optimizer
Step 1: Open Adobe Acrobat and import your PDF file.
Step 2: Go to "Save AS Other…", and select the option of "Optimized PDF…".
Step 3: In the pop-up window, confirm the compression settings.
Step 4: Click "OK" to begin the process of making your PDF smaller.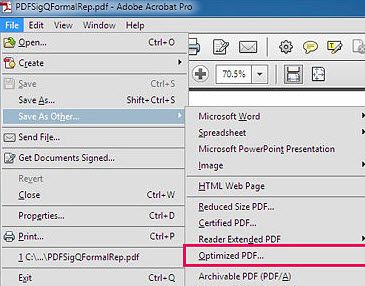 ---
Part 4: Other Tips to Reduce PDF File Size
There are some other methods to help you reduce PDF file size as well. You can recreate PDF, convert PDF, remove an unwanted object in PDF, shrink images in PDF, or compress PDF using WinRAR.
Tick 1. Recreate PDF
Recreating your PDF is a simple way to decrease its size. By doing this, you can compress images in the file or remove unwanted objects. This method can be complete easily with almost any PDF tool, including PDFelement Pro.
Step 1: Launch the program.
Step 2: Click the "Create PDF" button to open the PDF file with the program.
Step 3: Go to "File > Save" to save the file to a new PDF.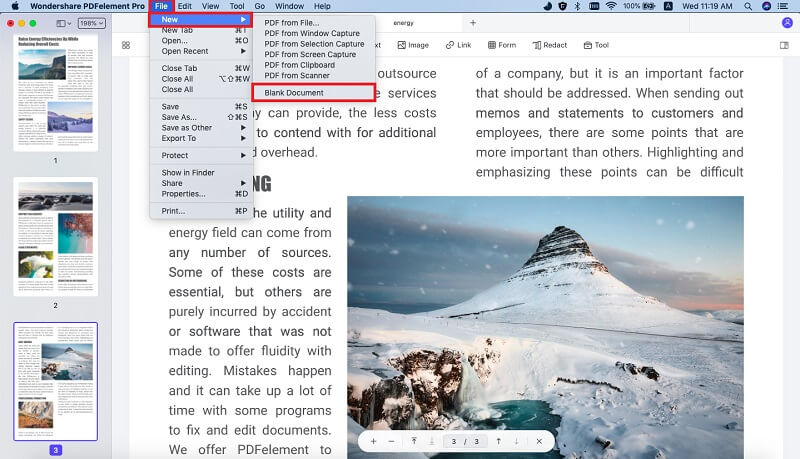 Tick 2. Remove unwanted objects
A PDF file will contain many elements, like annotations, links, bookmarks, form fields and others, which can be removed from your PDF file to reduce the file size. And PDFelement Pro can help you to remove these elements with its built-in editing tools.
Step 1: Launch the PDF editor and import your PDF file to the program.
Step 2: Select any element and right-click on it. Then choose "Trash bin" button to remove it.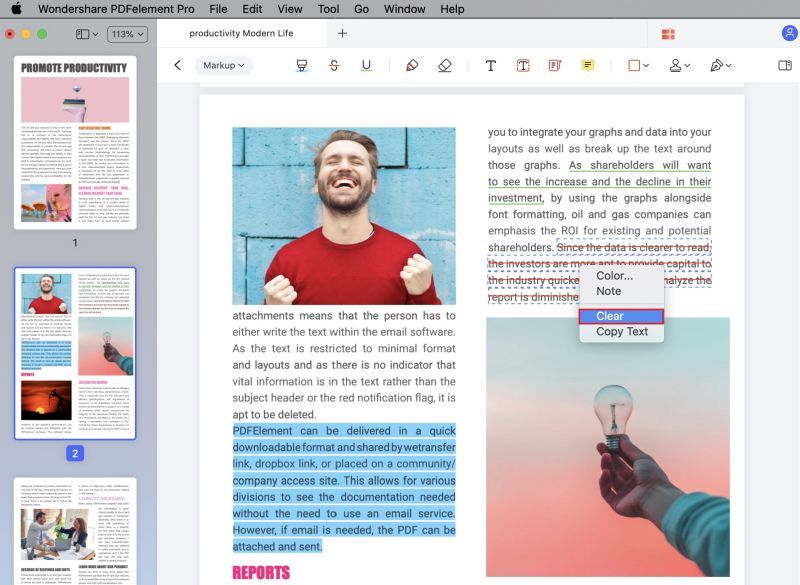 Tick 3. Convert PDF
You are also able to condense a PDF file by converting it to other formats like Word, PPT, EPUB, Text file, images and more. PDFelement Pro provides you with multiple output format options when you need to convert your PDF.
Step 1: Open the program.
Step 2: Go to 'File' > 'Export to' and then select your output format.
Step 3: Choose the output folder and then click 'Save'.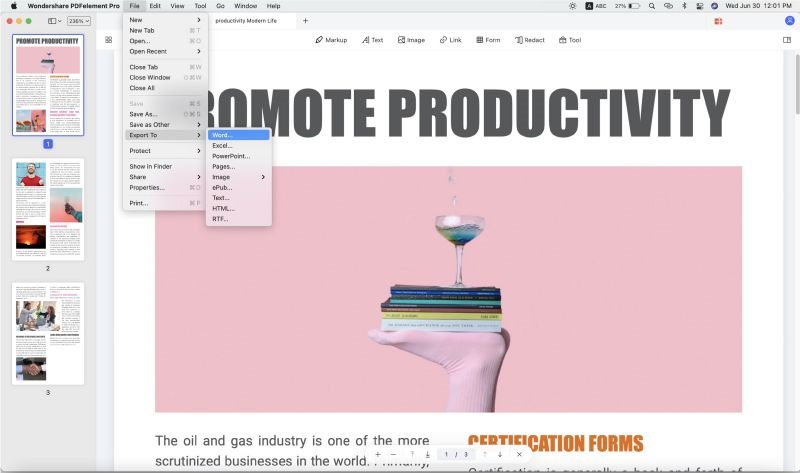 Tick 4. Compress PDF Using WinRAR
WinRAR can help you compress files to a smaller size. If your PDF file is large, you can zip your PDF by using the WinRAR utility.
Step 1: Install WinRAR on your computer.
Step 2: Find the PDF files you want to compress.
Step 3: Right click on the PDF file and select the "compress file" option.
Step 4: Select the RAR or Zip option. Then confirm the compression settings and click "OK" to begin the process.
You can compress your PDF using WinRAR, but the options are limited. With PDFelement Pro for Mac, you have more options to choose from, including downsample, compression type, and lossless compression.
---
Part 5: How to Compress Scanned PDF on Mac
Many Mac users might be frustrated when dealing with a scanned PDF. This kind of image-based PDF file can be challenging to edit, convert, or compress. Luckily, with the help of PDFelement Pro, you can handle scanned PDFs as easily as non-scanned PDF files. This PDF compressor for Mac (macOS Mojave) comes with an industry-leading OCR feature, letting you effortlessly convert, edit and compress scanned PDsF without any hassle. Just follow the simple steps below to do so:
Step 1. Import scanned PDF to the program
Launch PDFelement and click on the "Open File" button to select a scanned PDF to import into the program. You will get a notification bar asking if you to activate the OCR feature.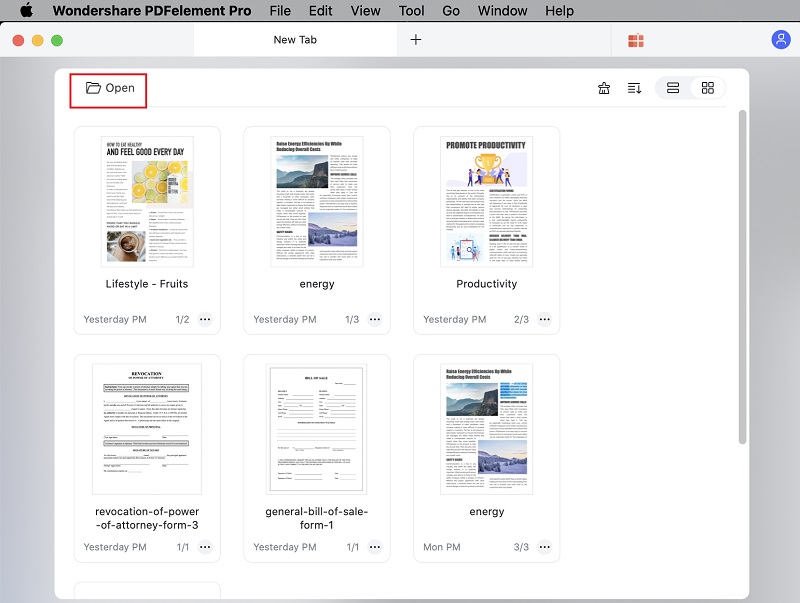 Step 2. Enable the OCR feature
Go to the "Tool" tab and click the "OCR Text Recognition" button. Select the language you need and click "Perform OCR". The program will start performing OCR immediately. After OCR is complete, you can make any modifications you'd like to the scanned PDF.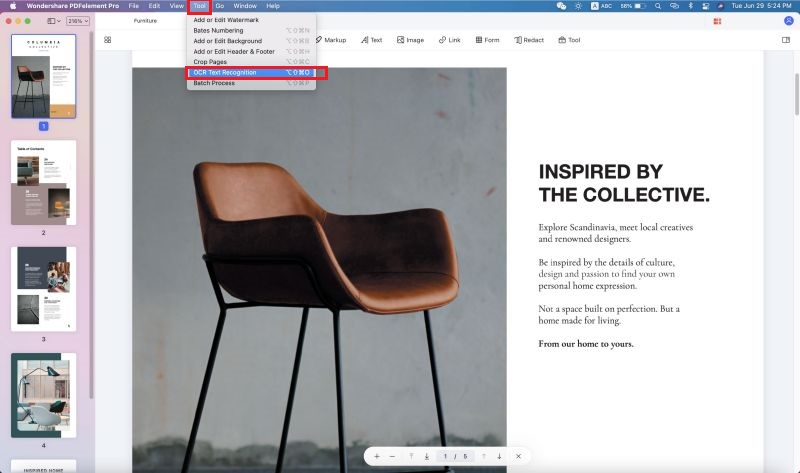 Step 3. Compress scanned PDF on Mac
Go to the "File" menu and click the "Optimize PDF" option to start compressing your scanned PDF.