You can add passwords to PDF files to secure your PDF contents. If you get a password-protected PDF but do not have a password from the owner, it is hard for you to edit the PDF, even you cannot open the PDF with opening password protected. No worry! Follow this guide, you can easily print, copy and edit password protected PDF documents on Mac OS X (macOS 10.15 Catalina included) and Windows. PDFelement Pro will help you.
Part 1. How to Edit Protected PDF File on Mac (10.15 Catalina Compatible)
To edit password-protected PDF, you need a PDF editor with PDF password remover function like PDFelement Pro. It's a program that can easily unlock PDF documents without passwords. With this software, you can convert or edit documents with passwords. Typical PDF files which are naturally read-only can now be edited as a simple Word document thanks to the powerful features. Editing protected PDF files on Mac (macOS 10.15 Catalina) can now be easy. You can even convert, add bookmarks, annotations, delete pages, or add pages to password-secured PDF on your computer.
Steps to Edit Locked PDF Documents
Here are some easy steps on how to edit protected PDF on Mac by using PDFelement Pro for Mac (macOS 10.15 Catalina included).
Step 1. Import Protected PDF Files
You need to install the software on your Mac so that you can begin the decrypting process. Once you have installed the software, you are ready to import files. Importing files can be as easy as clicking the "Open" option from the software and then browsing it to look for the file you need.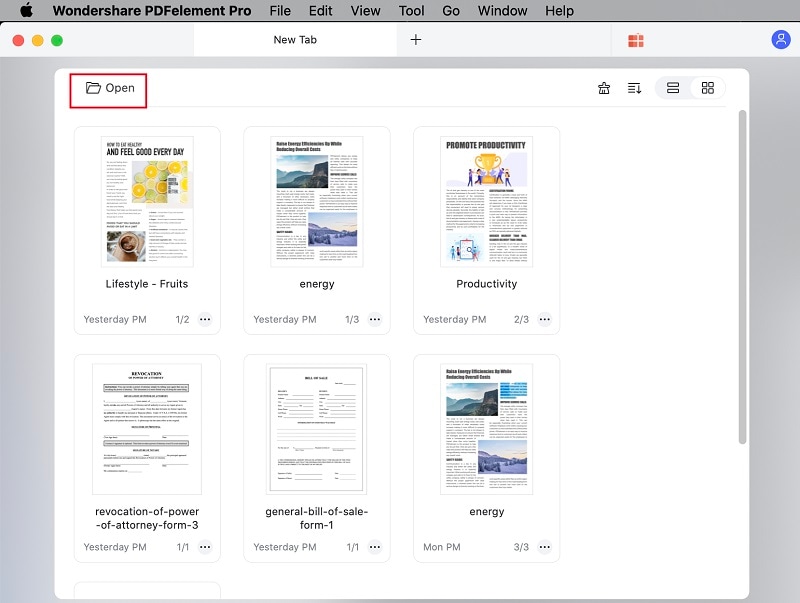 Step 2. Convert to Word File Format
Click "Tool" > "PDF Converter" to activate the conversion process. Then you can click on "To Word" to start the conversion. Once you have done this, you can now edit a protected PDF file.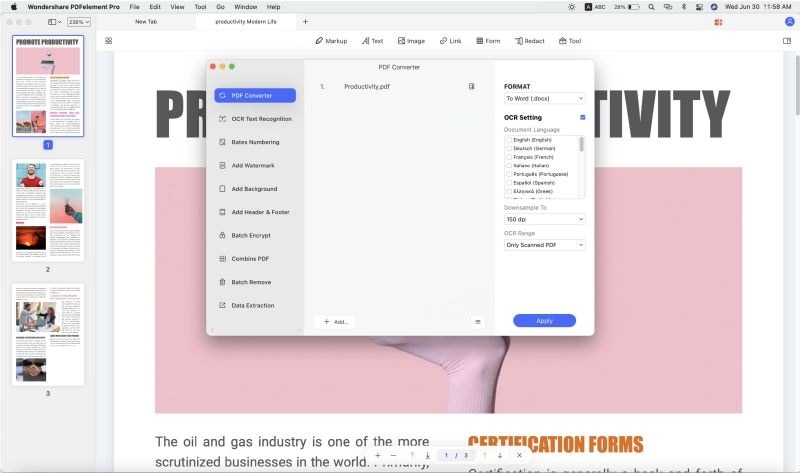 Note: If you get the PDF with opening password-protected, you need to ask for the password from the owner to open the PDF file first.
PDFelement Pro can help you go through editing protected PDF files on Mac without trouble. With its user-friendly interface, you can easily access its options and do your editing job in the least time necessary.
Step 3. Start Editing Protected PDF
Now go to "Text" tab and you can edit the protected PDF file as your needs.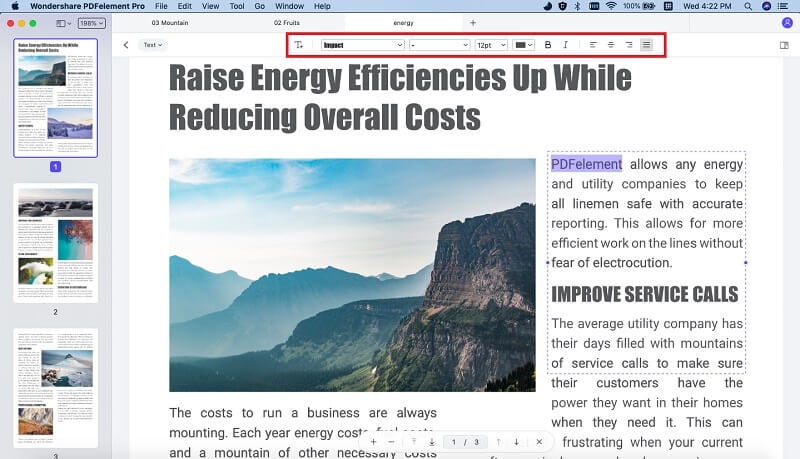 ---
Why choose PDFelement Pro to Edit Protected PDF
PDFelement Pro is a professional PDF editor. With the help of this PDF editor, you can not only edit protected PDF files easily but also can convert and edit scanned PDFs with an advanced OCR function. This PDF editor will make your work with PDF documents as easy as Word documents.
Why Choose This PDF editor:
Directly remove PDF permission password and allow you to edit and convert protected PDF.
You can easily edit, delete, add, mark up, annotate and do any changes to PDF texts and images.
Convert native and protected PDF to Word with the original layout.
You can also combine multiple PDF files and compressor split PDF easily.
The powerful OCR feature enables you to edit and convert scanned PDF.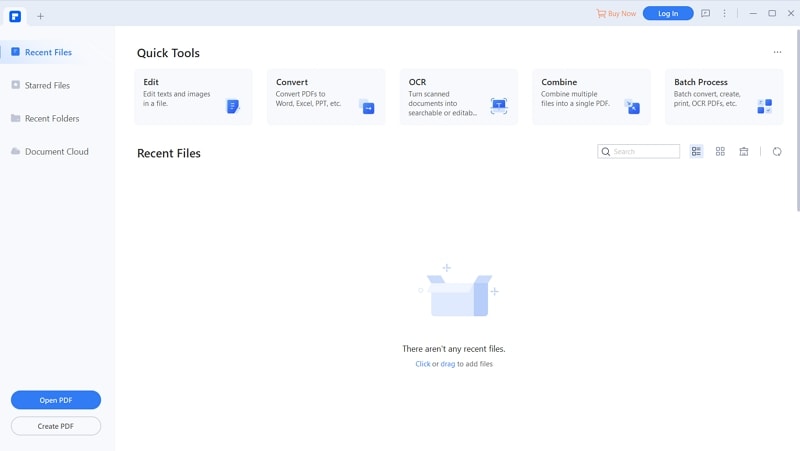 ---
Part 2. The Guide for Compiling Protected PDF on Windows
To edit protected PDF on Windows, you need to use PDFelement Pro for Windows It lets you edit a collection of files at time. Having a scanned PDF, you can also edit using this app. OCR technology is inbuilt in this app that makes it one of the best. This software does not only let you convert the files to Word as it retains its format and layout but also lets you convert a section of your PDF file. In doing so you will have unlocked the PDF file thus giving you the edit and print permissions.
PDF files are protected with passwords both for opening and editing, but some you can just view but not edit them. To edit PDF you need to convert it to a format, let's say Word. Do you know how to do it? Follow these steps.
Step 1. Launch the Software
Launch PDF Editor and then click "Open" to load your PDF file to the program. After the file has been loaded, you can directly edit it if there's no editing password.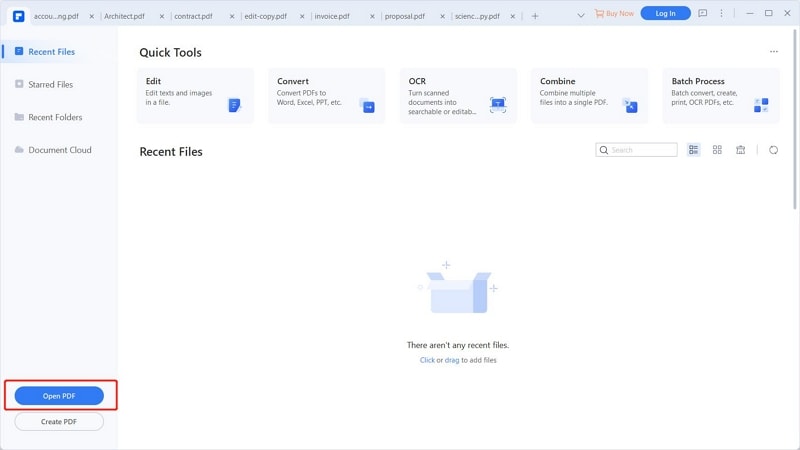 Note: If there are passwords for both opening and editing the PDF, you cannot edit a protected PDF without unlocking it. Thus you need to convert the PDF file to get editing permissions, but if the PDF has an open password and closed edit permission, input the password, and edit it in the software without converting file.
Step 2. Begin Converting the PDF (Optional)
Go to the "Home" tab and then choose the format that you want to convert to the desired PDF file that you have dropped. Ensure you select the place where you want to save the document.
At this point, you should be anxious. Relax and click on "Convert" to begin the conversion. Wait till the process is done. During the conversion process to the desired format, the PDF is automatically unlocked. This is an eye opener for many editing options.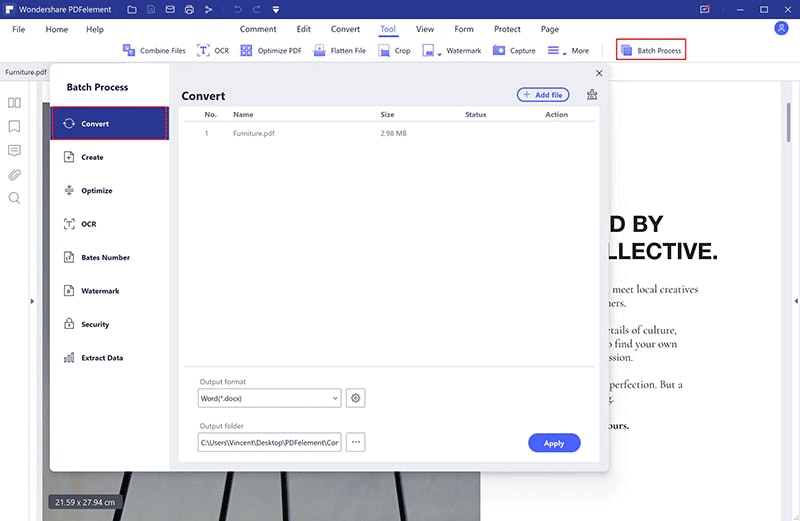 Step 3. Start Editing Protected PDF on Windows
Go to the "Edit" tab and then you can choose the edit tool as your needs to start editing the protected PDF file on windows.