Being able to merge PDF files saves time for both you and anyone you plan on sending the files to. Instead of having to find and open multiple files you will have one sleek and well managed document that makes efficient use of all the work you put into creating them. It also makes sending files through email much easier to digest since you will only need one attachment instead of several. Believe it or not, merging PDF files also makes printing jobs a snap and in one smooth action; saving loads of time and energy.
There are many reasons why you may need to merge several PDF documents: saving space on the hard drive, e-mailing multiple files to co-workers or friends, printing many files for a presentation, etc., no matter what your reason is; the following guide will help you along the way.
Part 1. How to Merge PDFs into One File on Mac
PDFelement Pro for Mac (Including macOS 10.15 Catalina) is an easy to use PDF merger, which will help you to merge multiple PDFs into one file. Even if you have never merged a PDF file before PDFelement Pro for Mac will make it quick and easy with an easy to understand step-by-step guide.
Step 1. Run the PDF Merger for Mac
Open this program and click the "Combine PDF" button under "Tool" button to load the merging windows.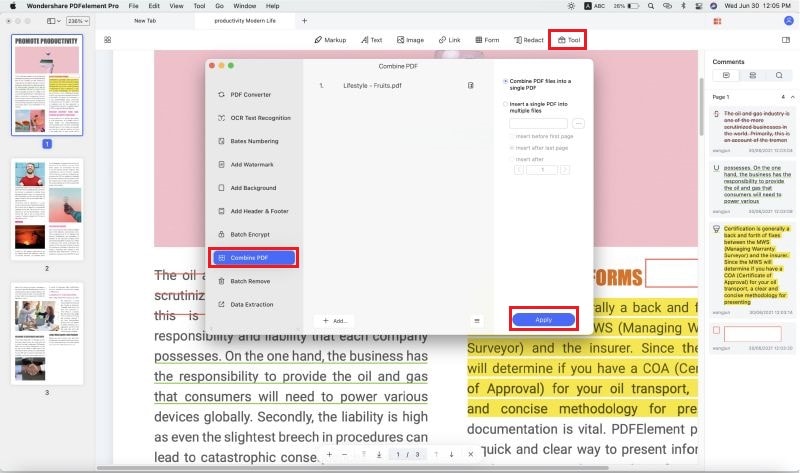 Step 2. Start the Process of PDF File Merge
Click on the "+ Add..." button to add the PDF files you wish to combine. Then another window will appear showing the locations of all of the places the PDF files can be located. Click on the PDF files that are to be combined. After they are loaded, you can combine an entire PDF file with other PDF files to combine. When it is ready, click the "Apply" button to merge PDF files.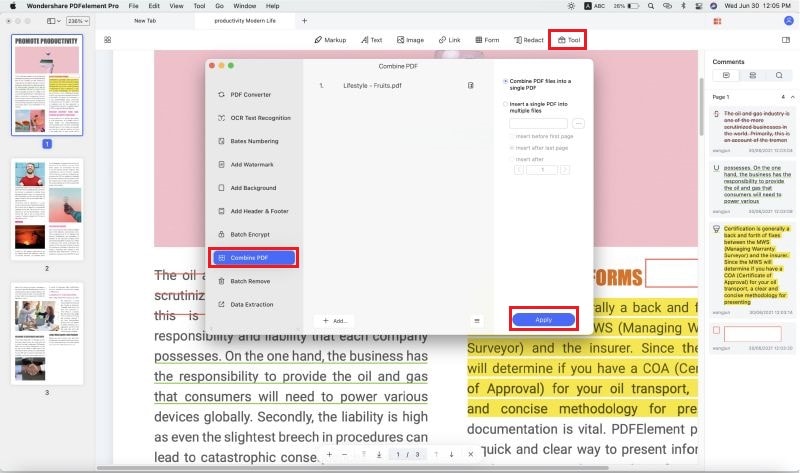 ---
Why Choose PDFelement Pro to Merge PDF Files
For merging PDF files and for just about any other editing need I have, I use and fully recommend the PDFelement Pro. Simplicity and ease of use make this software a must have for anyone dealing with PDF files on a regular basis. Key features include document merging, splitting, cropping, extracting, conversion, compression, and tons of other useful tricks for editing files. Not only can the combined files be edited they can also be saved, e-mailed directly from the PDF Editor 6 Professional for Mac and printed directly from the fabulous program. PDFelement Pro is a one stop shop for all of your PDF merging needs.
Key Features Thies PDF Merger
Easily merge two PDF files or more PDF files in a few steps.
Create PDF from Word, Excel, PPT, EPUB, HTML, Images and more.
Easily edit PDF texts, images and pages. And markup PDF with multiple tools.
Convert PDF to Microsoft Word, images, EPUB, and many other formats.
Protect PDF with password, watermark and signature.
The OCR feature allowing you to edit and convert scanned PDF.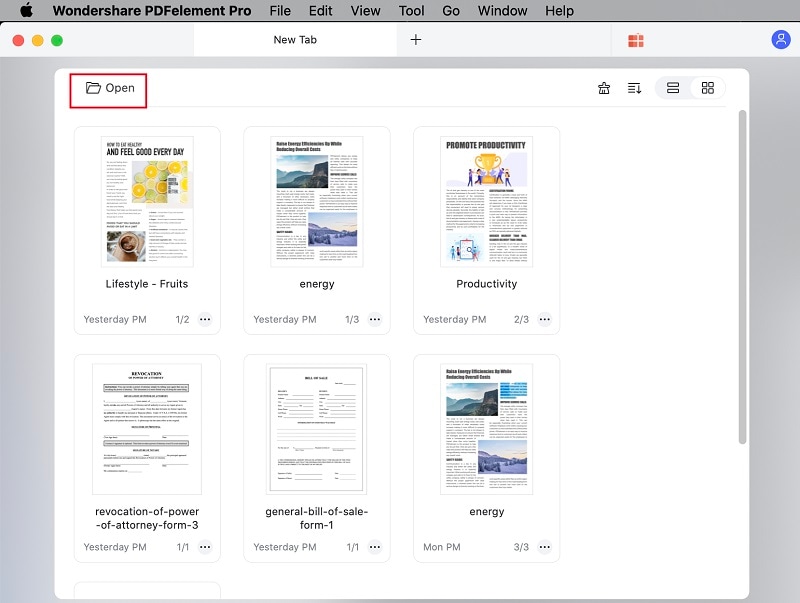 ---
Part 2. How to Merge PDF Files on Windows
PDFelement Pro is one such tool which comes to mind because it is a popular option to create not just individual PDFs but also to merge PDF on Windows from multiple files to a single document. Whether you need to merge PDFs which are created by various users or to combine a selection of personal files, consolidating these documents is the ideal way to keep them organized and remove clutter from your computer hard drive.
Simple steps are provided to help you merge PDF files on Windows.
Step 1. Add Your PDFs to the Program
After you have downloaded and installed the PDFelement Pro for Windows to your computer. Launch the program and then choose the option "Combine Files" to activate the merging windows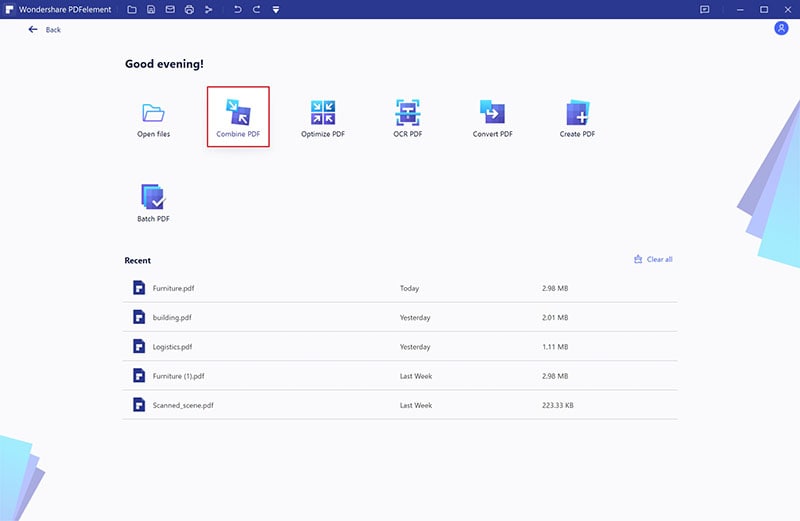 Step 2. Start the Process for Merging Your PDF Files on Windows
In the pop-up window, you can either click the "Add Files" button to browse for the files you need or drag and drop the target files to the program.
Once you have picked all of the PDF files you want to combine, click on "Next" to start the PDF merging process.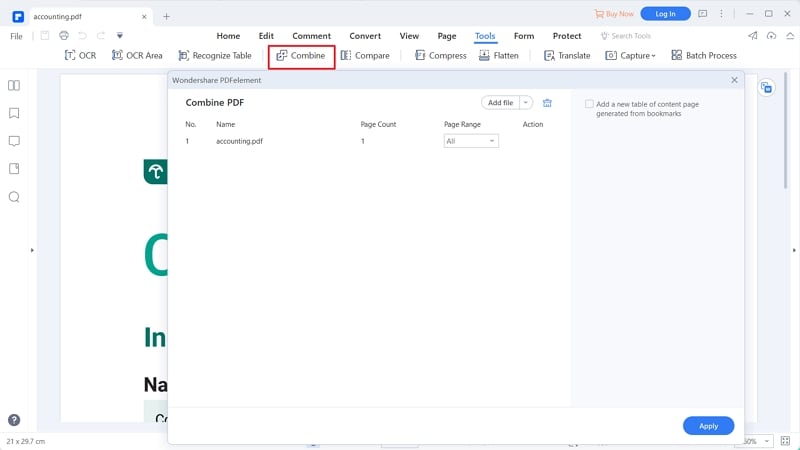 Step 3. Edit PDF Pages
After you've combined multiple PDFs into one, you can start to edit the PDF file with ease. You may need to change the page order according to you own needs. To do so, you can click on the "Page" button. Then select one page you needed and move the cursor to put it to the place you wanted.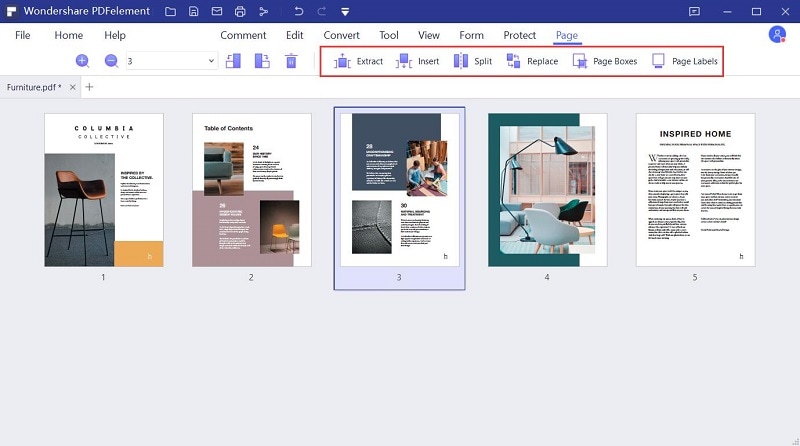 PDFelement Pro has made a once daunting task a very easy and quick step with just a few simple steps; regardless of the operating system you are using. Merging PDF files can be quick and almost effortless, giving you that complete and professional looking document that you needed. Whether it's for work or organizing your files at home, combining PDFs can be useful to everyone. I hope this step by step guide has helped you and shown you just how easy it can be with PDFelement Pro. Fear PDF editing no more.