When you want to share or transfer a PDF file, you may find that the file is too large to upload and it occupies a lot of space on your computer's hard drive. How to solve this problem? Actually, all you need is a great PDF optimizer that can help you optimize PDF to a smaller size. Then you can save lots of time in uploading and send the files over the Internet and free up more space on your computer. Now, let's get started.
Part 1. The Best Software for PDF Optimization on Mac and Windows
Want to optimize PDF for web or email? You need a PDF document optimizer to get things done. PDFelement Pro has a wide array of features and functions that will be handy for you when it comes to PDF optimization and editing for Mac OS X (macOS 10.15 Catalina included) and Windows.
How to Optimize a PDF on Mac (Including 10.15 Catalina) and Windows
To show you how easy to use this pdf program, here is how to optimize PDF files by using PDFelement Pro on Mac. Windows user should download PDF Editor for Windows and then follow the same tutorial.
Step 1. Load Your PDF to the Program
First, run this Mac PDF optimizer and it will prompt you to select the PDF file you want to optimize. Click the "Open File" button to add your PDF file to the program from local folder. To access the optimizing option, you need to go to the "File" menu and select "Optimize PDF" from the submenu.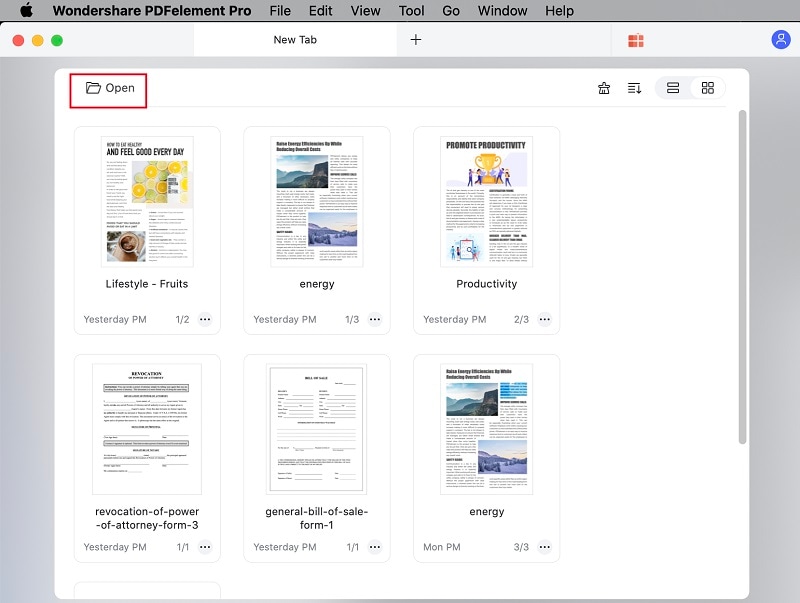 Tips: In the primary window, you'll find useful PDF editing tools on the top tool bar. With them you can freely make changes on your PDF files.
Step 2. Choose an Optimizing Option
There are various options of compressing the whole PDF file instead of singling out the images and graphics. You can freely choose the compression quality according to your needs and preview the result. Finally, click "Save AS" to confirm your choice.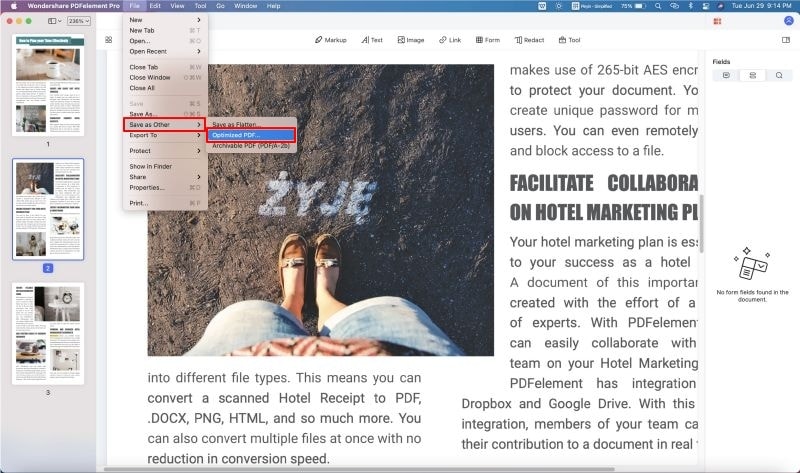 Step 3. Optimize scanned PDF
If you want to optimize scanned PDF files, you can OCR the scanned PDF at first. To do so, you can click on the "OCR" button under the "Edit" tab after you've imported the scanned PDF file to the program. You can use the advanced OCR feature to make the scanned PDF editable and then optimize scanned PDF with ease.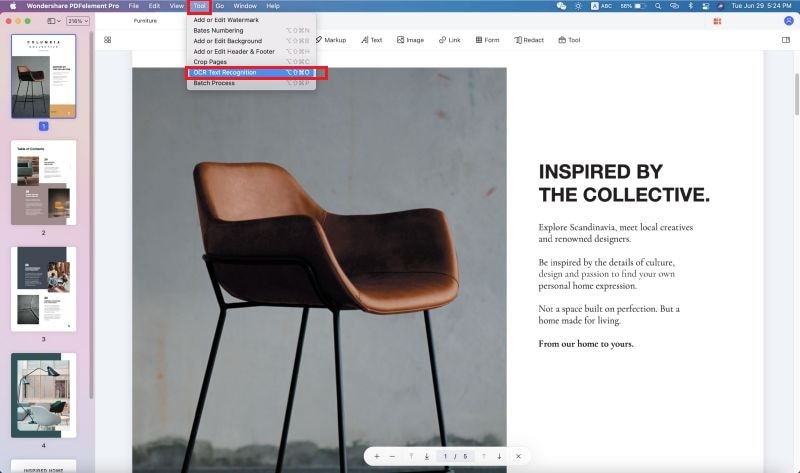 Write in The End:
Aside from being a good Mac PDF optimizer, the Pro version of PDFelement can be used for a number of other functions. For example, you can also edit the text content of the PDF file. Also this software is also known for its ability to convert your PDF file into other formats, such as a PDF to EPUB file or a PPTX file.
Moreover, you have the option to merge PDF files into one large document, or alternatively you can split a large PDF file into smaller ones. For those who use PDFs extensively, there is also a function that allows you to annotate the file for your thoughts and ideas about the content. With all this in one neat package, PDFelement Pro for Mac is an ideal program not only for PDF optimization, but also for so much more.
PDFelement Pro for Mac - The Best Way to Optimize Your PDF
PDF optimization is done to perfect your document. Using PDFelement Pro would be like editing PDF files with a Word Processing program. It is very easy to use, and if you need to know how to do things with this software, you can always check its official website for helpful step-by-step guides on almost every function that it offers.
Why Choose This PDF editor:
Optimize your PDF file with ease.
Convert PDF to images, Word, Excel, PPT, EPUB and more formats.
Create PDF from other formats and create PDF forms easily.
Easily mark up and annotate PDF files with multiple markup tools.
Easily edit PDF texts, graphics, images, links, watermarks, etc.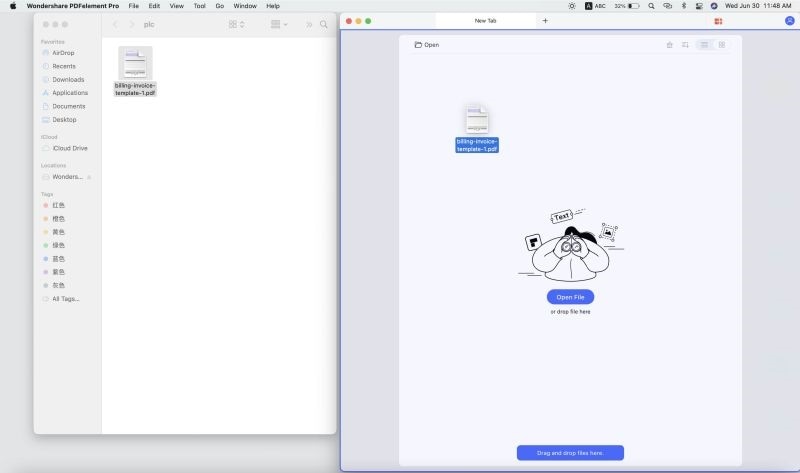 ---
Part 2. Tips about The Optimized PDF File
1. What is an Optimized PDF File
If you are looking for optimizedpdf meaning, then you have come to the right place. It is understandable to ask questions like these even when you know what it means to optimize something. PDF files come in various sizes. And PDF Files with images will undoubtedly be a bit larger. Read to know what adobepdf files optimized means and the benefits of such an act.
2. What does optimized pdf mean?
As earlier said, PDF files can be in different sizes. Some are larger based on the information they contain. However, if you are working with PDF files, then you may have heard the word "optimize."
To optimize a document, particularly PDF files means to reduce their sizes. The purpose of this is to make them optimal for storage purpose or internet use. Shrinking PDF file size is acceptable and won't result to loss of information contained in the file. For instance, if you have a file size of 1000kb, optimization can reduce it to 950kb or less, depending on the software though.
3. What is an optimized pdf file used for?
An optimized file is still handy. The purpose of reducing PDF size is to make it possible to send out easily as email attachments. You can even transfer a bulk of the files at once when they are smaller, to save time and energy.