Sometimes, we need to split PDF pages on our Mac OS X or Windows computer for various reasons. The possible reasons for splitting PDF files probably include the file size, loading speed and the convenience of the reader. It is very difficult to share a large file through email or by other file-sharing sites. Moreover, the larger files load slowly on a website, as a result, you may want to divide it chapter by chapter rather than inserting the whole files. In this article, I will tell you how to deal with PDF split on Mac and Windows.
Part 1. How to Split PDF Pages into Separate Files on Mac OS X (10.15 Catalina included)
Many PDF split software is available to split PDF Mac easily. PDFelement Pro is one of such tools that are capable of splitting any PDF file into multiple pages.
This program can save endless, editable copies of your PDF as well in case you don't want to damage the original copy of the file you have on hand. Whether the text was directly scanned from a book or embedded to look like one from a word processor document, it's a relative breeze to split apart your PDF chapter per chapter or, in lieu of those, section per section. Even if it's a scan, you can directly edit graphics, images, text, and so forth within the PDF copy itself. You can also save the split documents directly as PDF after you're done dividing them.
Here is the step-by-step guide on how to split up a PDF document on a Mac OS X using the PDF Splitter for Mac.
Step 1. Import the PDF File to the PDFelemnt Pro
First, run the PDF Splitter that was downloaded just now, and then import your PDF document into the program by clicking the "Open File" button.
Step 2. Customize the Setting of Splitter
Then navigate to the "Organize Page" menu and click on the "Split" button to open the control panel for splitting PDF files. You can set the split way by page number or by bookmark.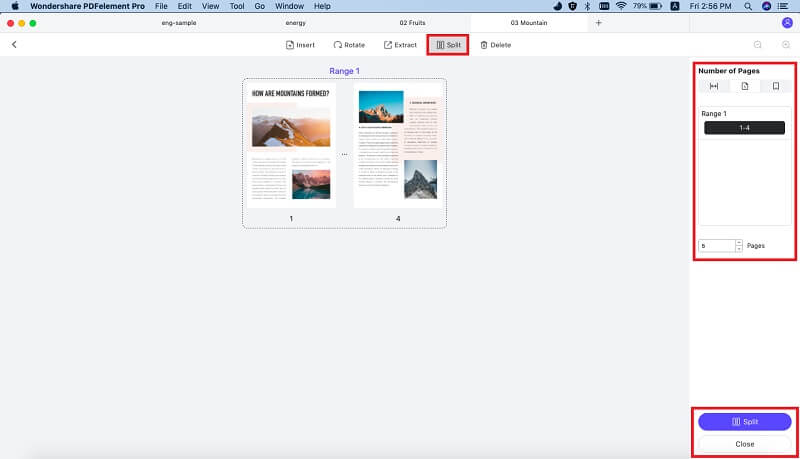 Step 3. Start Splitting your PDFs
After selecting the splitting method, click on the "Split" button to split your selected document. Thus you can split your documents easily. If you want to split more than one document, you can do it.
Tips for How to Split a PDF on Mac for Free
There are 2 methods for you to split PDF files for free by using the built-in tools of Mac OS X:
#1. Using Preview. Preview is a Mac OS X application used to view PDF image files, which has a few document managing tools under the hood.
#2. Using Automator. Much like combining PDF documents, you can split a PDF file into one by one page with Automator. But there are multiple steps you need to do.
However, the 2 ways for using the Mac OS X tool are so complicated, so the best way to split for PDFs is to using the PDFelement Pro for Mac.
Why Choose This PDFelement Pro:
Easily edit PDF texts, pages, images, links, watermarks, etc.
Convert PDF to Word, Excel, PPT, EPUB and more formats.
Create PDF from other formats and create PDF forms easily.
Easily annotate PDF files with multiple markup tools.
Combine multiple files into PDF and split PDF into several files.
---
Part 2. How to Split Multi-Page PDF on Windows
If you are using a Windows operating system, you can choose PDFelement Pro for Windows, which allows you to split a large PDF file on your PC computer, including your newly Windows 8 system.
After you import the PDF files, you need to split pages, as same as merging PDF files, you can go to the Pages tab and then click on the "Split"  button, and then a window will subsequently display. Here you can set the number of pages which will be split, or you can choose to split the PDF document with top-level bookmarks. In addition, you can customize the folder where the split files will be saved to.
Step 1. Start the Program
After you have downloaded the PDFelement Pro, you can run the program first. Then click on the "Open files" button in the main interface to import PDF files to the program as your needs.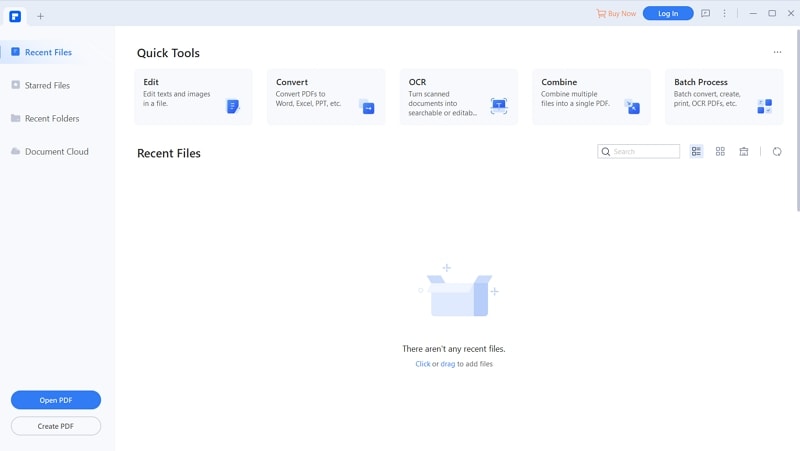 Step 2. Split PDF Pages
Go to "Page" and click on "Split." Then you can choose the number of pages you want to split in the pop-up window. In order to change the output folder, click on "Browse."