OCR, or Optical Character Recognition, is the process of converting a non-editable text document, such as a PDF file constructed from scans of a book, into editable text that can be adjusted and searched. For many applications this can be incredibly useful, being able to search a scanned book for specific phrases can drastically reduce research time for students for instance. In general having a file of text that can be manipulated is far more useful than having what are essentially fixed images as you get from a scan, making OCR a common process for PDF files. In this article, I will show you how to convert scanned PDF to text in a few steps.
Part 1. The Best Software for Extracting Text from Scanned PDF
Scanned PDF documents can be very difficult to edit unless you have the right PDF editor with OCR functionality to help you convert the scanned PDF to text. The best tool to help you to convert scanned PDF to text is PDFelement Pro, a simple to use, yet all-rounded PDF editor that will help you edit all aspects of any PDF document. Its OCR feature is particularly easy to use and unlike most other OCR tools, this professional PDF editor will not alter the make-up of the converted file. It also comes with a lot of other PDF editing features that will help you fully edit the PDF document once it is converted to text.
How to Turn Scanned PDF into Text on Mac (macOS High Sierra Included)
Perhaps the standout feature of PDFelement Pro for Mac however is just how easy it is to use and get great results from. It takes just a few steps to get a perfect OCR text file from your PDF with this scanned PDF to text converter. Follow this tutorial to recognize text using OCR. Windows users please download and install PDFelement Pro and then follow the same steps.
Step 1. Import Scanned PDF Files
It starts with simply importing the PDF to be converted into the program by clicking the "Open File" button. Then your file will be list in the pop up window.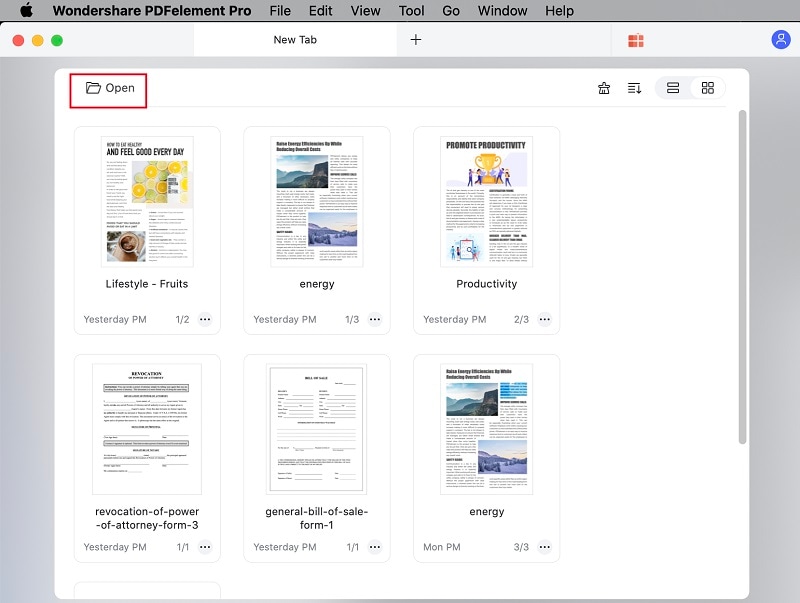 Before converting the image-based PDF to editable text, you can set the language for OCR. To do this, you can open the "Tool" tap and then hit the "OCR Text Recognition" button and select the ideal language.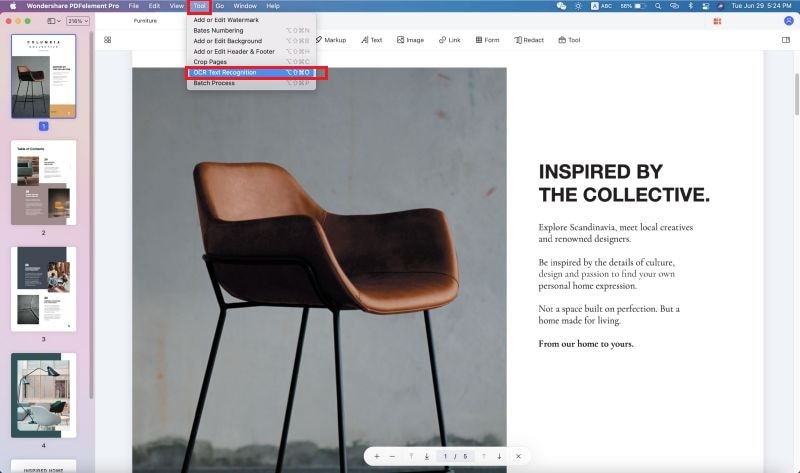 Step 2. Edit PDF Scanned PDF
After you've performed OCR on scanned PDF files, you can use multiple PDF editing tools to edit scanned PDF files with ease. To edit the file, click on the "Edit" button and then you can choose to edit the images, texts, pages and links in PDF documents easily.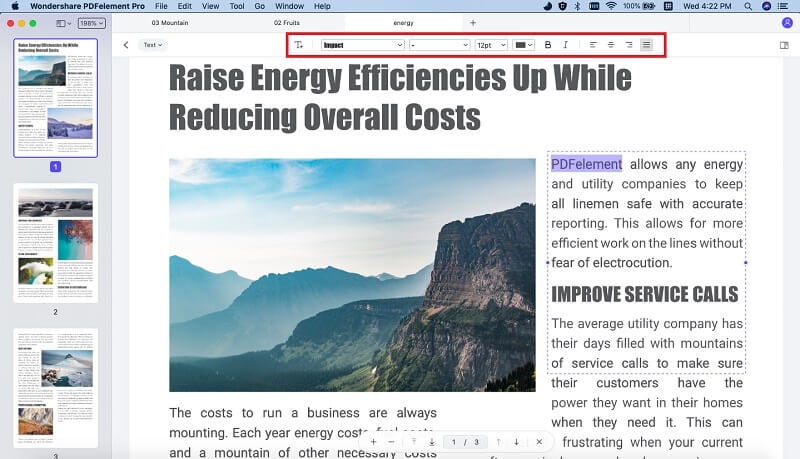 Step 3. Recognize Text in Scanned PDF
It is then a matter of choosing the file format required for the resulting text file. Click the "Export to" button under "File" to set the output format for your PDFs.
It takes a few seconds to set up and is straightforward enough for more or less anyone to use and get great results from.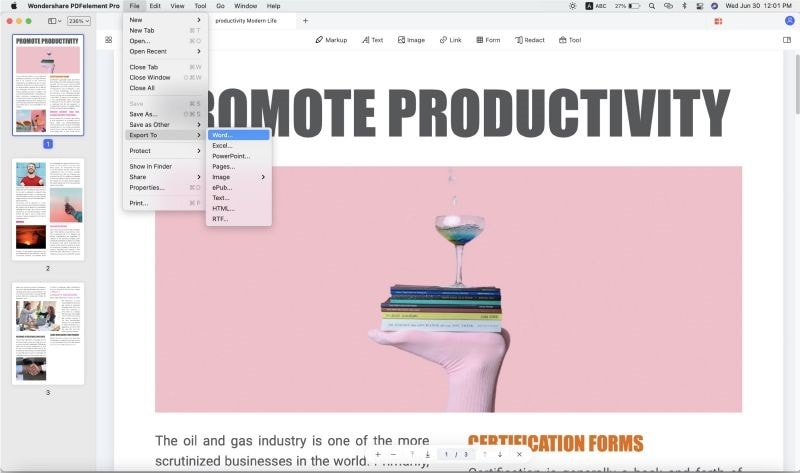 ---
Why Choose PDFelement Pro for Mac to Convert Scanned PDF to Text
Performing OCR and producing a fully searchable and editable text document requires specialist software and the best available is PDFelement Pro. This is a fantastic piece of software with a wide variety of features to make OCR on a pdf file a very easy and straightforward process.
It can output the text in a choice of formats including Word, Excel, the eBook format epub, HTML, Rich Text Files and of course plain text. With over 20 languages to choose from and a simple to understand interface it is perfect for any job and any user. In addition to the OCR features, PDFelement for Mac is also a great PDF editor, which can fully meet your various editing requirements on PDF.
Why Choose This PDF Data Extractor:
Easily extract text, tables and other data from PDF files.
Convert PDF to other formats and convert multiple PDF documents in batch.
Edit texts, images, links in PDF documents with ease.
Mark up and annotate PDF files with multiple markup tools.
Combine multiple files into PDF and split PDF into several files.
Add watermark, signature and password to PDF.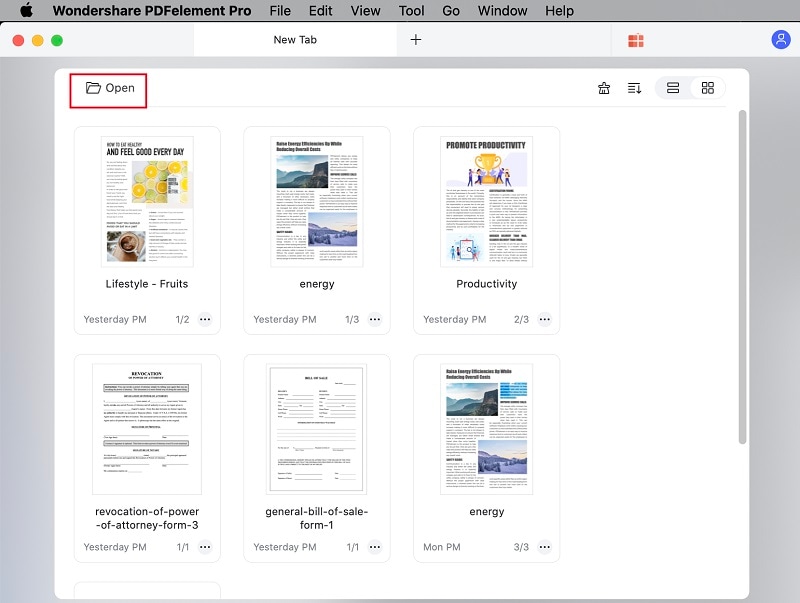 ---
Part 2. Useful Tips and Tricks for OCR
There are also some scanned PDF to text converters free online that you can use to convert a scanned PDF to text for free. Some best include the following.
#1. Online OCR
Online OCR is one of the most popular scanned PDF to text converter free online that you can use to convert scanned PDF to text online. It is very easy to use and supports a wide range of both input and output file types. Apart from converting scanned PDF to text, you can also use it to convert images to text formats like Word and TXT.
Pros:
It is completely free to use and easily available.
It supports up to 46 languages.
Cons:
You can't use it to edit the resultant file.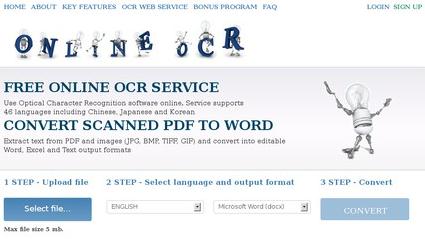 ---
#2. Free Online OCR
Free Online OCR is a free online scanned PDF to text converter and also provides a simple and free solution to convert scanned PDF to text online for free. It is very easy to use. All you have to do is upload the document to be converted and then select the output format.
Pros:
It can convert scanned PDFs and other images.
It supports a wide-range of output formats.
Cons:
It can't be used to edit the text on the resultant file.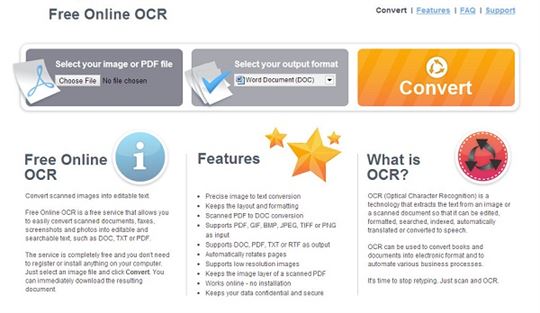 ---
#3. To-Text Converter
You can use To-Text Converter to extract text from any scanned PDF document as well as a whole host of other image files. Like most free online scanned PDF to text converter, it is very easy to use and easily accessible.
Pros:
It supports multiple languages.
It supports multiple image formats for conversion.
Cons:
You can only convert the scanned PDF to TXT format; it doesn't support other types of files like Word.
You can't use it to edit PDF documents.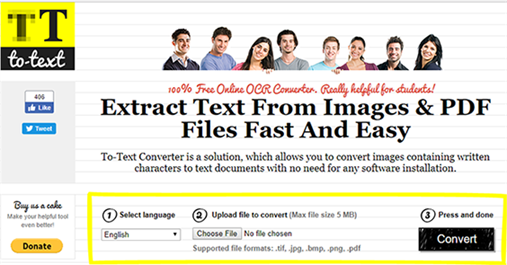 ---
Part 3. Useful Tips and Tricks for OCR
PDF Converter Pro for Mac produces great results straight out of the box, being very accurate and producing excellent results, however like all OCR software there are a few things you can do to ensure the very best text output possible from your OCR process.
The first thing to note when using any OCR process is to always proofread the results, nothing is 100% accurate all the time, and occasionally mistakes do occur, so it is very important to proofread any output to ensure nothing was missed or added incorrectly. You should avoid using the results of any OCR without checking the final text file for errors beforehand.
The OCR process is most efficient and accurate when it has clear and high quality scans to work from. Now, this is not always something you can control obviously, if a low resolution or poor PDF of an old book is all you have available, telling you to find a better scan is not much advice at all, however, in situations where the quality of original file you have is in your control, the simple answer is the higher quality the better.
For large books or volumes of texts, where there are a lot of pages to convert, it can be easier to break it down into more manageable chunks, a chapter or even single pages. This can not only help produce more accurate conversions, but can help the software produce results faster too.
None of these changes appear on the surface to be major ones, but all do make a significant contribution to accuracy, speed or both of the OCR process and are well worth looking at every time you use these tools.