To copy scanned PDF text, PDFelement is the program which enables OCR and easily convert scanned PDF file to editable PDF file.
It is difficult to copy text from a scanned PDF image. To copy text from scanned PDF, you will be required to OCR the scanned PDF to convert it to an editable text document file.
Method 1. How to Copy Text from Scanned PDF with PDFelement
PDFelement is a powerful tool that helps work with PDF documents that allow producing great-looking PDF documents file and forms rapidly, inexpensively, and firmly. With this program, you can open, save, and print PDFs. You can easily convert PDF documents into Word, PowerPoint, Excel, HTML, text, and image files and create an interactive form field where you can copy text from a scanned document.
Step 1
Upload scanned document
Install and Launch PDFelement program and upload the scanned PDF document you wish to convert to editable form and copy text.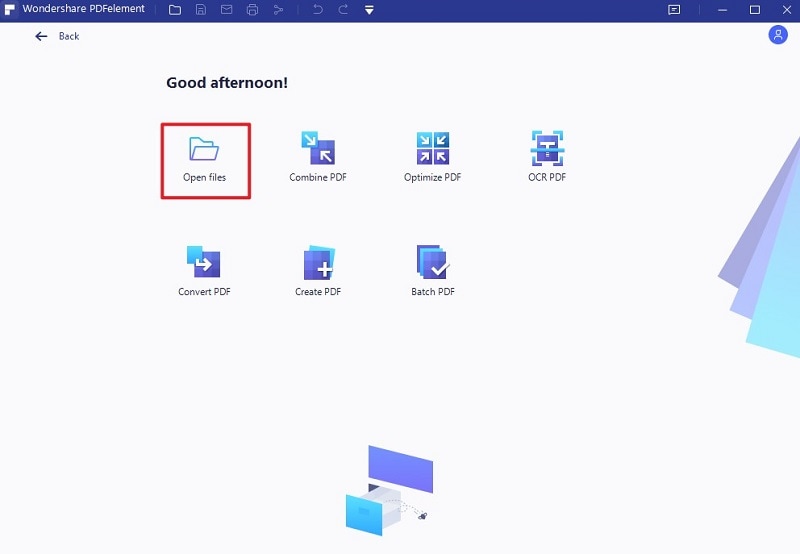 Step 2
Perform OCR
After opening your scanned PDF file or image-based PDF file in the PDFelement program, you will get the highlighted notice to inform you to perform OCR. You can directly click on the "Perform OCR" button, or you can click on the "Tool" > "OCR" button present on the top of the screen in the ribbon to open the OCR window.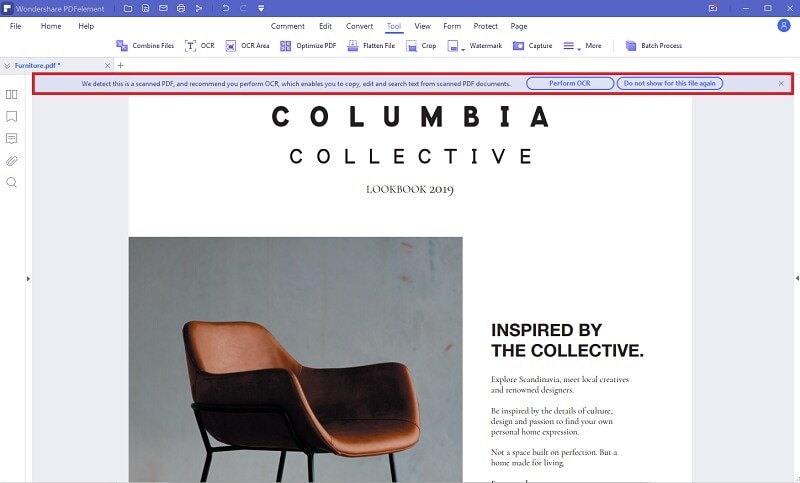 Step 3
Convert scanned PDF to editable text
When OCR window pop-ups, select "scan to editable text" in the scan option. Tap on the "Change Language" button and select the correct language of your PDF content in the list. If the PDF you are converting contains different languages, choose all the needed languages in the list. Click on the "Apply" button to start performing the OCR process. When the process completes, the newly created editable PDF file opens in the program automatically. Now, you can make the desired changes in the newly converted PDF file.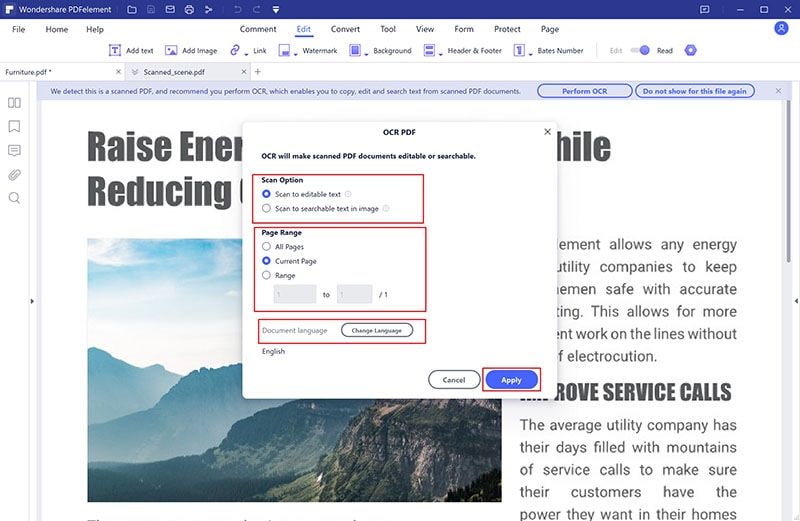 Step 4
Copy text from scanned PDF
After converting the scanned document into editable text, you can easily copy text from the PDF file. Click on the "Edit" element present on the top of the device screen. After doing so, you will get options to make changes to the PDF document like add text, add image, etc. You can copy text from the PDF file. Right-click on the text you want to copy and tap on the copy and paste it on the desired file.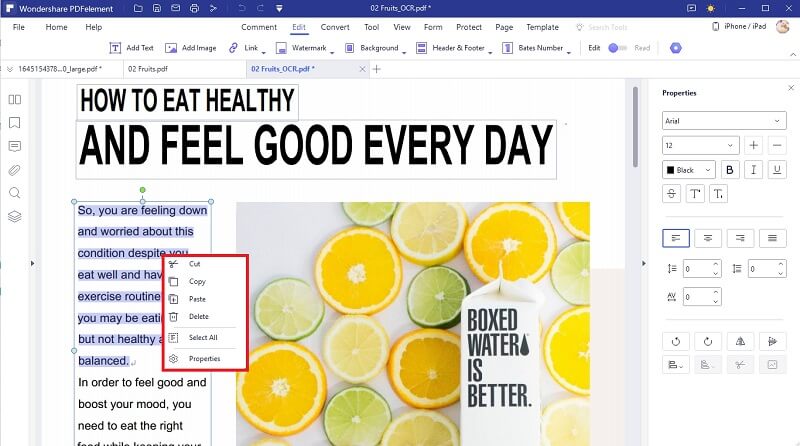 ---
Method 2. How to Copy Text From Scanned PDF in Adobe Acrobat
When you open a scanned document to copy text from scanned PDF, Adobe Acrobat performs optical character recognition or OCR process in the background automatically and the scanned document converts into editable text and images. By default, only the current page converts to editable text in one go. As you progress to a different, the page focused is formed editable. Use the settings to vary OCR language, choose whether to use system fonts, and make all pages editable at one go.
Step 1. Click Get Started to launch Adobe Acrobat. Open the scanned PDF enter Adobe Acrobat.
Step 2. Choose "Tools" > "Edit PDF". Acrobat automatically applies OCR to your document and converts it to an editable copy of your PDF.
Step 3. Click on the text you would like to edit and begin typing a new one. New text matches the design of the first fonts in your scanned image.
Step 4. Click on "File" > "Save As" and give a new name for your new editable document.
---
Method 3. How to Copy Text From Scanned PDF Online
You can easily select and copy text from a scanned PDF by creating a searchable PDF with the online tool. This free online converter allows you to convert scanned PDFs to text form. You can work with scanned PDF or scanned text and copy text from a scanned PDF. Picture to text converter allows you to copy text from scanned PDF or convert PDF to Doc, Excel, or text formats using OCR (Optical Recognition Software) online.
Step 1. Choose a file that needs to be converted and upload it. It carries a 15MB maximum file size.
Step 2. Select the Language of the PDF file and choose the output format, i.e., Microsoft Word (Doc) format for copy text.
Step 3. Now, click on the "Convert" tap, the process of conversion will get started.
Step 4. After conversion into Doc format, you can now easily copy text from scanned PDF documents, photos, and captured images.