Whenever you scan a text document, you need a great OCR processor which will turn the PDF into an OCR text file which you can then edit. This method of scanning documents into PDF is great especially if you have a lot of pages, and o not want to type them out once more. Many programs are not able to convert scanned PDF accurately. You find that some of the words are not picked, or they are not properly recognized and you have a document that is full of spelling mistakes. This gives you a lot more work of reading and editing the full document. In this article, we will show you how to convert scanned PDF to editable file on your Mac and Windows computer easily.
Part 1. The Best Scanned PDF Converter
A scanned PDF image of a document may sometimes not be very clear. When you use other tools, you get text that has a lot of mistakes. The only way to go about this with accuracy is to use PDFelement Pro. This tool is a powerful PDF editor, and it also has an OCR feature which will help you to convert scanned PDF to editable file. The text can then be edited and saved as a different PDF, ready for distribution. If you have several pages of a document that you want to edit and send this is the best tool for the job.
How to Convert Scanned PDF to Editable File
Step 1. Import scanned the PDF file
Once you have downloaded and launched PDFelement Pro. Go to "Open File" and then navigate to where your scanned PDF is and load it.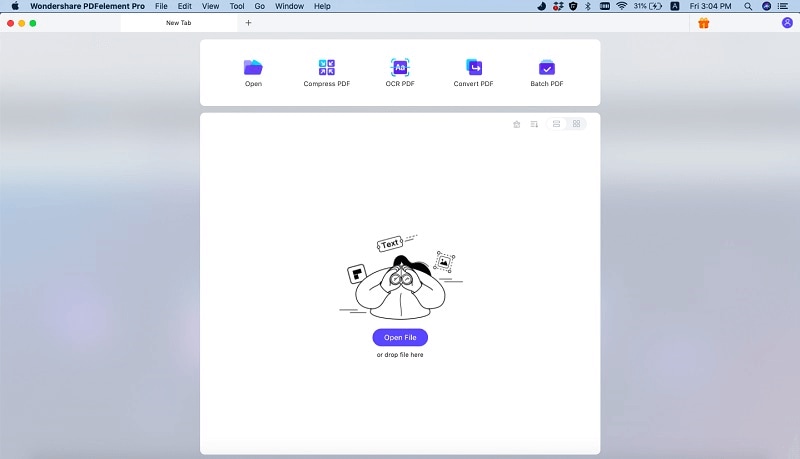 Step 2. Enable OCR on PDF
The OCR plugin under the "Edit" tab should be downloaded and installed for the OCR feature to work. PDFelement Pro is able to download the plugin and install it for you automatically when you prompt it. Now click on "Perform OCR" and you will be taken to a new window, where you get to choose the settings for the OCR. You can change the language of the document. Click on "Change Language" and then choose from the 23 different languages that you will find there.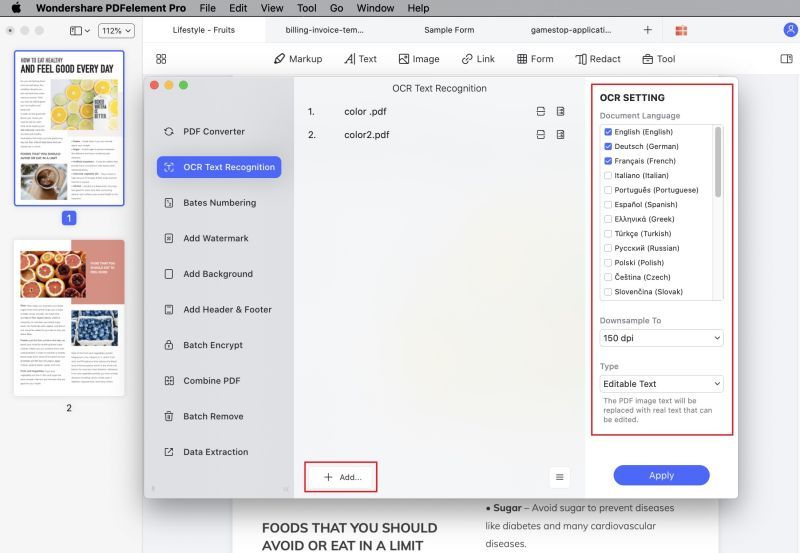 Step 3. Select output format
After the OCR is completed, you can now go to "Convert" tab and select the output format according to your needs. Now the text that has been picked from the scanned PDF image is ready for editing. The editing feature of this tool is great and will organize your pages very well.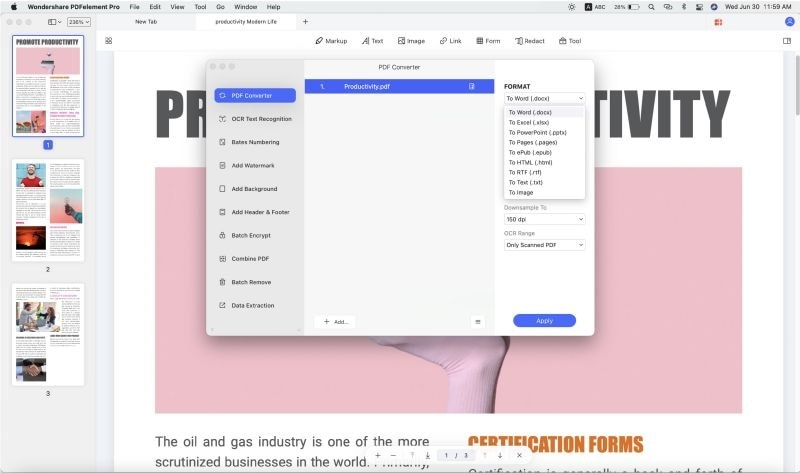 Step 4. Covnert Scanned PDF to Other Format
After you've convfirmed all the setting, you can click on the "Convert" button to convert scanned PDF to other file formats according to your needs.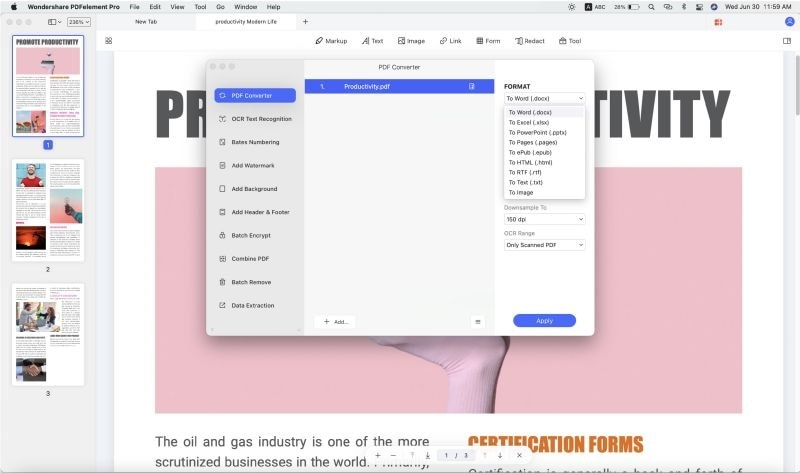 ---
Why Choose PDFelement Pro to Convert Scanned PDF
The OCR ability to pick text from scanned PDF files is great on PDFelement Pro and that is why it is the best tool that you can have for this purpose. This PDF editor also provides you and easy way to edit scanned PDF files easily. You can edit texts, images, links, pages and other file formats in PDF documents with multiple PDF editing tools.
Key features of PDFelement Pro are as follows:
You can now design your own PDF forms or edit and fill others from another source.
This is a great feature for turning scanned PDF documents into text and then editing them.
you can now sign your PDF work so it is recognized as your own.
you have an organized interface which makes it easier to work with your documents.
You can create and convert any document and turn it into a PDF.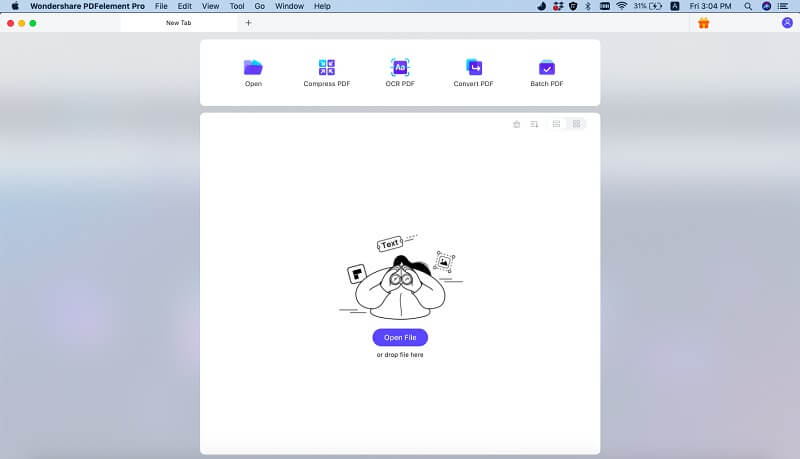 ---
Part 2. Convert Scanned PDF to Editable Files for Free
One of the ways you can convert a scanned PDF to an editable file is to use an online tool like OnlineOCR. This tool is available for free online and can be used to convert any image to editable format. Like most online tools, it is quite accessible since you can sue it on any OS and on any browser. It is however not an ideal solution when you have a large number of documents to convert. This is because it limits the number of documents you can convert. The following simple steps will show you how you can use this program to convert scanned PDF to editable PDF online for free.
Step 1. Go to the official website and click on "Select File" to upload your scanned PDF document. Select the Language and the output format and then click "Convert".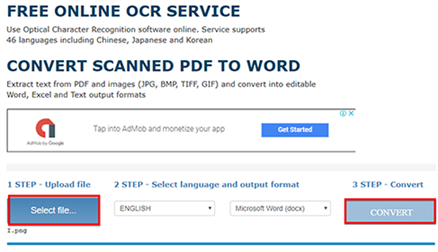 Step 2. Wait for the program to convert the scanned PDF and the text in the PDF will be displayed in the next window.
---
Part 3. Convert Scanned PDF to Editable Documents in Adobe
As one of the best PDF editing tools, Adobe also gives you an easy way to convert a scanned PDF to an editable file. It has a great OCR feature that is easily accessible and can be used to even convert many documents at the same time. You can also use the program to further edit the PDF. Follow these simple steps to use Adobe Acrobat to convert a scanned PDF to editable file.
Step 1. Download and install Adobe Acrobat on to your computer and launch it. Then, open the scanned PDF document you'd like to work on.
Step 2. Click on the "Tools" button and then select "Recognize Text". Here, select "In This File".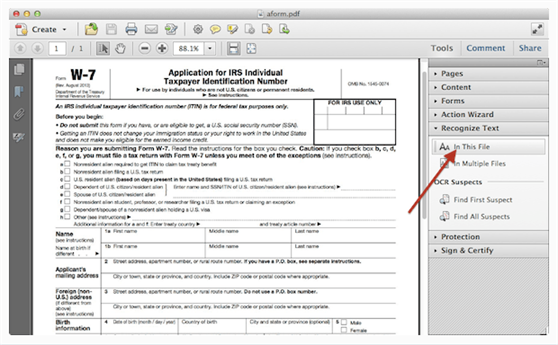 Step 3. In the dialogue box that appears, select the language and set the other parameters for your OCR. Click "OK" to allow Adobe to convert the scanned PDF to editable file.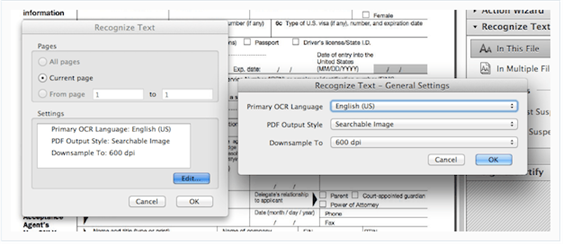 Troubleshooting on Convert Scanned PDF to Editable Files
There are several problems you may encounter when converting scanned PDFs to editable formats. They include the following.
The format of the text can be significantly altered during conversion. If this happens you need to use a better OCR tool.
The process can fail to recognize all the text on the PDF. In this case you may also need to change the OCR tool you're using.
The converted text can also be significantly different from the original, lacking punctuation and other formatting. In this case, ensure that the tool you are using is updated and if it's an online tool, try using s a different program.
You may be unable to upload or open the PDF in the OCR tool. This could be a problem caused by your OCR tool. This means you need to either update the tool or use another OCR tool. It is also possible that the program is unable to recognize the document.