OCR font was originally designed to overcome the limitations of OCR software in the early days of the modern computing revolution enabling it to be easily read by machines. It uses a series of broad and simple strokes that can be easily identified, and the most common use today is the typeface on check numbers, where it still enjoys almost universal adoption around the world. Even though today's OCR technology has advanced significantly, it is still worth downloading as it does provide exceptional results and reduces the error count in scans. Try the best OCR software: PDFelement Pro.
Part 1. Top 10 Websites to Download Best Font for OCR
You can download the OCR-a font and OCR-b font package from numerous places. Here are some of the best:
| No. | Name | Information |
| --- | --- | --- |
| 1 | Cool Text | An easy-to-use, no-frills site that offers an easy download process and as well as the OCR font a wide choice of others all available to download. It gives a good display of what the font looks like, a run-down of each character and installation instructions for various platforms. |
| 2 | Font-Zone | Easy to search and a more refined design, each font is presented on its own page with a prominent download button and a good display of all the characters as they appear in the font. At the bottom of each page is a good guide to installing your fonts, and along with the OCR font, there is a wide choice of others divided into convenient categories. |
| 3 | SourceForge | The well-known source for all kinds of free software, open-source utilities and so on. It is also great for things like fonts, with an easy search process and one-click downloads. No presentation of the font itself here though as with the specialist font sites. |
| 4 | FontZone | It's a very basic site, but loaded with choice for fonts, a simple page with a once click the download button, but only a limited presentation of what the font looks like before you download it. It does have a useful "popular" fonts section that lets you see what people are downloading if you are just browsing for a new font. |
| 5 | FontPalace | A large search bar and a captcha-protected download button are the main features here. The latter can be annoying but not something that bothers me too much. I like the presentation of every character in the font, lots of new fonts on the site to look at too. |
| 6 | FontYukle | Simple design with easy search and a big download button. Good, large previews showing every character in the font in turn, a good site for font hunting. |
| 7 | Soft 112 | A full OCR font package is available from Soft 112, is easy to search, and has a single click download button. There are better places for fonts, but it gets the job done. |
| 8 | JoyDownload | This site has a complete OCR package rather than the individual fonts, so you get OCR A and OCR B as well as a barcode font in this one. Nice site with a one-click download and easy search though, although others are better for individual fonts. |
| 9 | Download.com | Owned by CNET, this is a slick and well-run site with a wealth of free stuff to search for and download, open-source software and games, utilities and of course fonts. The download is done in one click and there is a good description of the fonts included. |
| 10 | Fontsgeek | A very simple site that has little more than a search bar and some fonts. Downloading is easy and the page gives a good representation of the font, although it doesn't show every character like some. |
---
Part 2. How to OCR a PDF File Using the Best OCR Software for Mac
PDFelement Pro - The Best PDF OCR Tool
PDFelement Pro is a fully-featured OCR software package that allows accurate and fast OCR of your scanned documents, editing and converting them into fully searchable and editable documents. With a variety of editing tools, you can edit PDF files as easily as working on Word files.
Why Choose This PDF Editor:
Advanced OCR feature, including a full library of 17 languages, and with an attractive and easy to understand user interface
Edit PDF texts, links, images, pages and easily markup and annotate PDF files with diversified annotation tools.
It is also a comprehensive PDF file converter, converting to eBook file epub, Word documents, Excel files, and plain text.
A powerful PDF form function fills out and creates PDF forms easily and extracts PDF form data in 1 click.
OCR Scanned PDF Documents in Just a Few Simple Steps:
Step 1. Add PDF Files to the Program
The first step is to import the file you want to turn into searchable text into a PDF editor. You can either drag the files to the program or hit "Open File" in the main interface.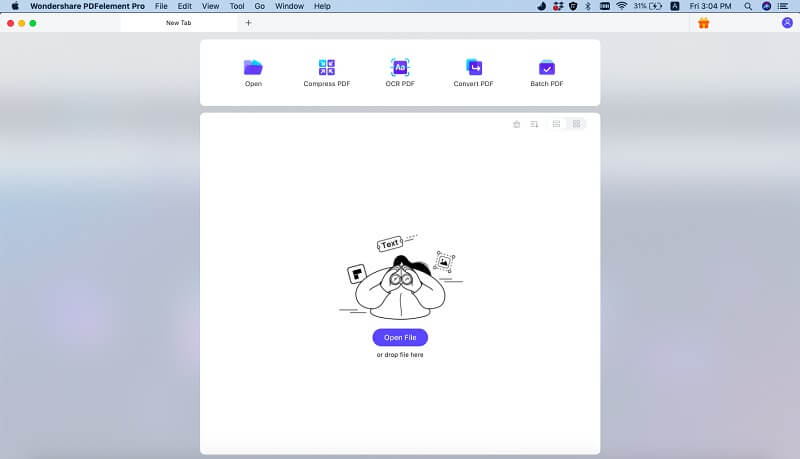 Step 2. Start PDF OCR
To OCR the scanned PDF file, you can go to the "Tool" tab and choose "OCR Text Recognition" to enable the OCR feature.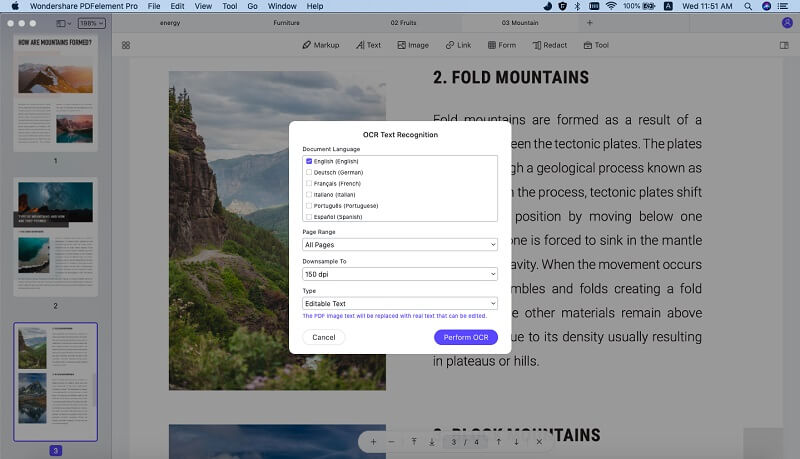 Tips: 23 languages are supported by this Mac OCR software. To customize language, you can navigate to the right control panel and select the "Document Language".
Step 3. Batch OCR PDF
You can click the "Add" button to import multiple scanned PDF files. Lastly, click "Perform OCR" to OCR the files.