OCR stands for Optical Character Recognition, and is the process of converting a scanned document into text that can be edited, searched and otherwise manipulated. There are many circumstances where this can be very useful, for instance if you need to alter a few words in a scanned document, being able to create an editable text document from it can save a huge amount of time when the alternative is to retype the entire document instead. In this article, I will teach you how to perform image OCR to extract text from it with simple steps.
PDFelement Pro for Windows - The Best Way to Convert Scanned Images
PDFelement Pro comes with advanced OCR feature. With the help of this PDF OCR-Software you can easily edit and convert scanned PDF files in a simple steps.
Key Features of This PDF OCR-Software:
Advanced OCR-Software allows you to edit and convert scanned PDF with ease.
Easily edit PDF texts, graphics, images, links, watermarks, etc.
Convert PDF to images, Word, Excel, PPT, EPUB and more formats.
Create PDF from other formats and create PDF forms easily.
Combine multiple files into PDF and split PDF into several files.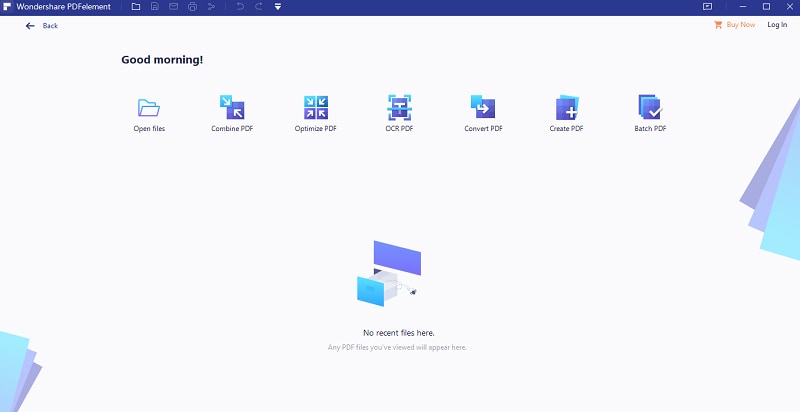 ---
Part 1. The Tool to Extract Text from Scanned Images
To recognize the text within a scanned image effectively, you need an appropriate OCR image software, and whilst there are a wide choice available at all budgets, the best software package available, striking a good balance between features and cost, is definitely PDFelement Pro.
This is a wonderful software package includes comprehensive OCR features that allow documents to be scanned directly into a wide variety of file formats, including Word, Excel, the eBook format EPUB, HTML, Rich Text Files and of course plain text. This means that there is an option to cover most needs in terms of convenient file format for almost any use, whilst the ability to convert in 17 different languages, including English, German and Spanish highlights its adaptability for most situations.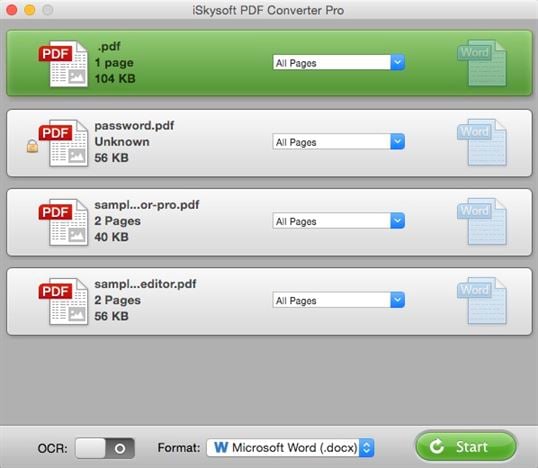 How to Perform OCR from JPG, PNG, TIFF and More
Using PDFelement Pro is incredibly easy. Now download and install the program and then follow the tutorial below to learn how to deal with images OCR.
Step 1. Add Image Files to the Application
The task can be accomplished by firstly importing the scanned image files into PDF Converter Pro for Mac. To do this, you can directly drag the files to the application or click File > Add PDF File to browse the target image.
Tips: If you'd like to choose the language for OCR, you can simply open the Preferences window and hit the OCR tab to select a language you want.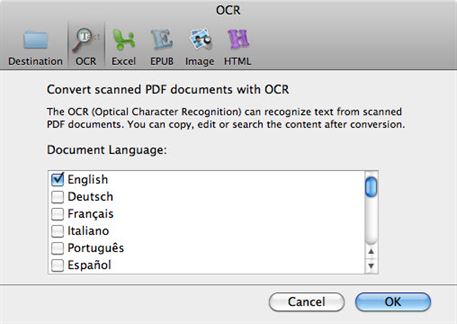 Step 2. Convert Images to Editable Files
Click the Settings button on the target file to customize the output options. From here the type of format the resulting file will be in can be set. Then it is a matter of selecting the OCR option at the bottom of the interface labelled "Convert Scanned PDF Documents with OCR". After this, it is just a question of clicking "Convert" and the process begins, if you have more than one file in the queue set to convert they will be done automatically in order without any further input.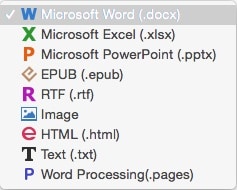 ---
Part 2. Tips and Tricks for OCR from Image
Whilst PDF Converter Pro is extremely accurate and easy to use, there are still some measures you can take with your documents to get the very best OCR results from them, and here we will look at a few.
Tip 1. OCR works best if the original document is clear. If it is possible to adjust the original document scan, make sure that it is as of a high a quality as possible. Obviously this is not always possible and sometimes you only have access to a poorer scan, but is always worth bearing in mind.
Tip 2. Always proofread the results. This is extremely important, as whilst modern OCR software is very accurate indeed, mistakes can and so happen. So, whilst it is a great time saver and incredibly useful, OCR is also a tool that should not be used without a check of the results.
Tip 3. If the document you want to OCR is particularly large, with forms and other text formatting, it can help to break it down into smaller chunks, perhaps individual pages, as this can help the OCR software deal with it more efficiently, and produce better results, faster.
Tip 4. Whilst seemingly minor, these small changes can have a big effect on both accuracy and speed of your OCR conversions, and by following these, you will find this incredibly useful software will work even better, saving you time and hassle along the way.