Nitro PDF converter is a small powerful desktop application that facilitates conversion of PDF documents to Microsoft Word (.doc, doxc) documents and other formats. The desktop app is designed with tools that enables one to easily edit PDF files and design new ones hassle-free. Nitro PDF converter is one of the best PDF converter designed with an user friendly interface that helps users to easily edit and convert files. The best part of having this software, is that it lets you convert multiple documents at once and this options can help one to save a lot of time. You can also choose a better alternative: PDFelement Pro.
Part 1. The Best Nitro PDF Converter Alternative
PDFelement Pro - The Best Nitro PDF Alternative
PDFelement Pro offers several features that make the software stand out as the best alternative to Nitro PDF converter. This powerful desktop app allows one to perform simple tasks such as cropping, editing, extracting, rotating, deleting and changing background of an entire document.
Key Features of PDFelement Pro
Edit PDF files easily with multiple PDF editing tools.
Convert PDF to Word, Excel, PPT, and many other formats.
Create PDF from existing PDF, Webpage, and other Text files.
Advanced OCR feature makes it easily edit and convert scanned PDF.
Combine, split and compress PDF with original quality.
Fill out PDF forms and create PDF forms easily.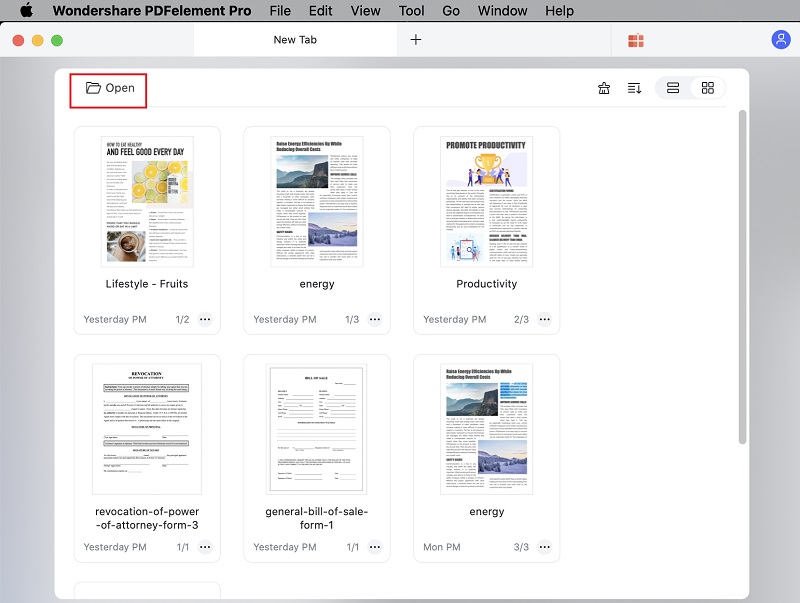 ---
Convert PDF with Nitro PDF Converter Alternative
Step 1. Import PDF to the PDF Converter
For windows click on the window logo to download the desktop app for windows platform. For Mac users, click on the Mac option to download the Mac version of the software. Once you have downloaded the software, open it and install it on your PC. And then click "Convert PDF" button in the main interface to import the PDF files you want to convert.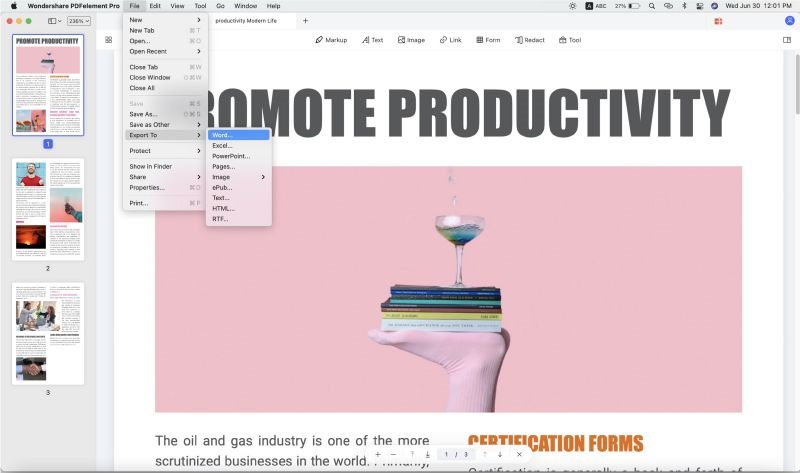 Step 2. Start Converting PDF to Word and Other Formats
A new popup dialog will show up. Make the right settings and choose the file you want to convert into Word document. The converted file will be saved on your computer, where you can view it.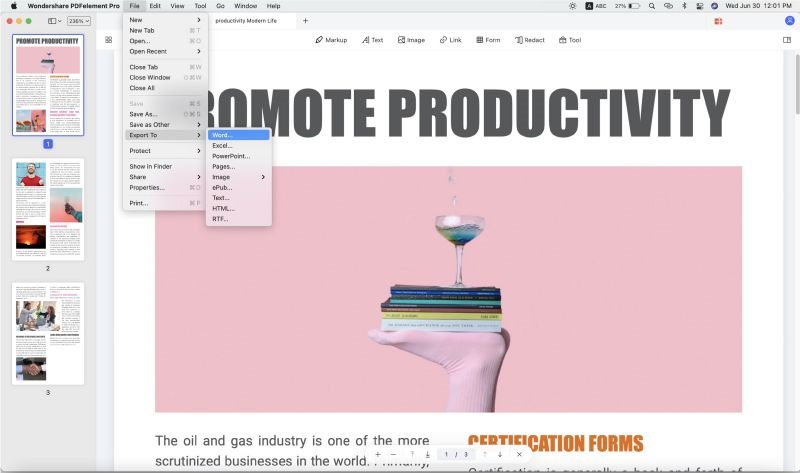 ---
Part 2. How to Download and Install Nitro PDF Converter
Nitro PDF converter is available for both Windows and Mac platforms. Depending on your computer operating system, you can download Nitro PDF converter free trail or paid version at Nitro official website.
Step 1. Visit Nitro official website https://www.gonitro.com/pro/pdf-editor
Step 2. At the download page, you will see a number of links that provides different options.
Step 3. Click on the download link to choose a software version that suits your OS platform.
Step 4. If you use Windows click on the windows logo and for Mac click on the Mac logo alternatively.
Step 5. Once the download process is over, open your software and run it as an administrator.
Step 6. Follow the on-screen instruction to install the software on your computer.
Step 7. Once the Installation process is over, you will be able to open Nitro PDF converter and use it to convert files on your PC.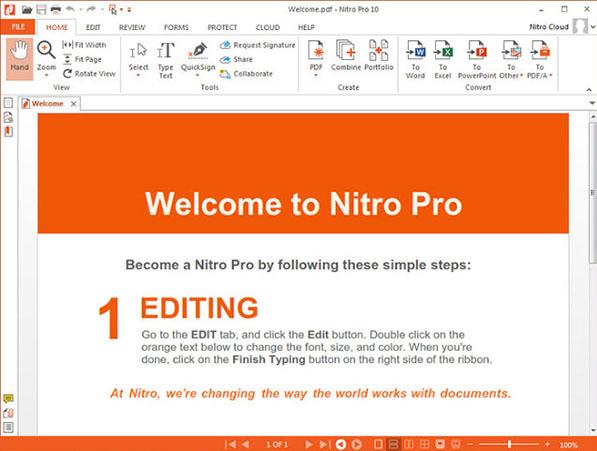 ---
Part 3. How to Use Nitro PDF Converter to Convert PDF to Word and Other Formats
After installing your software, you should be interested in learning how Nitro PDF converter works. To convert word documents to PDF and vice versa, follow these guidelines.
Step 1. Open Nitro PDF converter Application on your Desktop or PC.
Step 2. Locate the "home" section located at the top left side of your screen. Click on the "Home" tab to see available options.
Step 3. On the Options provide, click on the "convert" option.
Step 4. On the convert window, choose the type of file you want to convert into e.g PDF to word.
Step 5. A new window will appear on your screen. Carefully navigate to the location of the PDF or word file that you would like to convert from you computer.
Step 6. After selecting all the files, click on open to have the files uploaded to Nitro PDF and converted to the file format that you specified.
Step 7. If you choose "convert PDF to Word" the software will convert your file and you will be able to view it on Nitro PDF converter window.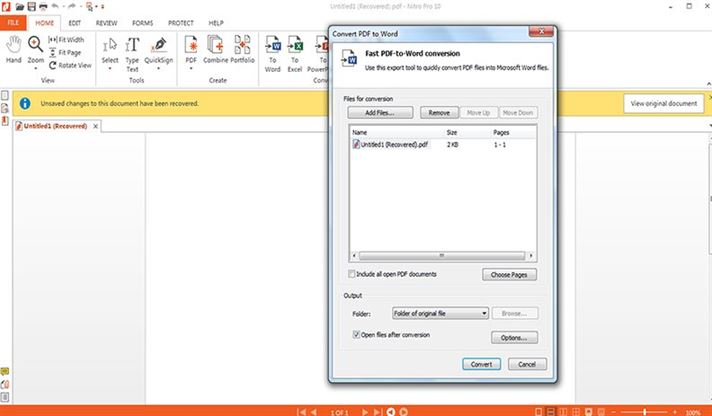 Nitro PDF Converter Pros
Nitro PDF converter has several advantages and benefits that each PC client can't miss to have.
This desktop application accompanies a great deal of altering highlights that are not accessible on other contending software's..
Nitro PDF converter has a superior sending out component than Acrobat.
The application offers programmed bookmark creation.
The app comes with a familiar ribbon user interface.
Nitro PDF Converter Cons
Generally, Nitro PDF converter offers more advantages than any other PDF software in the industry. However the software has the following slight inconveniences.
1. The software does not support PDF indexing.
2. The Software loads large PDF files more slowly than Acrobat reader.
3. The app crashes when you open large documents with it.
4. Nitro PDF converter pro version does not offer a way of embedding video and audio files to the PDF or Word documents.
---
Part 4. Top 5 Common Issues on Using Nitro PDF Converter
Just like any other PDF converter software out there, Nitro PDF converter has it's own issues. Below are some of the common problems experienced by users using Nitro PDF converter and their solution.
1. Sometimes, Nitro PDF converter might display messages of failed conversion while trying to convert documents into PDF files.
-Solution. If you experience these problem so many times, it means that your software did not install properly. To solve it uninstall Nitro PDF converter from your computer and reinstall it again. The problem will disappear.
2. Some of the PDF files converted with the software might not be visible on a web browser because of interference with corrupted plug-ins.
-Solution. The best way you can solve this problem is to repair all the corrupt plug-ins.
3. Some hyperlinks contained in the PDF document might become inactive upon conversion.
-Solution. If you experience these problem, you might be using an outdated version of Nitro PDF converter software. Upgrade to the latest version in-order to eliminate this error.
4. After conversion of PDF to word, some images in the document might appear so large and unusable.
-Solution. When converting files ensure that you enable the "Optical Character Recognition" feature in order to get rid of any unusable images.
5. Nitro PDF creator might freeze and crash during conversion.
-Solution. If you are receiving this interruption, you might be running so many applications at that particular time, having broken registries on your computer OS or you might have opened so many Nitro PDF creator windows that cannot be handled by your PC processor speed.