Nuance PDF Converter is popular for converting PDF to other formats on Windows PC. To use Nuance PDF Converter with ease, you need to learn detailed tips and tricks about it. If not, you might encounter Nuance PDF Converter not working all the times. Below are the tips you should know about Nuance PDF converter.
Part 1: Nuance PDF Converter for Mac Alternative
If you are looking for a great alternative to Nuance PDF Converter, then iSkysoft PDF Editor 6 Professional for Mac is your best choice. This all-in-one PDF editor and converter will fully meet your needs with PDF. You can easily convert PDF to other popular formats, including Word, Excel, PPT, EPUB etc. in batches. It will well maintain the origianl layouts and quality. What's more, with it, you can even convert scanned PDF to editable formats.
iSkysoft PDF Editor Pro for Mac is also equippped with professional and powerful editing features. No matter you want to modify the texts, images abd pages in PDFs, or annotate your PDF with comments, this fabulous software will give you full support. You can create PDF files from other types of file, add password to protect your documents and more. (iSkysoft PDF Editor 6 Professional for Windows is also available.)
Why Choose This PDF Editor:
Create PDF from a wide range of files like image, document, webpage and more.
Freely edit and markup texts, images and pages in your PDF files.
Batch convert PDF to Word, Excel, PPT, EPUB without losing quality.
Turn image-based PDF into searchable and editable formats with OCR technology.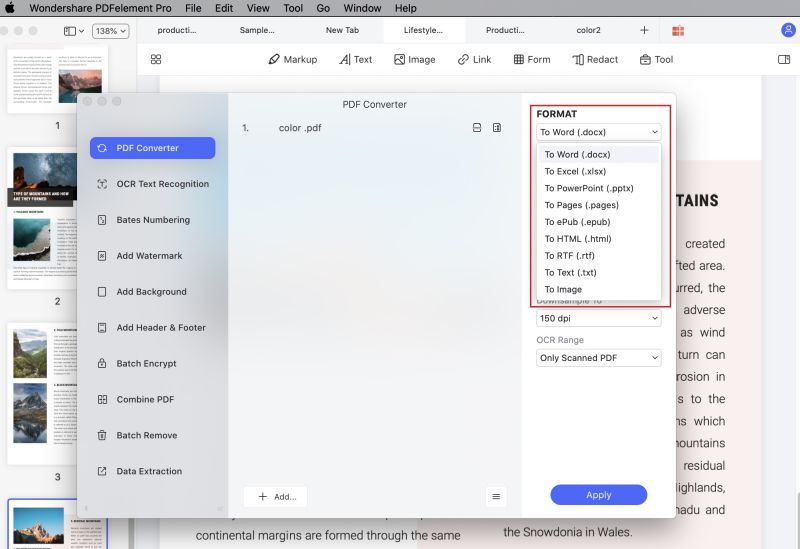 Part 2: Tips about Nuance PDF Converter Professional 8, 7, 6
Nuance PDF converter is a famous and well known document manager that has helped the professionals from past many years. It has almost all the features of a professional PDF converter, and in addition, it is easy enough to be used by novice computer user. In addition to just creating the PDF from the doc and formats, Nuance PDF Converter can also enables the user to edit, and convert the different file format to a new PDF. Three versions of the Nuance PDF Converter are available in the market that can be purchased and used according to the convenience of the buyer. The versions are Nuance PDF Converter Professional 8, 7 and 6. All the versions have different features, and are used for the different level of professionalism.
Here is the brief comparison of all the three versions of the converter that will help you decide that what version you should buy for your business. For those who do not find the Nuance PDF Converter Professional 6 up to their marks, and want something additional from their PDF manager, the next version of Nuance PDF Converter will be the answer. And PDF Converter Professional 8 is the newest and the most advanced version of Nuance PDF Converter.
Name

Price

Features

Download Address

Nuance PDF Converter Professional 6

$99.99

Create, edit and convert the files of another format to a fully functional and secure PDF just by making a few clicks.
You can also compare the content of the doc and the resultant PDF by using the nuance PDF converter 6, this helps to avoid any computer generated error before delivering the file to the client.
With Nuance PDF Converter 6, you can quickly edit the mistakes (graphical as well as typos) without converting it to a document file.

Nuance PDF Converter Professional 7

$99.99

Greater support to advanced operating systems like Windows 7.
Added more fluid working style and introduced new user interface.
Introduced support to Microsoft Silverlight.
You can now set the PDF opening view. So you can store your favourite setting for the PDF documents. Set the width, height, and ruler settings as per your convenience..

Nuance PDF Converter Professional 8

$99.99

Support to more applications to create PDF. You can now create a PDF from almost all application that produces the editable text files.
Stability improvement.
Scan the images and important documents as PDF files.

Download Nuance PDF Converter Professional 8 >>
Nuance PDF Converter Free Download and Installation
All the Nuance PDF converters are free to try so you won't have to pay while downloading it. Here is the step to step guide to install the converter on your PC
Step 1: Insert the CD-ROM (In case you have ordered the CD from the manufacturer), and then click on "autorun.exe".
Step 2: Next, you will have to enter the serial number that would have been provided with the CD. You can skip this step, but if you do this, the product will be treated as a trial version.
Step 3: This will send you to the main installation part, where you can either go with a custom installation, or the standard prescribed version of the installation.
Step 4: That's all, you can now work with Nuance PDF Converter on your PC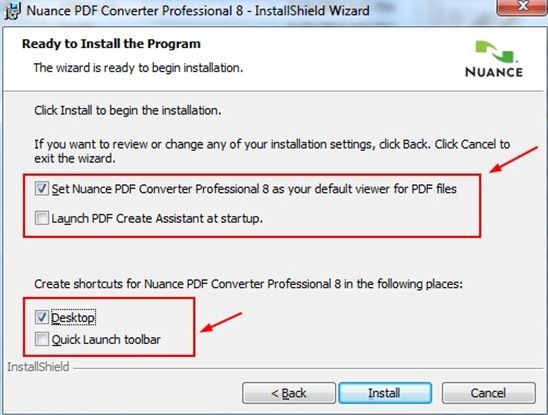 Nuance PDF Converter Reviews and Troubleshooting
Nuance PDF Converter Pros:
Fast, reliable and accurate conversion
Produces editable PDF, so that you can quickly make the necessary changes
Good customer support
Nuance PDF Converter Cons:
Stability issues
Previous versions have compatibility issues with modern Operating systems
Some users find it difficult to use
Troubleshooting on Using Nuance PDF Converter
1. My product is showing compatibility issues
This may be an issue with your PC, or as a result of a virus. Try to reinstall the software, and if the problem persists contact the customer support for the expert solution.
2. PDF is not being generated, showing error
Check the settings of converter, and if you see some glitch, set the settings to its default.
3. System hangs while opening the converter
This may happen due to insufficient RAM or free space. Check the minimum system requirements of the software, and then reuse it.