You have the power to change your lifestyle dramatically by consuming or reading books. The rate of growth when it comes to electronic book has been proved in many records. It is very simple to download and read the books in your mobile or computer by using the eBooks. Have a note – At the end of current decades we would have all the books in computerized estimation. The more technology invention and the more convenience are true! You are no need to carry the books in hand while travelling. The eBook takes a single part in your Android and iPad so that you can save nearly 1000 eBooks in your device.
In this article, we are pleased to have a discussion on converting PDF to eBook apps and their features. You can carry this wherever you can without weightage!
Part 1. Top 5 PDF to eBook App for Android and iPad
In this trend, we have various apps for reading app. What is your action towards it is very simple – just download the book and read whenever you are free. No need to carry a bag full of books while you were travelling. Just collect all the PDF to eBook for Android and iPad application for the best result. We recommend you PDF to eBook converter apps for Android and iPad devices.
#1. Amazon Kindle
Amazon Kindle helps you to convert PDF to eBook for Android and it has multiple technologies for e-readers designed specifically for them. Using this application, you can download, read the eBooks, magazines, newspapers and you are free to use the digital media. At United States, the ration has turned 4.9: 5 who uses the eBook with the integration of kindle store content.
Pros:
You can synchronize the book and it automatically loads the page from the left track.
Before buying the eBook, you have the choice to read the first chapter. If you are satisfied with the chapter then proceed it to buy.
You can choose the convenient background color, font size, orientation and screen brightness.
Cons:
It takes time to load in Samsung devices.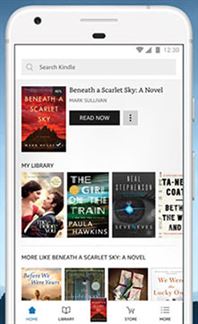 ---
#2. Aldiko Book Reader
Aldiko is very flexible for PDF to eBook app to Android users as they are in leading position when compared to other apps. In count of 200 countries, the Aldiko book reader app has targeted 30+ million users. You are benefited with the solid multi-functions such as annotating the import and export features, notes, home widget, audio books with unlimited storage, highlights and editing the book cover. You will be satisfied with latest updates.
Pros:
It is supported with the file format such as PDF formats, EPUB, DRM adobe encrypted books.
It gives the support from the libraries in local to eBook.
It is audible for night time readers too and you are capable to edit the alignment, font type, background colors, font size and paragraph spacing.
Cons:
You cannot delete multiple books simultaneously.
It may change the device settings.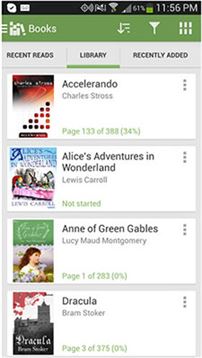 ---
#3. Moon+ Reader
Moon+ Reader comes with various controls on power and functions while converting PDF to eBook which make easy establishment if you are the day & night reader. This gives you absolute controls on gesture basis implementation such as adjusting the level of brightness, zooming and locking the page etc. It has 40 languages localization which supports all users at right time. You can create the own widget by grouping the books in the shelf.
Pros:
It comes with the EPUB 3 media with both audio and video support.
You can change the entire screen optimization such as visual options, automatic 5 scroll modes, 24 operations, paging the volume key, touch-screen etc.
Cons:
Sometimes the selection of text, highlighting doesn't work properly.
You may get advertisement annoyingly.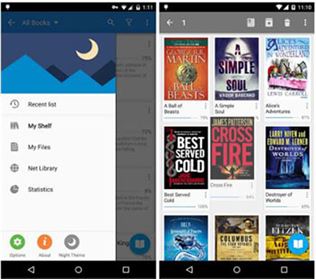 ---
#4. EBook converter
The most commonly used PDF to eBook converter app is EBook converter. It will help you to convert PDF to eBook for iPad and progress for the iPad users with high ratings. It supports all the formats such as MOBI, AZW3 and EPUB. It uploads with the HTTP POST server on own for users protection and privacy. You can convert the PDF to eBook, LIT, PDB, TCR, LRF and FB2 etc.
Pros:
You can use your file manager to convert EBooks. It will also support ghost commander, ASTRO file manager and root explorer.
You can upload your eBooks on FTP, Dropbox, Samba and WebDAV.
Cons:
At times, you cannot directly transfer to the SD card.
You cannot convert more HTML files using this application.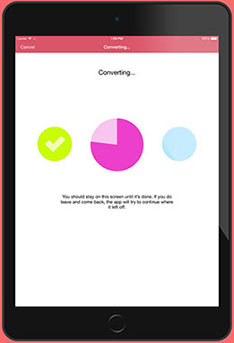 ---
#5. File Converter Free
With File Converter Free, you can convert all the files such as audio, images, video, archive, eBooks and PDF documents on iPad. Your file will be directed to the cloud for conversion and downloads it automatically. You no need to wait until the process completes – you can do other work in your device normally.
Pros:
You can use the web server, WebDAV and FTP server to access your own converted files.
Your files will be uploaded and downloaded safely. If the process completed then it will delete automatically.
Cons:
You can change the title of the eBook depending on the format only.
You cannot convert file more than 100mb, password and DRM protected.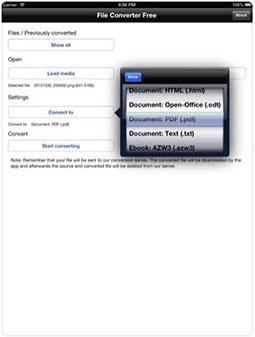 ---
Part 2. The Best Desktop PDF to eBook Converter for Mac and Windows Users
Part 2. The Best Desktop PDF to eBook Converter for Mac and Windows Users – PDFelement Pro. This PDF tool will complete your work faster than you expected. It is the one best solution to convert PDF to eBook for Android/iPad using system with simplistic steps and formats. It is now easy with all-in-one software – PDFelement Pro which convert PDF to eBook along with various formats like ePub. It not only supports eBook conversion but also converts PDF to word, images, excel etc. This software may have the follow up name "Professional". But it is designed for all purpose users to convert PDF to eBook app.
We have listed few features regarding the PDFelement Pro.
With this PDF to eBook desktop tool provides simple steps to convert, images, word, excel ePub and PPT etc.
You can edit your PDF document as graphics, text, watermarks, links and images.
You can convert numerous PDF files at the same time and it doesn't take high time consumption.
You can create the forms using the PDF extension and scan the PDF files easily.
You can annotate and mark up the PDF file using various tools in PDFelement Pro.