If you are a fan of reading books on digital platforms then you will agree that formats like ePub are the best formats for enjoying eBooks. Unfortunately, some of those books you love can come in PDF format, yet another popular format around. So, naturally you may want to convert the PDF file to eBook but how do you do so without breaking a sweat? Well, why not use a PDF to eBook converter online? Wondering which ones can do the job well? Now, we have done some digging for you and compiled 5 PDF to eBook converters online that stand a cut above the rest. And for desktop users, you can try to use PDFelement Pro .
Part 1. Top 5 PDF to eBook Converter Online Tools
#1. Online Convert
Online Convert is an online platform that features some marvelous free tools for converting things like audio, archives, images, images, webservices, videos and eBooks. In terms of eBooks, this tool allows you to handle many popular eBook formats including the likes of ePub, azw,fb2, lit, lrf, mobi and much more. This means that you can convert online eBook to PDF, by simply uploading your file from your storage location or a cloud storage in your dropbox.
Pros:
It has a plethora of conversion tools to pick from.
It is pretty simple to use and it allows you to pick a file from your device or dropbox.
It has an API for developers to intergrate the applications in their own projects.
Cons:
Premium features are not free on this site including converting bigger files over 2GB。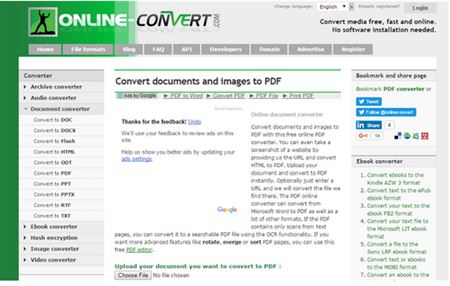 ---
#2. ToePub
Just as the name suggests, ToePub is an online converter that specializes in converting files to formats that suit eBook lovers. We are talking about the likes of epub, kindle mobi/azw3 and fb2. So to convert PDF to eBook online using this tool, select the file from your device, upload them, select the eBook file type you want and click on a Convert Button to finish.
Pros:
It is super easy to use given that it is pretty straightforward.
It can batch process or rather, you can convert up to 20 documents.
You have the options of downloading finished files all at once in a zip file or one by one.
Cons:
It is limited in terms of the number of PDF files you can convert at once.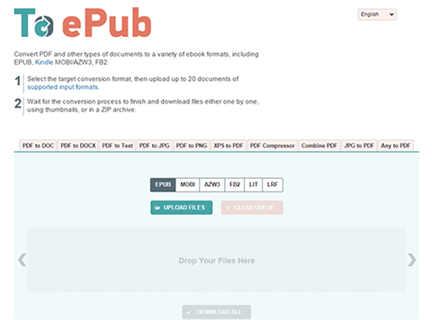 ---
#3. Zamzar
Zamzar needs no introduction to anyone who has been using online converters. This online converter has been around for a while and it now boasts a wide array of supported file formats in the world of digital files. The eBook niche has been covered as well thus you can use it to convert PDF to eBook online including ePub, Microsoft's Lit, Mobi, oeb, pdb, pml, prc, rb and tcr. Again, converting PDF to eBook is super easy and in fact, it has been divided into four simple steps: choose your file from the location in your device, choose the eBook format, fill in your email address and click on convert!
Pros:
It comes with tools to handle many file formats including eBooks- You can also convert eBook to PDF online and much more.
It has a nice easy to use UI.
It is pretty fast.
It has a developer API that can be integrated into apps.
Cons:
The premium features come at a cost e. g you have to pay to use the advanced API functions.
You need an email address to convert.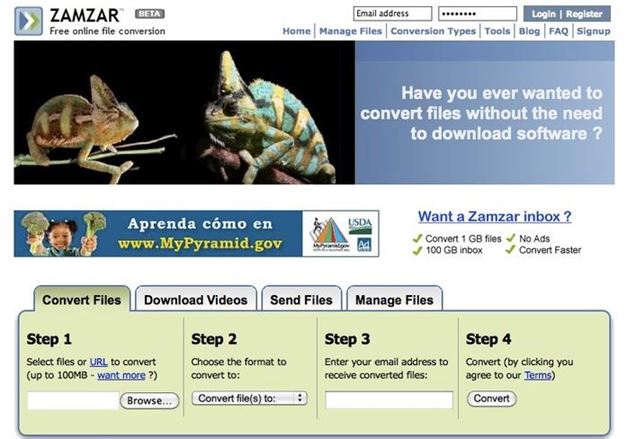 ---
#4. Convertio
Convertio is yet another marvelous online converter that is worth a place on this list as far as converting PDF to eBook online. Well, it's all thanks to the fact that this tool offers super cool tools for converting audios, videos, images, documents, presentations, archives, fonts and as you can guess eBooks as well. Some of eBooks formats supported on this platform are epub, mobi, tcr, azw3, snb, pdb, fb2, rb, lrf and you can upload your file or pick it from DropBox and convert.
Pros:
The platform has a multitude of features to convert many types of files not to mention an OCR feature as well.
It has very intuitive UI, perhaps better than the others on the list.
It also has a good API.
Cons:
You will have to pay for the premium features.
You can only upload up to 30MB for the free option.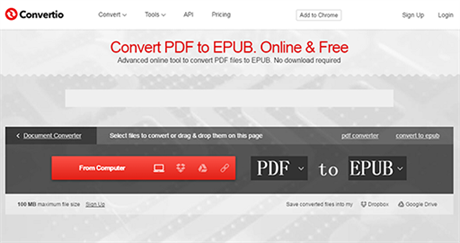 ---
#5. Go4Convert
Last but not least on this list there is Go4Convert, one of the best online tool to use if you want to build an eBook from a PDF file. Basically, this tool supports two eBook formats EPUB which is the most popular format and FB2. The tool can also do image processing, PDF processing, and common document conversion.
Pros:
It has a good number of document processing options.
It is pretty straightforward to use and convert PDF to eBook.
It is one of the best free PDF to eBook converter online.
Cons:
It has limited PDF to eBook conversion options.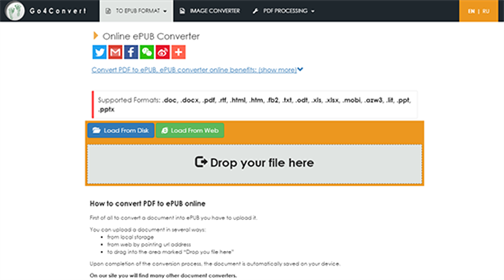 ---
Part 2. Limitations on Using Online PDF to eBook Converter
Online PDF to eBook converters are awesome but they aren't cut for bigger, professional projects. In other words, you can use them for quick projects but they may be limited in bigger ones. Think of the time it takes to keep uploading and converting PDF to eBooks whilst keeping an eye on them. It's cumbersome, right? Plus, with a PDF to the eBook online converter, you don't have control over the quality of the outputs. So, a better option would be to go for professional PDF to eBook converter and get assured of top draw eBooks.
---
Part 3. The Best Desktop PDF to eBook Converter
PDFelement Pro is a tool known for working magic with PDF documents and it's certainly very good for converting PDF to eBook. But, this is just the tip of the iceberg as the tool is a package with PDF features that individuals and businesses love. Well, it is a tool that can be used to create PDF files, convert files to and fro PDF formats, handle PDF forms, handle scanned documents with an OCR feature not to mention securing, signing and sharing PDF files.
PDFelement Pro Features:
Edit Text, Image, Pages and handle scanned images using OCR.
Mark up and Sign PDF including annotating PDF, Free Hand drawing, and adding Stamps to PDF.
Create and Convert PDF- Convert PDF to Word, other Microsoft Office formats, EPUB, RTF, Pages, HTML, images and vice versa.
Combine and Split PDF- Merge multiple PDF files into a single PDF or split a PDF into several PDFs.
Handle PDF forms-Fill forms, Create forms, Extract form data, Convert old forms to interactive formats.
Secure and Sign PDF documents-Add and remove passwords, Add watermarks to PDFs, Redact PDFs, Share PDFs.
Organize PDFs-Add bookmarks to PDF, Add Bates Numbers to PDF, Customize PDF, Control User permissions.