People use PDF instead of Excel and it is not hard to understand why. It is easy to provide the document to other people due to the fact that PDFs are universal. Another thing worth mentioning is that when it is viewed online or printed, the PDF file maintains its initial attributes. PDF to excel converter is necessary, in this case. But The vast majority of PDF to excel converters are compatible with Windows, Mac users do not have a great many choices. What they do is resort to PDF to excel converter online. For desktop users, PDFelement Pro is a great choice as it can work on MAC and Windows. Here is free trial version to test before purchase.
Part 1. Top 10 Best PDF to Excel Converter Online
1. Hipdf
Hipdf is a free PDF to excel converter that is simple to use. It allows you to convert PDF documents into Excel files. The software saves documents into a default location, so the user has to find them after the conversion. The tool comes with an easy to use interface, so it is great for all types of users.
Pros:
It can convert PDF to different formats including excel.
It can support to upload file from OneDrive, Google Drive, Dropbox etc.
With lot of functions, it can help solve most of your PDF issues.
You can work on the go with this online PDF to excel comverter. Even sign documents with its e-signature function.
It has desktop version-PDFelement Pro. If you need powerful functions, you can download and buy its desktop one.
Cons:
It doesn't support editing texts in the PDF files, can only add texts and images.
For free version, only 2 free files limited per 24 hours! Need to upgrade to HiPDF Pro to get unlimited access to all tools.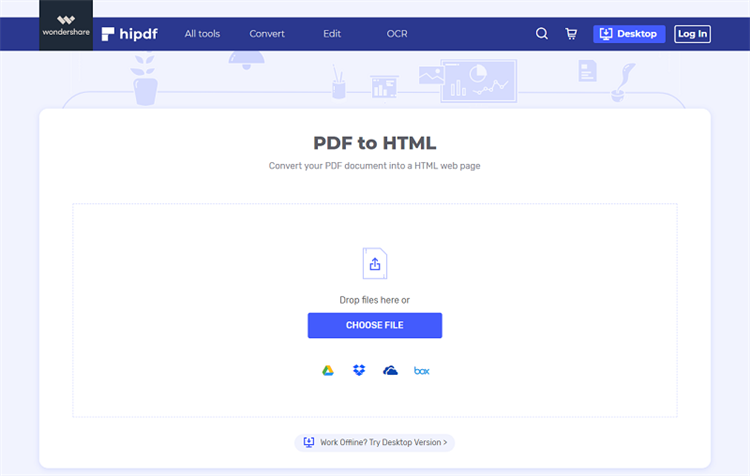 ---
2. Weeny Free PDF to Excel Converter
Weeny Free PDF to Excel Converter is a PDF tool used to convert PDF files into XLS document. This free application allows you to set a page range for your conversion process. When using this editor you can convert multiple files at the same time, which is great when compared with the other products on the market.
Pros:
You can convert searchable PDF files and all pages from one document.
It has online and windows version.
Cons:
It does not maintain the formatting of the original PDF file. Coversion quality is poor.
Conversion process takes long time.
UI design is ugly and has a lot of annoyed ads.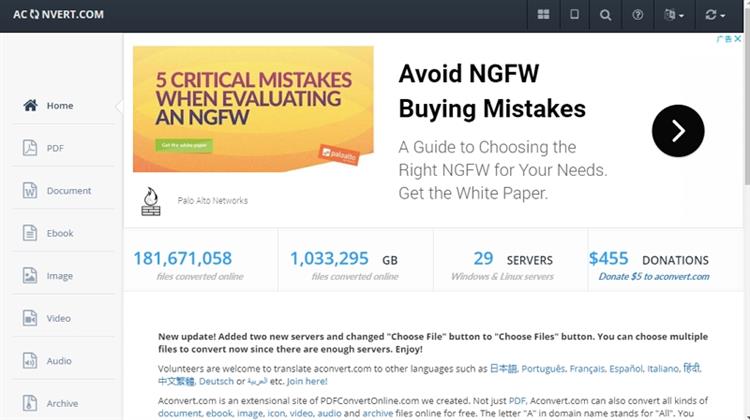 ---
3. PDFTOEXCEL
PDFTOEXCEL is a free PDF to excel file converter online that makes it possible to use PDF content in a converted Excel spreadsheet. This web-based tool is free to use and users have the possibility to upload files from the Mac computer or the cloud. Most importantly, there is no email required. This means that it is not necessary to provide an electronic address, and that there is no delay when it comes to converting one document from one format to the other.
Pros:
No need to leave your personal information.
Free without any limitations.
Cons:
You will receive the notification of "Our servers are experiencing an overload. Your files are in the queue and will be converted soon." when you try to convert and takes really long time for you to wait. If you do not want to wait, payment is needed.
The whole process of uploading, conversion, and downloading is too slow.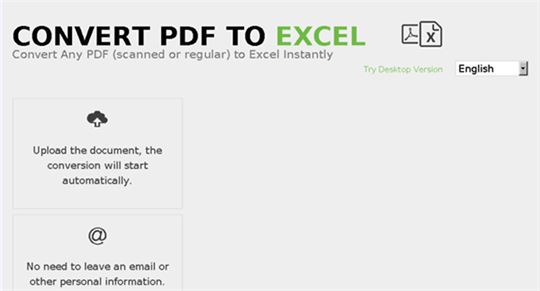 ---
4. FreePDFConvert
People instantly trust PDF to excel converter online free like FreePDFConvert. What makes this one stand out is the fact that it provides a reliable performance. All that users have to do is launch the website, select the files they want to transform, and hit the "Convert" button.
Pros:
Simple to use.
It is secure and your files will be deleted from their server.
Cons:
There are bugs when you try to uploading files to convert PDF to excel. No response.
Have to login to get more tools and functios.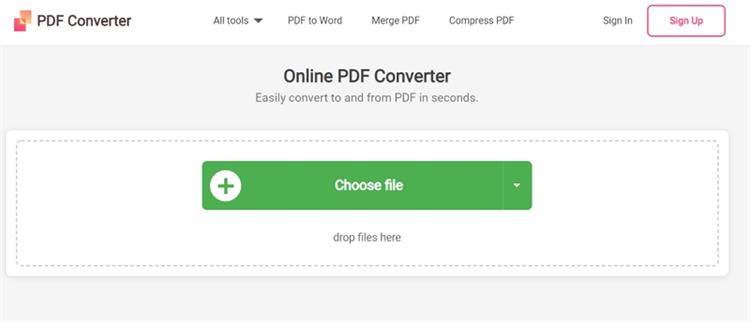 ---
5. ONLINE2PDF
ONLINE2PDF is a PDF to excel converter online free without email which means that you do not leave any personal information to get conversion. It is easy to use.
Pros:
Automatically downloaded to your computer after conversion.
Simple to use with step-to-step introduction.
Conversion quality is good.
Cons:
It can only support maximum of 100 pages to be converted.
Conversion speed is not fast.
A lot of ads on the website.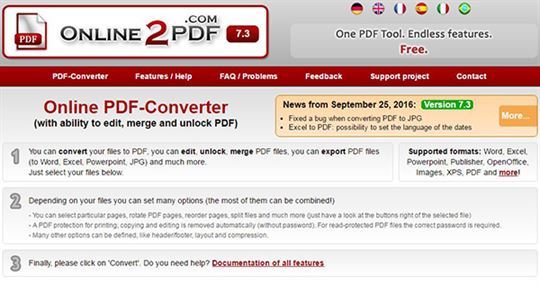 ---
6. PDFConvertOnline
PDFConvertOnline is another free online PDF to excel converter that allows users to export a PDF file into an Excel spreadsheet from the browser. Not only is there no email required, but also it's possible to automate the service with the API in use.
Pros:
As long as you drag file to the website, it will convert PDF to excel automatically.
Batch convert PDF to excel.
Cons:
Conversion quality is really bad.
Only support to convert maximum two files at one time. Need to pay if you want to bacth convert PDF to excel files.
It is interesting to note that PDFConvertOnline has other functions, like split/join/rotate/extract/protect PDF. Those interested in learning more will have to visit the website.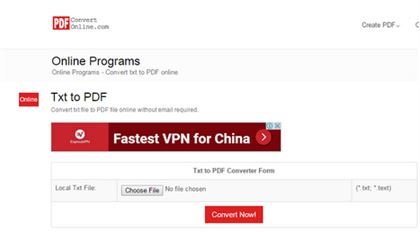 ---
7. iLovePDF
iLovePDF can be used online. Users prefer the latter option, especially if they are pressed by time. This free online PDF to excel converter can be used for business as well as individual purposes. The document is available for download in a matter of seconds. A great many people use this PDF to excel converter online free.
Pros:
A lot of functions avaliable in the free version
Simple to use.
Cons:
The reasult of conversion from to PDF to excel is not good.
Has file size and functions lmitation for free one.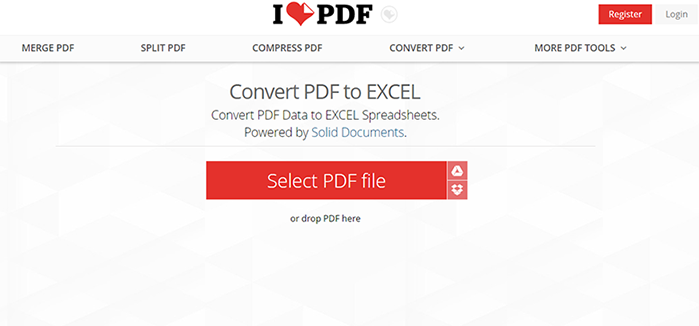 ---
8. Small PDF
Small PDF is a PDF to excel converter free software that fixes problems with PDF files. The conversion takes place in the cloud, so users have the opportunity to convert PDF to Excel at any hour of the day and night. Besides the fact that it is not necessary to install any program on the Mac ro Windows Computer, the service can be used by those who don't have an account.
Pros:
It can deal with files up to 5GB. If you are trying to find a PDF to excel converter online 500 pages supported, this may be what you need.
It has OCR function to make your scanned documents editable.
Cons:
OCR only avaliable in Pro version. You have to pay.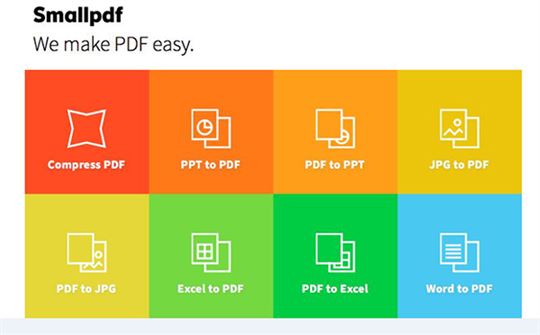 ---
9.Convertio
Technology is at the forefront of companies like Convertio. It's not thus surprising to understand that they provide a convenient way for people to convert PDF to Excel file format for free. The service is largely considered an online one. These features will enlighten us on the matter:
Pros:
300+ formats supported
Conversion API is provided.
Cons:
100 MB maximum file size without sign up.
Slow to upload and convert.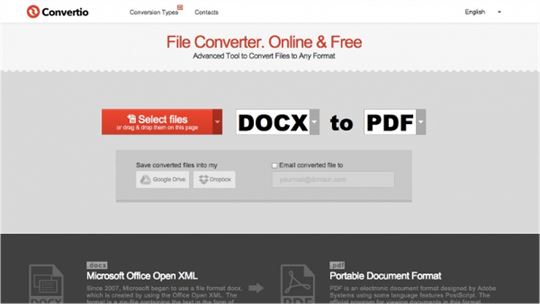 ---
10.PDF to Excel Converter
PDF to Excel Converter is a pdf to excel converter free software. It has no limitation to convert PDF to excel files. It also has OCR functions to extract your texts from scanned files.
Pros:
No limitation for free and no need to leave your email.
One click to convert
Cons:
Batch conversion needs to pay.
Taking long time to convert PDF to excel even for a small file.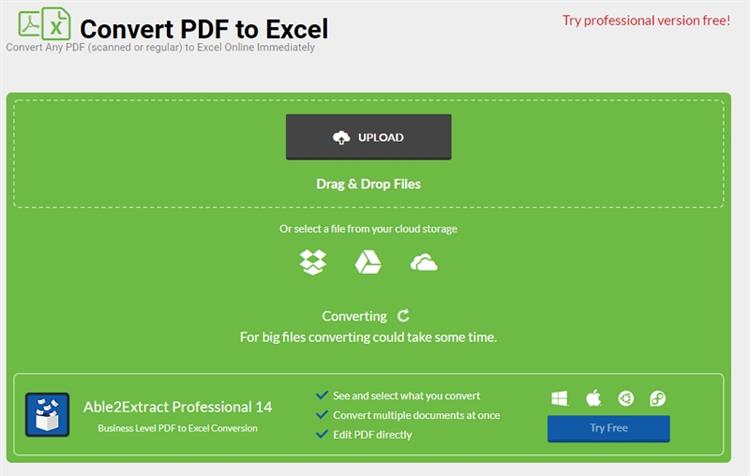 ---
Part 2. The Best Desktop PDF to Excel Converter
Taking into consideration that we have talked a lot about free online PDF to Excel converter, but it does not fit you if you want more functions such as editing, anotating, creating fillable forms etc, and get great quality from PDF to excel converter. PDFelement Pro is best desktop PDF to excel converter with the complete solution for PDF files. This trustworthy technology is practically a multi-functional converter that can be used in the daily work routine. Users can transform documents of any size and almost any type. The desktop program is supported by lates MAC os and Windows.
Steps to convert PDF to Excel on Mac and Windows
Step 1. Download and install PDFelement Pro on Mac or Windows.
Step 2. Click "Open File" to import the desired file.
Step 3. Choose the "To Excel" option and click under the "Convert" button.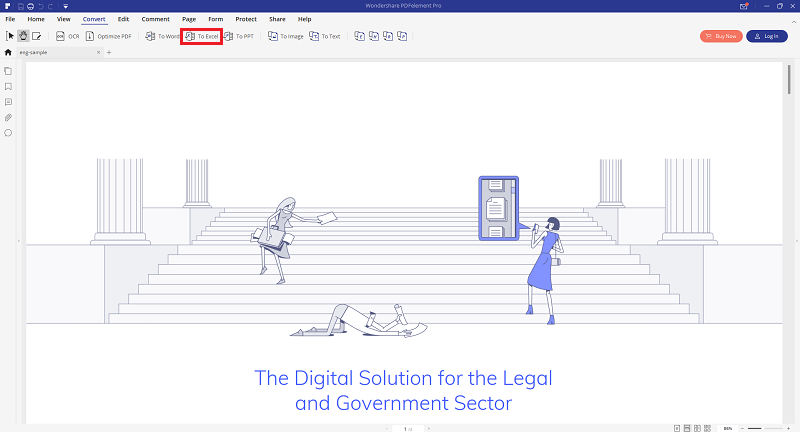 The features that make PDFelement Pro so great are:
Edit PDF files and make use of OCR. The software allows users to edit text, image, and pages. Batch OCR processing of multiple scanned Adobe Acrobat files is also possible.
Convert PDF to image, HTML, Word, PowerPoint, Excel, and various other formats. 300 documents can be combined into a single PDF file. The other way is possible too.
Highlight texts in PDF, do hand drawing, and add personalized signatures. Another functionality is the insertion of text boxes and notes.
Add password protection to PDF and share files via email and Dropbox. Watermarks can be added for extra security.