PDF (Portable Document Format) refers to an open standard document that is easily accessible by many people. It was created by Adobe so that files can be consistent on all platforms. People are easy to convert PDF to Word on Windows or Mac, but it is little difficult for those who use Ubuntu to convert PDF to Word. If you need to convert PDF to Word on Ubuntu to copy PDF contents for reuse or modify PDF letters, you must need an Ubuntu PDF to Word converter. Below are three best solutions for you. If you want to a Mac or Windows PDF to Word converter, PDFelement Pro will be a great choice.
Top 3 Ubuntu PDF to Word Converters
1. LibreOffice
LibreOffice provides clean interface and feature-rich tools which helps you to enhance your productivity. With the new version of this PDF converter, you can enjoy function of Colibre and image handling. Moreover, the most open source office suits are available: Writer (word processing), Calc (spreadsheets), Impress (presentations), Draw (vector graphics and flowcharts), Base (databases), and Math (formula editing).
Key Features:
You can edit letters, faxes, agendas and minutes, and make short work of more complex tasks such as mail merges.
Provides editing tools to create attractive 2D and 3D images from text.
Enable to add formulas, included from fractions, integrals, and mathematical functions, to inequalities, systems of equations, and matrices.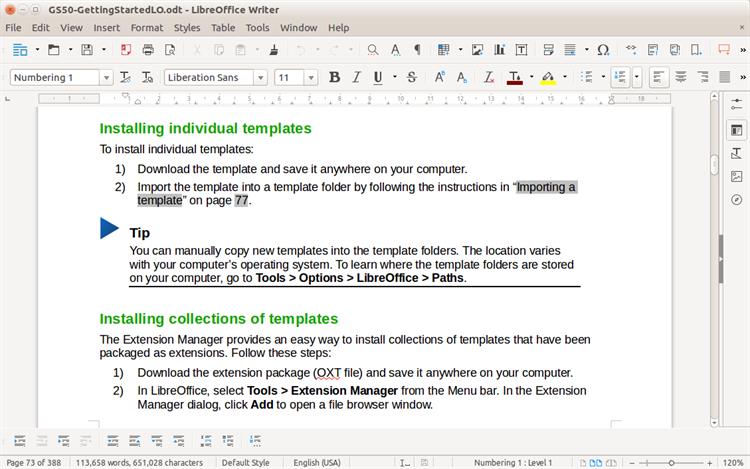 ---
2. Okular
Okular is a free, open-source PDF to Word converter for Ubuntu. This software enables you to read PDF files, Postscript, DjVu, and CHM and more. Okular is a universal document viewer developed by KDE. It works on multiple platforms, including but not limited to Linux, Windows, Mac OS X, *BSD, etc. Recently, the 1.6 version of Okular has been released together with KDE Applications 18.12 release. You can eunjoy the new version for free now.
Key Features:
Supports PDF, Postscript, DjVu, CHM, XPS, ePub and others formats documents.
You can add comment, add highlight, and draw lines, geometric shapes, add textboxes, and stamps to your PDF files.

---

3. PDF Studio

PDF Studio is an all-in-one, easy-to-use PDF editor which provides all needed PDF functions. With this Ubuntu PDF software, you can OCR PDF, create PDF, Batch Process Multiple PDFs and so on. It is a very popular alternative to Adobe Acrobat, because it's an affordable and full-featured software.

Key Features:

Supports all platform: Windows, Mac, and Linux.
You can move, resize, and save images.
Import and export form data in FDF / XFDF / XDP formats.

---

Recommend an Alternative Ubuntu PDF to Word Converter - PDFelement Pro

PDFelement Pro is a great alternative Ubuntu PDF to Word Converter for Windows and Mac. It's the safest PDF to Word converter that comes with unique features which are helpful in the creation, edition and conversion of PDF files in a form that matches the look and layout of the original content. It allows you to control your PDF files fully by using a variety of editing options that allows you to change backgrounds, delete, rotate, crop, split, combine, insert, add watermark, extract and explore your PDF document completely.

Steps to Convert PDF to Word

Step 1. Run the PDF editor and import PDF files

Download PDF to Word converter into your desktop and launch it by double-clicking the icon which is located on your desktop background. Click the "Convert PDF" button or "Open File" button to open the PDF file you want to convert; you can add as many PDF files as you can as the software supports multiple conversions.

Step 2. Choose Your Output Format

Word is the software's default output format. If you would like to convert PDF documents to any other format, you can change the default setting according to your preference. You can also choose your output folder where you can easily locate the Word document.

Step 3. Start converting PDF to Word

You will have the opportunity to choose to convert some or all of the pages of your PDF documents. Choose "To Word" on the tool bar, select a folder to save your converted PDF to Word file so as to start the conversion process. The converted file will be totally readable and editable in text editing applications such as the Microsoft Word.

PDFelement Pro is the ultimate multipurpose solution to basic as well as advanced file management needs at your office. With it, you will enjoy creating, editing or converting PDF documents like a professional that we believe you are. Moreover, it's easy to use. Once you start using this alternative to Ubuntu PDF Converter, you will realize that it is indeed a great investment rather than a cost.