With the PDFfill PDF Editor, you can enjoy a cheap approach of creating free PDF files, and edit them easily. However, you might experience some difficulty when trying to edit a PDF file using the PDFfill PDF Editor. And PDFill PDF Editor is primarily for Windows which doesn't provide much assistance for those who use Mac (10.15 Catalina included). Here we will give you solusions to fix PDFill PDF Editor not working on Mac .
Part 1. The Best PDFill PDF Editor for Mac Alternative
PDFelement Pro - The Best PDFfill Alternative
To solve PDFfill PDF Editor not working problems, you need a great Mac alternative to PDFill PDF Editor - PDFelement Pro . This PDF editing software will make your job easier in making amendments to PDF documents. This PDF editor is attractive in the sense that it offers various functions under one program with amazing user interfaces that makes it a really friendly program to use.
Why Choose This PDF Editor:
Fully compatible with macOS 10.15 Catalina.
Be Capable of creating, editing and filling out PDF forms.
Smartly extract data from PDF forms and scanned PDF.
Has the ability to edit PDF and mark up and annotate to PDFs.
Can convert PDF to diverse formats like Word, Excel, PPT etc.
Convert scanned PDF to editable files with OCR technology.
---
Part 2. Fill PDF Form with Alternative to Mac PDFill (10.15 Catalina Compatible)
Step 1. Launch PDFelement Pro for Mac
Once you have downloaded the program, launch the iSkysoft PDF Editor Pro for Mac. Next, browse the file you would like to edit under the "Open File" option on the main interface.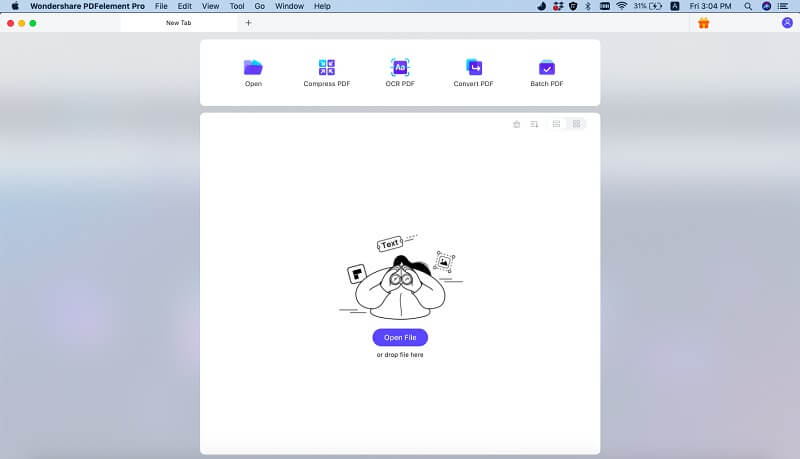 Step 2. Fill out PDF Form
PDFelement Pro for Mac allows you to fill in interactive and non-interactive PDF forms. For interactive PDF form, you can click the "Form" button and directly edit PDF form. For non-interactive PDF form, after clicking the "Comment" button, click "Text Comment" to fill out the information you want.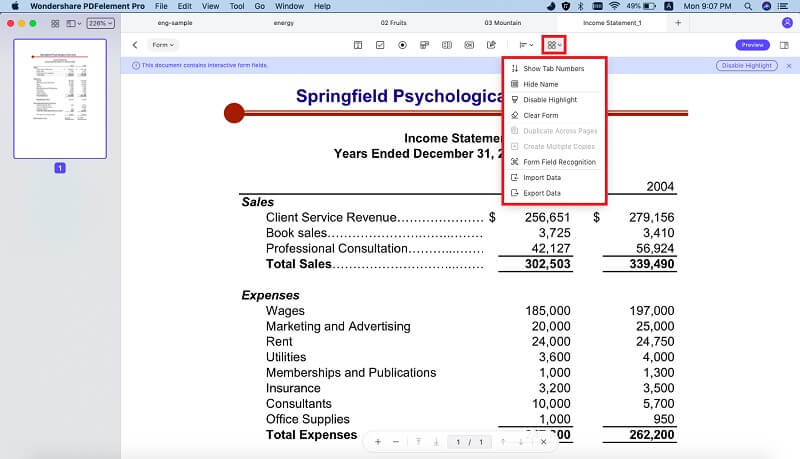 Step 3. Edit Your PDF Document
It is an easy way in editing your PDF files. Specifically, if you are editing the texts on a PDF, you can choose to edit by clicking on the "Add Text" tool which can be located under the toolbar and you can add text, delete and modify straight away. If you are editing an image, you can click on the image and do any change.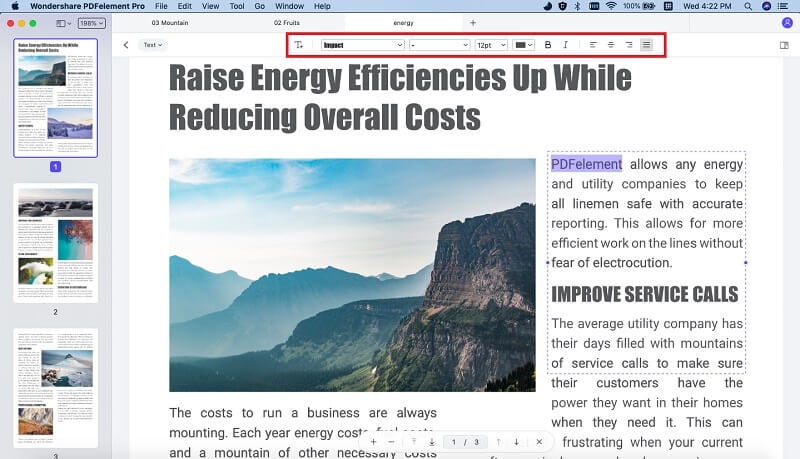 Step 4. Annotate PDF Document
Next, if you would like to leave any comment on the document, you can do so by using a text box, sticky notes or by drawing- freely on the document. You can select these tools by selecting them under "Comment" and then select the markup and annotation tools. Then, add them by clicking on the document.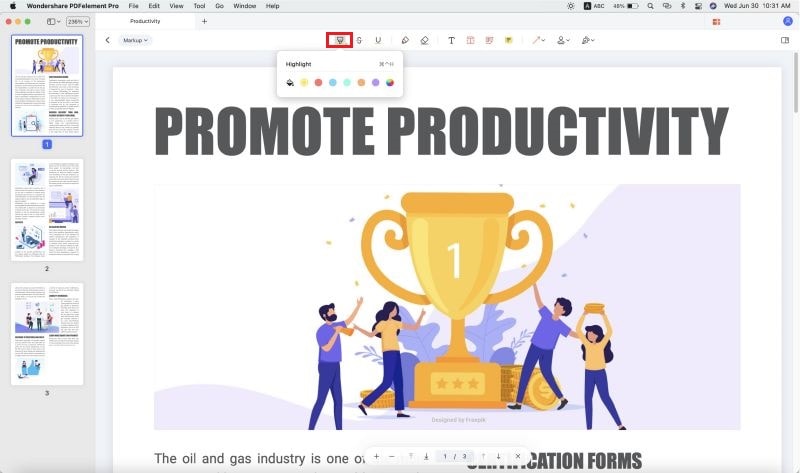 Step 5. Convert PDF File
You can also convert your file into Word, Excel, PPT and other formats by using this powerful PDF editor. Firstly, click on the "Convert" option located in the toolbar. In the pop-up window, select the file that you want to convert, choose "Word" format and click on the "Convert" button. You can choose the location of the file to be saved. Once done, you can start editing the file accordingly.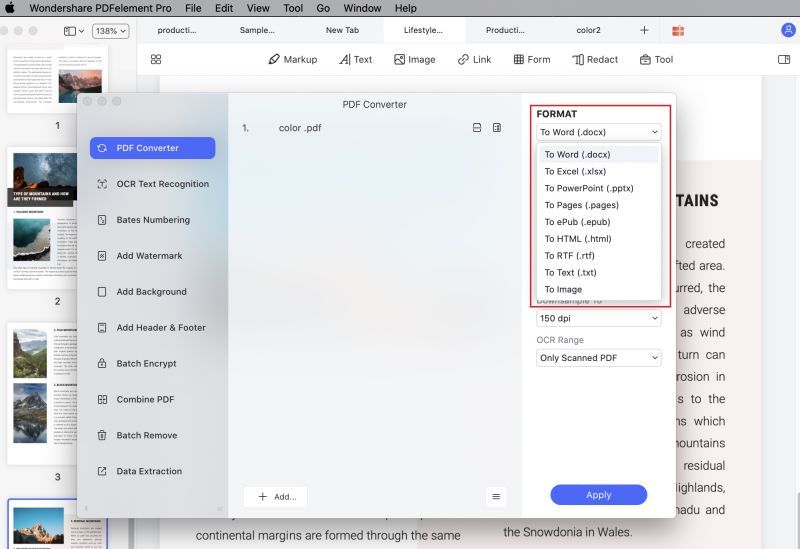 ---
Troubleshooting on Using PDFill PDF Editor
1. Original PDF form is not savable in Adobe Reader 11
This is a common problem faced when one needs to save the original PDF form in Adobe Reader 11. To solve this, you will need to open the PDF file in the PDFfill Editor. From there, click on the Edit Menu, then enable the whole form field to be editable. After this, you can save it into a new PDF file.
2. Problem copying the original PDF field
Always remember that you cannot copy the original form field directly. To handle this, click on the Edit Menu, and enable editing of the whole original form field. After that, select the preferred field and copy it.
3. Editing the static text in PDF
It is impossible to edit the static text in PDF using pdffill. However, you can either use the PDF Object Remover or the Whiteout Function. The Whiteout Function covers the original text, allowing you to retype over the highlighted text. The PDF Object Remover eliminates the original text and allows you to type a new text in a new PDF.
4. Server Busy Error when scanning
This is also a common problem, and you will need to ensure that the PDFfill is updated to 10 or later. When using the PDFfill PDF Editor, start by clicking on File Menu, Import Image from the Scanner, then Scan using WIA. If you are using PDFfill PDF Tools, click on Scan to PDF or Image, then choose the scanning method, which should be WIA.
5. PDFfill Tab Key Stops
You can experience the error where the Tab Key of the pdffill stops working. To fix this, click on View Menu, then reset the toolbars.
With these, you can enjoy using your PDFfill to edit your PDF files with ease.
---
Part 3. Comparison between PDFill and iSkysoft PDF Editor Pro for Mac
Most basic PDF editor programs and software will supply its users with the convenience of converting files from one format to another format. But do note that the most common conversion would be to convert a PDF file to a Microsoft Word format, and vice versa. With PDFill however, the conversion of a PDF document in either a Microsoft Word or Excel will require the use of the Adobe Reader program in extracting the texts from the original file. While with PDFelement Pro will allow PDF document conversions to Excel, PowerPoint, images, EPUB, HTML and plain texts.