There are however drawbacks that can come with using PDF. Opening files in Portable Document Format can be quite difficult at times. It can be due to various reasons. You may have an incompatible document reader. Sometimes such reader is compatible but is outdated. You may have a missing plug-in in your browser too, if you are only using your browser to open the file. But don't worry. I will tell you how to open PDF files effortlessly with PDFelement Pro.
Part 1. The Easy Steps for Opening PDF on macOS 10.15 Catalina Compatible
PDFelement Pro for Mac - The Best Tool to Open PDF on Mac
To make your life easier, Mac users can download and try PDFelement Pro. This program can provide you with a host of features you cannot get with just a simple PDF viewer. First, you can edit your document just like with a Word processor. Reading your PDF file also becomes easier as it allows you to do marking and annotating. This PDF editor also allows you to rearrange your pages as you see fit. You can remove unwanted pages, add new ones, and even rotate them easily.
You can also access even more tools that allow you to work with PDF files using OCR technology. It also gives Mac users the ability to convert files into different formats so you can work with them more easily. PDF Editor Pro Mac also allows users to compress files into smaller data sizes and create a wide variety of PDF forms using preset templates.
Key Features of PDFelement Pro for mac:
Easily open PDF files even a password protected PDF file.
Create PDF from other formats and create PDF forms easily.
Easily mark up and annotate PDF files with multiple markup tools.
Combine multiple files into PDF and split PDF into several files.
Edit a PDF file with ease.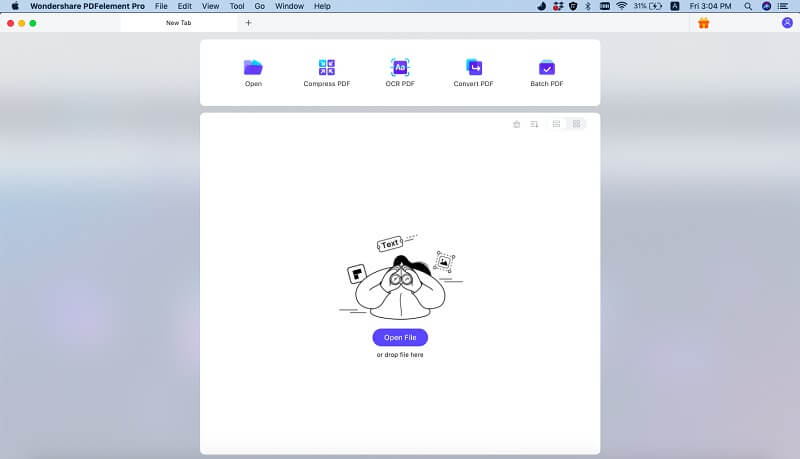 ---
Step 1. Import PDF for Viewing
Launch the program and then click the "Open File" button at the bottom right corner of the interface. Browse the target PDF from your local folder to load it to PDFelement Pro. After the file has been added, you can then read the content with a viewing option you prefer.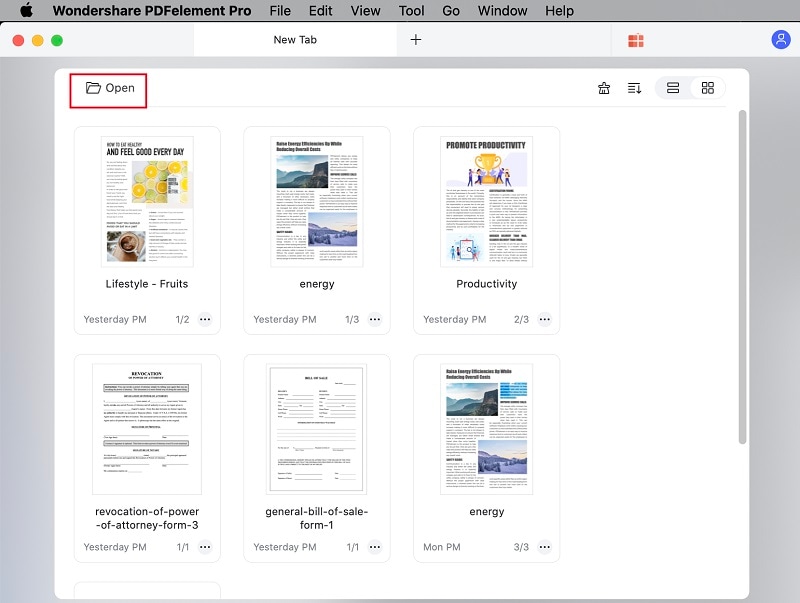 Step 2. View PDF File
After opening PDF with this PDF editor, you can start viewing PDF with multiple viewing tools, like zoom in, zoom out and more.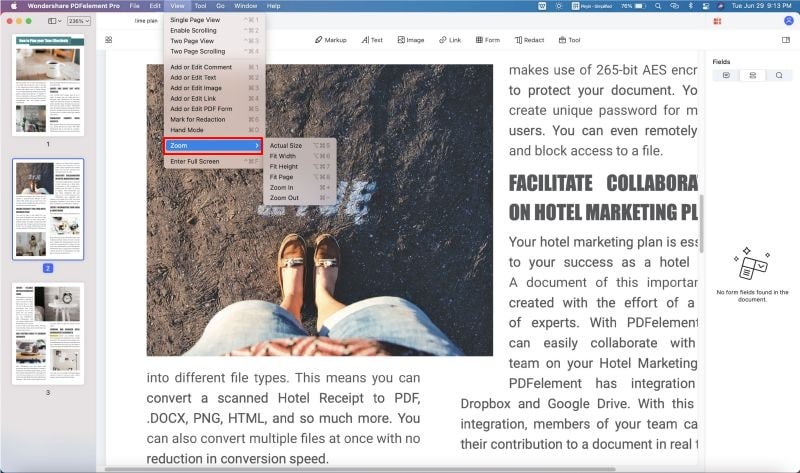 Step 3. Edit and Convert Your PDF (Optional)
If you are willing to edit your PDF, you can make full use of the options on the toolbar. You can freely add comment box, sticky note to the PDF, or highlight the important sentences or paragraphs. To convert the PDF to other file types, you just need to click the "Convert" button and choose a desired output format.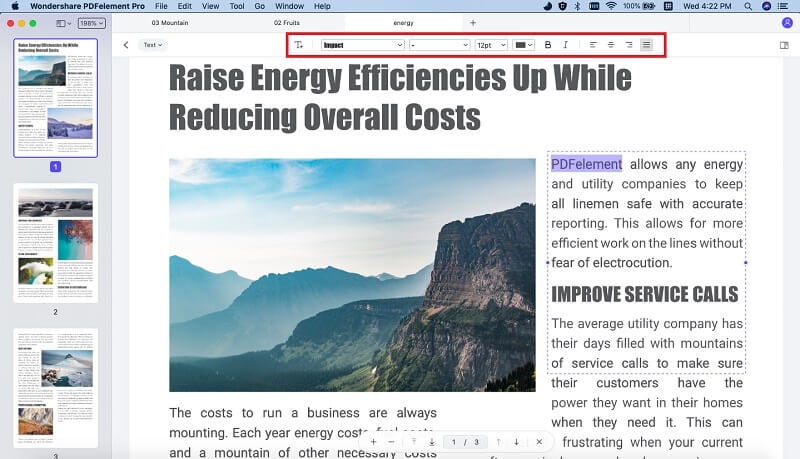 ---
Part 2. The Simple Steps for Opening a PDF on Windows (Windows 10 Compatible)
People with Windows computers also need to have a good PDF file editor in their computer so they can work on PDF file formats. Moreover, most Windows users are accustomed to working on the various Microsoft Office formats which are admittedly more user friendly. PDFelement Pro for Windows is your best choice.
Aside from being able to work and edit PDF files, you can also convert them into Microsoft Word, Excel, or PowerPoint formats, formats that Windows users are familiar with. After converting your files, work can then proceed more easily. The editor also allows you to split and merge PDF files as the need arises. You can also boost security by encrypting your PDF file with a password. With such encryption, you can surely protect your data and limit the access to it.
Make sure that you go for a PDF editor that gives convenience while at the same time, practicability. It should be rich in features while being user-friendly. You should be able to do more than just simple viewing and plain editing. Since you would be paying for these kinds of software, you should be able to get value for your money. The PDF editor you choose should enable users to do away with the common problems that people experience when using PDF file formats.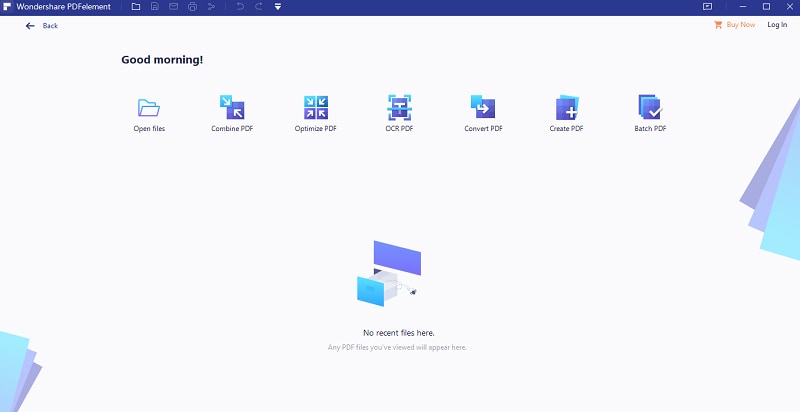 ---
Part 3. Tips for PDF Opening
A lot of people nowadays make use of PDF files and format. This is not a surprise given the fact that this document format has proven to be one of the most useful and advantageous. PDF provides a lot of useful features. For one, PDF can be used for various types of content. You can use PDF for saving your text, images, and graphics. You can convert various types of files to the Portable Document Format in order to preserve the layout and visuals in the file. This is also a good practice since documents becomes reduced in size, making sharing of files easier. Below are tips to open PDF files.
1. Open PDF on Mac Using Preview
That's why the software called Preview is one of the few tools we use to open .pdf extension files and read PDF on Mac. Preview is the default software used by Apple to allow their users to work with PDFs. So, by default, your Mac is already equipped with the software.
2. Open PDF on Mac Using Adobe Reader
Here is a third way that you can open PDF files on Mac, before Preview came along, Mac users were doomed to use Adobe Reader, as it was the sole option to open PDF files on their device. Notice that we said "doomed". Do you know why? Because Adobe Reader is so slow that you are able to go grab a cup of coffee from the kitchen and sit back to your desk. By the time of the whole interaction, Adobe Reader still struggled to open the PDF!