Blacking out text in PDF is a great way to create a public version of a document. The blacked out content will be removed from the document completely, and as a result you can share the document with the public without worrying that someone may gain access to sensitive text. The process of blacking out the PDF text is called redaction. Below guide, we will show you how to blackout text in PDF on Windows PC.
The Most Secure Way to Black out Text in PDF on Windows
PDFelement Pro - The Best Way to Black Out Text In a PDF
If you are using Windows operating system on your computer, the best application to black out text in PDF is PDFelement Pro. It is a great application that comes with a lot of features besides the redaction tool. It has vast editing tools that allow you to have full control over your PDF files. You can add, delete, and insert text with ease. It also has OCR technology that you can use to turn your scanned PDF files into an editable and searchable format. Another useful feature that this application comes with is the convert function. You can use it to convert your PDF files to various file formats including Word, PowerPoint, text, HTML, EPUB, just to mention a few. PDFelement also makes it easier for you to build forms and other fillable documents in your PDFs. Its user interface is very friendly that even beginners can use it with ease.
Key Features of PDFelement Pro for Windows:
It features password protection that allows you to secure your PDF files when you are sharing or distributing them online or on local area networks.
It has optimized text editing options that will turn your working environment into an actual professional editor.
It comes with OCR technology for turning scanned PDF documents into editable and searchable format.
It allows you to create PDF documents from scratch and then convert them into multiple file formats.
---
Steps to Black out PDF on Windows 10, 8, 7
Step 1. Launch PDFelement Pro for Windows
Before you can be able to blackout PDF text with PDFelement, you will need to make sure that it is installed on your Windows. So you will need to visit the iSkysoft website, download it from there, and then install it on your computer. After that, launch the program to access its main interface.
Step 2. Import the PDF File You Want to Blackout
In the main interface of PDFelement Pro for Windows, you will need to look for the "Open File" button and then click it. After that, you will need to trace on your computer the location of the file that you want to black out and then open it.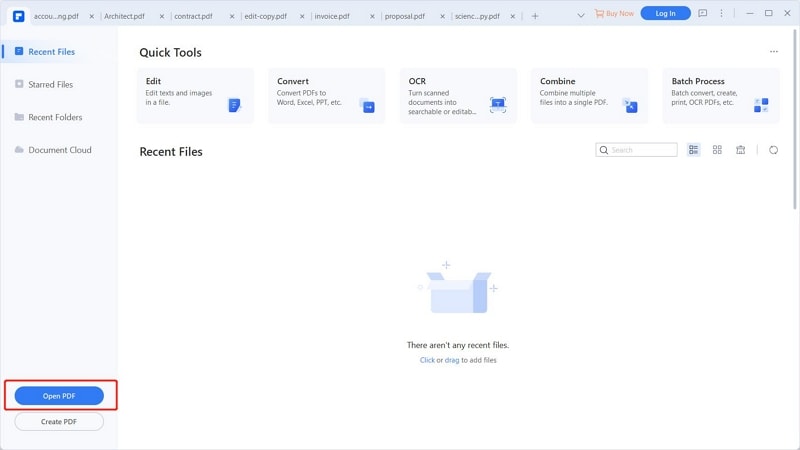 Step 3. Black out PDF in Windows PC
After the file has opened successfully, you will need to click on the "Protect" tab and then choose the option that is labeled "Mark for Redaction". This will allow you to choose the text that you want to black out. Once you have done that, click on the Redaction button to open more options. Once you are done with the process, click on Apply Redactions in order to save the changes that you have made.
You can also suitably adjust the appearance of the file redaction to suit your presentation. Finally, apply the redactions made to save changes. That's it. Redaction is as simple as that with the PDFelement.