Have you ever been faced with the dilemma of whether or not to share a PDF file with a colleague or a friend as it contains informations you would not want them to see? If you have, you don't need to create a brand new file just to exclude those sensitive or personal bits anymore. All you need is a PDF redaction tool which will allow you to permanently delete a portion of the PDF file, and all this can be done in just a minute or two, saving you lots of time and headache. Below is a simple guide to help you to redact PDF on Mac (High Sierra included).
The Easiest Way to Redact PDF on Mac (10.13 High Sierra Included)
For all systems running on the Mac platform including the latest Mac OS X High Sierra, the most recommended PDF redaction tool today is iSkysoft PDF Editor 6 Professional for Mac (or iSkysoft PDF Editor 6 Professional for Windows). It lets you redact texts, images or entire pages of a PDF. It's simple yet highly-effective and user-friendly interface has made it the most preferred application for redacting PDFs.
Why Choose This PDF Editor:
It allows you to alter texts and images - you can delete, highlight using different colors or add comments, and more.
It enables you to convert PDF files to other popular file formats like Microsoft Word and Excel which makes it super-friendly for office related work.
You can also create, fill-in and sign PDF forms which is a big time-saver and a great feature to have.
It supports immediate redaction for selected items in PDF - faster and more efficient than any other redaction tool in the market.
You can directly search text for redaction instead of scrolling around which can be hugely inconvenient when working with large files.
Tutorial for Redacting PDF on Mac
Step 1. Install iSkysoft PDF Editor Pro for Mac
First download the program. Once the download is done, install the program and then launch it.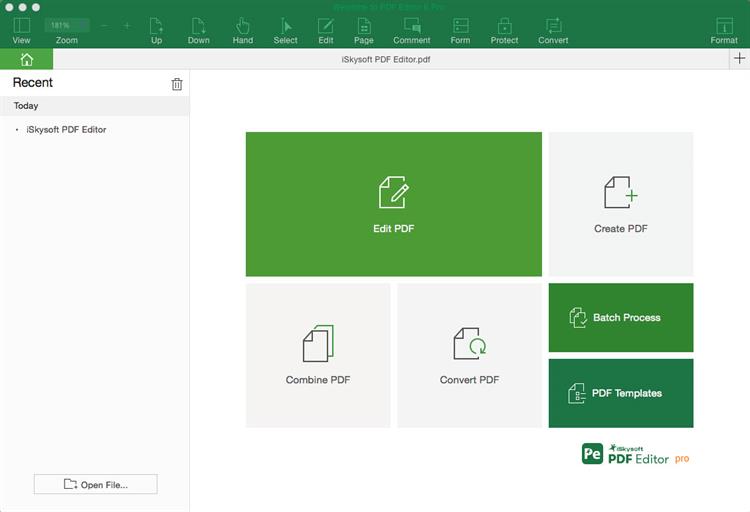 Step 2. Import the PDF File
In the application, go to the upper right hand side of the screen and click on the "Open File" option from where you have to locate your desired PDF file after which you simply have to click "Open" and the application would have imported the file succesfully.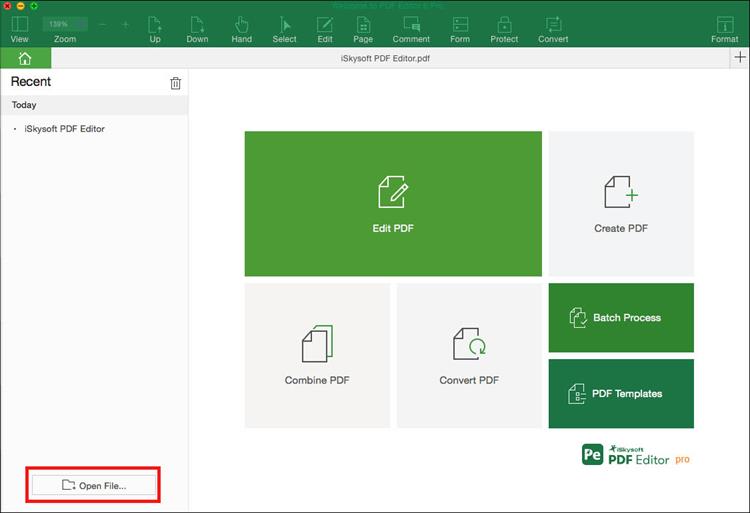 Step 3. Redact in PDF on Mac
iSkysoft Editor 6 Pro lets you redact anything from texts, pictures to an entire page on your PDF file, and all that you need to do is select the relevant options. To begin your redaction process, just click on the "Protect" icon available on the toolbar and select "Redact". Next, you have to highlight whatever needs to be redacted - texts, images or an entire page. Each of the highlighted texts or images will be covered in a black box so that you could verify your selected content.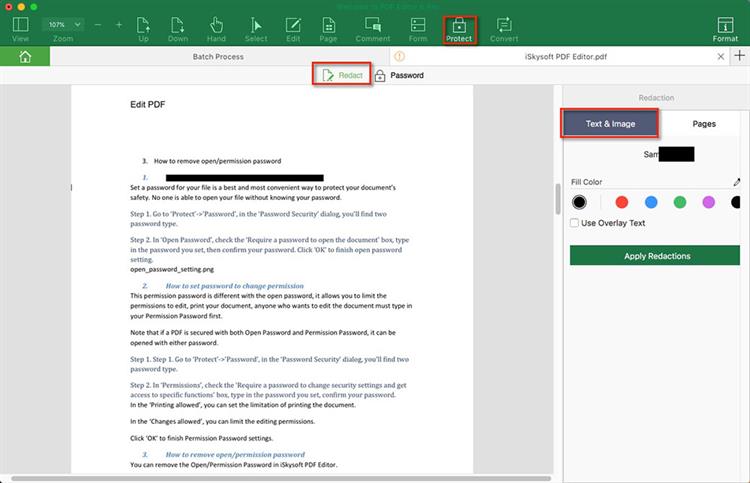 After you are verying, all you have to do is click on "Apply Redactions" and all the contents of the PDF you have selected would have been successfully redacted. Just save your work and your job is done.