Sometimes, the need to redact information in a PDF file may arise. This is especially true if you are sharing them on a local area network or online since you'll want to prevent unauthorized users from accessing them. If you do not redact PDFs before sharing them, their confidentiality will be compromised. Data that are considered to be confidential may land into the wrong hands, and if that happens, it can lead to dire consequences, including loss. Below, we will introduce you to the top 5 online PDF redaction tools to help you to redact PDF. If you want to redact PDF on Windows or Mac, PDFelement Pro is a great tool.
Part 1. Top 5 Free Online PDF Redaction Tools to Redact PDF
#1: PDF Filler
With PDF Filler, you can redact PDF online for free while on the go. This online redaction tool allows you to upload PDF files and edit them. Apart from editing and redacting your PDFs, you can also add signatures and share the PDF files you have created with other people very easily. It supports PDF documents and other formats such as PowerPoint, Word, Excel, Rich Text, and Plain Text.
Pros:
Uploading PDF files is very easy.
It does not have as many features as the downloadable version.
Cons:
It does not have a lot of features like the downloadable version.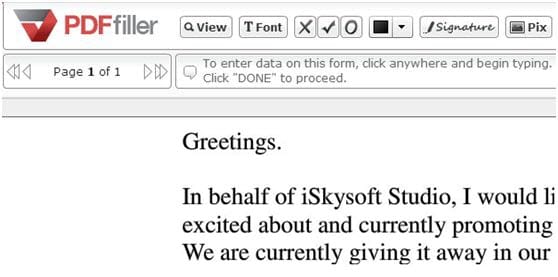 ---
#2: PDF Zorro
PDF Zorro is a free PDF redaction tool that allows you to redact your PDF files for free in order to get rid of sensitive information that you do not want the general public to access. It is very easy to use, fast, and absolutely free. It also allows you to add signatures to your PDFs, highlight or white-out text, and protect your files with access.
Pros:
No installation is needed to be able to edit PDF files.
It works on any platform.
Cons:
It has a very small resolution.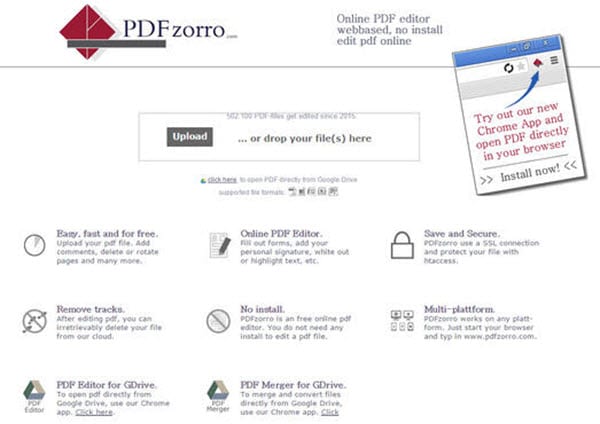 ---
#3: PDF Buddy
Filling out forms, adding signatures, or redacting and highlighting your PDF files will be very easy with PDF Buddy . It is a free online PDF redaction tool. You just need a web browser to be able to use it. You can also use it to create sharable PDF links and merge PDF files with ease.
Pros:
It uses SSL and AES 256 bit encryption to make sure that you are always protected.
It is very easy to use.
Cons: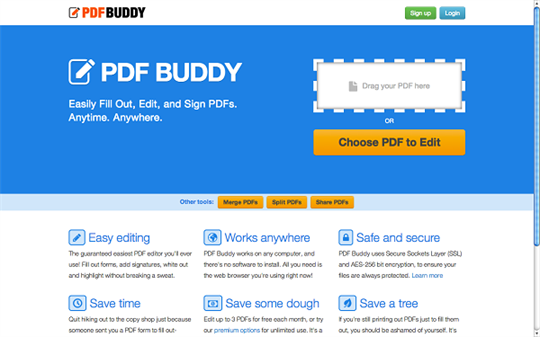 ---
#4: PDFescape
You can use PDFescape to perform many tasks, including redacting your PDF, annotating PDF documents, editing PDFs, filling out forms, and sharing documents online. This free online PDF redaction tool is among the best online redaction tools that you can use. You can use it to automatically open any PDF file with the Chrome extension that it comes with.
Pros:
It allows you to remove existing text very easily.
It is very easy and quick to use.
Cons:
It has limited features and functionality – it cannot create a PDF.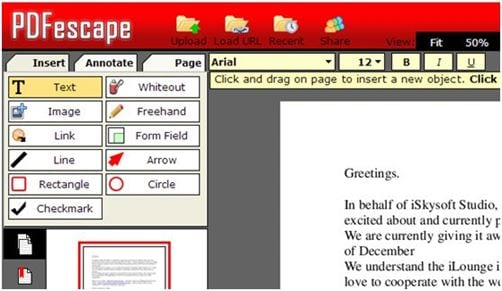 ---
#5: PDF Studio Pro
Use PDF Studio Pro, a robust online PDF editor tool with built-in redaction features that allow users to redact PDF files online easily. The functions include adding text, shapes, images, and more. It is easy to use, and you can use it to create PDFs, along with marking, annotating, applying watermarks, and creating bookmarks.
Pros:
The biggest advantage of this tool is that it comes along with a broad set of editing tools.
You can use it to add interactive elements to your PDFs.
Cons:
It lacks some standard editing features.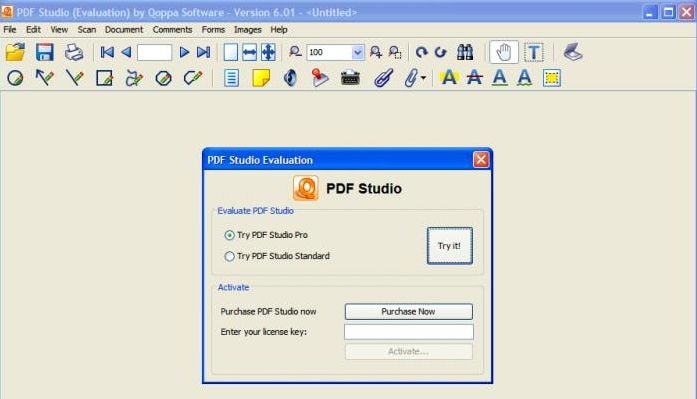 ---
Part 2. How to Redact PDF on Desktop
The most recommended way to redact PDF files effectively on desktop is to use PDFelement Pro. It can help you redact PDFs permanently and customize the specifications for redaction.
Step 1. Import PDF
Download and install the program on your computer and then launch it. Click the "Open" button or drag and drop the PDF file into the program window.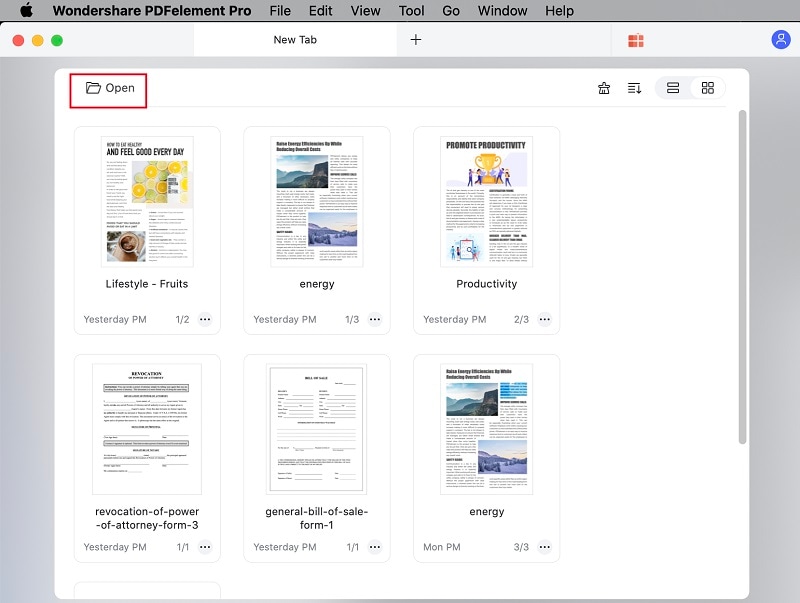 Step 2. Redact the PDF File
Click on the arrow that is located beside the "Redact" button. This will open further options for redaction. You will simply need to click on "Mark for Redaction" and select the items you would like to redact. Once you are done, click on "Apply" to save the changes.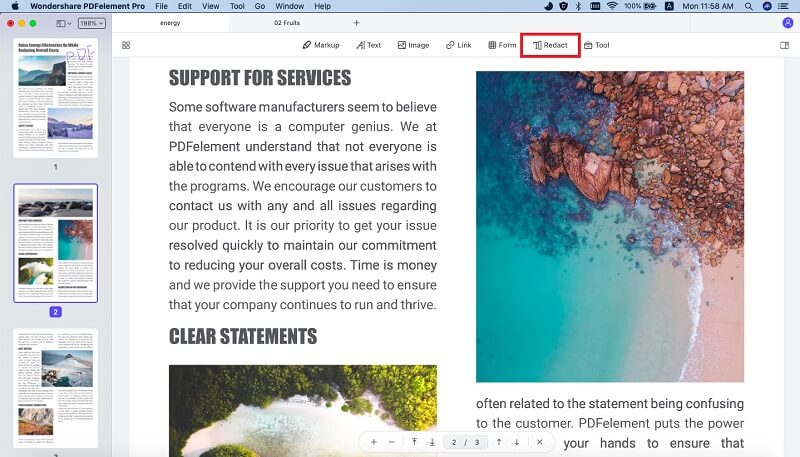 ---
PDFelement Pro - Redact PDF Securely on Desktop
PDFelement Pro (Compatible with macOS 10.15 and Windows) is one of the best software programs for redacting PDF files. It does not limit you in terms of space or function. It is a brilliant redaction tool that is going to give you the exact results you want. It also allows you to align and distribute text fields and crop images on PDFs with just a few simple clicks. Another thing that you will love is the ability to split PDFs into separate pages or merge multiple PDFs into a single file. You can use it to handle all types of PDF files, including scanned ones. It is equipped with very powerful features that can help you create, edit, annotate and convert your PDF files to other formats very easily. It has a very user-friendly interface that allows you to use it with ease.
Why choose this PDF redaction tool:
It comes with fast and accurate OCR technology that you can use for easy editing, copying, and searching scanned PDF files.
It offers multiple ways to improve the security of your PDF files, including adding passwords and permissions, digitally signing the PDF files, and placing custom stamps.
It has a markup feature that allows you to underline, highlight and strikethrough specific lines in your PDF file.
It allows you to fill out both interactive and non-interactive forms and then edit them with ease.