Imagine you are reading a PDF file and want to jump to a specific page without scrolling down or up? Let's say there is related content or more information about that specific topic on another page. Of course, scrolling up and down especially through a large PDF file may prove tiresome and time-consuming. To avert this, embedding respective page links in your PDF is the game changer in your navigation experience. However, this is easier said than done. How exactly can you embed a link in PDF? Well, you need an appropriate PDF tool. Fortunately, this article takes you through a complete guide on how to embed a link in PDF using the best PDF link embedder tool - PDFelement Pro .
How to Embed Link in PDF Using PDFelement
PDFelement is an excellent PDF tool that allows users to perform an array of PDF functions. With PDFelement, users can convert PDFs to and from any file format, unlock texts in scanned images or PDFs, protect, annotate, edit, print, share, organize, apply digital signatures, create and fill forms, and compress PDF files. This program has an elegant and total no-brainer interface that makes it easy even for newbies to navigate. The good thing with PDFelement is that it is fast, affordable, and is compatible with a wide range of devices. The following steps illustrate how to embed a link in PDF using PDFelement.
Step 1. Upload a PDF File
If you have installed PDFelement on your computer, proceed to run it. Click the 'Open files' icon on the main interface to access the file explorer window. In the file explorer window, look for the PDF file that you want to add a link then click 'Open' to upload it to PDFelement's window.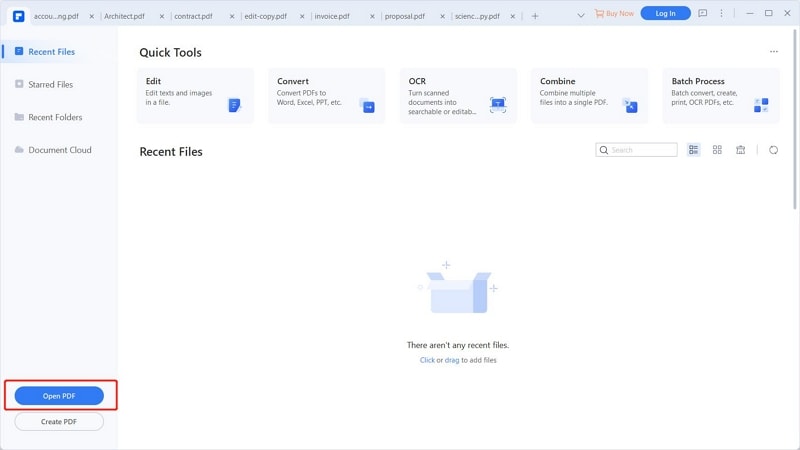 Step 2. Click the Edit Button
When the PDF file is uploaded, go to the toolbar and hit the 'Edit' tab. Ignore other Edit sub-menu options and click the 'Link' drop-down icon.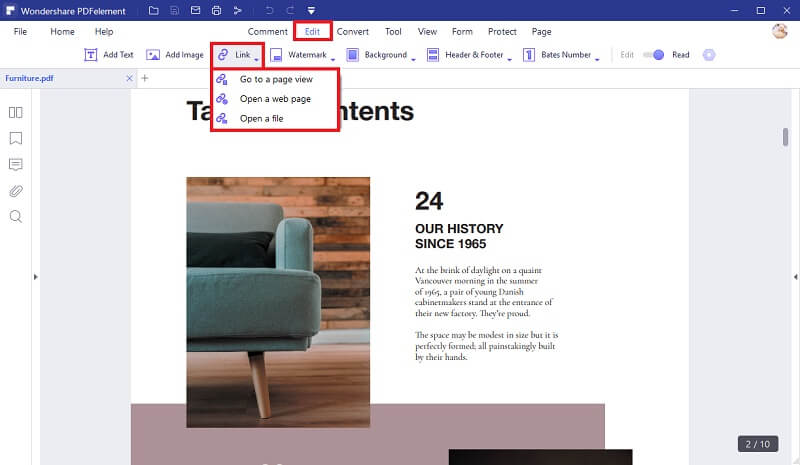 Step 3. Embed a link to PDF
From the three 'Link' drop-down options, choose the 'Go a page view' option instead. Now drag your cursor to draw a rectangle over the text area where the link is to appear. Upon drawing, the program will automatically pop up the 'Page Link' dialogue box. At the top-left, click the 'Action' tab then select the target page number at the bottom. This page number corresponds to the page where the link will direct you to. You can enter the page number by manually typing or by using the forward and backward navigation arrows.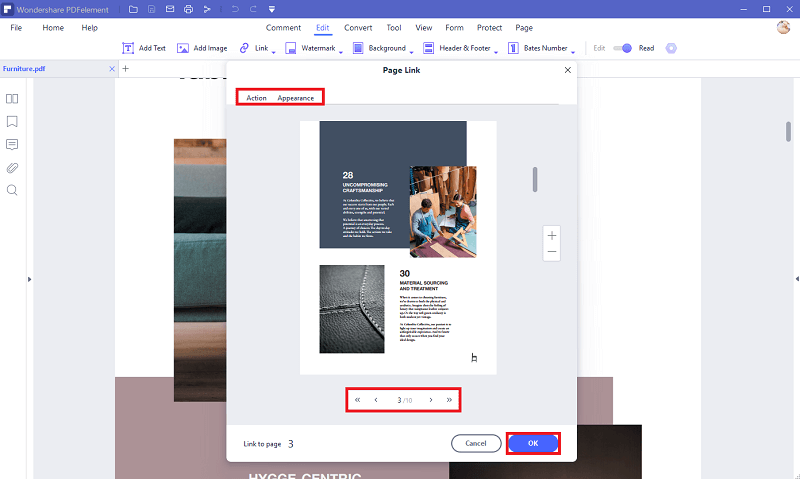 Step 4. Edit Link's Appearance
To edit the appearance of your link, proceed to the 'Appearance' tab on this same 'Page Link' dialogue box. Here, you will see several link properties like link colour, type, highlight style, line style, and line thickness. Make your desired choices then hit 'OK' to confirm and let the program insert the link to your PDF.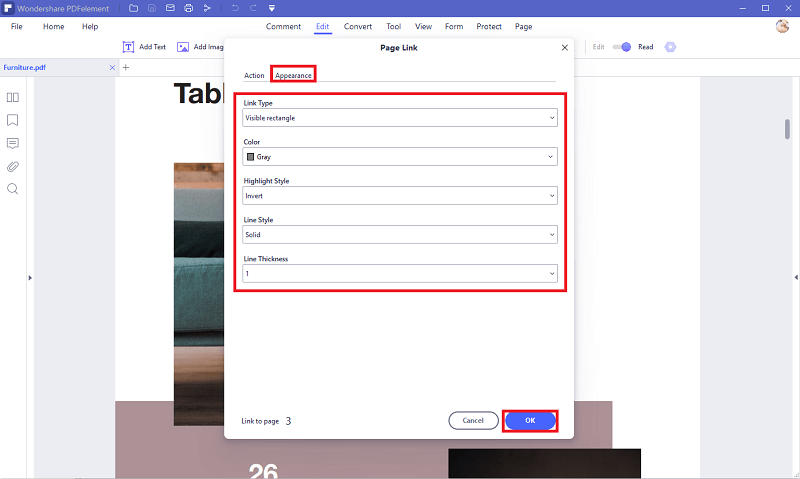 Step 5. Save the PDF File
With the link now embedded in your PDF, what remains is to save the changes. To save the changes, go to the 'File' menu followed by 'Save'. The changes you made on your PDF file are saved.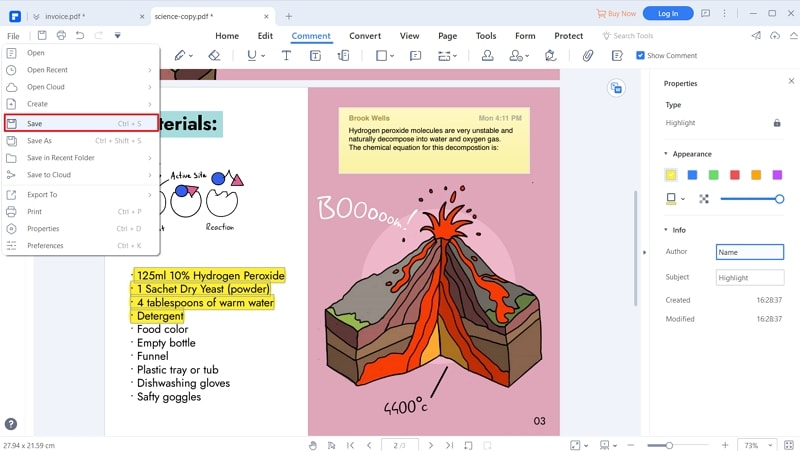 ---
Why Choose PDFelement to Embed Link in PDF
PDFelement Pro is a powerful yet affordable all-in-one PDF software. This explains why a multiplicity of people, organizations, and companies across the globe have made it their indispensable tool. This program is equipped with a plethora of excellent features that take your PDF experience to another level. You can edit, convert, create, annotate, compress, protect, print, share, perform OCR on PDFs, create and fill forms, and add digital signatures to your PDF with ease. You can download the free trial version then buy the affordable pro version for a better PDF experience.
Features of PDFelement
It allows users to edit texts, links, and images.
With PDFelement, users can annotate their PDFs using stamps, comments, highlights, and drawings.
This program allows users to convert scanned images or PDFs to editable and searchable PDFs with the help of the OCR feature.
It allows users to convert PDFs to and from any file format.
With PDFelement, users can protect their PDFs with passwords and permissions.
PDFelement allows users to add digital signatures to their PDFs and carry out legitimate transactions with clients.