You might get PDF documents have pages which might look upside down or sideways. In such case, you would require PDF rotation for you to read them properly. You can rotate PDF pages without making permanent changes or editing the content in the document. In this article, I will teach you how to rotate PDF permanently to improve its viewing position on both Mac and Windows operating system with PDFelement.
---
Part 1. How to Rotate PDF Pages on Mac Permanently
PDFelement (or PDFelement for Mac) is used for creating and editing PDF documents and as such, this is the best device to utilize when you need to for all time pivot PDF pages on a Mac OS X and get an ideal perspective on it. You ought to likewise take note of that you may need to rotate PDF page in cases when landscape and portrait mode are combined together in a single document because it would be difficult for you to read.
For you to be able to use this amazing PDF rotator from PDFelement and rotate PDF document permanently, please follow these steps:
Step 1. Navigate to Your PDF File
To navigate your Mac computer and access the location where the folder containing the PDF file is located, select "Open File". Alternatively, you can opt to click the blank area on the primary window and then drag and drop the PDF file to PDFelement for Mac program.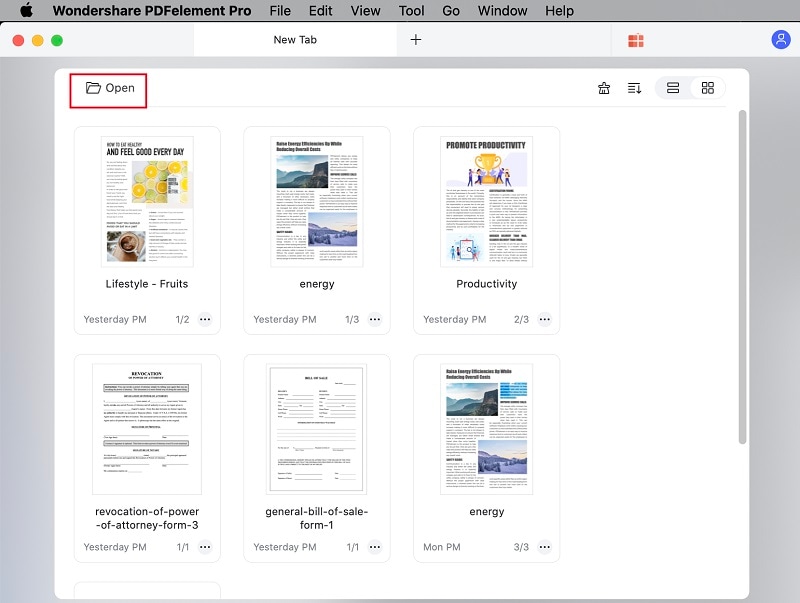 Step 2. Start Rotating PDF Page in the Program
Once the PDF file is imported to the program, navigate to the right side menu, open the "Pages" menu and then click the "Rotate" button. In the pop-up window, select your desired angle of rotation which could either be 90 degrees or 180 degrees. Ideally, your basic options are counterclockwise 90 degrees, 180 degrees or clockwise 90 degrees.
Note: In its default status, the PDF Editor rotates the current page but you also have an option of specifying the pages that you intend to rotate. You can opt to rotate all the pages and specify specific pages to be rotated.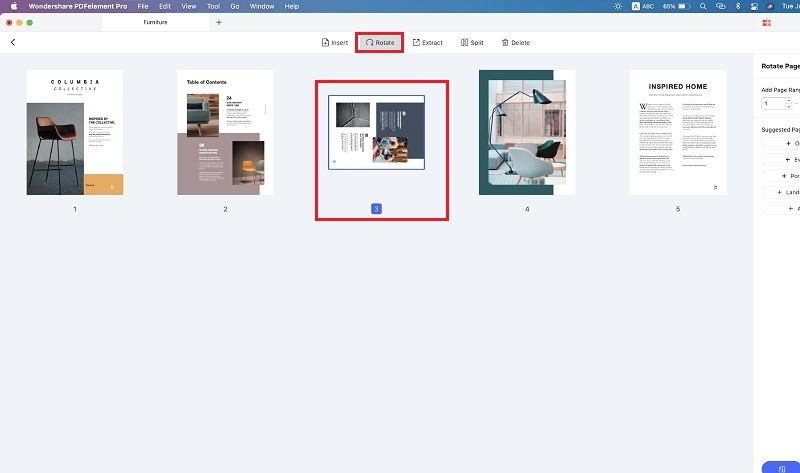 Step 3. Save Rotated PDF Files
After the rotation, navigate to the green header bar and click File > Save to confirm the change.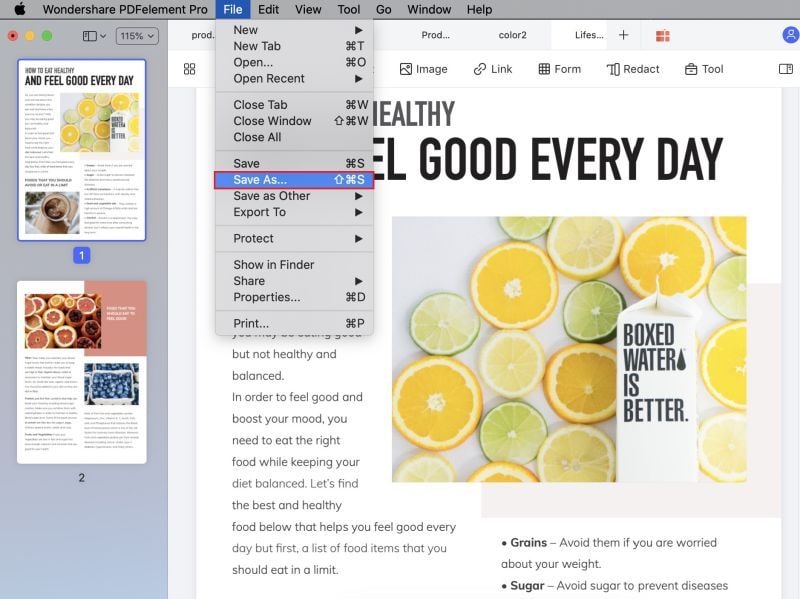 ---
Part 2. How to Rotate and Save Rotated PDF on Windows
PDFelement (or PDFelement for Mac) enjoys a great reputation of being one of the most effective programs that can be used to rotate PDF and saving PDF on Windows. Fortunately, the program comes with a wide range of features that helps you to edit pdf files in the most effective and efficient way. The free download for Windows version is 100% clean and surely gets the job done in your desired way and you are assured of guaranteed results. To rotate and save pdf on Windows, here are the simple steps that you should follow:
Step 1. Import the Target PDF File
After downloading your PDFelement for Windows, simply launch it and then click "Open Files" to access the PDF file that you intend to rotate on your PC.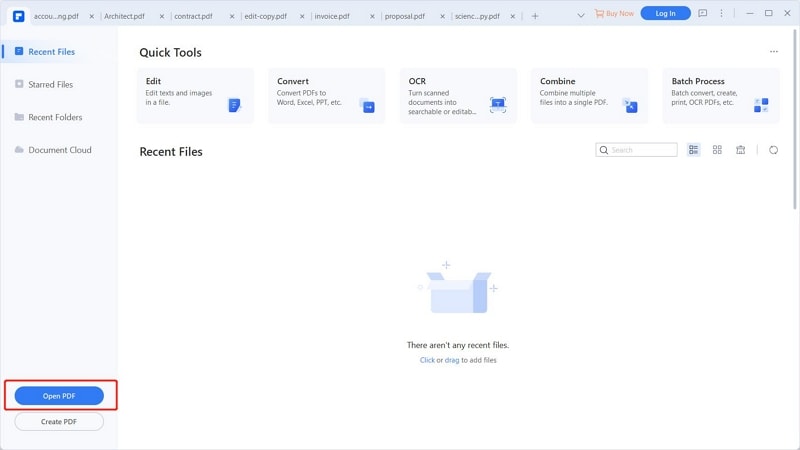 Step 2. Rotate PDF on Windows
Simply navigate to your program and click on "Page > Rotate". Specify the direction in which you intend to have your PDF file rotated. All the directions in which the page can be rotated are included on the program's drop down list and include 90 degrees clockwise or counterclockwise and 180 degrees.
Note: This program offers you an option of deciding whether you simply need to rotate a given page or a certain range of PDF pages.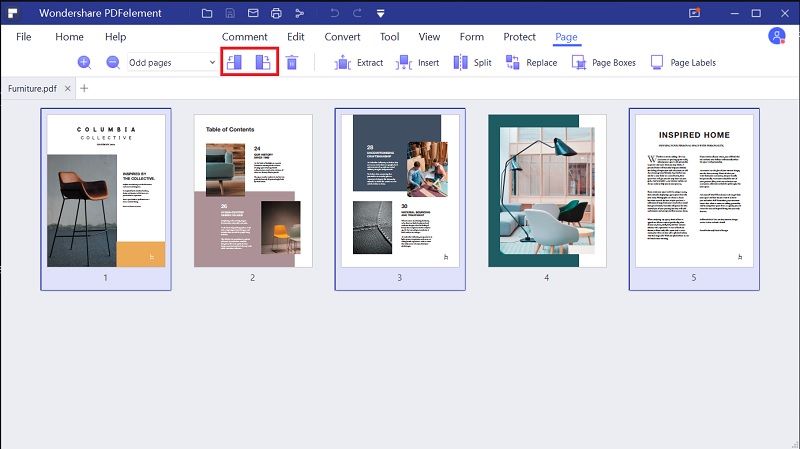 Step 3. Save the File after Rotation
Once you have rotated the PDF, click on the File > Save or Save As to have it rotated permanently.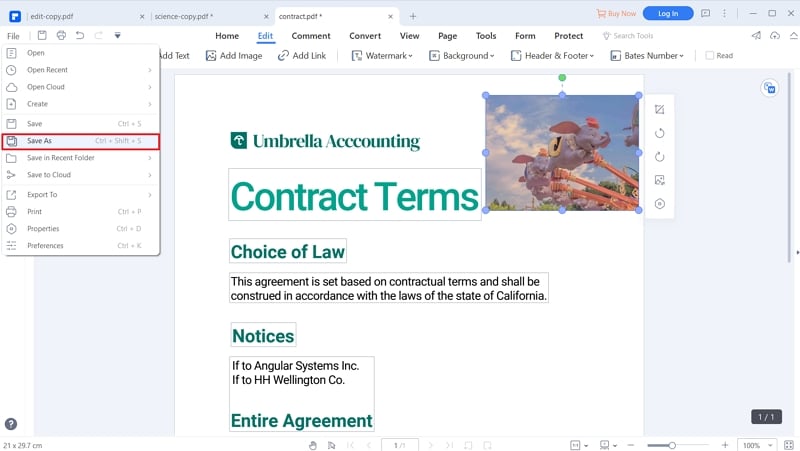 ---
Part 3. Why Choose PDFelement
Besides being used for rotating PDF, PDFelement for Windows makes it possible for one to manipulate and change PDF documents in numerous ways. You can combine multiple PDF documents into a single one or split a single PDF document into multiple smaller PDF files. Other handy features include page cropping, markup, annotations and more.
Key Features this PDF Editor:
Easily edit PDF pages, texts, images, links, watermarks, etc.
Convert PDF to CSV, Word, Excel, PPT, EPUB,Image and more formats.
Add watermarks, note, sign to PDF files with ease.
Create PDF from other formats and create PDF forms easily.
Combine multiple files into PDF and split PDF into several files.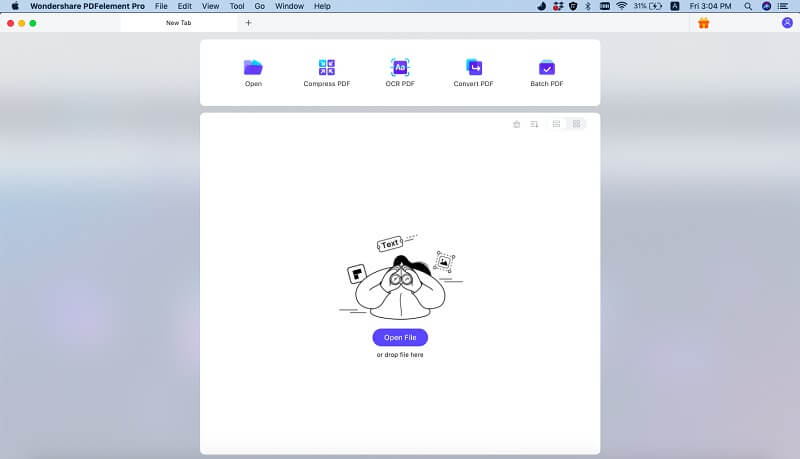 ---
Conclusion
As you can see, rotating PDF to correct its viewing position is such an easy task particularly when you use a reputable tool such as the PDFelement. This program not only rotates PDF pages in the most effective ways but there is so much that you can do with it such as editing PDFs, adding new PDF pages and even deleting unwanted pages. Moreover, PDFelement (or PDFelement for Mac) helps to create PDF presentations that are well organized and you can drag and drop the PDF pages in your most desired way. Whether you are an individual or you run a small business, this is an affordable, cost effective tool that you should plan to get and rotate PDF in style. (Learn how to rotate PDF image >>)