A good PDF image editor makes sure that the file format is maintained as required. The formatting remains the same once the PDF has been transferred from one machine to another. Images can appear to be different if such programs are not used. It can also lead to platform related issues such as distort data or removal or certain PDF parts. PDFelement (or PDFelement for Mac) ensures that this never happens. While the document is being shared the format across all the devices or platforms remains the same. The best part of such editors is that they work on all operating systems and therefore can be used by almost any user.
---
Part 1. A Great PDF Image Editor
PDFelement is the best and state of the art PDF image editor that can be used to perform the work in the best manner. It is easy to use and makes sure that the working on PDF is not hard at all. The image editing is just a fraction of what this program has to offer. The working with PDF has never been as easy as it is with this program and it is all due to the terminologies which have been embedded. Each and every process of the program is easy to follow and requires zero knowledge of PDF or technology.
1. Why Choose PDFelement
PDFelement is a program which has made the PDF handling easier than ever. The program has all the required tools which are necessary to handle PDF documents. The overall usage of the program is simple thanks to the developers for creating GUI. The program can be used to make PDF forms and extract data. The PDF can also be secured by this program as it is also capable of adding PDF passwords. From PDF conversion to OCR this program has got its users covered.
Highlight features:
It comes with sticky notes, drawing tools, text box, mark up tools, and so much more.
Add notes to a PDF on Mac with this software and your text analyses will be more productive.
From a dropdown menu on the Tools option, you can access and even customize any of these note taking tools. This makes the program as one of the most unique.
You can batch process multiple PDF files and do data extraction from PDF files. This feature is highly in demand when it comes to corporate users.
2. How to Edit PDF Image with PDFelement
The process which is related to PDFelement image editor is very easy and therefore the overall rating of the program is high due to this. The steps on how to edit a PDF image which are to be performed are mentioned as under. For more detailed description and full guide it is advised to click here.
Step 1: This PDF image editor can be free downloaded from its website. Launch it once the installation has been done. Then you can click on "Open File" button on the main interface to choose and import PDF file from the system to the program.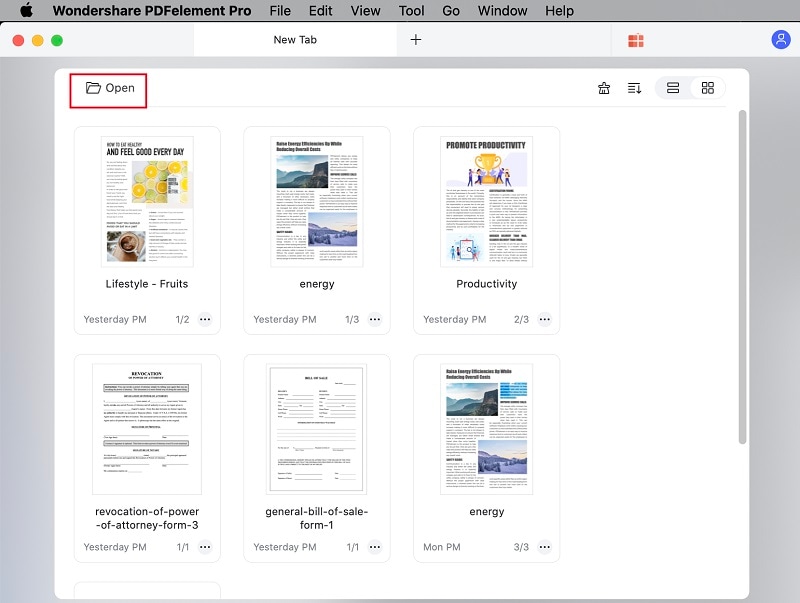 Step 2: Under the Edit tab there is edit button located. This can be used to edit images that are in the PDF. The image can be cropped, rotated, extracted and replaced by using the same tab.
Tip 1: Rotate images in PDF: Open the "Edit" menu -> Click on the image -> Rotate images to the degree you want on the editing panel on the right side of the main interface.
Tip 2: Crop images in PDF: Open the "Edit" menu -> Click on the image -> Click on the "Crop" button to crop images easily.
Tip 3: Extract images from PDF: If you want to extract images from PDF files, you can click on the "Extract" button to extract selected images easily.
Tip 4: Replace images in PDF: Want to replace the existing images in the PDF file? Just click on the "Replace" button on the editing panel and you can select a desired image to replace the image to make your PDF documents perfect.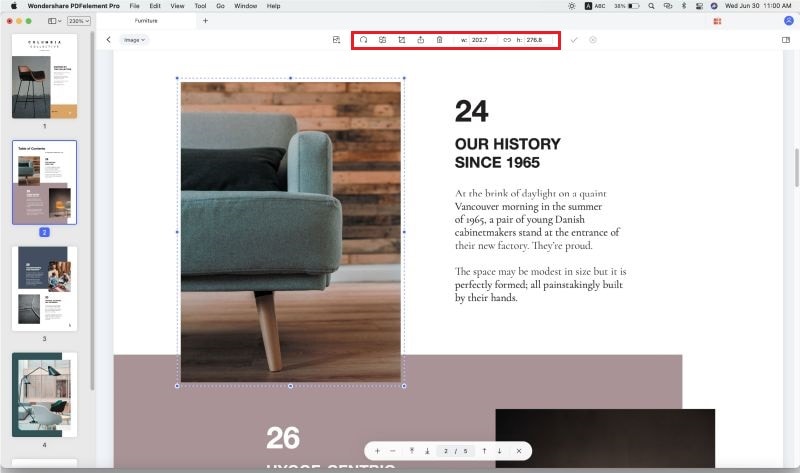 Step 3: From the file menu select save as. Choose the location as desired to save the PDF file the images of which are edited.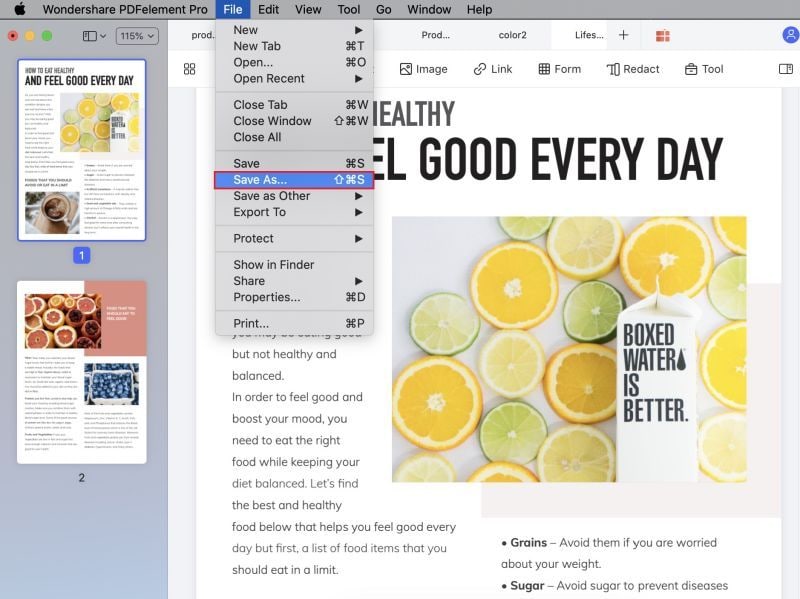 ---
Part 2. Other PDF Image Editors
There are a good number of PDF image editors with great features to edit images and still maintain the file format as required. In this article, I'm going to outline some of the amazing PDF image editors to help those who are looking for a great means on how to edit PDF image. The under-listed PDF image editors come with some brief key features, as well as the pros and cons to help you make a wise choice while choosing any of them.
1. Foxit PDF Editor
Foxit PDF Editor is a fully built all-in-one PDF Image editor, with great features to edit, organize, convert, scan, share and collaborate with other PDF users to make information readily available for teammates.
Pros:
Converts PDF documents to Word without losing the context of the sentence.
User friendly.
Its encryption feature gives documents high-level security.
Cons:
No multiple-device license, Each license is valid for only one computer or device.
2. Gimp
GIMP is a freely distributed versatile graphics program with advanced manipulation features for photo retouching, image composition, and image authoring. It also comes with some high-end technology key features such as painting, animation, file handling, and a customizable user-friendly interface for anyone who is looking out to the process on how to edit PDF image with ease.
Pros:
Customizable interface.
Powerful tools for image editing.
It works with several editable formats.
Cons:
It has a complex user-interface which makes it confusing and uncomfortable.
Developing a 3D image could be difficult using Gimp, due to a limited option in 3D design features.
3. LibreOffice
LibreOffice is a powerful open-source cross-platform Office suite with amazing features that supports adding text/images in the file, creating and editing of PDF documents by default, and opens them in the LibreOffice Draw application.
Pros:
The installation is available on the three major PC platforms: Windows, Linux, and Mac (including official application stores for these systems).
It has always been able to open, edit and/or export files in MS Office proprietary formats without copyright infringement, as it is completely costless.
It is often updated, to ensure additional security, stability, and the introduction of new features.
Cons:
Few numbers of MS Office documents' unique formatting in Word and Excel do not convert accurately when you are opening these documents with the LibreOffice software.
---
Conclusion
The objectives of using PDF image editor is to achieve quality image manipulation using key features relevant to your needs as explained in the article and table below;
| Foxit PDF Image Editor | Gimp | LibreOffice |
| --- | --- | --- |
| Foxit PDF Editor has the features that give it the ability to Create, Edit and Convert, View, Review, Print, and Share. It also has a form feature with security to secure and encrypt your data. Finally, it can be accessed anywhere on the computer or electronic gadget. | Gimp is an image manipulation Programme which is basically different from other PDF image editor with features that focuses on image manipulation. Its feature differs from other editors due to its limitation on file conversion functions. | LibreOffice is a PDF Editor that has some unique features to edit or manipulate text and images in a file. It supports file cross-platform and is also constantly updated with some security features to keep your data safe and free from alteration. |