Converting Excel documents to PDF format can help you in many ways, including making them more secure and smaller. You might use Adobe Excel to PDF converter to do the conversion. However, the Adobe program not working all the time. No worry! Here is the best solution to solve Adobe Excel to PDF not working problems.
PDFelement Pro for Mac - The Best Adobe Excel to PDF Converter Alternative
In order to make the Excel to PDF conversion easier and faster, you can use PDFelement Pro to do this conversion. With the help of this tool, you can easily convert your Excel files to PDF. Aside from this you can also convert your PDF documents to Word, Excel, PPT and other file formats. You can also use the built-in OCR tool to convert and edit scanned PDF files.
Key Features of This Excel to PDF Converter:
It does not limit you on the size or number of files to be converted. You can use it to convert large or multiple MS Excel files very easily.
It creates PDF document in high quality without interfering with the original formatting of the source file.
Using it is as simple as dragging and dropping Excels file to it and then converting them.
The PDF documents that it creates come with a high resolution that is in compliance with the ISO PDF standards.
It fully supports all MS Office formats including Excel, PowerPoint and Word.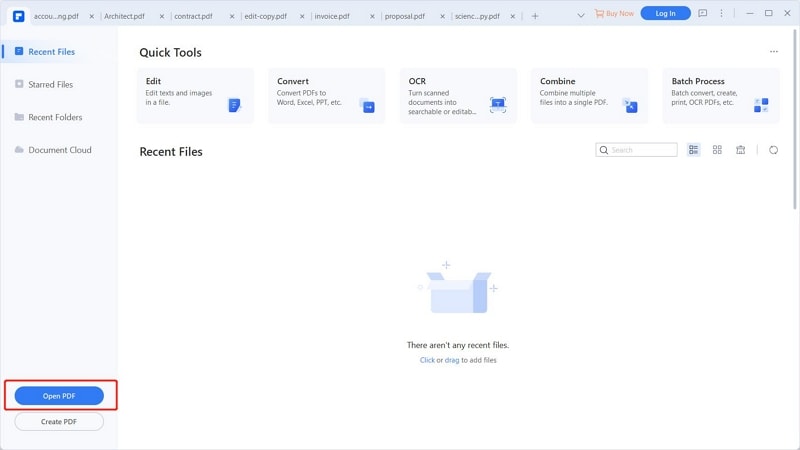 ---
Part 1: How to Convert Excel Document to PDF without Adobe
To be able to convert your Excel documents to PDF format easily, you should consider using PDFelement Pro. While there are many applications that support the conversion of Excel to PDF, this particular application is equipped with a lot of great features that make it outstanding from the rest. Not only does it allow you to covert Excel documents, but also Word and PowerPoint documents. Once you have it on your Mac, there will be no need of pre-installing MS Office to be able to create PDF files. It promises high quality PDF output and does not interfere with the original formatting of the documents that are being converted.
Steps to Convert Excel To PDF
Step 1. Launch the Program
The first thing that you will need to do is go to the iSkysoft website, search for this application and then download and save it on your Mac. After that, you will need to locate the folder you saved the installation file and then drag it to the "Applications" folder on your Mac.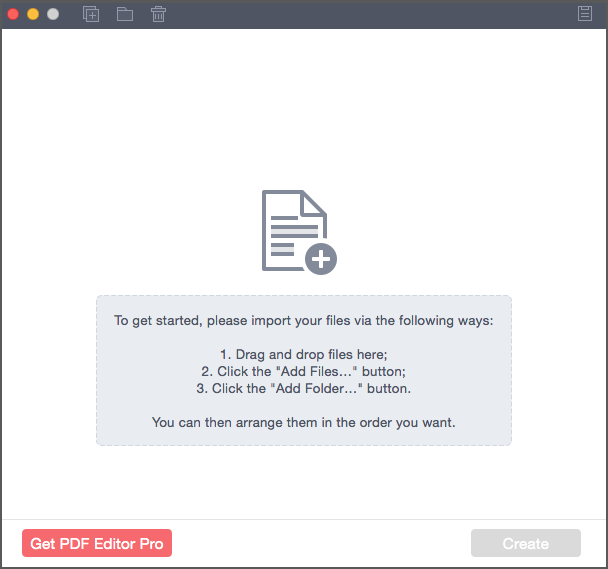 Step 2. Import Excel Files to the Program
After you have installed iSkysoft PDF Creator for Mac successfully and launched, you will need to upload the files that you want to convert. To upload the files, you simply need to use the following three ways:
a) Locate the files on your Mac and then directly drag and drop them to the application.
b) Click on Add Files and then choose the files that you want to upload to the program and then import them.
c) Click on Add Folder to locate the folder that has the files that you want to upload to the program and then import them.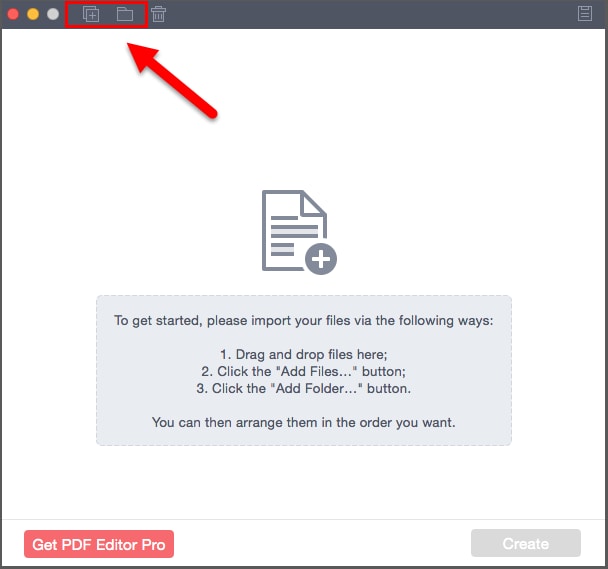 Step 3. Start Converting Excel to PDF without Adobe
After making sure that you have uploaded the Excel files successfully, you can start converting them. You will simply need to click on the "Create" button that is located at the bottom right corner of the screen and then set the destination folder where you will find the files after conversion. To start the conversion, simply click "Save".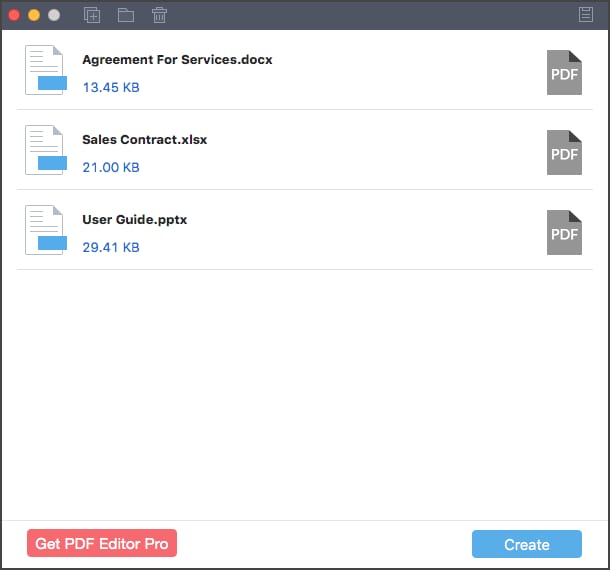 ---
Part 2: Troubleshooting on Using Adobe Excel to PDF Converter
The following are the common issues you are likely to encounter when using Adobe to convert Excel files to PDF format.
1. When converting Excel in drawing mode, arrow heads appear in random places after the conversion.
This is a font related issue that can be resolved by disabling the OCR feature during conversion. Also make sure that you are using a recognized system font in the Excel files you are converting.
2. "Error message from the primary converter: ALC-PDG-010-012-PDFMaker reported an error while printing the document".
When you get this error message while trying to convert Excel files, you will need to convert one file at a time if you are trying to convert multiple files simultaneously.
3. Page number appearing in places where they are not allowed after conversion.
To resolve this issue, you will need to use the text box tool to cover the numbers with a white box.
4. File is too gigantic after conversion.
If the Excel file you are trying to convert has images, you will need to make sure that they are sized to the approximate final size before converting the file.
5. Adobe crashing during the conversion process.
When this happens, you will need to check the program's compatibility with the operating system that you are using.